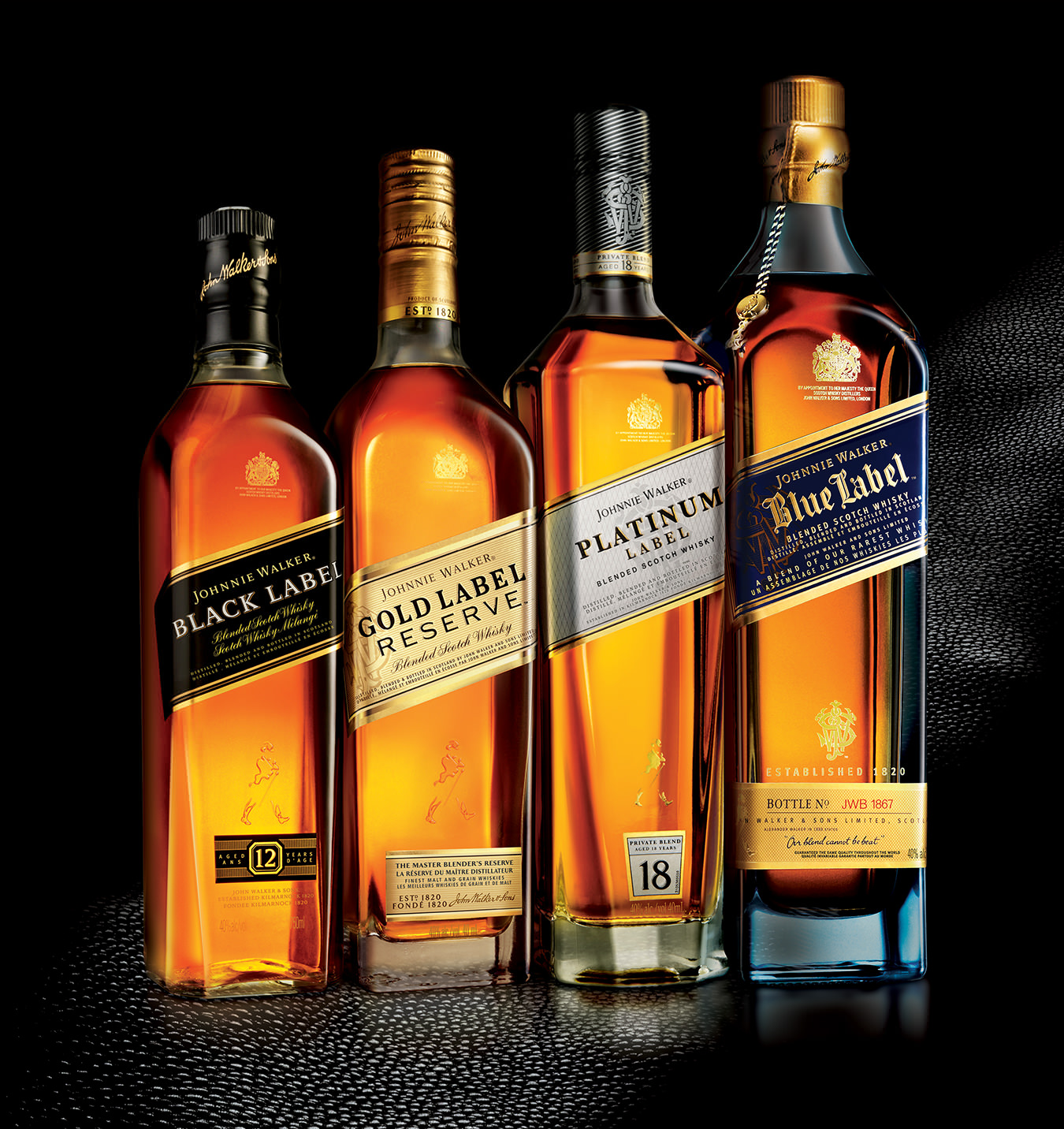 Every time I see a Johnnie Walker bottle, it brings a smile to my face. First and foremost, it's just damn fine blended Scotch whisky. While travelling in Cambodia recently, I spotted a bottle of Johnnie Walker Black Label in the hotel's lobby. I was curious as to the cost of a glass of Black in this country. The front desk attendant laughed and said, "Oh, that's not whisky in there. It's gasoline. We drink the whisky and then save those bottles for storing our gas. We love Johnnie Walker."
At some point, there was, in fact, Scotch in that bottle. Johnnie Walker is ubiquitous, stocked in the finest bars in the world and also found down dirt roads in Cambodia. People have been sipping it neat for close to 200 years and, from the signature square bottle to the logo of a gentleman striding with a cane, Johnnie Walker exists as one of the most recognized spirits.
If you have visions of Walker as a wizened, older gentleman leaning across a counter, don't. He was a serious entrepreneur. John Walker managed his parent's grocery operation in the town of Kilmarnock at 14 and was selling blended whisky by his mid-20s. Then, in 1843, he recognized the new railroad in town could be a catalyst for spreading his label around Scotland. By 1857, John had passed away, and his son Alexander was an integral part of operations; the Scotch was distributed in centres as far-flung as South Africa, and main operations were established in London, Sydney, and Paris by 1889.
"The story of Johnnie Walker has always been about four things," says David Allard, a marketing director at Diageo Canada, distributor for Johnnie Walker. "We focus on innovation, big bold flavours, a beautiful design, and progress. Johnnie Walker is, today, the number one selling blended Scotch in the world."
Even those who don't drink Scotch are likely familiar with Johnnie Walker's simple colour scheme breakdown of Red, Black, Double Black, and Blue Labels, ranging in price from $30 to $300 a bottle. The Red Label is an Everyman's Scotch. Affordably priced, it's a blend of east and west Scotland, smooth on the taste, and an effortless reach for bartenders looking to create cocktails.
Black Label, originally called Old Highland Whisky, was created in 1867 as a deluxe offering. At Toronto's Salt, bar manager Nick Kennedy pours a lot of Scotch. "It's mainly Islay, but blended is our next most popular category," he says. Johnnie Walker Black Label is the most popular, and Kennedy says, "I experiment with that one most often, as its profile is strong enough to shine through while still remaining smooth enough to balance easily." Double Black is, as the name suggests, Black amplified. Double Black boasts a confidence in flavour that separates it from its balanced relative, with a smoky nose, unmistakable spice, and slight tones of dried fruit.
One label that bartenders do not reach for when thinking of cocktails is the famed Blue Label. This one is created using the label's rarest casks along with a long-standing hand-selection process. It is characterized as distinctly smoky and incredibly smooth on the finish.
Two new expressions have been added to the Johnnie Walker portfolio of late: Gold Label Reserve and Platinum Label. The Gold Label Reserve, with its big, bold flavours and hints of wood, fruit, and sweetness, is meant to be a celebration of the art of blending, and thus is referred to as the Celebration Blend by the company. Johnnie Walker recommends it be served in one of two ways. "We like it over crushed ice with an orange slice in warmer weather," says Allard. "Or for those party nights, we recommend placing the bottle in the freezer and then serving it from the frosted bottle neat with a piece of dark chocolate on the side."
Both of these new releases are the darlings of the current master blender, Jim Beveridge, who likens the Platinum to the metal of its namesake. The sip is sophisticated; the blend of malt and grain whiskies matures for a minimum of 18 years, creating a delicate, smoke-forward blend with the characteristics of the elegant Speyside style.
"It was a family tradition with the house of Walker to serve a secret-recipe blend to the owners of the company and the serious collectors when entertaining," Allard says. "Jim Beveridge was inspired by this when creating Platinum. That's why we call this one the
Private Blend."
Make no mistake, bartenders and bar owners are happily adding Gold Label Reserve and Platinum Label behind their bars this winter in anticipation of celebrations to come.