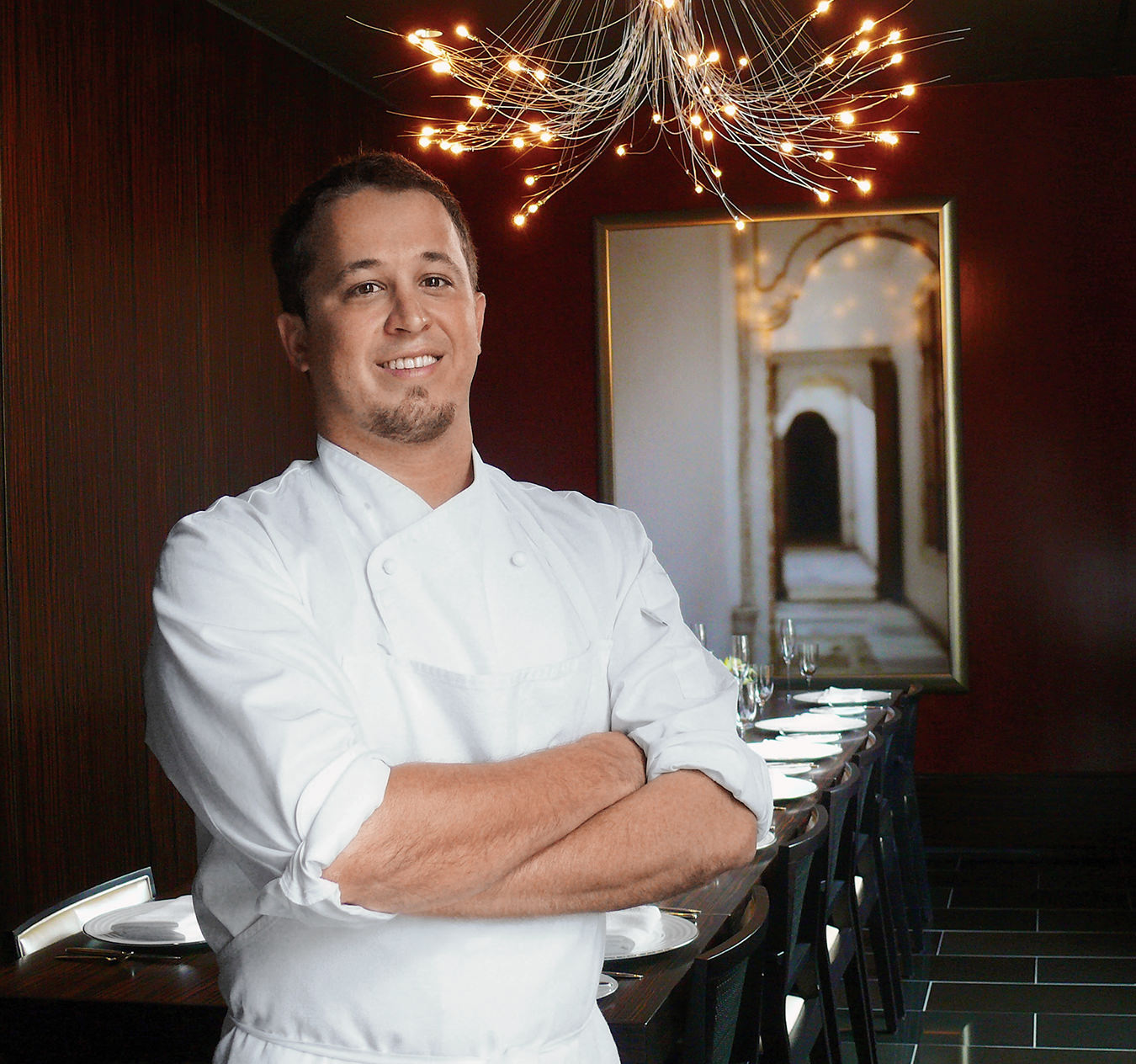 Dressed as he is this afternoon in jeans and a black T-shirt, chef Danny Grant looks more like a college freshman than the man responsible for running a two-star Michelin restaurant. He's not in his chef's whites this morning because we're at the Green City Market, one of Chicago's best farmers' markets: pristine white tents shade rows upon rows of impeccable produce, and the smells of caramel popcorn mix with that of roasting coffee beans. This is where chef Grant can be found a few days a week, checking in with some of his favourite suppliers and keeping tabs on the ingredients that will make it into his menus.
He works the market like a visiting dignitary, shaking hands and trading quips with friends and admirers. Vendors greet him by name and announce the latest products they've harvested. We stop at the stand for Seedling Enterprises where Grant introduces me to the farm's owner, Peter Klein. "Pete's a great guy," Grant tells me. "I don't know what it is about the dirt they've got over there, but his farm is amazing. Try these," he suggests, offering me a handful of miniature wild strawberries. Their intense flavour is in opposite proportion to their small size. I remark that I've never seen such tiny, perfect wild strawberries in a farmers' market before. "These are from seeds that we brought back from Europe," Pete tells me. "They're delicious, but they're a lot of work. I have a guy that's working on those things 24-7 practically, 'cause each bush will have like five or six ripe berries on it at a time and they go until frost."
"Do you ever use them at the restaurant?" I ask Grant. "Sometimes," he says, "but the shelf life on them is so short. Normally, we'll flash them in a pan so they release their liquid, cool them right away, and then take that liquid and reduce it down to this beautiful compote. Maybe I'll do that tonight."
Sure enough, a few hours later, seated in the private dining room of Ria, I'm presented with a pâté of foie gras paired with a bright red sauce that tastes of the essence of those strawberries I ate this afternoon. It is at once luxurious and comforting. There's more: Dover sole with corn and chanterelles. Pasta with razor clams. Wild king salmon topped with caviar. Guinea hen with English peas and potato gnocchi. A signature style reveals itself: Grant's flawlessly plated dishes balance the natural with the practised, the farm with the atelier.
Wild king salmon topped with caviar. Guinea hen with English peas and potato gnocchi. A signature style reveals itself: chef Danny Grant's flawlessly plated dishes balance the natural with the practised, the farm with the atelier.
Ria is the flagship restaurant of the Elysian Hotel. It was awarded two stars in the first Michelin guide to Chicago in 2010 (one of only three restaurants in the city to achieve that level) in what was considered a coup for the relatively new restaurant. Chef Grant is responsible not only for Ria, but also for the more casual Balsan, as well as room service and private events. It's a lot of pressure for anyone, but the 30-year-old chef takes it all in stride.
"It's very tricky," Grant admits the next day over a plate of homemade doughnuts with strawberry preserves at Balsan, "because it's one kitchen that serves both restaurants—there's a lot of give and take. It's very efficient, though, and it's exciting because my mind is never out of options. I'll be thinking one day about how to use sweetbread in a very intricate way, and then another day just a big chunk of sweetbread with like roasted sweet corn and chanterelles and a pickled peach or something like that. We'll play around with something in Balsan and think of ways we can use it in Ria, or vice versa. We just put a king salmon dish on the menu, for example—and so many people do hot salmon, and ours is a cold preparation that's poached gently. And we put a chaud-froid of capers and raisins overtop, and serve it with snap peas and caviar and orange—it's pretty beautiful." The dish started in Balsan using the less-expensive sea trout. The kitchen poached it and flaked it into a cold salad with greens and pickled vegetables and citrus. "It tasted so good, it was so fresh and bright, that for me there had to be a way to refine that and transition over to Ria."
That constant give-and-take keeps Grant at the top of his game, and his path to the professional kitchen was paved from the beginning. Growing up in Long Island, New York, he and his family took trips to Montauk and the Hamptons, where his parents always tried to get him to order off the children's menu—but the precocious youngster was only interested in what the adults were eating. "For as long as I can remember, I've loved food," he says.
Grant's family moved to Arizona before he started high school, and his first professional job was washing dishes in a Mexican restaurant. Throughout high school he worked his way up through the ranks, becoming a sous chef at a local French bistro, where the young cook encountered the kind of maniac chef that haunts popular imagination. "This guy was out of his mind," Grant recalls. "I'll never forget. There was a monkfish dish and it needed five perfectly round little potatoes, and for some reason I always put four. My mind did not want to do five and the chef would always take his knife and swipe it across my chest with the back of the blade saying he was going to kill me. One day he forgot to turn the knife around and he cut my neck. That was an interesting service, but I never forgot again. For the rest of my life, I'll never forget: five potatoes."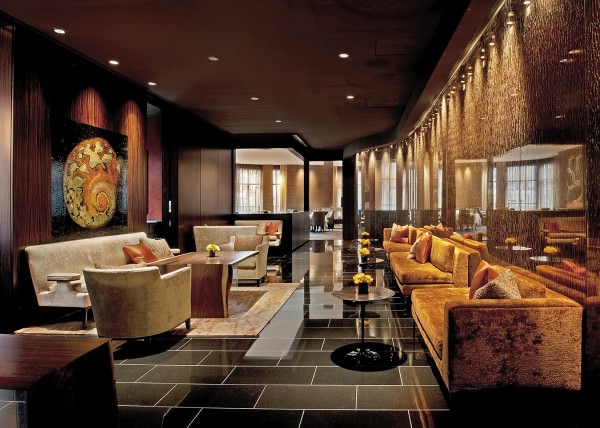 In 2002, he moved to Chicago and started working for Bruce Sherman at North Pond, and his real training began. Sherman noticed the dedication and talent in the young chef and gave him the chance to travel to France to study in the kitchens of Apicius and Drouant. "That was one of the more eye-opening experiences of my life," Grant says. "It was so romantic to me at that age, being in this amazing beautiful city and going in these one- and two-Michelin-star French restaurants. And Apicius at that time was going for three Michelin stars, so they were serious, they were making a real push."
When he returned to Chicago, he began work at Ria during its preopening in 2009. The chef at the time was Jason McLeod. It proved to be a fruitful relationship, and in the first year of the restaurant's opening, the duo received their own two Michelin stars. "I was pretty happy," Grant says of the day he found out. "I was pretty sure we were going to get one, but when we got two, it was a great day."
Shortly afterward, McLeod left and Grant was promoted to the executive chef position. It is a role he comfortably assumes, and although the pressure will be intense when Michelin returns this year, continuing accolades from his clientele give him reason to be optimistic. "I know that our food and service has gotten better since the last time Michelin was here," he says. "I think the food's better in the way it eats and the way it looks, and our ability to design a beautiful tasting menu has become stronger. All our food was really good, but I think now we hold ourselves accountable for everything we're doing and we're our own harshest critics."
That intense focus on quality is clearly paying off. In addition to the Michelin stars, a recent four-star review from the Chicago Tribune ensures that Ria remains one of the most exciting dining rooms in the city, and that's something Grant intends to continue. "Every day we have a meeting with the restaurant staff to discuss things from the night before and what's going on that day," he says, "and one of the most important things we talk about is consistency. It doesn't matter if you're great one day a week—you have to be great every day."