Lipstick is back with a vengeance.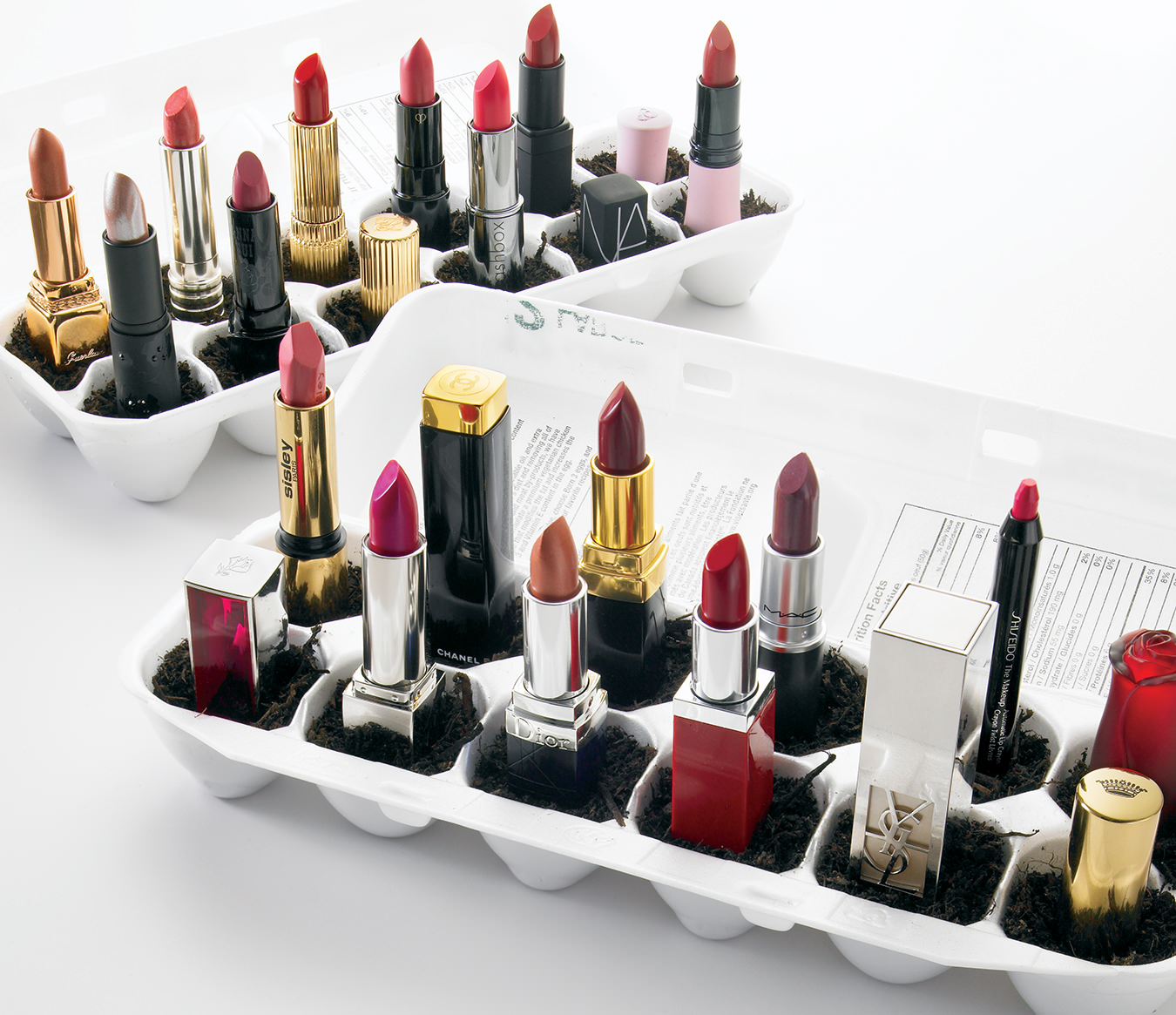 Lana Turner was a dame who understood the power of the pout. In The Postman Always Rings Twice, her lipstick case rattles along a café floor toward a rugged John Garfield. Her manner poised and hand outstretched, Turner waits for Garfield to bring it over; when he doesn't, she saunters by, grabs the case from his hand, applies her lipstick, then hits the road. By the time Garfield turns back to his coffee cup, he's a goner.
Watching that scene—and a later one, wherein a besotted Garfield kisses Turner, who wordlessly wipes off his effort and reapplies her lipstick—one comes closer to understanding why, in 1770, the British Parliament passed a law equating cosmetics with witchcraft; not long after that, Queen Victoria declared lipstick "impolite". But such is lipstick's allure: implied danger simply makes it all the more irresistible. Nabokov wrote about the tantalizing lipstick traces on Lolita's teeth; citing its "un-Islamic" powers of temptation, Afghanistan's Taliban government banned lipstick in 2001, creating a black-market trade in pinks, purples and reds. Now, lipstick is back with a vengeance—anchoring "glamazon" looks from Valentino, Gucci and Roberto Cavalli—and ready to show up on all kinds of femmes, fatale or not.
"Delightful," croons Poppy King, an Australian beauty entrepreneur, about the resurgence. A self-described lipstick addict who says she wears lipstick "90 per cent of the time—and 90 per cent of that time, it's red", King may be lipstick's most committed fan. Fifteen years ago, at the age of 18, she launched an eponymous brand of lipstick, then went to work as a colour consultant for Estée Lauder's niche brand Prescriptives. Now, King is helming a brand-new line appropriately titled Lipstick Queen, which includes 10 carefully considered colours available in both matte and sheer.
King's conversion to lipstick—and lots of it—came at the age of seven, when her "very stylish" mother was travelling across Europe, bringing back treats. "I used to love putting on these deep-red and matte-brown lipsticks, and walking around the house as if I was a movie star," says King in her trademark dulcet tones. "It was an immediate transformation, from little girl to movie star. It made me part of this fantasy world."
That's a world that Anna Maria Alonzo, a cosmetics buyer at Holt Renfrew, knows well. Part of her job is to understand the lipstick market, and the timeless allure of its offerings. "Lipstick is an extension of your personality—it's like having a new handbag," Alonzo explains. "It affects how you interact with the world. I relate it to a man in a power suit who is wearing a red tie. It's the same as wearing a bold, red lip—you're making a similar statement. You're announcing yourself."
The lipstick market is also announcing itself anew. Estée Lauder introduced its Signature Lipsticks, which boast a synthetic wax base that promises more moisture and a brighter, more accurate colour. To coincide with the launch, the brand polled women about their lipstick habits. Highlights? Plum is the most popular shade; almost 60 per cent of women have worn lipstick in the past three months; and women who wear lipstick, carry at least two shades with them.
The rejuvenation has also carried over to the packaging. Lauder's Signature line is housed in a reimagined iconic fluted case, and Alonzo cites the sexy, pen-like click that accompanies Chanel's Rouge Allure lipstick as a key factor in its success. "Companies are upping the ante, and creating experiences. They're trying to make makeup interesting, fun, gadgety."
And what of lipstick's old rival, the formerly ubiquitous lip gloss? It's still around, but Alonzo says, "The appeal of gloss is its convenience. You can put it on as you're dashing out the door. It's different from the ritual of sitting down with a lipstick and a compact. But it's the ritual that appeals to a lot of women."
King concurs. "Lipstick is so deeply ingrained in the experience of being female," she says with the fervour of a true believer. "It goes in and out of fashion, but it cannot be replaced in the same way that the iPod replaced the Walkman. There's an ebb and flow, but it's always there."
Back carton, clockwise from left: Guerlain KissKiss Forever Beige; Clinique Different Lipstick Rose Taffy; Estée Lauder Signature Lipstick Rich Red; Clé de Peau Beauté 23; NARS Viridiana; Pink Beauty Beatrice Luscious Lip Sheer; Smashbox Stunning; Anna Sui Sui Rouge V; Giorgio Armani Black Gem Shine 39.
Front carton, clockwise from left: Sisley L15; Chanel Rouge Allure; Chanel Lotus Rouge; M·A·C Budding Lust; Shiseido Automatic Lip Crayon LC3; YSL Love Collection 97; YSL Love Collection 96; Dior Bronze Couture; Lancôme Rock Icon Fuchsia.

_________
Never miss a story. Sign up for NUVO's weekly newsletter here.