Canadian Mountain Holidays
Gazing across a landscape of almost impossible purity and beauty, Edmund Hillary comes to mind. Glacier-specked mountains rise around me, forested at their bases, snowy at their summits. There is no visible way for me to have gotten here—the helicopter that dropped our band of hikers off deep in B.C.'s Columbia mountain range has whup-whupped away.
The activity is called heli-hiking, and it's essentially heli-skiing without the skis. Back in the mid-1960s, Canadian Mountain Holidays invented heli-skiing as a way of delivering powder hounds to the most challenging, exciting and untouched runs of their lives. In 1978, CMH created heli-hiking as a summer complement to the winter sport—keeping the Bell 212 helicopters busy year-round.
The little-known chain of ancient peaks west of the Rockies gives hikers access to some of the most remote and majestic real estate in North America. The sub-ranges include, among others, the Cariboos, the Monashees, the Adamants, the Bobbie Burns and the Bugaboos. This is my climbing challenge; known as "the Bugs" in international climbing circles, the twisted granite spires act as sentinels for reclusive glaciers, meadows and lakes.
Older than the Rockies by a couple hundred million years, comparable to them in height and fully their equals in majesty, the Columbia ranges attract only a fraction of visitors. Why? It's very hard to get into them—and that is the allure. Only the most inspired and stubborn backpackers are able to bushwhack their way to the lonely heights that, thanks to helicopters, can be attained with ease.
Mornings start with a 7:00 a.m. wake-up call—a staffer walks down the hallway ringing an old-fashioned school bell, and I flash back to outdoor camp in seventh grade. Morning yoga gets the muscles warmed up, followed by breakfast (including omelettes, hash browns, pancakes or French toast), and then it's time to prepare for the day's outing—CMH provides all gear: hiking boots, jackets and backpacks. We have already been divided into groups according to fitness and ambition; I am, apparently, fit enough to be with the veteran mountaineers. I'm at the helipad at 9:00 a.m., and five minutes later the chopper chauffeurs us to 9,281-foot-high Rooftop Ridge. We crouch on the ground and hold on to our hats as the rotor wash kicks up gravel and dust, and the copter whirls off to pick up the next group. It's soon out of earshot, and the only sound is our gasps at the view.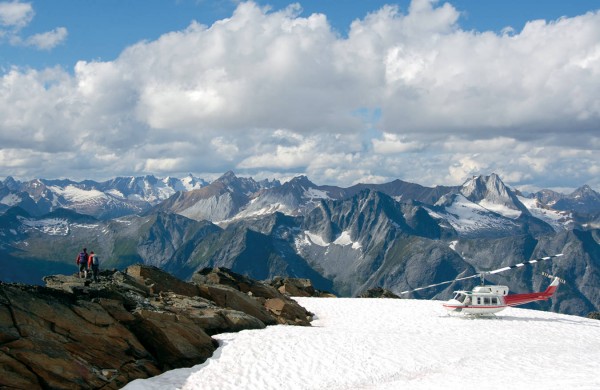 A guide leads our group of seven hikers, soaking up the rays of the mountain beauty and basking in the experience of this splendid Earth. At some points we talk, but more often we walk in silence, soaking in the peaceful mountain quiet. We tread through grassy marshes, traverse steep slopes, strategically step over precarious boulders and tiptoe across exposed fins of granite so narrow we can't place our feet side by side. There are no trails, no campgrounds, no tourists. There are show-stopping views, the feel of the cold wind and the warm sun, the smell of mountain air.
After a full day of hiking, a helicopter swoops out of the sky and touches down next to us. Minutes later, we are back at the lodge. Time to slip into a bathing suit for a dip in the mountain pond or a soak in the bubbling hot tub. Need to have knots kneaded? A masseuse is waiting. At dinner, guides serve up hearty fare family-style. Conversations typically centre on the day's adventures and what's to come tomorrow. It's an intimate atmosphere—that's a CMH tradition.
Canadian Mountain Holidays operates six of their 12 luxurious wilderness lodges for heli-hiking (the balance are in operation for heli-skiing). All have handsome great rooms, big fieldstone fireplaces and gorgeous views. On a three-night trip, you stay at a single lodge; with a six-night lodge-to-lodge package, you can sample two different lodges and experience different hiking terrain.
The last day arrives too quickly. "What a great time, with great friends, we had. The majestic beauty of the mountains was never more impressive amidst the backdrop of the finest staff ever experienced," writes one guest in the comment book, after his third CMH heli-hiking trip.
Searching for the appropriate adjectives to describe what it is you are feeling and what it is you are seeing as you conquer these exquisite peaks is so personal. For both young and old, for the hard-charging and the serenely slow-going, this is hiking on top of the world.
Photos ©Topher Donahue/AlpineCreative.