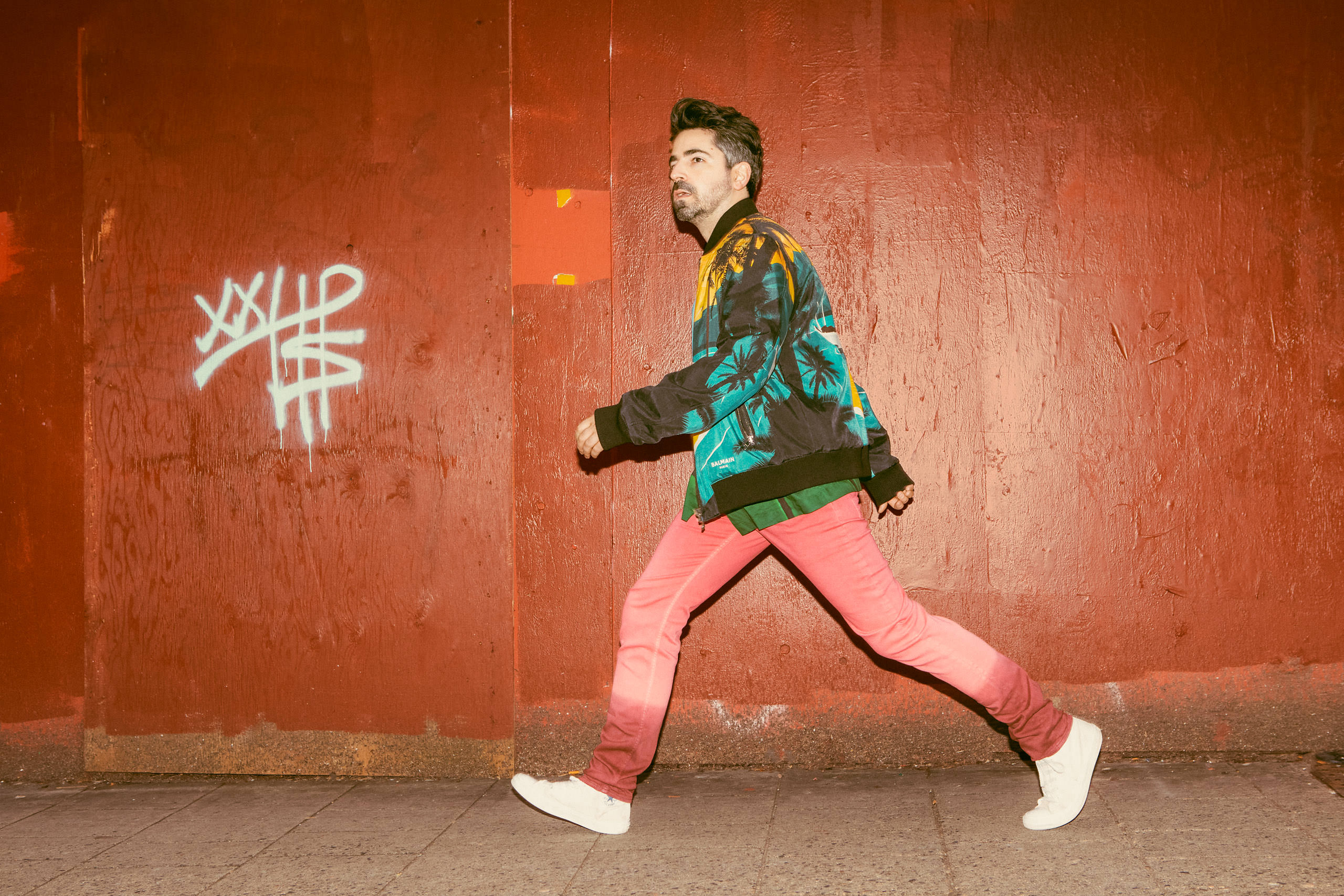 DJ Felix Cartal on the Impossible Pursuit of Perfection
Taelor Deitcher, better known by his DJ name Felix Cartal, speaks with a sarcastic edge while he sips white wine on a patio overlooking his home city of Vancouver. His tongue-in-cheek humour is palpable as he laughs lightly about the impossible pursuit of perfection—an ouroboros-like feat for artists. "It feels like something you can't solve," he says of the act of making music. "But I like that. It's like an infinite game."
It's perhaps because of this infinite nature of music that the Juno-winning producer and DJ says releasing a track is more like surrendering it. From a meticulous approach to sonic details (his 2018 song "Mood" went through at least 40 versions) to writing an entire album in 2016 then deciding to scrap it, Cartal is well acquainted with the dips and peaks of the creative process. The result is a wide-ranging discography of electronic dance tracks, frequented by singers lending vocals to his beats, from Canadian artist Lights to vocalist Sophie Simmons—the latter collaboration earned the two a Juno nomination this year for the single "Mine."
Though his music is firmly established within the dance and house genre, with songs hitting Top 40 charts and pre-COVID dance floors, Cartal's beginnings are rooted in the DIY punk scene of his high-school days, where he learned to perform on stage in "really terrible punk bands," he laughs. At the University of British Columbia (he would eventually drop out to pursue music full time), the progression from punk to house music wasn't that much of a stretch for the artist; the two genres share a similar cathartic energy that manifests on stage.
"All the artists in electronic music that I was inspired by were people I could tell were band guys. Like Steve Aoki, Mstrkrft, or Justice. They wore leather jackets and chain-smoked on stage trying to be the Ramones—they were all rockers," he says. "The imagery and iconography felt familiar to me, and the music felt like punk rock because they were breaking all the rules. Punk always felt like, 'we're not as good as a real band but we're gonna fucking do it anyways.' And I felt the same way about electronic music too. It was like, 'oh, we didn't mix this properly, or we didn't go to school to learn compression but we made tough-sounding records that were all attitude.' "
Cartal's first two albums, released under Steve Aoki's record label Dim Mak, feature aggressive and technically imperfect beats that allude to this tough sensibility. "I feel like that's sort of the charm of those records," he says. "Like, mistakes sort of make it interesting." And while his later albums have become refined in style, infused with more pop melodies, it's clear from our conversation that Cartal still has a punk approach to his music.
"My message is: Literally no one knows what they're doing, so just do shit," he says about tackling imposter syndrome. Creativity can often feel like a revolving door of inadequacy and adequacy, but Cartal pushes past mental blockages with a twinge of a "fuck-it" attitude. Of insecurity, he says, "It is kind of freeing to know that it will never go away because then you know it's an inconvenience that you have to learn to work with."
Cartal's newest album, Expensive Sounds for Nice People, is the latest iteration of his musical journey. Titled as a tribute to his fans (the "nice people"), Cartal sees it as a chance to showcase his self-described cheeky sense of humour—a diametric response to the "vibey" aesthetic of current house music. "I was like, I'm just gonna pivot and do something totally weird," he says. "Happy Hour," a single off the record featuring electro-pop singer Kiiara, is reflective of the direction of the 16-track album, with light pop-sounding sonics balanced by heavy lyrical vulnerability. Cartal describes the song as about "loser shit": sitting at a happy hour alone, thinking about someone else.
It's a testament to the strange times we live in—a time defined by physical inaccessibility yet virtual hyperconnectivity—that Cartal is able to create collaborative songs without even meeting the artist he's working with. "I still haven't met her in person," he says of Kiiara, who he connected with via Twitter. Still, there is a certain melancholy in releasing an album when live shows are on hiatus, particularly in a genre defined by the physicality of movement. "It's weird making a dance record and seeing no one dance to it," the 34-year-old says.
While social media affords some connection through live stream performances, there is still nothing quite like the real thing. The sizzling energy of a crowd. The thrill of being surrounded by strangers, bonded by rhythm. Cartal recalls some of his craziest live show moments, from a mace bomb thrown on stage at a club in Montreal to the surreal experience of performing at an art museum in Gothenburg, where 3,000 ravers danced among artworks shielded by black curtains.
Life may have a slower pace for Cartal now—particularly when his pre-COVID schedule included around 100 flights a year—but the infinite game of music continues. "I feel like every year that passes, I know less. I feel weirdly more competent, but then I'm like, fuck, there's so much more [to learn]," he says. "I love that."
Stylist: Leila Bani. Grooming: Christopher Deagle. Assistant Stylist: Kristine Wilson. Assistant Photographer: Yohan Kim.