A clinical approach to beauty.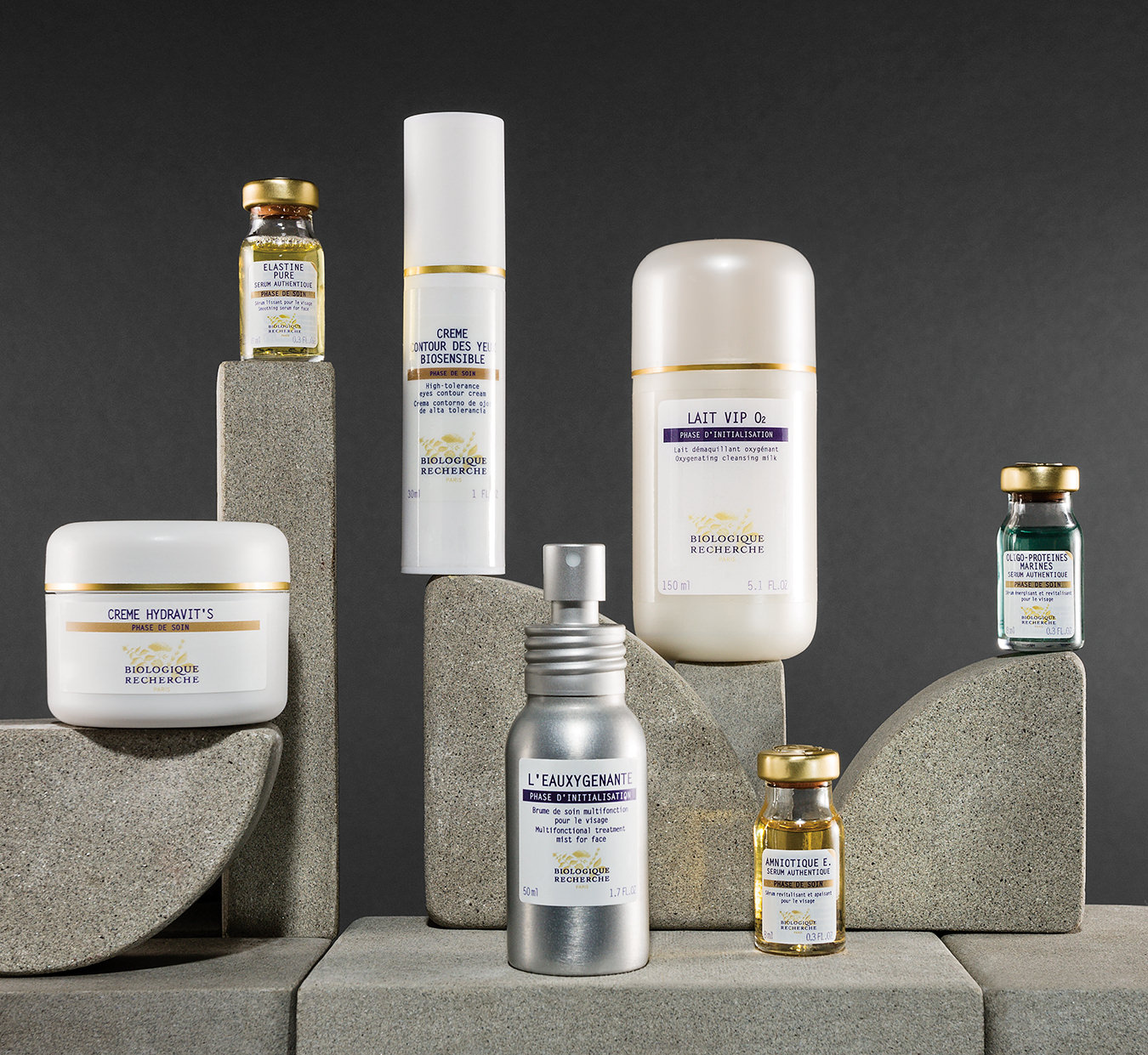 Keeping skin healthy as decades pass can be as easy as remembering this adage: accept the things you cannot change, have the courage to change the things you can, and be wise enough to tell the difference.
That is the hard part: although a plethora of anti-aging creams promise to lift saggy faces in just minutes, and some sunscreens claim to offer all-day protection, truth can be scarce. But Dr. Philippe Allouche, creator of formulations for French skin-care line Biologique Recherche, affirms there are ways to stave off premature aging and its attendant wrinkles and loss of collagen.
Biologique Recherche uses the medical clout of trained physician Dr. Allouche—whose parents, Dr. Yvan (a biochemist) and Josette Allouche (a physiotherapist), started the company back in the seventies—to create genuinely effective clinical products that work on the epidermis itself. "The skin is an organ of perception," says Dr. Allouche. "It is the only living, renovating organ we have." By combining medical and cosmetic expertise, Biologique Recherche treatments rebuild clearer, firmer, and softer skin. The company's beauty institute, Ambassade de la Beauté—where the full repertoire of Biologique Recherche treatments is available—is located off Paris's Champs Élysées; closer to home, their signature facial treatments are offered at the Peninsula Spa in New York.
Dr. Allouche is an effusive individual, and it is hard not to notice his skin, in such fine fettle. Allouche's approach involves deep stimulation of the skin as well as fluid drainage of the face and neck. The combination of all of these targeted actions re-sculpts the facial structure. "Our skull face is fixed—we can't do anything to change it," he says. "Yet we are able to restructure our face—the flesh, the muscle—with massage and suitable product."
Every treatment is customized on an appointment-by-appointment basis because "the skin is not the same today as it will be tomorrow," says Dr. Allouche, who adheres to the science-based skin-care principles established by his parents. A spa treatment begins with an assessment of the skin: hydration, skin elasticity, pigmentation, and sebum. The skin is cleansed and exfoliated to minimize pores, and then the "lift" process begins with customized serums and masks that incorporate high concentrations of marine, botanical, and biotechnical extracts.
Extractions are forbidden. "I hate dermatologists. I am sorry to say that," says Dr. Allouche. "For disease, yes for dermatologists, but for the skin—lasers, scrubs, peels, aggressive medical procedures—it's too much, they are not good for the skin." He shakes his head vehemently.
Steam is also not used during a Biologique Recherche treatment; it provides a release of heat shock proteins, signalling heat aggression to the system. Simply put, heat is perceived as a real threat to the skin and will throw its delicate balance. Dr. Allouche recommends using cold water for home treatment, and when offered a hot towel during a flight, "never, never use it on your face."
Massage is a key component during the treatment; just as champion bakers know how to knead bread just so, Dr. Allouche knows how to push, pat, press, and jig the skin in fluid movements, working from the neck toward the forehead and from the inner part of the face toward the outer part. "You need to approach the face as 3-D, like an architect does," he says as his hands work on deep-tissue facial stimulation, drainage, and muscle stimulation. "You need to see and work from all angles, not just from standing at the top of the head and looking over the face. There is no magic. It is simply respect to the skin."
When more help is needed, there is the company's Remodeling Face Machine, a micro-current device that has earned the devotion of an entire black book of celebrities for its remarkable toning and sculpting effects. The machine uses three types of electric currents, separately or combined: galvanic, to improve the absorption of the active ingredients; low and medium frequency currents to reshape, tone, and oxygenate; and athermic pulsed high frequency currents to revitalize and purify the epidermis.
All skin needs maintenance, and Dr. Allouche suggests at least one treatment a month, but the best results are maintained by having a facial every three weeks—that's the length of the epidermal renewing cycle. An at-home regimen is also suggested, with the cornerstone product being Lotion P50. All Biologique Recherche treatments, whether administered at home or in a beauty institute, incorporate the P50 ritual; the lotion gently exfoliates the skin, regulates excess sebum secretion, moisturizes, and helps maintain the epidermis's pH.
Biologique Recherche products cannot be bought online or at duty free, and they are not available in department stores. "How can you be a professional brand and be available everywhere?" Dr. Allouche asks rhetorically. "A newspaper in France has called us the Hermès of the skin-care brands." It's a comparison Dr. Allouche is undoubtedly proud of.
After just one Biologique Recherche treatment, its efficacy is obvious—this is different—and it will have you wanting more.