Perched on the northwestern edge of the Grand Canyon, with our new 2013 Land Rover Range Rover dwarfed by 250-million-year-old salmon-to-rust-coloured rock formations, we may as well be on another planet. Likely the Red Planet, judging by the scarlet sand that not only surrounds our aluminum-bodied steed but also fills up its tire treads as we take a few photographs. With no other vehicle in sight, no desert vegetation taller than a couple of inches sprouting from the ground, and not one living creature perceptibly stirring, my driving partner and I are struck by the silence.
We may not be on Mars, but Mars can't be much quieter than this.
It's this type of all-enveloping silence that the engineers at Land Rover pursued for their range-topping Range Rover sport-utility. Part brand, part off-road legend, the quintessentially British company, Jaguar Land Rover, has expanded the Range Rover name from simply denoting the most luxurious, most powerful, and most exclusive SUV model that the company sells. With the Range Rover Evoque and Range Rover Sport, the compact and mid-size entries for the upscale brand, the adjective-less Range Rover is now the self-titled work that sits at the pinnacle of the unofficial RR sub-brand, even if it is still officially yet somewhat confusingly named the Land Rover Range Rover. That's like calling it the Jeep Maserati, if Jeep made only upscale-yet-off-road-pounding SUVs, while Maserati specialized in even pricier and more powerful examples of such stiff-upper-lip British SUVs.
Regardless, this fourth-generation Range Rover has a healthy respect for its own history, even while it breaks new technological ground. It is the world's first SUV with an all-aluminum unibody structure, and its much lower weight (it weighs 250 kilograms less than the previous model) helps to improve its dynamics and fuel consumption.
Within a few kilometres of driving the new Range Rover, its lighter structure becomes apparent, with quick step-off acceleration and an overall lightness on its feel. This major structural diet is one of the primary ingredients the company is using to address one of the largest issues with the outgoing model: its thirst for premium fuel. A new eight-speed automatic transmission, now with shift paddles, will also help here, while increasing the on-road performance quotient.
The supercharged 5.0-litre V8 engine is the only one available in Canada, and it is largely unchanged, though the United States will receive a naturally aspirated version of this engine as well. Instead of stop/start, the Range Rover offers what it calls Transmission Idle Control, which disengages 70 per cent of the drive power when idling. It doesn't offer the dead silence of a hybrid or stop/start-equipped luxury car, though it also doesn't transmit the occasional clunkiness of the engine restarting again when you lift your foot off the brakes.
This fourth-generation Range Rover has a healthy respect for its own history, even while it breaks new technological ground. It is the world's first SUV with an all-aluminum unibody structure, and it improves on fuel consumption.
Besides the environmental issues of increased greenhouse gases and emissions, there are also concerns regarding convenience as well as cost. For the company, the Range Rover must meet increasingly strict fuel consumption regulations around the world. And for the owners? As a fellow car-enthusiast friend discovered when he bought a 2011 supercharged Range Rover just before the birth of his second child, both adults in his home became annoyed with it: he at the elevated fuel bills, his wife at the increased frequency of fill-ups needed. End result: they sold it within a year.
To recapture buyers such as these, Land Rover says the new features all combine for a nine per cent reduction in fuel consumption, a laudable if not overly impressive reduction—especially considering that your starting point is one of the thirstiest SUVs on the market. Its estimated Natural Resources Canada ratings of 16.6 L/100km city and 10.6 L/100km highway give it an overall average of 13.9 L/100km.
This makes it one of the more fuel-hungry SUVs, but it is still more fuel efficient than similarly powerful rivals like the squarish Mercedes-Benz G550 or the turbocharged BMW X5 M. The new RR's overall U.S. Environmental Protection Agency numbers are equal to those of the larger and flashier Cadillac Escalade AWD—but it's pricier to fuel, as the Caddy takes regular—and it is thirstier than the turbocharged Porsche Cayenne (never mind the gas-electric hybrid versions of those two).
Unfortunately, a unique, much more fuel-efficient diesel-hybrid drivetrain planned for the Range Rover in overseas markets this fall won't be certified for North America because of the stricter diesel particulate emissions rules on this continent. Yet the business motto for Range Rover is "to be the world's best SUVs," says Kim McCullough, brand manager for Land Rover North America, and the firm benchmarked vehicles from Bentley and Rolls-Royce among other luxury marques to ensure it delivered advanced features in areas outside the engine.
The Range Rover's best customers—those who own five or more Land Rover trucks—enjoyed a special advanced gathering during development of the new Range Rover with McCullough and the development team, where the buyers insisted they "not change it, just make it better." So this latest version, replacing the third-generation version introduced way back in 2002, received a conservatively sharpened look that won't offend any long-standing Range Rover sensibilities. It now has a more laid-back grille, headlights and taillights that sweep into the surrounding bodywork, and decorative versus functional vent openings just behind the front fenders. Why fake vents now? Those air intakes have been relocated up high and under its forward-opening clamshell hood to afford the Range Rover 900-millimetre deeper wading capability, up 100 millimetres from before.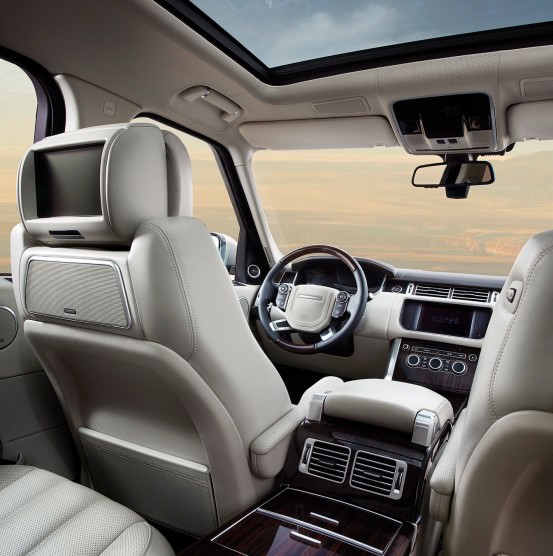 We didn't encounter any deep water in the Arizona or Utah deserts, but our group of Range Rovers did tackle some fairly steep rock and slippery sandstone. Land Rover's team of off-road instructors got out, and helped guide our line of vehicles up and over the trickiest bits, often including jagged rock edges ready to impale tires, underbodies, or outsize off-road yee-haw characters. Watching a Range Rover tackle the tough stuff is always a visual treat, where you can really see the huge amount of articulation possible in one of the many off-road modes, the huge gaps between tire and fender going up and down like an accordion at polka night, and the crescendo when one wheel would lift off the ground, sometimes leaving only one or two wheels scrambling for grip.
In truth, there's not a huge upgrade in capability off-road, as the last one was hugely capable in the rough stuff to start. Since the vast majority of drive time and test drives occur on smoothly paved roads, improving on-road comfort was the main priority of this redesigned version. The body is more aerodynamic and therefore quieter as it slips through the air on the highway, while every noise, engine note, and door thunk have been dampened to provide a high-quality sound and feel. (Focusing on street-level comfort along with allowing major suspension travel off-road means the Range Rover still leans over somewhat on curvy roads. It's not going to have passengers green with car sickness, but it was enough to have me looking for a Sport or Dynamic button.)
That emphasis on comfort and quality is most apparent inside, where a completely revamped interior modernizes the occupant environment considerably. Land Rover says there are half as many buttons inside as before, but there are more features and comforts. Most of them are now accessed through the large full-colour touch screen located just above the circular transmission knob that rises from the vehicle's innards, as in recent Jaguars. All wood is from sustainable forests, and all leather is from noted Scottish hide firm Bridge of Weir. The fold-down electrically powered tailgate can hold up to 272 kilograms, though we didn't try to see if it could power up while two adults sat on it.
For the true sybarite, the top-line Autobiography Ultimate Edition provides all four outboard positions with heated, cooled, reclining, and massaging seats, along with a massive panoramic sunroof and a powerful 29-speaker, 1,700-watt sound system from Meridian.
Unlike most range-topping luxury SUVs, this one still seats only five people. Officials suggest that's because this vehicle is not quite as large as some think, to ensure it's still somewhat city friendly. But Land Rover's LR4 and the recently unveiled 2014 Range Rover Sport both offer a third row, and the gaping cargo area suggest one could certainly fit back there.
It's tough not to be impressed with nature's awesome power as well as human know-how. This place may not be Mars, but the blending of history and technology here is impressively otherworldly.