Sun, Sand, and Spiritual Healing In French Polynesia
As the dive boat sets aground on the shore of an uncharted desert isle, I imagine our group as the castaways from Gilligan's Island. The skipper—in this case, Patricia Fargeon, the managing partner of boutique travel company Longitude 180—announces our arrival at the motu, one of several small desert islands hugging the coral reefs that rim the atoll of Fakarava. Our motu is about 500 square metres, with nothing on it but a smattering of palm trees, some lush plumeria bushes, and the glorious white-sand beaches for which South Pacific motus are famous. The undersea layer of sand in the lagoon is so white that even in the deepest spots, it reflects the sky in vibrant, shimmering shades of turquoise as far as the eye can see. You can wade out for what seems like a kilometre before it's over your head, and we float peacefully in the calm, warm salt water. Soon, lunch—which was caught on the way to the motu and grilled over an open fire by our guides—is served with a delicious salad and a nicely chilled chardonnay from the cooler.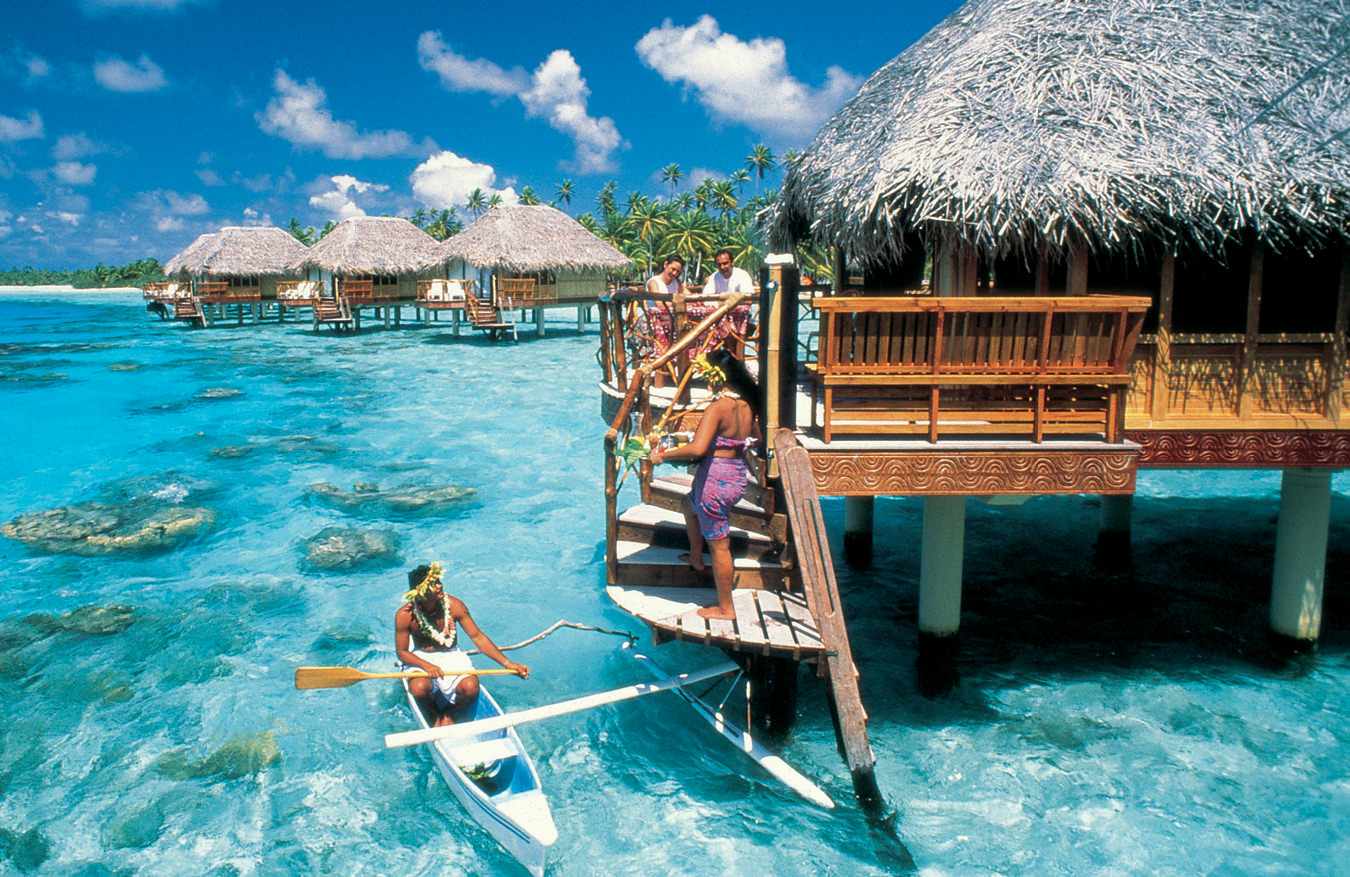 This tantalizing mix of untamed wilderness and outstanding service exemplifies a typical day on an excursion in French Polynesia with the enlightened principles of Longitude 180. This is a tour company with a mission; we're not just on vacation, we're on an existential journey. Not only are we being gently delivered into a world without telephones, toxins, deadlines, or traffic jams, we are travelling with people who fully understand our need for the total, if temporary, elimination of worldly cares. Under the direction of Philippe Lacaille, Fargeon's business partner and a reiki and yoga master, a typical day's itinerary consists of a morning yoga session on the beach followed by a tropical breakfast; a lagoon excursion in Fakarava, a UNESCO−protected biosphere reserve with exceptional diving sites and a rich ecosystem; relaxing and unwinding at the hotel with an evening meditation session; and finally, dinner at the hotel's restaurant. As the former CEO of an international pharmaceutical and biotechnology company, Lacaille is not just a tour guide with a gimmick. He has led the typical driven lifestyle of a busy executive: constant travel, long hours, rubber-chicken dinners, and relentless stress. He has been there, and his job is to take the rest of us away from there; he is living proof that it can be done. "We don't realize how disconnected we become from our bodies," he says. "We live in our heads, without fully realizing the toll we are taking on ourselves physically until it's too late. I've seen colleagues just drop from heart attacks."
When Lacaille started practising yoga 15 years ago, he was looking for a way to feel better. In the process of saving his body, he improved his mind. "As soon as my body started to heal, I became more focused and effective. I wished I had done it a long time ago. I'd have been a lot more efficient." That's the transformation Lacaille wants to effect in guests who travel with Longitude 180. "I want to reel you back into your bodies and reinvigorate your souls," he tells us.
In 2000, Lacaille left his job, opened the Reiki Centre in Richmond Hill, Ontario, and started teaching yoga full-time. But the real turning point came in 2005 when he and his wife and two young children were on Air France Flight 358 from Paris when it crashed at Pearson International Airport. Miraculously, no one was killed when the plane skidded off the runway and burst into flames with 309 passengers on board. "It was an incredible kick in the butt," says Lacaille of the crash. "I thought, 'What am I waiting for? How many people have a chance for a second life?' When you do, you can't screw it up."
This tantalizing mix of untamed wilderness and outstanding service exemplifies an excursion to French Polynesia with the enlightened principles of Longitude 180.
Reiki helped Lacaille and his family to heal, and he made a pledge to help others in need of physical and spiritual healing by volunteering his services at homeless shelters. Every Monday when he's not travelling with Longitude 180, he does reiki and yoga at the Parkdale Activity and Recreation Centre in Toronto, and on Fridays, he does the same at Tumivut, the largest youth shelter in Canada, also in Toronto. In 2007, he started Longitude 180 with Fargeon and a third partner, Gilles Congourdeau, both of whom have been in the travel business for 30 years.
On the road, Lacaille is not aggressive or excessively earnest about his philosophy. He may be a reiki master, but he's also French. He loves great wine and great food, and takes a healthy pleasure in life. He teaches by example. He remembers, for instance, to "leave 30 per cent for the Buddha" when he eats, but he doesn't give you the evil eye if you clean your plate, which most of us do, because the food in French Polynesia is amazing. It is, after all, an overseas territory of France. The catch of the day is prepared with something of a Parisian flair, and the house wine is always a French vintage.
Lacaille, a Kripalu yoga master, tailors his yoga sessions to individuals in the group, so there is no pressure to be a pretzel. And since most sessions are held outdoors—on the beach in the morning, in the ocean at midday, on a pontoon at sunset—you never have the sense that you're being deprived of precious moments in the sun. In fact, our existential transformation seems enhanced by our proximity to a natural environment that bombards the senses: the colours of the water, coral, fish, and flowers; the scent of frangipani and Monoi, the local coconut oil that's infused with gardenia; the sound of the sea as it crashes against the coral reefs of the lagoon; the feel of the sand on your toes and the warmth of the sun; and the taste of just-squeezed tropical fruit juice and fresh fish.
Lacaille is a master of Usui Shiki Ryoho, the original form of reiki conceived in the 1920s by Dr. Mikao Usui, a Japanese Tendai Buddhist. It involves channelling life energy and transferring it to others as a means of physical, mental, or emotional healing. Practitioners are conduits who channel the energy through their hands, either by touching or holding them close to the body. Reiki can be translated roughly as "universal life energy", and although it sounds a bit wacky, it is surprisingly effective. The experience has most of us snoring within minutes, and waking up feeling fully refreshed.
The sessions generally take place at hotel spas, where we can also experience more traditional spa services such as massage and a variety of moisturizing, exfoliating and regenerating treatments employing local ingredients. In addition to coconut, seaweed, and tropical-scented oils, ingredients also include deep-sea water. The Thalasso Spa at the Intercontinental Hotel in Bora-Bora is the only spa in the world to offer hydrotherapy treatments with deep-sea water drawn from a depth of over 800 metres, which is potently rich in minerals and trace elements, particularly nitrogen and phosphorus. The water is initially used in the heat-exchange system that runs the hotel's air conditioning; although it wouldn't be cost-effective to pump it up from such great depths for spa use alone, the hotel saves 85 per cent on its cooling costs by using the 5°C water. Once it has been run through the pipes, it is rerouted to the spa (instead of back to the sea), where it is used for treatments.
Any trip to French Polynesia begins with a flight into the international airport at Papeete, the capital of Tahiti, which is beautiful in its own right, but tends to function as a jumping off point on the way to other islands in the archipelagos. Papeete is also a great shopping destination, with outposts of all the top French luxury brands, a bustling local crafts market and a South Seas pearl market with nearly wholesale prices. We spend a night in Papeete and depart the next day for what turns out to be a three-island tour. The first stop, Fakarava, is followed by Bora-Bora, the legendary diver's paradise in the Society Islands that I can say without any bias or fear of contradiction is blessed with the most beautiful lagoon in the world. The last stop is Tikehau, which, like Fakarava, is part of the Tuamotu chain of atolls. We stay on a small motu, only slightly larger than the desert island we visited on Fakarava. Our hotel is the island's only structure. Here, as on Bora-Bora, we stay in individual over-water bungalows, which is the convention in French Polynesia. There are no condos on the beach, and few buildings over two storeys. Room service is paddled over by boat to your private dock.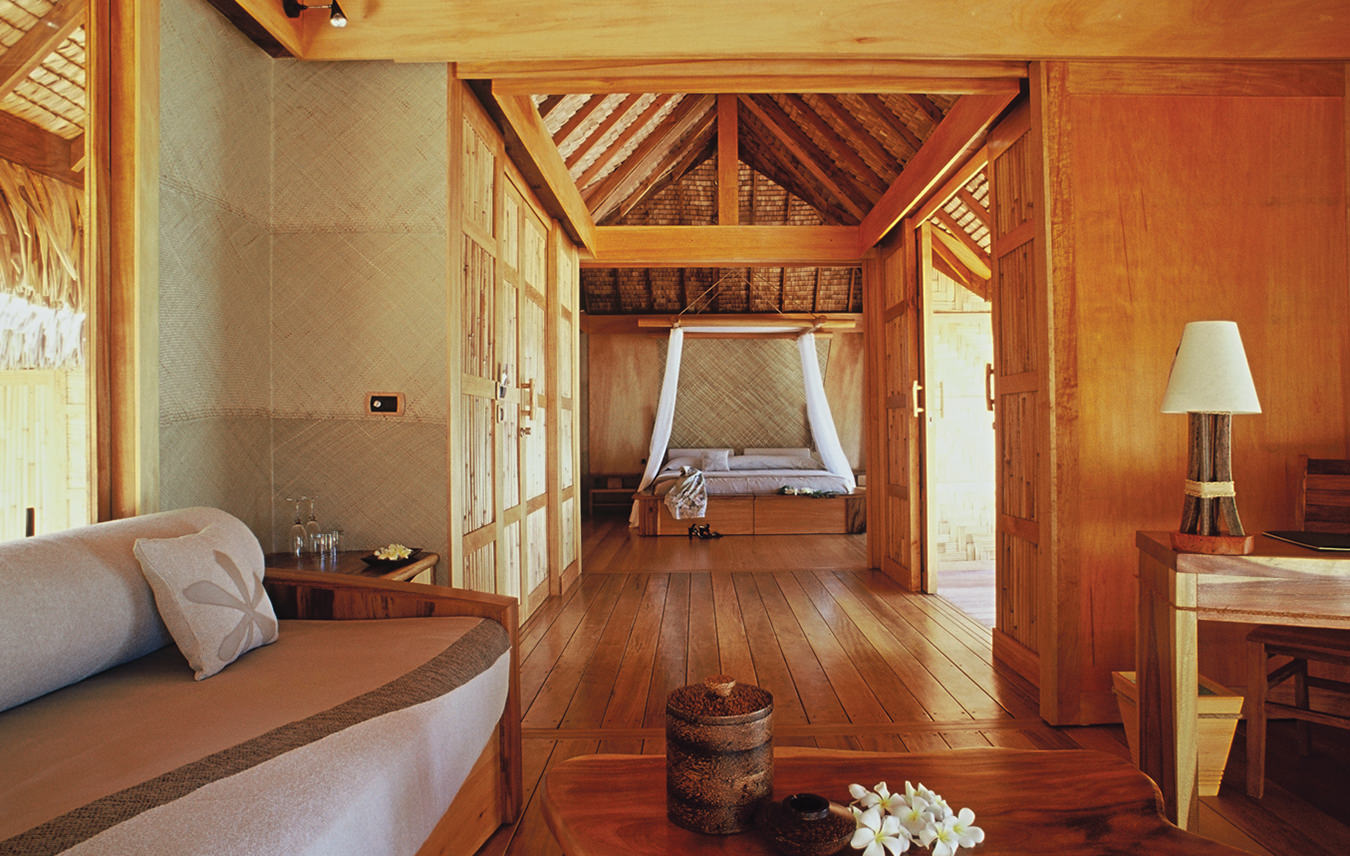 That in itself is indicative of the service in French Polynesia; it is, in a word, outstanding. French Polynesians are warm, friendly, happy people who fully participate in the economy of their native land. They are inviting you as a guest to their own private paradise, and they make their living not just from tourism and other commercial endeavours, but from the sea. On the way back from a Jet Ski excursion around the island of Bora-Bora one day, our guide, Raphael, took us to his family's house, on a stretch of beach beside a lagoon. While we sat on the beach, he shimmied up a tree and chopped down a couple of coconuts. He disappeared into his house for a moment, emerged with a shredder and a sackful of bananas and pineapples, and served us a feast of fresh fruit from a little table on his beach, in a gesture of genuine hospitality.
Another highlight of the trip had occurred just after lunch a few days earlier on the motu in Fakarava. Just as we were starting to pack up the cooler that day, our two guides suddenly ran to the shore and waded into the water—they had obviously spotted something. One of the guides came back to shore, climbed a palm tree and cut off a huge, leafy branch. He took it out to the end of a sandbar, dipped it into the water, and began to wade back toward the beach. The other guide, mysteriously, started throwing rocks into the water as he waded back toward shore from a different angle. I assumed they were just playing around in the water, a well-deserved time out after spearfishing for our lunch. As they waded closer to shore, it became apparent, however, that they were fishing. They had spotted a school of about 50 flat, round moonfish that had strayed into too-shallow water, and were herding them into the V formed by the sandbar and the beach. Once they reached the shallow water, the palm bearer began scooping them up onto the beach. We all ran to help grab the flopping fish by the tail and load as many as we could into the cooler.
That night, we learned, the guides would have a big feast and feed their entire village. They said it was rare to find such a large school so perfectly placed for easy capture—like a gift from the gods, one might say, manna from heaven. It's the sort of thing you don't read about in travel brochures, the type of image you can't truly capture on film, and it's what makes a great trip all the more memorable.