The Ferrari F12 Berlinetta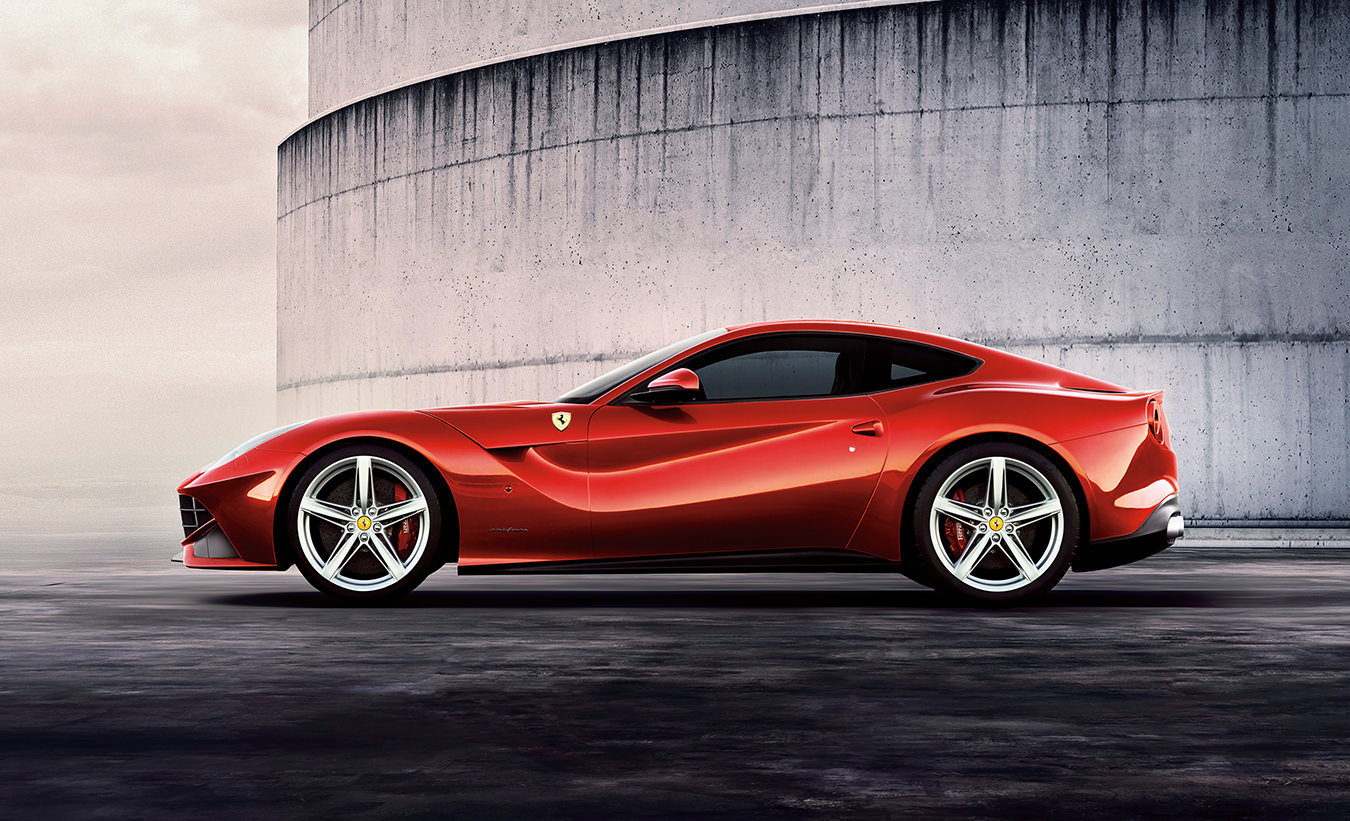 The all new F12 Berlinetta is the most powerful Ferrari to slap on a licence plate—ever. Think about that for a second: more than the Enzo, that mythical low-volume V12 sports car that still draws oohs and aahs whenever it appears. More than the highest-performance road-going version of the F12's predecessor, the 599 GTO, introduced in 2010 with similar "most powerful production Ferrari" plaudits, as the regular 599 GTB was before that.
The F12, with its 730 horsepower and the cylinder count reflected in its name, is now the most powerful naturally aspirated production car in the world. (Only the Bugatti Veyron, helped along mightily by its four turbochargers and 16 cylinders, can surpass these horsepower numbers, at least in North America.)
Surely this latest leap in Ferrari's potent power summit comes in their sportiest performance car? Well, not quite. Like its predecessor and its Italian rival (the Lamborghini Aventador), the F12 is a two-seater that sits at the top of its sporting lineup (about $359,900 to start). But the F12 has a more civilized design brief than simply delivering ultimate driving thrills. It has a large but more fuel-efficient engine out front that allows relatively bountiful interior space, and a technologically advanced suspension tuned to yield as much in cultural sophistication as race sheet–burning lap times.
That pairing of a futuristic technological edge with a desire to make it faster yet more comfortable can be seen throughout the F12, starting as soon as you first lay eyes on it. Ferrari continues along the design school of restrained aggressiveness that started with the 458; the body trades big spoilers and massive intakes for subtler but still performance-enhancing style cues. Most notable at the front is what Ferrari calls the F12's Aero Bridge, made of a thin aluminum sheet on the external side and reinforced by plastic on the underside; air leads under the bridge in the bodywork and behind the front fender to provide more down force. (You can actually reach it near the base of the windshield and squeeze a hand underneath.) Then there are the active brake vents that only open when the brakes are hot, and otherwise stay closed for better aerodynamics.
The F12 Berlinetta comes in slightly shorter, narrower, and lower than the 599 GTB, weighing 70 kilograms less. But its power-to-weight ratio—a key figure in any serious new performance machine—is higher by a seismic 25 per cent. (Even now, that 599 is one of the most powerful sports cars in the world, its 612 ponies being more than that of the redesigned Aston Martin Vanquish, one of the F12's main competitors.)
All of this extra dynamism results in screaming blasts to highway speeds, as proven in its benchmark 0–100 kilometres-an-hour acceleration time of 3.1 seconds, and in its 340 kilometres-an-hour top speed. The F12 gives a one minute and 23 second lap time around the Fiorano circuit—two seconds better than the Enzo, and one second faster than the 599 GTO.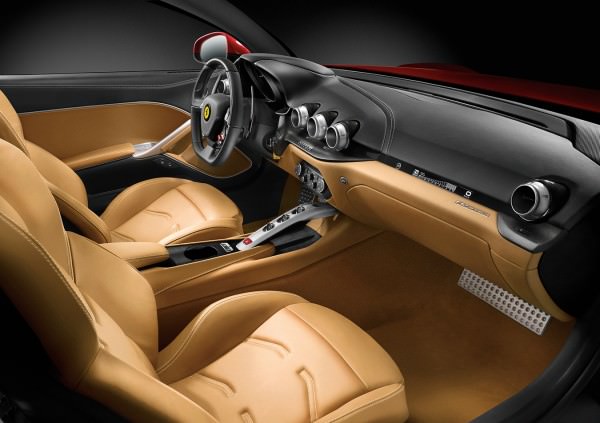 Even with all this performance potential, sedate driving will happen relatively often, since about 20 per cent of its owners are expected to use the F12 daily—a high percentage for a new Ferrari. It's going to be one of the thirstiest sports cars around when it arrives later this spring.
Stepping inside, there's an artful sleekness to the F12's interior, with performance being the overriding theme. That's especially true if you opt for the carbon-fibre steering wheel with integrated LED rev counter, carbon-fibre seat shells, and an instrument readout screen in front of the passenger seat that displays the driver's speed, rpm, and gear choices.
My F12 tester seemed well optioned, but with nowhere near the fully loaded finishes of, say, a Bentley. This particular example didn't have the carbon-fibre wheel or passenger screen, but featured more security-oriented front and rear parking cameras. All the materials and surfaces are appealing to the eye and virtuous to the fingertips, with red leather swathed across the dashboard and door panels to match the rosso hue of the carpets and leather seat inserts.
Should you want to make the F12's interior truly stand out, there's a program called Ferrari Tailor-Made that puts buyers in contact with actual Ferrari designers to pick out unique colour blends, leathers, and finishes. Ferrari calls this "extreme customization", and it is. Have a favourite leather jacket or shade of lipstick? Bring in whatever objects or clothes you'd like to match and Ferrari's interior designers will make it so.
What's it like behind the wheel? Our drive followed master's levels of engineering dissertations on the F12's engine, substructures, and suspension geometry, but in the end, it was sublime, though not as lightning responsive as the lighter and mid-engine 458.
The low roof requires some flexibility to enter, but once you've dropped yourself in the seat, the dominant 8,700 rpm–redlined tachometer jumps out at you. Turn the smooth, red-swathed key in the ignition, and you're met with: silence. Actually, the dash lights up brightly, and a beep or two remind you that there's still a loud red button on the steering wheel that sets off all the fireworks.
A mighty growl announces the now fully awake monster lurking just past your toes. Its vicious bite of sound at start-up may not make you popular with your neighbours—or then again, it may—but it feels as if everything becomes instantly clearer.
A mighty growl announces the now fully awake monster lurking just past your toes. Its vicious bite of sound at start-up may not make you popular with your neighbours—or then again, it may—but it feels as if everything becomes instantly clearer. It's not time to run errands, or head to work, or attend to any other such trivial matters.
It is time to drive.
Exiting the factory grounds through the famed Ferrari archway, we started in automatic mode to see if the transmission could handle the stop-and-go stuff without bucking around. There's no lack of cut or thrust (especially) here, with the seven-speed dual-clutch transmission nicely civilized throughout in its fully automatic mode, even if it's a touch lumpier than the auto mode of its more luxuriously oriented rivals.
Turn signal and headlight stalks have been banished, as has any manual transmission availability, to keep the serious driver's hands on the steering wheel at all times. That busy steering wheel became too busy on a couple impromptu occasions, as the horn has been relocated to a couple of subtle, unlit indentations in the steering wheel right around the thumb mark; perhaps too subtle to find quickly.
Then again, the best way to keep space around you in an F12 is by using the accelerator. A full blast of the F12's power is like that last step before your first skydiving jump: you know all hell is about to break loose, and you don't want to realize too late your chute (or brakes) are not working. Pounding down on the standard carbon-fibre discs brought the anchor down with neck-stretching force, but forward instead of rearward.
While the acceleration and braking were violently extreme, it was the V12's Formula One–inspired engine sound that was most intoxicating. With power peaking at 8,250 rpm, warp drive mode truly starts around 5,000 rpm, when it becomes a permeating shriek that shakes your core more than the most sadistic personal trainer.
Handling was just a touch less divine. The lovingly chiselled steering wheel helps to turn quickly and smoothly, but there was just a shade of delay there compared to mid-engine cars, to assist with comfort and directional stability on the highway. Although the latest-generation magnetorheological shocks offer improved response time to its continuous pavement monitoring, with settings adjustable on the steering wheel, it's hard not to compare the F12 to the brilliant mid-engine 458 Italia coupe we drove around these same roads. And there is simply no vehicle on the road that handles better or sharper than Ferrari's 458, to my mind. Then again, the F12 is notably more comfortable, with a much larger cargo area at 320 litres, and up to 500 litres with the cargo partition removed.
In the end, its low-speed manners and comfortable handling provide subtle reminders that this car has not forgotten its grand touring role, even if the priority is still all-out performance, in the true Ferrari way. After a day of driving in the mountains around Maranello, we climbed out of it with the knowledge that it is the thoroughbred of the high-end horsepower set, capable in almost any driving environment.