Mastering Heat: Chef Andrea Alridge of Osteria Savio Volpe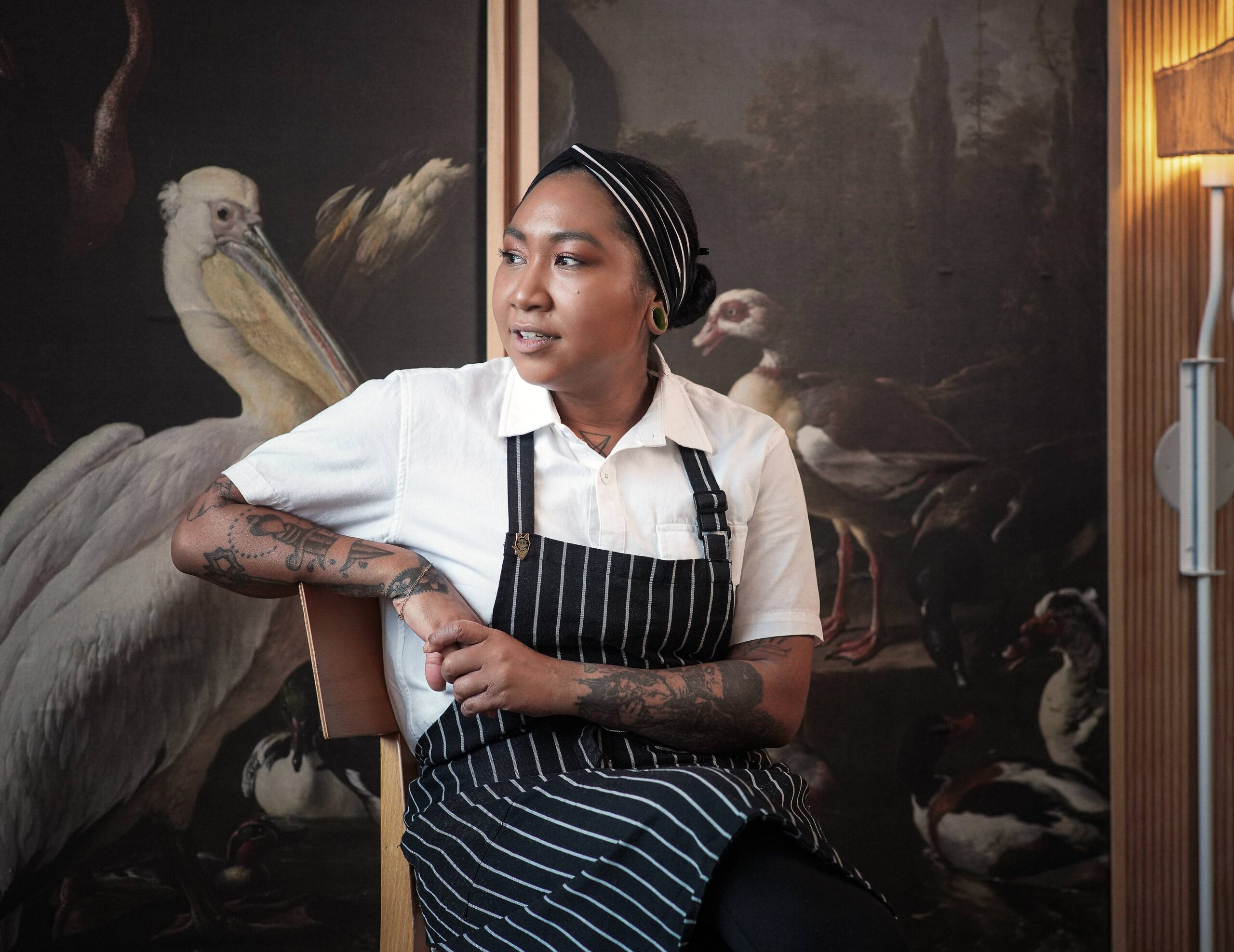 With over a decade's experience in the art of fine cookery, chef Andrea Alridge has spent her career in search of the best ingredients, translating those finds into simple and honest fare. "I like things to be robust and punchy," she says. "It speaks to my Filipino Jamaican roots. For me, it's only about one thing: flavour."
Alridge's preferred method of extracting flavour is to treat ingredients to the intensity of fire, a class of high-wire cooking that demands caution and concentration. "You can never fully control a fire," says the recently appointed head chef at Vancouver's Osteria Savio Volpe. "You must adapt quickly and move in unison with it. It's always going to be this dance—and I love to dance!"
Cooking, at its most basic, is about mastering heat. Cooking on an open flame, especially with a wood fire, is an act of sacrifice that takes years to master. Whether searing a prime cut of meat over a scorching flame or charring alliums deep inside piles of dying embers, fire has the power to bring out the best of an ingredient.
Alridge, who continues to be motivated and fascinated by the delicate art of harnessing that power, was influenced by familial food traditions from a young age. She recalls the morning she accompanied her father on a trip to a goat farm while living in Jamaica as a pivotal moment in her childhood. "It's time for you to learn how this all happens," her father remarked. "It's not just food on a table."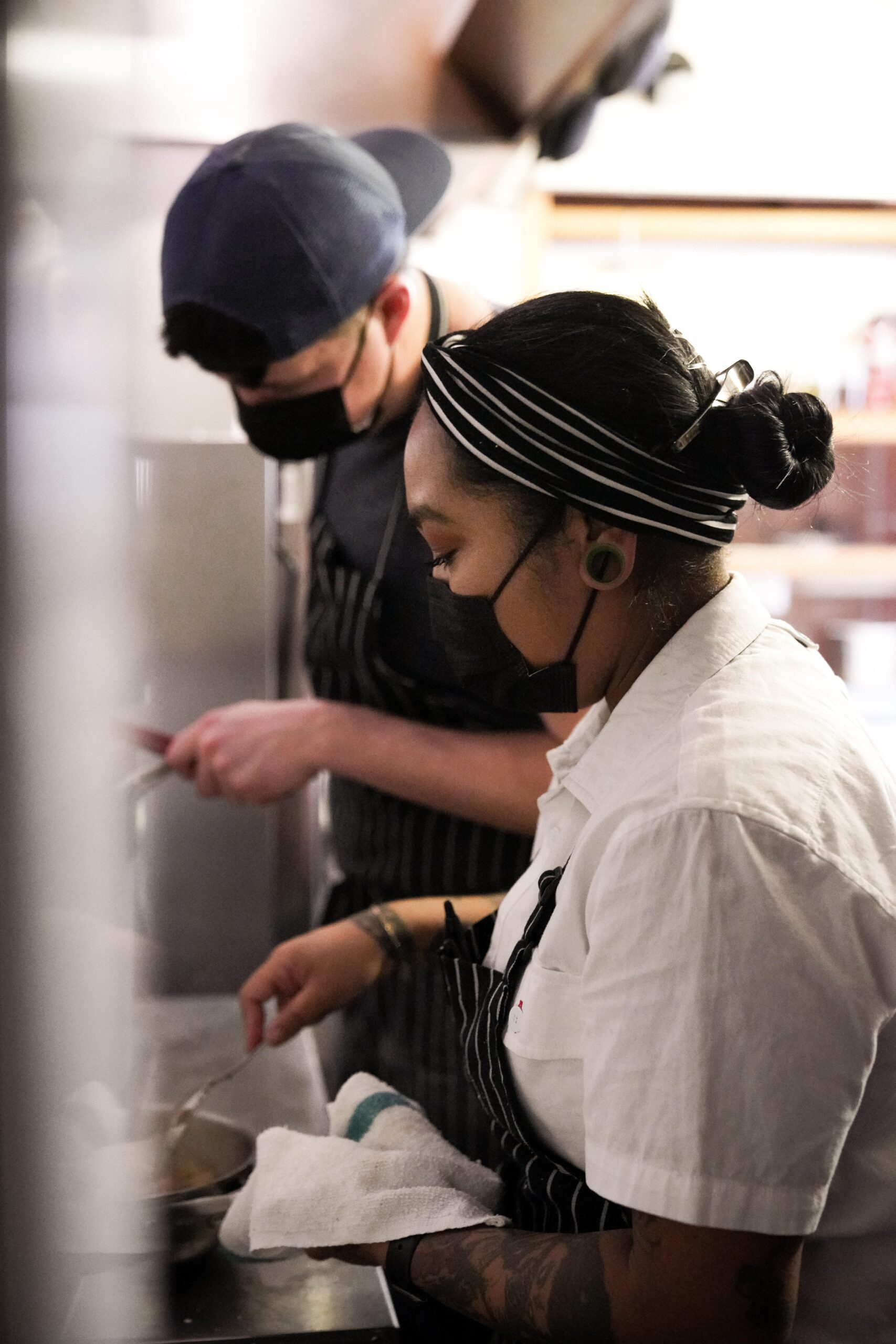 Known to locals as Miss Vie, Alridge's grandmother headed three generations under one tin roof, a sanctum she ruled with an open heart and an expectation of full participation. Alridge observed Miss Vie butcher the carcass and layer the pieces in her giant cauldron along with aromatics and her proprietary blend of curry, to which turmeric imparted its vibrant, yellow colour. When the time came, Alridge gathered the kindling and helped start the fire. To this day, these memories inform her food universe: an intimate, tactile approach to cooking with great ingredients from local sources prepared in a simple manner. Above all, she desires that every dish be shared.
Two villages, worlds apart, raised Alridge. After accompanying her father on a business venture to Jamaica for two years, she returned to Vancouver, to the warm embrace of a larger-than-life Filipino contingent that included her industrious mother, loving grandparents, and gregarious aunties. But although the food from her mother's kitchen was rich and memorable, taking it to school for lunch was less enjoyable. "I got made fun of a lot for my food," she says, remembering years spent eating alone, whether in a sandbox or an empty corner of the library. "But I never let it get to me, and that has everything to do with how our parents raised us." If anything, her insouciance helped her navigate the difficulties of school. It may also be why she excelled in the arduous environment of professional kitchens.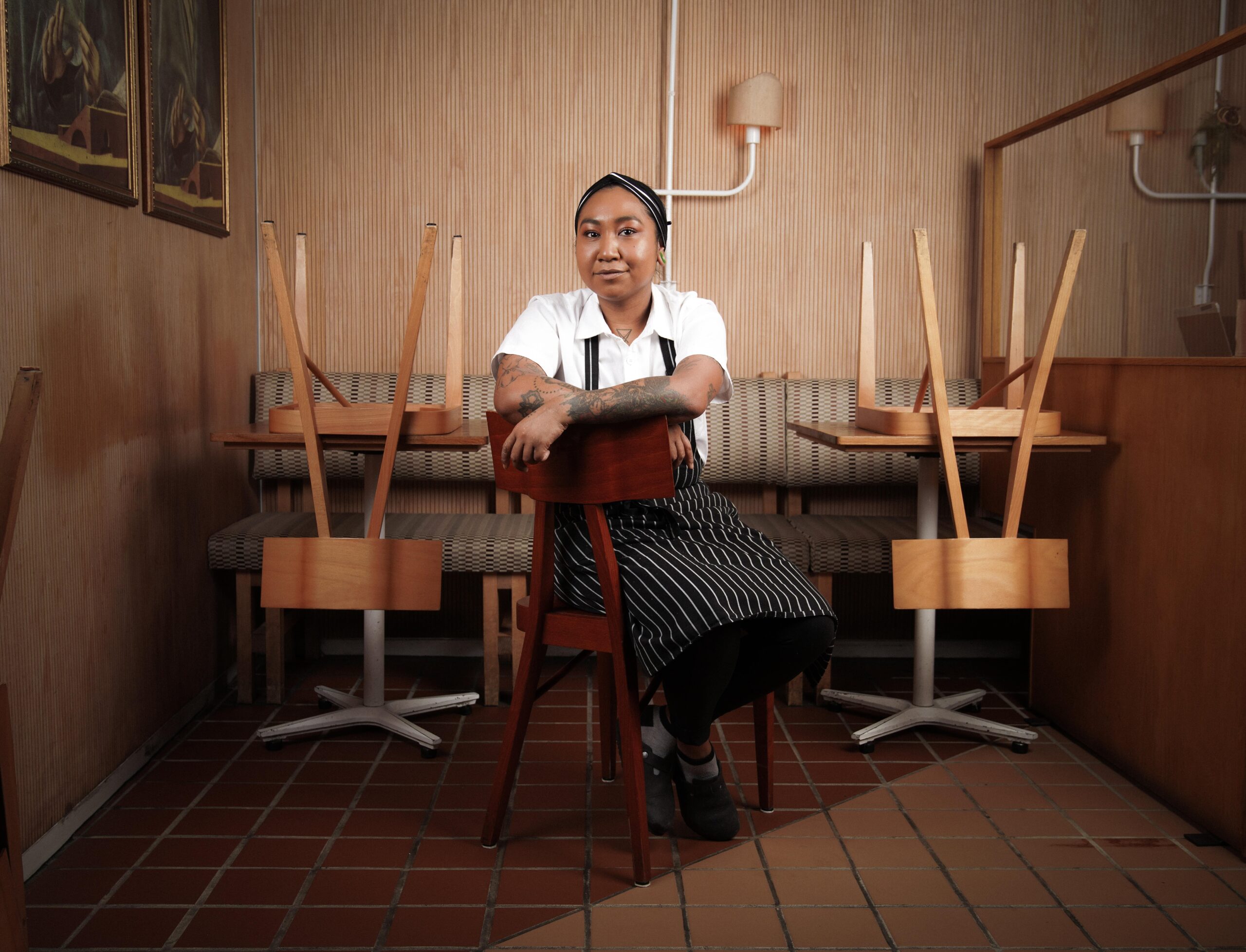 Now at Savio Volpe after nine and a half years at CinCin, Alridge walks the tightrope of introducing her flavours to an already successful neighborhood restaurant with loyal patronage. Diners who partake in the conviviality of the Kingsway osteria will find many more things coming out of what she calls the "tiny but mighty" fire pit. "I love vegetables cooked on the fire just as much as meat," she says excitedly. "Like that wonderful sweetness and smokiness you get from charred chicories. Even the deep flavour of a citrus dressing made from burnt lemons cooked over the fire. You can't ever beat that." Her prowess in balancing careful restraint—using as few ingredients as possible, a touchstone of Italian cookery—with bold and incisive seasoning is evident in every dish she sends from the kitchen.
For Alridge, things have come full circle. As in the Jamaica of her childhood, she is happiest when surrounded by food and loved ones—dancing, this time around, inside the fiery den of her new kitchen family. "Savio is truly a place for everyone," she says, eyes shining. "There's no judgement. We cook delicious Italian food. And that's it. Just come as you are and be together."