For Shawn Hunt, Tradition Is the Edge that Carves the Future
When I speak with Shawn Hunt, he says he is tired, yet his tone, like his art, is vigorous. The pace of life at his home and studio on the Sunshine Coast in British Columbia has changed in the last few years with the births of his two children and, most recently, the pandemic. The days of staying up all night working on a carving or painting have passed, for now, but a prolific artist like Hunt takes life in stride, understanding that it always feeds the work and shapes it, albeit in different ways. He is magnanimous when he talks about his family and his art, which, for him, have always been intertwined.
"There is a real continuum going on, because if I look back at our family, my dad's an artist, my brother is an artist, I myself am an artist. My wife is an artist," he says, adding with a laugh, "These kids don't have a chance." Just as Hunt grew up enthralled with and active in the arts, apprenticing in the studio of his father, renowned Heiltsuk carver Bradley Hunt, his own young son spends time in the studio, playing with paints.
Hunt is a carver, a painter, and a jewellery-maker. In painting, he practises a contemporary iteration of Formline, the traditional illustrative style of Northwest Coast First Nations. The artist is also a relentless experimenter: his work has even reached into the synthetic materials of high technology with an animatronic Transformation Mask made in collaboration with Microsoft. The mask is a daring synthesis of future, present, and past: a black, sleek Raven with vents around the eyes opens up into an LED-studded array like the inside of a computer. Traditional masks would have an "inner mask" that bears the face of the wearer, whereas this one uses HoloLens technology, so the user is in virtual reality goggles.
Hunt's process involves moving between mediums, and speaking with him, one can tell he lives in motion, with thoughts and words carefully chosen with a fluid precision. He is serious about moving forward with his craft as well as having the different styles of artistic creation inform each other. "As with everything thing I do, I have to evolve," he says.
Of late, Hunt has been engaged in ways to innovate his carving process. By making it an "assemblage," that is, combining bits and pieces of multiple carvings for a process that becomes additive and subtractive—as opposed to just subtractive—in the work. The latest iteration of this pursuit materialized in the 2020 Equinox Gallery exhibition The Beginning of Something.
For Hunt, the forward movement is a synthesis of his personal expression and the deep connection he feels to his artistic lineage. "My thing has always been, I'm no different from my ancestors and that I'm just making art. It's a part of my culture."
Even though his work, with all its reference, asks for much reflection, Hunt's been trying to focus more on emotions when creating, trusting the viewer to connect with the piece on their own terms. "They see what they see," he says. "That, to me, is much, much more powerful than everybody seeing what I see."
Style is always both transcendent and specific. The materials change, but the tradition remains, like a tool extending into time, passing through the hands of generation after generation—never static nor frozen but alive and phosphorescent, glowing like the red lights in Hunt's cybernetic mask.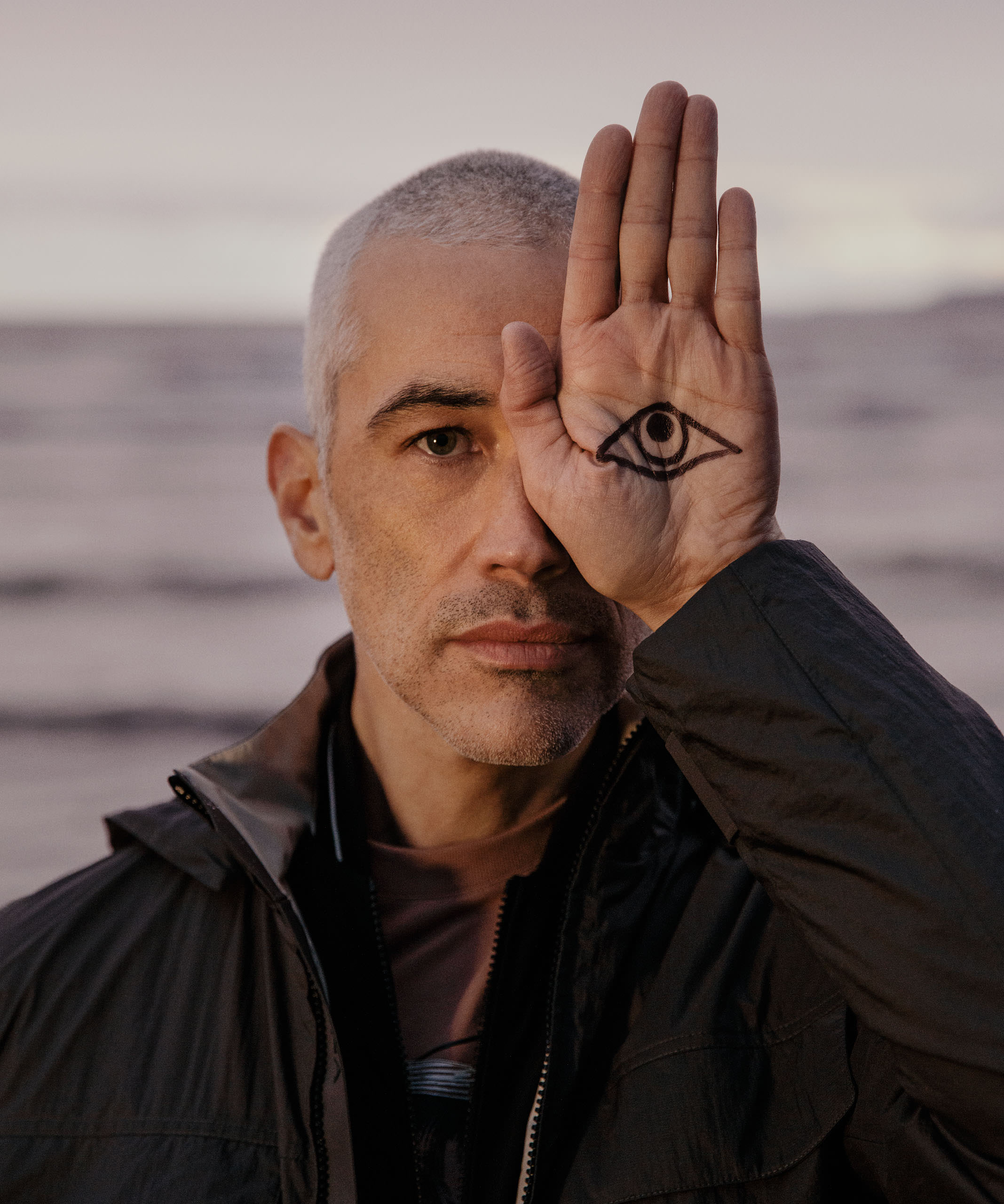 Stylist Mila Franovic; Grooming Hyesoo Sohn for Nobasura; Assistant Stylist Leighton Balagno; Assistant Photographer Olivia Solodko.