Shuvinai Ashoona Bridges Reality and Fantasy at the Vancouver Art Gallery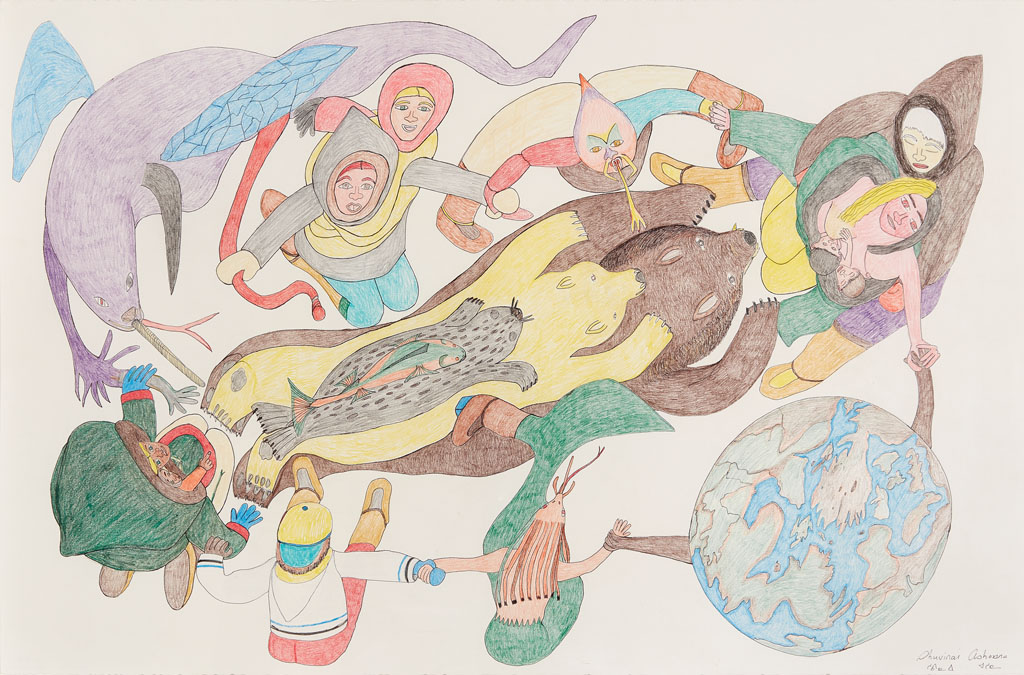 When Shuvinai Ashoona creates a piece of art, she lies on her stomach with a little pillow between her and large sheets of drawing paper. High heels are her shoes of choice while she works. She doesn't sketch anything out beforehand; there is no preconceived idea. The drawings are plucked from her imagination with no filter of forced connotation.
Each piece melds Ashoona's imaginative creations with visuals from her environment—influenced by the Northern terrain of Cape Dorset where she was born and Inuit iconography, as well as Western horror films, comic books, and television.
Ashoona seems to have retained what so many adults lose in life: the ability to create from an infinite realm of imagination. One could be forgiven for initially seeing a slight childlike wonderment in her ink, graphite, and coloured-pencil drawings. But upon closer inspection, minute details braid themselves together to tell complex stories. "With Shuvinai['s work], you go from story to story, historical to the present, Indigenous to non-Indigenous, being a woman on this planet to being in her imagination. There's never one story," says Nancy Campbell, curator of the Vancouver Art Gallery's latest exhibition, Shuvinai Ashoona: Mapping Worlds. 
Campbell pauses in front of an untitled piece in the exhibition—one of 36 of Ashoona's works on display—to contemplate its intricacies. The scene is surreal: a woman gives birth to a planet that vaguely looks like Earth, while a bird-like doula cradles her from behind. The longer we observe the piece, the more we see. An arm transforms into a wing, a baby boy gives birth to another boy in front of the woman, a seal flipper and a polar bear paw extend from the limbs of the woman and doula.
"It's important we let go of all our assumptions of what Inuit art should look like," says Campbell. When looking at Ashoona's work, it would benefit the viewer not to search for meaning, but to let the stories unfold themselves before you.
Shuvinai Ashoona: Mapping Worlds is on view at the Vancouver Art Gallery until May 24, 2020.
________
Never miss a story. Sign up for NUVO's weekly newsletter here.