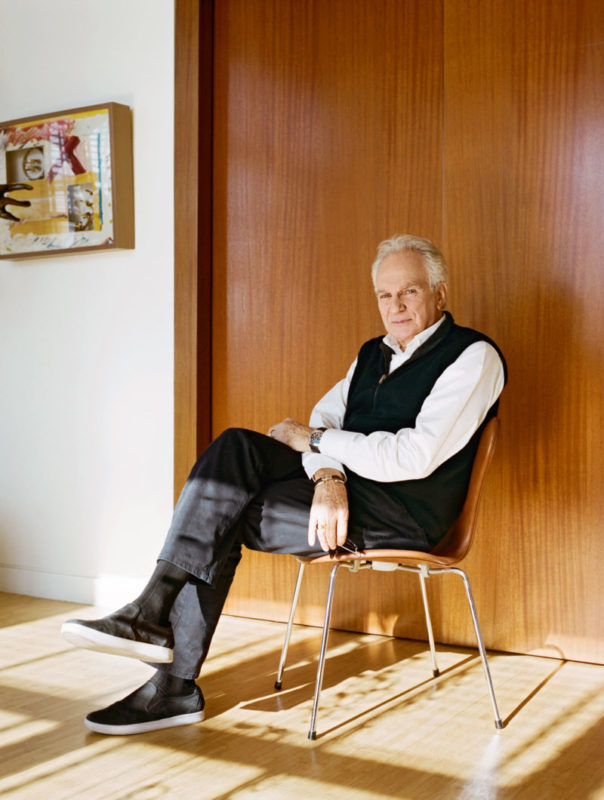 On a brisk Friday evening in January, 500 of the jewellery industry's movers and shakers descended on Cipriani 42nd Street for the Gem Awards. This black tie affair celebrates winners in categories such as design, media, and marketing and is often described as the trade's answer to the Academy Awards. David Yurman was not among the night's honorees. The seminal American jeweller, best known for his iconic Cable bracelet, and his wife, Sybil, earned the Gem Award for Lifetime Achievement back in 2004. But that didn't stop the host, British jeweller Stephen Webster, from roasting him.
"Lord and Lady Yurman, ladies and gentlemen," Webster began. Later, he quipped that a Cable bracelet had recently been discovered on a 5,000-year-old corpse. The jokes were affectionate, funny, and perfectly pitched to members of an industry steeped in decades of the designer's accomplishments.
When the Yurmans founded their eponymous company in New York in 1980, the concept of designer jewellery didn't exist. Beyond a handful of 20th-century masters such as Peter Carl Fabergé, Fulco di Verdura, and Suzanne Belperron, jewellery was mostly generic. It was sold on the quality of its stones and the weight of its precious metals.
Then Yurman, a sculptor-turned-craft jeweller, came along and changed the paradigm. Today, there are countless brands in the jewellery industry, but only a few brand-name jewellers (not counting distinguished yet faceless firms such as Cartier and Tiffany & Co.). And among them, even fewer Americans. The 20th century had Harry Winston. Yurman is, by all accounts, the poster child for the 21st.
For starters, the brand he and Sybil built is ubiquitous, thanks largely to the company's 16-year history of ad campaigns featuring black-and-white photographs shot by Peter Lindbergh. With over 400 retail locations, including 46 standalone stores—in Canada, there is one boutique at Yorkdale Shopping Centre in Toronto and nine other points of sale, including a newly expanded shop-in-shop at Holt Renfrew in Vancouver—David Yurman is one of those rare jewellers familiar even to people who don't know anything about jewellery. But all the hype obscures something essential about the man behind the brand: Yurman is first and foremost an artist.
"Separating artists from applied artists—that's a modern invention," he says on a winter afternoon in his showroom, a light-filled space located on the 12th floor of his company's headquarters in New York's Tribeca neighbourhood. "Hopefully, jewellery is always inspired by a sense of art, balance, and a respect and love for form."
All the hype obscures something essential about the man behind the brand: Yurman is first and foremost an artist.
The soft-spoken designer, who turns 75 this year, came to his mastery of all three elements organically. Born in Manhattan in 1942, Yurman spent his childhood in Great Neck, N.Y. Just before his junior year of high school, he joined his sister in Provincetown, Mass., where he was introduced to the Cuban sculptor Ernesto Gonzalez.
Yurman studied under Gonzalez, learning direct welding—the process of creating 3-D forms from molten metal rods. But his true passion was running. He had been offered a track scholarship at New York University until he tore his meniscus during a practice. Instead of enduring surgery, he quit college and hit the road, following the beat generation to California. "I washed dishes and made coffee at Venice Coffee House," he recalls. "Venice was full of complete dropouts. It was wonderful chaos."
In 1962, he returned to New York and joined the Greenwich Village art scene, where he apprenticed under some of the period's finest metal artists, including Jacques Lipchitz. Though he hadn't articulated it yet, it was the beginning of his love affair with jewellery.
It took meeting the love of his life to propel him into making a bigger commitment to the medium. In 1969, while working as a foreman for sculptor Hans Van de Bovenkamp, Yurman met Sybil Kleinrock, a young Bronx-born painter. "We got together through aesthetic language," he says. "I loved what she did, and she wanted to learn about metal patinas."
Shortly after they became a couple, Yurman sculpted a bronze necklace for Sybil. Named Dante, the piece reflected his then-signature aesthetic: abstract figures in a linked embrace. When Sybil wore it to an art opening in 1970, the gallerist became enamored with it and put it on display. By the next morning, multiple orders had come in for the piece. It was an auspicious start to a decade that would see Yurman transform into one of the luminaries of the craft jewellery movement. For 10 years, he and Sybil criss-crossed the country in a '62 Cadillac, vagabonds following a well-trodden circuit of juried shows organized by the American Craft Council.
"I was doing about $1-million to $2-million a year," Yurman recalls. "I drove this Cadillac with the seats knocked out the back, racks on top. It was fun. At the end of the day, your pockets were full of cash. And you had a community."
For 10 years, he and Sybil criss-crossed the country in a '62 Cadillac, vagabonds following a well-trodden circuit of juried shows organized by the American Craft Council.
In July 1977, Yurman and 11 members of that tight-knit community—craft jewellers such as Beth Moskowitz and Esther Gallant—were invited to exhibit at the Retail Jewelers of America (RJA) show in Manhattan, in a new designer gallery at the Americana hotel. Organized by legendary jewellery executive Mort Abelson, this was the first time that jewellery was sold within the trade as the product of a specific designer, whose name helped sell the piece.
Over the next five years, the Yurmans, who'd married in 1979, built a following for their nascent brand. But it wasn't always an upward trajectory. The price of gold was spiking and jewellery companies were struggling. "At one immature moment I said, 'If we can ever get like $75,000, I'm closing this and I'll go back to sculpture.' We went to the jewellery district to see a guy we called Mike the Snake. He was buying up businesses that were having a hard time."
The Yurmans declined the too-low offer without realizing the failed deal was an unbelievable blessing. In February 1982, just one month after their son, Evan, was born, Yurman showed his new Renaissance collection to RJA buyers in New York. It included a distinctive open bracelet: a twisted helix of sterling silver with gemstone caps at its finial ends. The young sculptor had devised the style, which he named the Cable bracelet, after admiring antique Greek and Roman torques at the Metropolitan Museum of Art.
With that singular novelty, "He changed the face of American jewellery," says Marie Helene Morrow, owner of Reinhold Jewelers in Puerto Rico. Morrow saw Yurman's work at the RJA show that year and was immediately seduced. Yurman is unequivocal about the role the motif, which he fiercely protects, has played in his career. "Cable is the spine of our design," he says. "It's our compass." With 136 variations, to be catalogued in a book the designer hopes to publish next year, the textural detail appears on everything from beads and clasps to settings for the brand's signature checkerboard-cut gemstones to Yurman's own yellow gold wedding band.
Cable was also the springboard for almost two decades of spectacular growth, culminating in the opening of the first David Yurman boutique in 1999. Located on Madison Avenue in New York, the store was steps away from the brand's current flagship, a five-storey converted townhouse that shares the block with luxury jewellers Graff and Buccellati.
"Cable is the spine of our design," says David Yurman of the twisted helix textural detail. "It's our compass."
Yurman credits Sybil with providing the creative spark that fuelled the business. "I was CEO, but she's the intuit. I used to call her 'the keeper of the flame and the starter of the fires.' " Another spark came in 2003, when the Yurmans' son, Evan, joined the company as design director of men's jewellery. It was at Evan's prompting that the company introduced the David Yurman Private Collections in the last 10 years, featuring one-of-a-kind jewels crowned by rare gemstones.
Today, the fruits of that effort are on display in the 12th floor showroom, the same floor where father and son occupy adjacent offices. During a tour of the space, Yurman reaches into his back pocket, pulls out a notebook, and opens it to a page filled with scribblings. "This is an idea I had last night," he says, pointing to a sketch depicting a bracelet and a pair of earrings.
The moment is a reminder that while he may control an empire bringing in more than $650-million in annual revenue—managed by CEO Gabriella Forte—the Greenwich Village beatnik sculptor still revels in his role as a maker.
That fact is made clear in the workshop, a hive of design and manufacturing activity anchored by investments in technology, from CAD/CAM to 3-D printing. Yurman oversees a studio of over 40 craftsmen and master jewellers—a fraction of his global workforce, which totals 1,000 people. As he greets employees, explaining what each one does, one wonders when he'll be ready to step back from the daily grind.
"I think transition is next," Yurman concedes. "We're planning for our son, who is incredibly talented and who's finding his own hands and feet in a business that's incredibly established." As of this year, Evan was promoted to chief design director, giving his parents more time to enjoy their second home in Amagansett, N.Y., and to travel, especially to Italy. "The Italians—their creative ethos is very close to mine," Yurman says. "I like their spirit, I like their sensibilities, I like their food."
Yurman's bon vivant streak underscores something the self-described curmudgeon may not often admit about himself: he's a people person. Hail to the Cable King.
_________
Never miss a story. Sign up for NUVO's weekly newsletter.