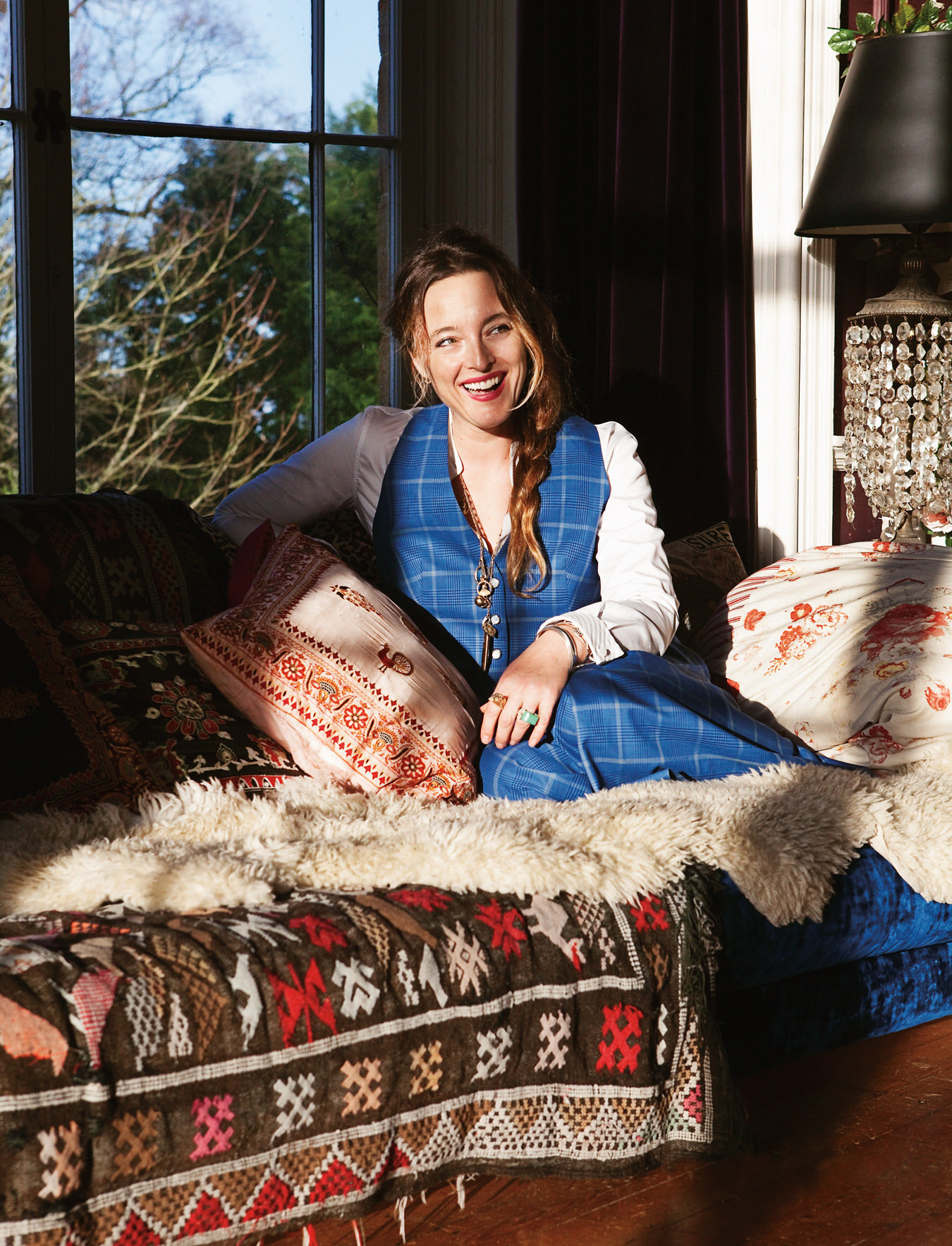 Alice Temperley has built a burgeoning fashion empire born of her bohemian whimsy and British sensibility. Today, those same traits are on full display. It's a wintry Friday morning and she sinks into a burgundy velvet sofa at her flagship in Mayfair, London, apologizing for being a little weary. The night before, she attended a soirée hosted by her friend, makeup artist Charlotte Tilbury, with guests such as Kate Moss, Amal Clooney, and Salma Hayek. "It was a late one!" Temperley says, excusing her slouching. She has tousled wavy hair, cat-like green eyes, and porcelain skin, and her look is accented with a single earring from Africa. She wears various bracelets ("gifts, often from clients") and a menagerie of chunky rings, including a gold fox (her seven-year-old son is named Fox) and a silver creation with a green stone from Jade Jagger. Temperley looks down at her hands and muses, "I don't know why I've got all of them on today." It's precisely this effortless, romantic aesthetic that imbues the DNA of the luxury brand Temperley London, and party-loving Temperley is its own best ambassador.
Ever since the label launched 16 years ago—and later debuted at London Fashion Week in February 2003—it has been at the heart of the British fashion set and beyond; Kate Hudson, Amber Heard, and Kate, Duchess of Cambridge are all fans. "I like the fact that [the Duchess's style] hasn't necessarily changed that much. She still mixes designer and high street and that's quite refreshing." Most famously, Pippa Middleton wore a floor-sweeping emerald gown designed by Temperley for the royal wedding reception. "When she got out of the car, people went wild about that one photo," she says. "It was unbelievable. It's still something I can't quite get my head around." Then she jokes about the one-off dress: "I think I should remake it."
Temperley London has five standalone stores—in England, Mayfair and Notting Hill in London and Bicester Village in Oxfordshire, and in the Middle East, Dubai, and Qatar. Then there are more than 150 stockists in 30 countries. Temperley London has four ready-to-wear collections a year (spring/summer, pre-fall, fall/winter, and resort), which encompass daywear, cocktail wear, and eveningwear. For Temperley Bridal, there are two collections per year, summer and winter. The signature aesthetic is feminine and timeless, often featuring artisanal detailing such as beading, as well as a nod to its British heritage—basically, Temperley designs are what she would wear herself.
To truly understand Temperley's ethos, you have to go back to her childhood, which was spent with her siblings, Mary, Matilda, and Henry, on a cider farm in rural Somerset. "I grew up on a farm in the middle of nowhere and was very much involved in the seasons of the farm, so apples and sheep and lambing," says Temperley, whose father, Julian, holds the honour of being the only person in England with a commercial licence to make cider brandy. "He's an alchemist, really, and he wanted me to be a scientist." Instead, from an early age Temperley's penchant was for gorgeous fabrics. "My mother took us to festivals and we were always dressing up in costumes," she says. "I was drawn to the idea that you could transport yourself to a different feeling. You could put on a really glamorous dress or wrap yourself in silk and it made you feel very different than being a tomboy on the farm."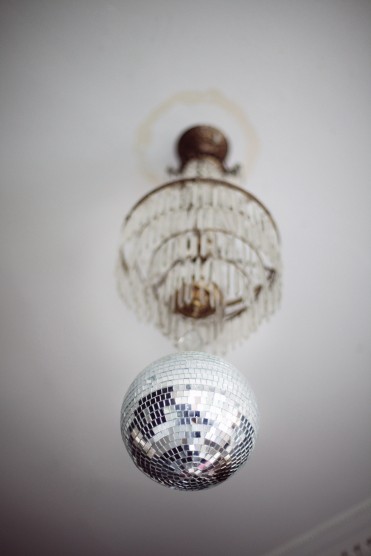 One of the designer's earliest memories is being caught by her mother, Diane, cutting up a cherished 1920s beaded lampshade. "My mother had amazing Chinese shawls with tassels on them and if I thought I needed something, I wasn't afraid of using scissors on them," says Temperley. "I had a space in the barn where I would make things." Like mother, like daughter; Diane made her own wedding dress with a train created entirely out of peacock feathers. Collecting textiles is in the genes. "My grandmother had an incredible collection of fabrics and laces from Queen Victoria," says Temperley, "and drawers of beads." Add to this Temperley's childhood obsession with black-and-white movies, and it becomes evident how her creativity developed. "It was like a portal into a completely different world."
The signature aesthetic is feminine and timeless, often featuring artisanal detailing such as beading, as well as a nod to its British heritage—basically, Temperley designs are what she would wear herself.
Having crafted clothes from an early age, Temperley started making and selling clothes to fund her studies at the Royal College of Art in London. During this time she met her future husband, Lars von Bennigsen, then a banker, in 1998. "We lived in a flat and he'd get home and there was no way to walk on the floor," she says. "There was just a little avenue through mountains and mountains of boxes." Soon enough, Temperley's hobby became "a proper business". The couple officially launched the label in 2000, with Temperley as the creative visionary and von Bennigsen managing the financial side. They moved into a nearby mews house in Notting Hill and turned the ground floor into a studio. "From there, the business grew very, very quickly," she says. When their 1920s-themed wedding was published in British Vogue, "People saw my dress and asked me to make them one, and it grew from there," says Temperley, reflecting on her fairy-tale gown made with lace and tiny vintage gold sequins.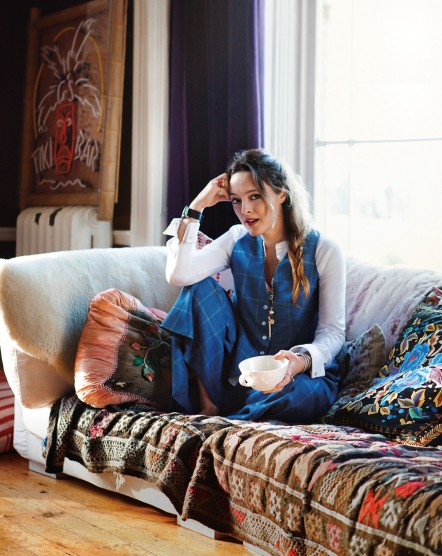 They opened a store in New York in 2003 and a second U.S. store in Los Angeles two years later, and moved their Fashion Week shows to New York in 2005. Anna Wintour gave Temperley some advice: "If you're building a brand here [in the U.S.], you have to be here." Then the recession hit, "and then I had a baby," says Temperley, who gave birth to son Fox in September 2008, five days before her spring/summer 2009 show. The New York store closed in 2010, her Fashion Week shows moved back to London for the autumn/winter 2012 collection, and the L.A. store closed in 2013. (There were reportedly cumulative losses of £3-million [roughly $6-million Canadian] in the 15 months leading up to December 2013.) "So now we're rebuilding. We're coming back out again."
These days, change is in the air as Temperley embarks on a new chapter. After she separated from her husband and company co-founder in 2012, she brought on Ulrik Garde Due to take on the role of CEO the following year. Since then, a five-year plan has been implemented to reposition the brand. "It's really about providing a functional day wardrobe into evening, and bridal with that kind of fantasy element. It has to stay true to our handwriting," Temperley explains of the decision to combine her diffusion line, Alice by Temperley, with her main line, Temperley London.
A key strategy is growing the presence internationally, particularly with wholesale, so the label is launching at Lane Crawford in China this spring/summer. They are also undertaking the significant move of repositioning Temperley London from a fashion company to a lifestyle brand. "What we do is not specific to women's wear. It can be home, it can be other product categories, like scent. And I'd obviously like to do costume jewellery," says Temperley. "It will be strategic timing to introduce those categories. It's pretty exciting."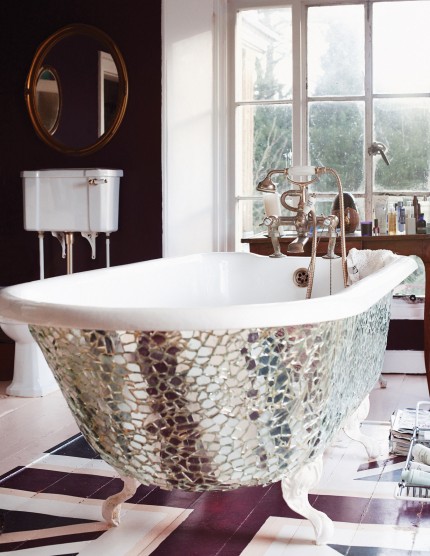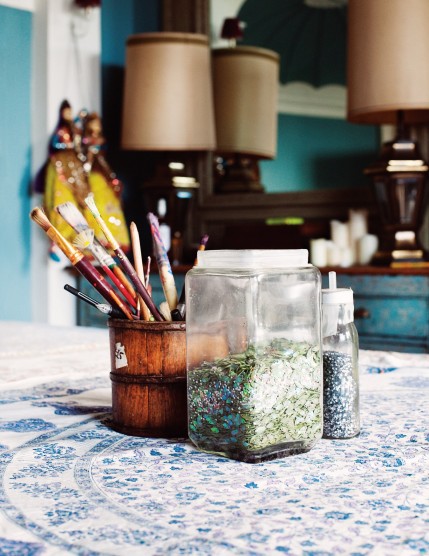 With all this activity, it's important for the designer to maintain balance in her life. On weekdays, she strolls to work, which provides a good time for reflection. "I try to do yoga three times a week," adds Temperley, who lives in a Georgian townhouse in Notting Hill, complete with a mix of eclectic furniture and colourful textiles sourced from shops around Portobello. At least once a month, she escapes to her country estate, Cricket Court, in Somerset. The eight-bedroom Regency mansion is 11 kilometres from her parents' cider farm, where she and Fox spend a lot of time. "I had a lovely childhood [at the farm], so for my son to have that is very important for me," she says. "[Cricket Court] is an amazing place. When you're there, you're completely in your own world. When you're bringing up a child, you want them to take part in the cycle of the farm, such as the animals and the harvesting. They need to be outside and in the apple pumice and in the trailers."
Temperley's personal life has always been inextricably linked to her label, and she's brimming with positivity about both. She is in a new relationship with British photographer Greg Williams; the couple has been together for a year. "We're not rushing into anything. Everything good happens in life when you're ready," she smiles. "When you get a new kind of zest for life, it filters through everything. It's a huge new chapter. There's just a real traction on what we're doing. I've got a great team around me and it feels like a new beginning."
"I had a lovely childhood [at the farm], so for my son to have that is very important for me."
The spring/summer 2016 collection was inspired by the tropical hues and rhythms of Havana. "I imagined [the muse for the collection] going down a dusty street, with the sun going down in Cuba," says Temperley. While the collection is very much a celebration of daywear, with its ruffled shirts, palm-print dresses, and panama hats, there is plenty of glamour for Temperley's eveningwear devotees. "Think faceted sequins, tassels, and exotic birds printed on satin jacquard, and disco ball evening dresses. "I love the idea of [the dresses] worn on the beach with bare feet," she says.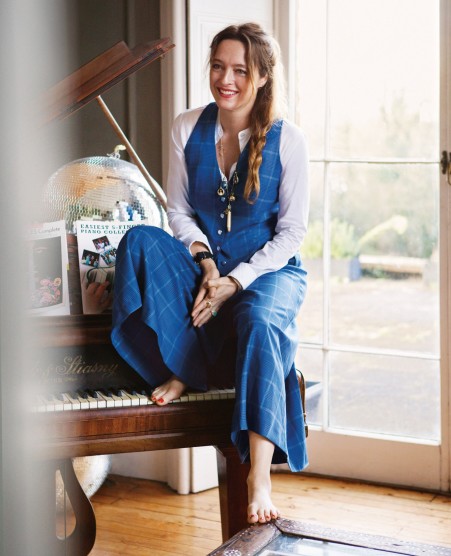 When it comes to her own style, she describes it as "eclectic and relaxed. Functional in the day and quite decadent at nighttime." Her daytime staples are suits, white shirts, "a good leather jacket," chunky roll-neck sweaters, and ponchos. When she travels, she loves tulle dresses that she can pack in her suitcase: "Functional evening dresses that you have a good time in and are easy to travel with are vital for me." For Temperley, it's about how you put looks together, and she loves mixing a precious piece with something very relaxed. She has an enviable archive of clothes collected over the years, which is stored at a London warehouse. "I've got way more clothes than I could possibly ever wear. I've hardly thrown anything away since the age of 14," she says. "When I finish seasonally with things, I go to the warehouse."
Temperley has received numerous accolades over the years, but a career highlight was being appointed a Member of the Order of the British Empire (MBE) by the Queen. "I actually had the idea to frame my medal," she says. Temperley's future hopes are "to build a precious lifestyle brand that will outlive me, but will keep that sense of romance and ethereal quality. I think that today is so fast and it's a mean, hard, old world out there, and it's about maintaining that sense of fantasy. It's the English fairy tale," she says, before heading off for a weekend getaway in the rolling hills of Somerset.