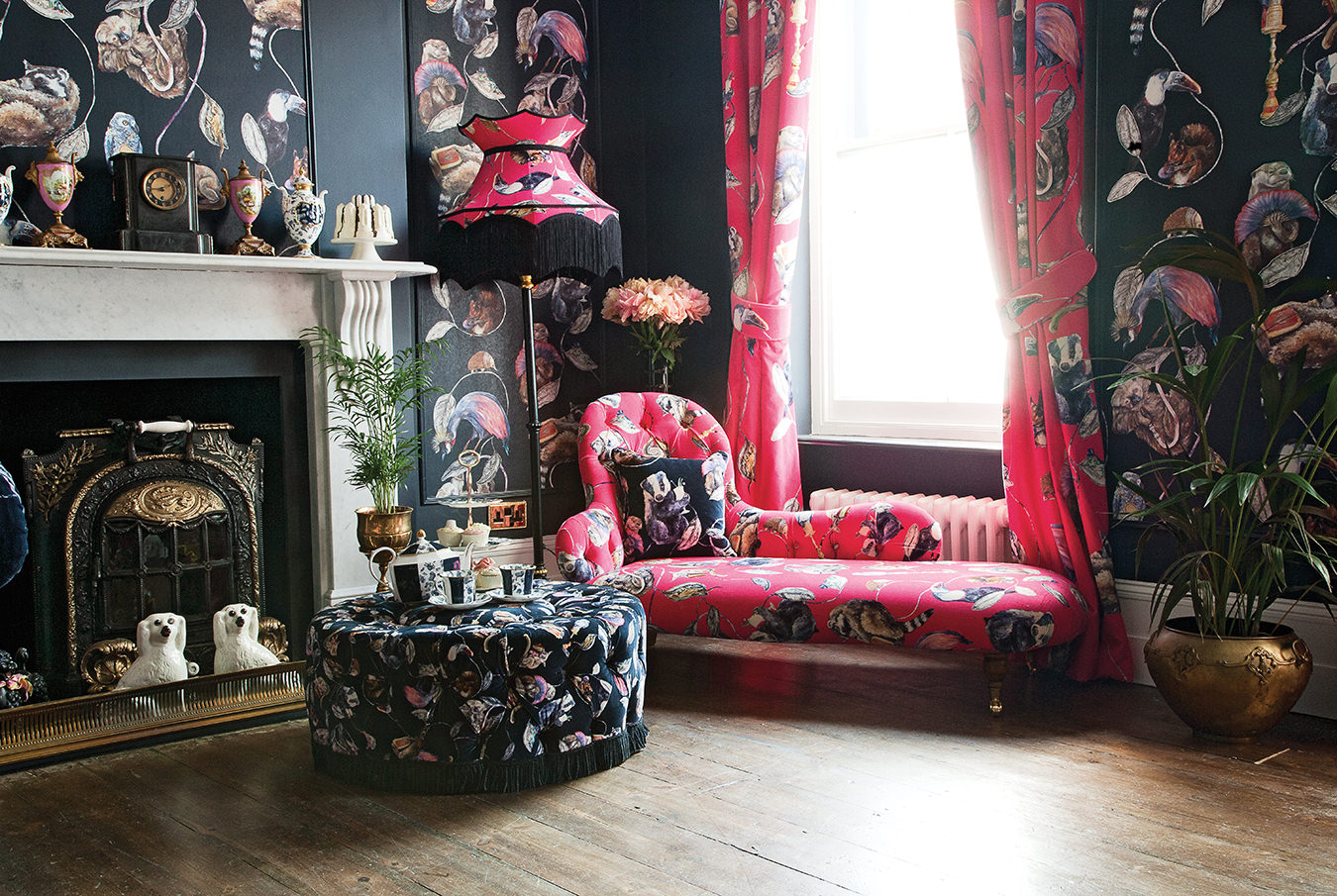 "We have 600 back orders we've got to ship out," says Javvy M Royle breathlessly, rushing past us down the stairs of the print-laden House of Hackney store in Shoreditch, East London. "It's our busiest time of year."
The House of Hackney duo, Royle and Frieda Gormley, are almost too busy to stop and draw breath. Since founding their interiors and fashion label in 2010 and officially launching the next year, when the married couple's son Javi was in his infancy—he's now 5½ and older brother to Lila, 2—House of Hackney has been, admits Royle, a labour of love.
We speak mere days before Christmas, and once the orders—fabulous rainbow-coloured animal baubles (the old-fashioned kind that smash to pieces when you drop them), ceramic bathroom accessories (soap dispensers covered in the new Palmeral tropical print), and matching fashion pieces (trainers for Puma, new platform heels with Terry de Havilland, and printed sweatshirts and silky T-shirts)—are finally shipped to all the corners of the world, 2015 is all about, says Gormley, "consolidation". Translated, this means slowing down a bit, sitting back, and seeing what they've achieved.
Which is much. What started as a maternity-leave plan to launch their own print line from home—one influenced by nature, Victoriana, and street life in the borough of Hackney, East London—has exceeded expectations for both founders. Its speedy growth from an online boutique, which began from the couple's home in London Fields where they showed the first few collections, to a brick-and-mortar store designed by MRA Architects in a beautiful building on newly gentrified Shoreditch High Street, yards from the new Ace Hotel, is quite extraordinary.
In 2014, this same House of Hackney store was voted the third-best shop in London by city guide Time Out—just one step behind Liberty of London, and two steps behind Selfridges. The iconic Liberty store on Regent Street has a significant House of Hackney concession too. So, in effect, the duo is all domineering.
Their appeal, says Vancouver-based Emily McLean, who knew she wanted House of Hackney at the core of her new boutique, Goodge Place, is "without a doubt" in the strength of the prints. "I became an instant fan the first time I saw them in Liberty of London," she says. "What I loved in particular about the Palmeral tropical palm print that I fell for, was—apart from a certain nostalgia—that they create fabric, pillows, wallpaper, clothing, and home wares all in the same print."
Back at the Hackney store, where the walls and sofas and lampshades all match (or clash) in their acid florals mixed with leopard prints and the Hackney Empire animal stripe, immediate plans for the next year include a mail-order catalogue and then finding the right location in Chelsea, West London, to expand into as a second standalone locale, before North America beckons.
Traditionally the west of London is where the heart of the decorating and interiors world has always resided. The establishment, the big names—Colefax and Fowler, Jane Churchill, Osborne & Little—may seem the complete antithesis of what House of Hackney stands for.
But perhaps surprisingly, despite the owners' matching Vivienne Westwood pirate boots, the off-kilter colouring of the products (darkened and a little unnerving with an opium-den feel), and the fact they would like their West London outpost to "be unusual" (Gormley says they are "looking for something like a converted pub"), all is not quite as subversive as it seems.
Gormley herself doesn't see House of Hackney's work as being born of rebellion. It turns out that, rather than fighting the establishment, they would like to be more a part of it. "We don't see ourselves as outsiders at all," says Gormley. "We've been really welcomed by the interiors world. Shoreditch may always be our spiritual home, but we believe that inspiration can come from anywhere. Our brand absolutely works outside of Hackney too. There's very much a classicism to our designs that works alongside other classic brands.
"Britain is synonymous with great print houses, like William Morris, Liberty, and Laura Ashley," she continues. "Even if we do put our own spin on it, we associate very much with the spirit rather than the content of, say, a Laura Ashley."
Indeed the couple know, and reference, establishment interior decor. Gormley and Royle mention a number of iconic interior design names they are continuing to learn from—among them British interior design company Alidad, the late David Nightingale Hicks, and Nicky Haslam. All are/were mavericks, daring with their use of bold prints and colours, and yet absolute establishment interior design figures at the same time, in that peculiar British way that makes such contradictions possible. The House of Hackney founders see themselves as very much a part of that tradition.
"Shoreditch may always be our spiritual home, but we believe that inspiration can come from anywhere," says Frieda Gormley.
To this end, they have recently launched an interior design consultation service out of the flagship Shoreditch store. Here, customers can have a full interiors consultation and see how their peony print wallpaper or pillows will work alongside other established brands like Mulberry Home, Fromental, Cole & Son, and more. There's advice on spatial planning, colour schemes, furniture, and lighting, as well as a bespoke curtains and blinds service using House of Hackney prints. The expanded offering comes with the realization that although the House of Hackney designs look fabulous and unconventional, covering every surface of a house, they're just as likely to be ordered as a colourful statement piece within a more muted, classic home. Not everyone wants full-on House of Hackney on every surface, and that is fine with them. "We're not about having any rules. Our customers run from all ages and all walks of life."
Such advances also signify Gormley and Royle are thinking long-term. When I speak to an experienced interiors consultant in the days after our interview, he dismisses them as a momentary fad. Equally, prior to our interview, their PR representative mentions they have no biographies or press packs to review as "they're very in-the-moment people." The intimation is of a couple having landed on their feet almost by accident. When you delve a little deeper, however, it turns out the plans for the company were never fly-by-the-seat-of-their-pants naive. Gormley in person is more formidable than fluffy. She studied law at Trinity College, Dublin, then worked for several years as a buyer in Dublin, ending up at retail behemoth Topshop in London for five years, where she was mentored by Jane Shepherdson (widely renowned as the driving force behind Topshop's international modern-day success before she left in 2006) and a number of inspirational women and where she "learned how a successful company operationally runs."
The duo is—or has had to become, intimates Gormley—stable, serious commercial business people. Gormley is a hesitant interviewee, protective of her brand and reputation. (She refuses to discuss celebrity customers, of which House of Hackney has many, because they have been so hard-won.) The division of labour between the duo is also largely prosaic rather than creative, and they appreciate the necessity of it. Royle takes care of dispatch and technical fashion production, Gormley provides the vision for "driving the company forward and building the product range," and both take on suppliers and manufacturing issues. Gormley says that the operations side is the most important part of the business. "We do prefer the creative, but other parts supersede that. It's probably only about 30 per cent creative work. The designing comes very naturally and easily."
This year, however, the company is in the position to grow the team, freeing the founders up somewhat. But launching during a global recession, and now enjoying profit, growth, and the confidence to add senior staff to their 30 employees, is testament to both their business and collaborative skills (there are more large-scale collaborations in the offing, although for now Gormley is tight lipped), and, of course, the product itself.
The prints are a result of Gormley's aesthetic, and Royle's previous experience as a graphic designer in the fashion industry. Together—and with the help of external illustrators, for example, in the case of Hackney Empire and Flights of Fancy with their playful animals and birds—they pull together considered, historically influenced contemporary results. That a print-specialist design company can be taken seriously, and can grow to become an important player in the design industry in a very small number of years, signifies how far graphic and product design have come in the last half decade. House of Hackney's success parallels a number of value changes in not just design but our general shopping habits, too.
When House of Hackney was first mooted, the idea was very much about wanting to find designs "for our own home at a time when we were just coming out of years of minimalism in interiors," explains Gormley. Add to that Gormley's falling out of love with disposable, high street design at Topshop, and coinciding with starting a family, she knew she wanted to enter into a range of design products of greater quality with greater longevity at their core.
There were always historical and emotional pulls on Gormley's work from the beginning, too. Her own aesthetic, she says, was strongly influenced by that of her grandmother growing up in Ireland. "She was something of a punk, in a way," she explains. "She had a very modern outlook, a little like a Diana Vreeland. A great eye—into antiques but never in a stuffy way. She was great with layers and textures, and all this with 11 children. I was that child that had an unnatural interest in interiors—you know, like wanting cloud wallpaper from a very young age."
The family-influenced outlook is a value set echoed by Royle, who says, "It really is all about our children now—wanting to provide something lasting for them." At the heart of this is the conviction that "Made in England" is possible, and also desirable, not just in the U.K. but farther afield.
Much of the first year or so of the company's creation was spent travelling the length and breadth of the United Kingdom sourcing the right manufacturers for each of their core offerings. The sofas are made in Long Eaton, Derbyshire, which has a long upholstery manufacturing history; the ceramics are crafted in Stoke-on-Trent, the traditional home of ceramic manufacturing, a city which has struggled to keep an identity in the wake of cheaper Eastern competitors; the wallpapers are printed in Loughborough; the traditional upholstery velvets are from Lancaster; and the lighting is made in Wales and Northern Ireland. Most of the manufacturers, say Gormley and Royle, are third- or fourth- generation family-run businesses with considerable experience and know-how. To some extent, the House of Hackney brand is defined by and also limited by these manufacturers. Gormley has acknowledged in the past they may well have to rethink as order numbers grow beyond current capabilities.
For now, however, their regulars are well-established, and more and more business wrinkles are being ironed out. Gormley and Royle confirm that if they were to do everything all over again, there's nothing they would really change. And if all goes to plan in the near future, they may even find time to draw a few breaths, sit back, and see what they have achieved.
March 13, 2015
Updated: April 1, 2015