Natural Skin Care For Men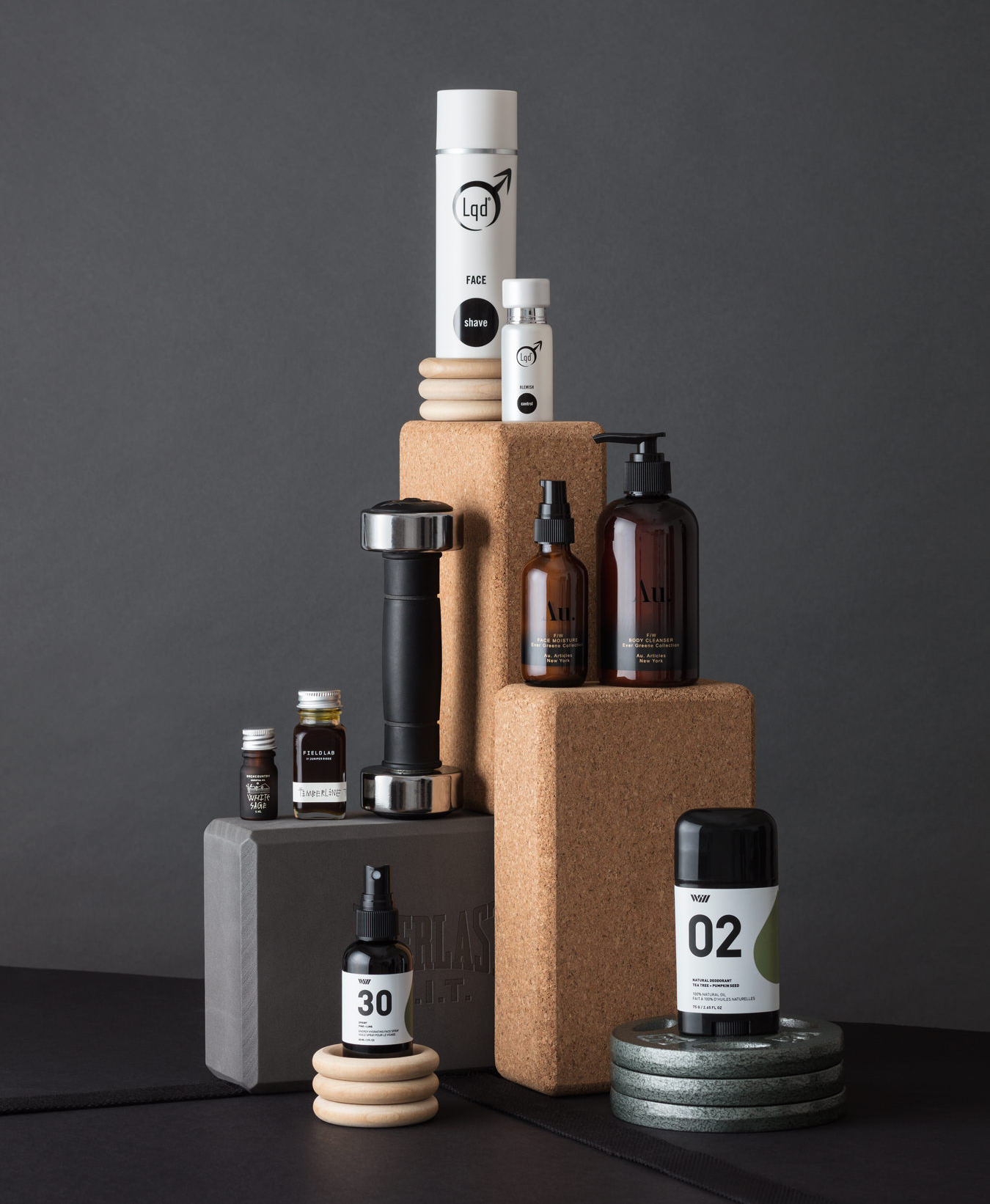 For millennial athletes who have been raised on plant-based diets and self-care rituals, staying fit isn't just about doing circuits in the gym and calling it a day. Training is an entire holistic lifestyle that involves fine-tuning your body inside and out (Tom Brady is proof enough). But while it's easy to order vegan meal delivery and sustainable windbreakers, it's been harder to find natural skin and body care for active guys. Women, on the other hand, are tripping over athleisure-inspired organic face mists and toners. But the gap in the market is no longer being overlooked.
"Men tend to be more concerned about their well-being, more so than before—what they put on their bodies is as important as what they put into their bodies," says Willie Tsang, the founder of WILL, a recently launched essential oil grooming brand for workout regulars. "Living a healthy lifestyle becomes a priority." So much so that by 2022, the men's personal care global market is expected to grow to $166-billion (U.S.), with products tied to fitness and health playing a significant part, notes Allied Market Research, a business insight and consulting firm. WILL and a handful of other first-to-market brands are already leading the way with non-toxic, high-performance formulas.
And the results might just be game changing. "Most men's products are just women's formulations that have been recoloured, refragranced, repacked, rebranded, and sold to men," says Anthony McDonough, the founder of Lqd, a new fitness-focused skin-care line. But, he says, "While women want products that make their skin tight, men are more interested in having soft, supple skin that feels hydrated." That's especially true among workout junkies, who often suffer from dryness after intense bouts of sweating or being exposed to the elements—sun, wind, rain—while pounding out kilometres. "What guys really need are products that don't rip away the natural oil in skin and maintain hydration," McDonough says.
While women are tripping over athleisure-inspired organic face mists and toners, it's been harder to find natural skin and body care for active guys.
Lqd formulas answer that call by eliminating irritants and fusing synthetic and botanical ingredients. The Face Shave has been a particularly strong performer. About "60 per cent of guys suffer from some form of rash, redness, or irritation when shaving," says McDonough. "Most men put it down to their blade, [but] what they don't realize is that it's the ingredients inside the shaving foam or gel that cause the irritation." Lqd's aloe vera–based cream calms the skin, while its Blemish Control pairs salicylic acid with a cocktail of hydrators to stop your face turning "red or flaky", says McDonough.
Once you have skin in peak condition, the goal is to keep it that way. Scott Miller, the Australian-born founder of Au. Articles, believes a grooming regimen should change with the seasons. "When I first moved to New York, it became clear that a lot of products I was using would perform well in the heat of spring and summer, but then not as well through the colder, windier months of fall and winter, even though they claimed to perform equally well all year round. It surprised me that no one was truly tailoring products or formulas to the seasonal elements the same way fashion does." To that end, his plant-derived range is split into Fall/Winter and Spring/Summer collections, and spans serums to fragrance oils to body creams to lip balms.
"For Fall/Winter, we have developed formulas to address colder temperatures, low humidity, and sun exposure, and an increase in chilled, dry wind exposure," says Miller. Daily habits come into play as well. "We also understand that the skin is going to be exposed to other things like dry, heated interiors and hotter, longer showers." Healing and nourishing oils like patchouli and sandalwood might be used in fall, while lighter rosewood and lemongrass are key in spring. The assortment is already gaining traction among professional swimmers and basketball players, and the uncontested bestseller so far is the Spring/Summer Facial Cleanser. "It gently removes perspiration and residue without stripping the skin of its natural oil balance," says Miller.
"What guys really need are products that don't rip away the natural oil in skin and maintain hydration."
Going one step beyond seasonal is Juniper Ridge, a small-batch brand from Oakland, California, that's aimed at outdoor adventurers. Essential oils are blended on the trails to capture the antioxidant-packed ingredients at their best. Then they're piped into everything from aromatic body washes to restorative face oils, the latter being crafted with "extractions of mountain plants, bark, needle, and other things found hiking in the backcountry." It doesn't get any more rugged—or real—than that.
Still, for those who push their bodies hard, deodorant is the ultimate hero. Going natural in this regard is no easy feat, says WILL's Tsang. "I'm not saying other deodorants don't work, but when it comes to natural ingredients, there is usually not one size fits all." The ingredient list in his 02 Natural Deodorant was "carefully picked to keep pits feeling and smelling fresh. The kaolin clay absorbs oil and sweat, the coconut oil and shea butter help to moisturize, the tea tree oil is an effective deodorizer, and the pumpkin seed oil helps reduce redness and itchiness." Like everything in the WILL line—from energizing facial sprays to muscle-calming body washes—it's made with 100 per cent high-grade essential oils and is free of artificial colouring, sulfates, formaldehyde, parabens, and phthalates. As Tsang puts it, "I work out on a regular basis. I do not want to put chemicals on my skin as much as I don't want to ingest chemicals into my body." Call it clean living for the win.
_________
Never miss a story. Sign up for NUVO's weekly newsletter.