To hear him tell it, Giulio Cappellini's career in the design world began the way so many promising things do: with a half-baked notion, possibly precipitated by strong drink. In 1979, the then-25-year-old scion of the Milan-based furniture-making clan was just completing a degree in architecture and had taken on a brief assistantship in the studio of legendary designer Gio Ponti. Then came the brainwave. Says Giulio, "One evening—maybe I was drunk—I said, 'I don't want to be an architect. I want to be in the family business.' "
The consequences of this epiphany have been far-reaching, for Giulio and for the whole trajectory of contemporary design over the past three decades. Today, the name Cappellini is synonymous with high-end furniture of a particularly rarefied pedigree, with the brand having debuted and continuing to showcase some of the most prominent designers of our time. The dramatis personae in the Cappellini saga include such luminaries as Shiro Kuramata, Philippe Starck, Marc Newson, and Tom Dixon, and the stylistic spectrum of the collection, which runs the gamut from colourful po-mo to sleek ultra-modern, takes into its compass almost every major development in the field since the early 1980s. All of this, and the remarkable growth of the firm from a boutique regional operation to an international powerhouse, has taken place under Giulio's watch. Which makes it all the more surprising how tenuous his original entrée into the profession really was. When he began, says Giulio, "I was thinking that in six months I could change my life again. I didn't know that you can't do everything in one lifetime." Somehow, "step by step", his youthful whim has matured into an enduring commitment. The company that his father, Enrico, founded in 1946 had 14 employees when Giulio came aboard; today, it has hundreds, with showrooms in Milan, Los Angeles, Manila, Paris, Brussels, and New York.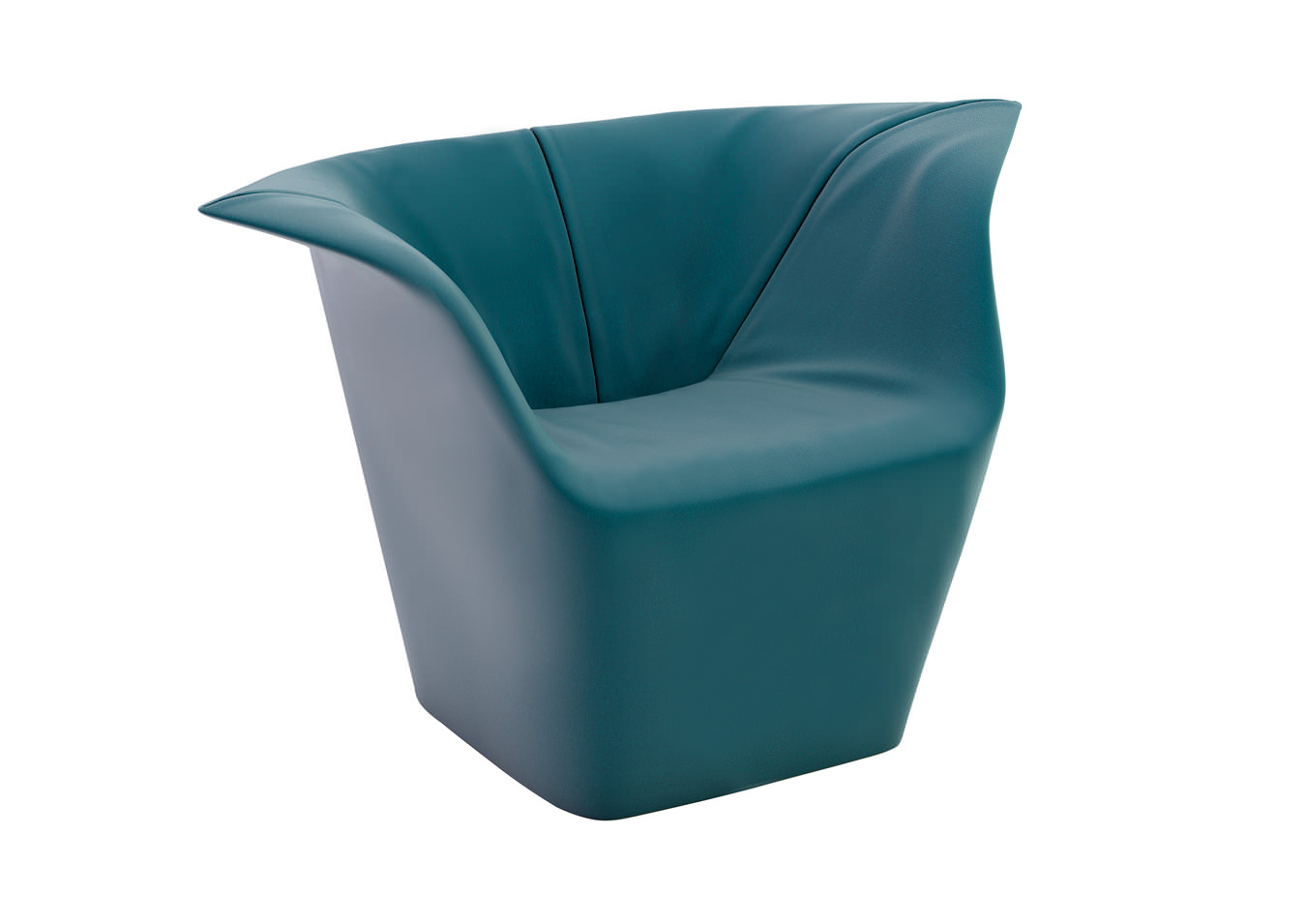 The last of these, the Manhattan location, is a two-level storefront in what has become the de facto design district of the fashionable SoHo neighbourhood. Giulio himself was in the shop this spring for New York Design Week, the city's yearly carnival of open houses and product launches timed for the arrival of the International Contemporary Furniture Fair. Wearing a suit of impeccable cut, the firm director sat amidst the whirl of preparations for the visiting crowds in a showroom painted livid red—part of Cappellini's new scheme to colour-code its stores in city-specific hues, with yellow for Milan (the colour of "risotto and Milanese architecture"), purple for Paris ("haute couture, high fashion"), and blue for Brussels ("it's so grey there, you can always find this very strong colour").
New York's cherry-tinted interior is meant to stand out amongst the predominantly black-and-white showrooms of SoHo, and the installation on display during Giulio's visit is similarly eye-catching. Scattered around the floor and in the storefront window are designer goodies like an exquisite lace lamp from Stockholm collective Form Us With Love, London-based Benjamin Hubert's flower-like Garment chair, and the high-finish Candy Tables of Brussels-based Sylvain Willenz, all of them bound to attract the notice of even the most jaded Design Week veteran. Giulio knows how to hold the attention of the fickle global design elite, since the art director spends so much of his own time flitting from continent to continent, attending fairs and chasing new talent. "I travel a lot, sometimes too much," says Giulio, who spent as many as 250 days on the road last year.
An emphasis on the buyer, rather than on styles or trends, has been a hallmark of Cappellini at least as long as Giulio has been at the helm. The brand's focus is on "real products, not on lifestyle," says Giulio.
All that running around means that Cappellini's art director, who turned 58 this year, is often away from his family back in Milan. Giulio and his wife, Silvia, have two daughters, Costanza and Margherita, and a son, Giovanni, all in their teens and early 20s. Being in a business that's also a dynastic enterprise makes the situation that much more complicated, though Giulio maintains a fairly clear distinction between Cappellini as a household name and Cappellini as a household. "I used to tell my kids, 'You have to enter the company,' " he says. "Now I don't know if they [will] follow me. They might do something totally different, and that's okay." This could be a ploy, of course; Giulio's own parents always gave their son room to pursue his interests—" 'If you want to go ahead, go ahead,' they said"—but in the end, taking his own path led him straight back into his father's showroom in Milan.
These days, even when he's in his hometown, Giulio can't always count on quality time with the family. His New York visit came fresh on the heels of Milan's gigantic furniture fair, the Salone Internazionale del Mobile; Vancouver was next, where he was slated to be the featured guest for an evening event at longtime Gastown fixture Inform Interiors. Looking forward to visiting British Columbia again, the globe-trotting aficionado was still recovering from the week-long lollapalooza that is the Salone, where his collection, called Cappellini Next, was installed in the Fondazione Arnaldo Pomodoro, a massive former industrial space, as part of the Fuori Salone program of outside-the-fairgrounds events. In the Milan warehouse, the firm's chairs dangled hundreds of feet over visitors' heads, suspended by guy wires from the ceiling. "I like to work on scenography," explains Giulio, who oversaw the entire layout and installation himself.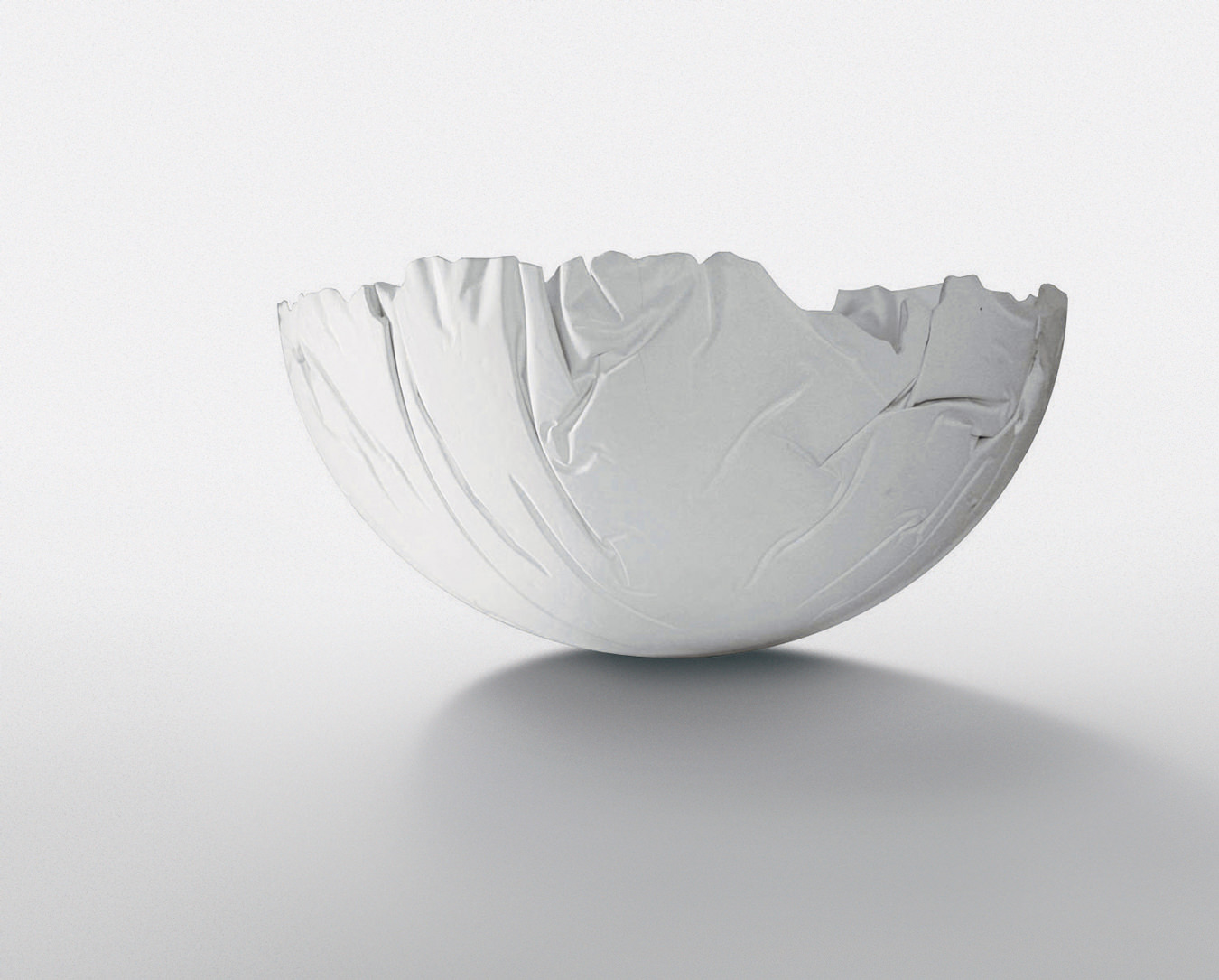 His singular level of engagement and worldwide outlook gives him a unique insight into what's working, and what's not, in design today. Recent additions to the collection from the art director's own hand include his Altoletto (literally, "high bed"), a hyper-reductive bed frame with svelte metal bracing; among contributions from outside designers in the 2012 collection is Tel Aviv–based Bakery Studio's NOM series of stackable stools, fashioned "origami-like" from bent aluminum. If simplicity seems to be the keynote style behind these and other newcomers in the Cappellini stable, that may be a reflection of the unsettled state of the marketplace—but the company's current objective seems less about exploring a single, simple aesthetic than it is about broadening its appeal to different kinds of design lovers, as its art director is quick to point out. "We have a lot of younger friends who say maybe they can't afford Cappellini," says Giulio. "So we like to do a nice chair that costs $1,500, and on the other side one that costs $300 … It's interesting to work with the same designers on both kinds."
An emphasis on the buyer, rather than on styles or trends, has been a hallmark of Cappellini at least as long as Giulio has been at the helm. "From Cappellini, [the clients] are always waiting for something different," he says, adding that the brand's focus is on "real products, not on lifestyle." In creating a diverse collection, Cappellini also increases the odds that every year will see the advent of some new product that will go on to have a long afterlife in the marketplace. "I think that the real story is to work on long-sellers, not bestsellers," claims Giulio, pointing out the staying power of the minimal tables and spidery stools of Cappellini favourite Jasper Morrison.
Betting on the long-term viability of a given product—that the design audience will eventually catch up with a concept—means taking risks. "Mauro Mori [the Collezione Mondo project]—we didn't sell one piece at first," says Giulio, though the Italian designer's sensuously sculptural wooden pieces did eventually catch on. Building on relationships with the client base, Cappellini can direct the development of buyers' tastes, showing "the end consumer what is behind a project," how it works and what inspired it. This educational effort is part of Giulio's mission in his extensive travelling and lecturing, and he relishes the role of itinerant preacher, spreading the gospel of good design.
Discovering new designers is Giulio's specialty, and he takes real pleasure in watching the alchemy that comes of throwing them into the Cappellini mix.
As much as the Cappellini approach gives primacy to the product and the client, it also has unique advantages from the perspective of the young designers it pulls into its ever-expanding orbit, giving a high-profile perch to new figures in the industry. Lorenzo Damiani is one such beneficiary. In 2001, the Italian-born maker of sometimes-oddball objets d'art (a side table fashioned from an electric fan, a pouf chair that doubles as a vacuum cleaner) was approached by Giulio during the Salone Satellite (a branch of the Salon del Mobile). It was a memorable approach, says the now-40-year-old Damiani, remembering Giulio's "quick, firm step." For the designer, becoming a part of the Cappellini fold has meant joining a team where "each designer brings a legacy from his piece of the world"; paradoxically, perhaps, Damiani is one of a relatively small handful of native Italians whose work is represented by Cappellini, so he feels that what he brings to the table is his particular "piece of Italy."
Discovering new designers like Damiani is Giulio's specialty, and he takes real pleasure in watching the alchemy that comes of throwing them into the Cappellini mix. Marcel Wanders was another of his finds, and one of his most enduring successes to date: the Dutch dynamo, known for products with richly patterned surfaces and a certain old-world fragility, has been a fount of original ideas since his first collaboration with Cappellini in 1996. One recent project, Wanders's 2005 New Antiques series, shows how the designer has brought his highly refined sensibility to the brand, with turned-wood chairs and armchairs that seem delicate almost to the point of preciousness. But for Giulio, having Wanders on the roster isn't just a matter of adding his products to the Cappellini repertoire. "What I say to young designers or students is: Okay, you want to be a rock star, be a rock star. But Marcel is someone who really works 12 hours every day … You cannot create a career in six months. When you see Marcel, he looks like a rock star, but there's this other side." Wanders serves as an object lesson to the aspiring designers that Cappellini is looking to cultivate.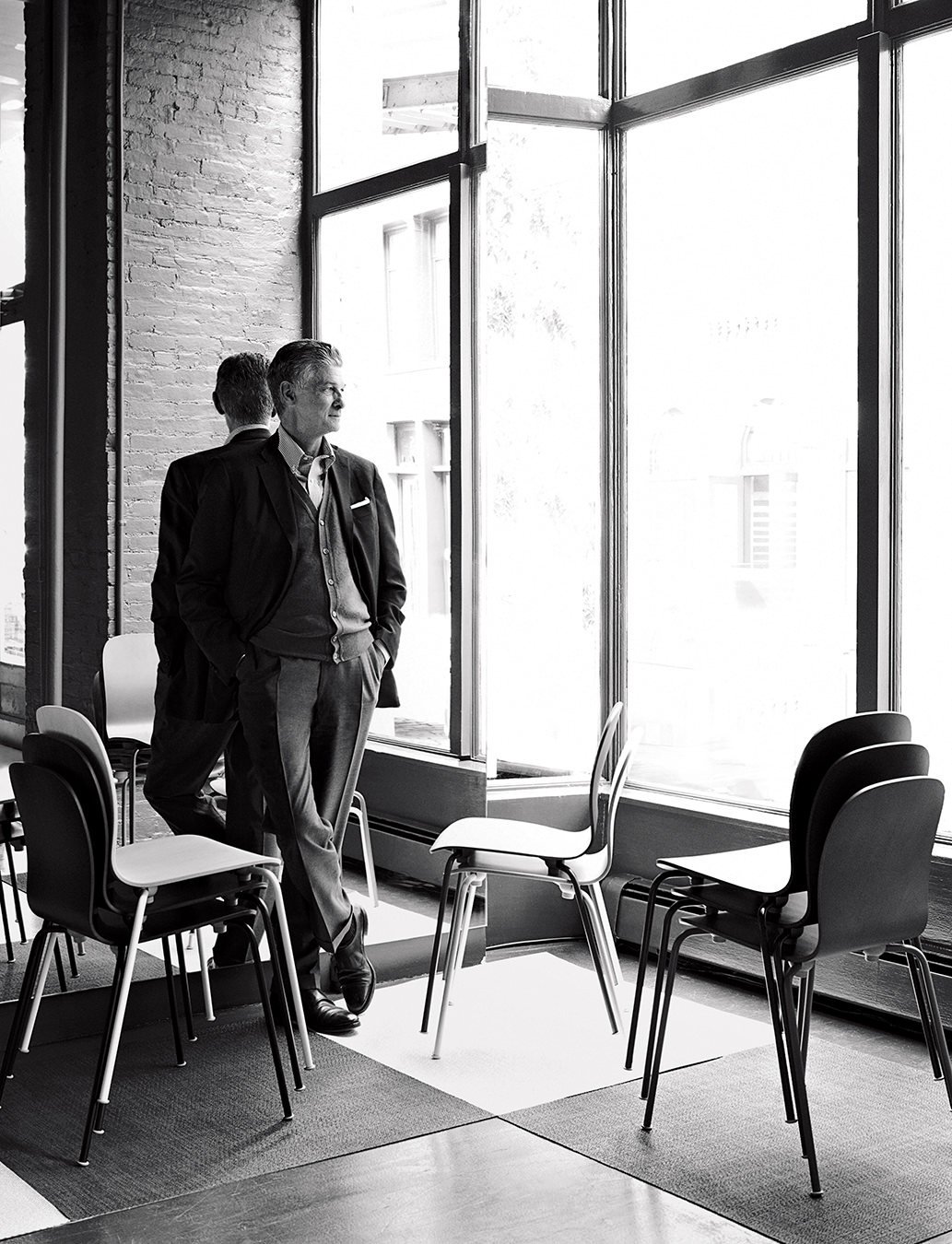 At odds, it might seem, with the often playful objects in the collection, Giulio brings an overall air of seriousness to Cappellini, one that's all the more surprising in someone whose initiation to the business was done largely on impulse. He holds words like "commercial" at arm's length as he talks about focusing on the furniture. "They ask me to do a perfume," he says, "but you cannot do everything for everyone. We have to be very, very careful." The art director has always been convinced of the importance of designing for the future, and that's prepared him to look still further down the line toward his own posterity. His children may or may not go into the business, but one senses that Giulio's real professional patrimony belongs to the designers he's nurtured: it's evident in the way he talks about some, like Japanese design team Nendo, who have gone on from Cappellini to achieve international renown, and it becomes even more explicit when he's asked which designers are his favourites. Sighing, he says, "For a father, it's very difficult."
The Cappellini brand became a part of Italian-based furniture conglomerate Poltrona Frau Group in 2004, and went public one year later. The new business arrangement has meant that, for the first time, Giulio has to report to investors—but it's also opened up new opportunities, new markets, and new prospective partnerships. The art director is looking forward to meeting young designers in developing markets like India and China, as well as opening up additional stores. None of which is to say that Giulio Cappellini is quite ready to resign himself to elder statesmanship. "They want to do a book about me," he groans. "But I say, I'm not dead yet!"
Furniture photos provided by Cappellini.
August 29. 2012
Updated: January 17, 2015