Vancouver House Penthouse by Leckie Studio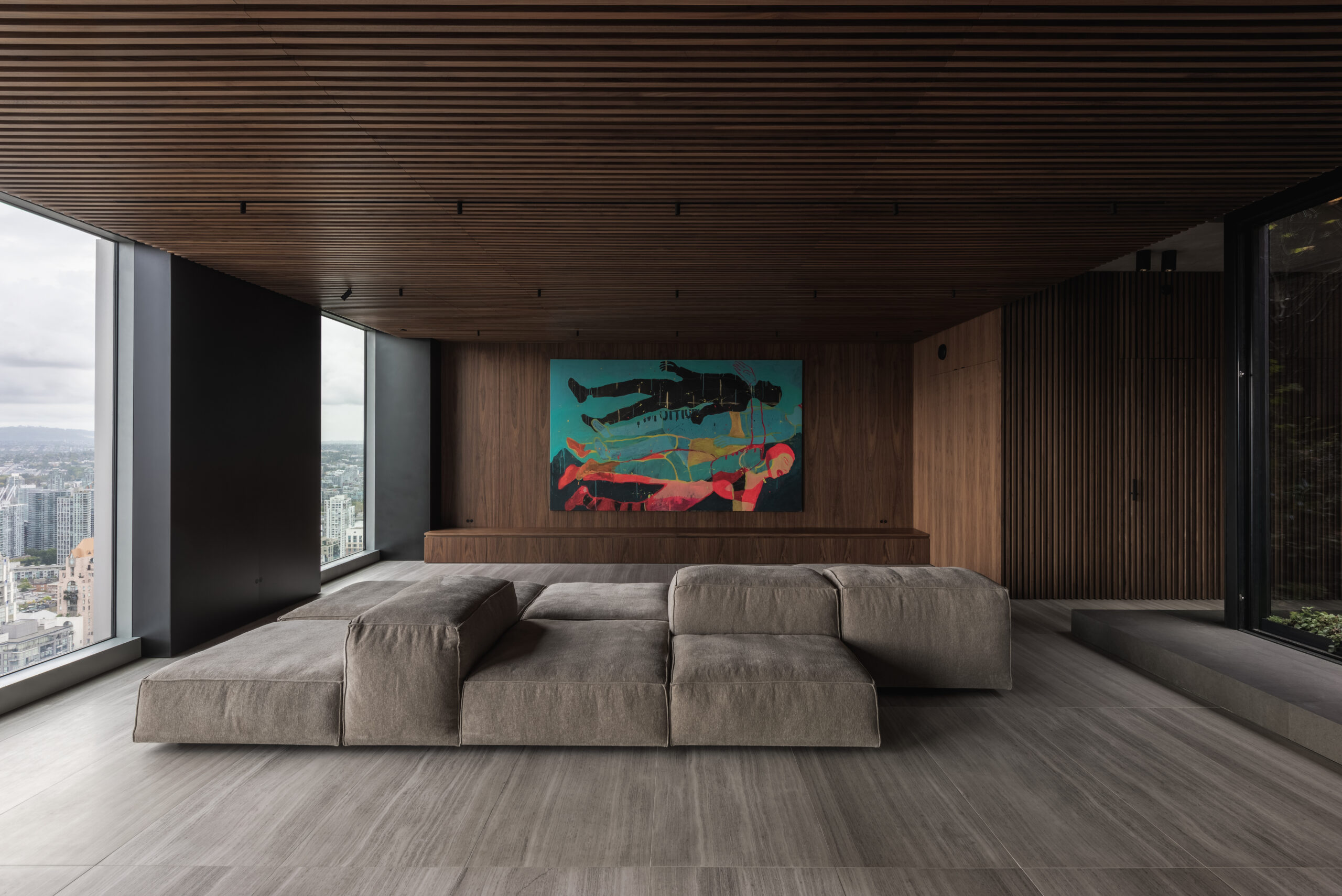 Vancouver House, the twisting skyscraper designed by starchitect Bjarke Ingels, has become an integral part of the Vancouver skyline, but we haven't had many looks inside the coveted penthouses. Even as many turn their property-seeking eyes to the rural and remote, these penthouses continue to be coveted. Not only do the inhabitants have a great (in every sense) view, but they get to live on top of a landmark, on top of the identity of the city itself.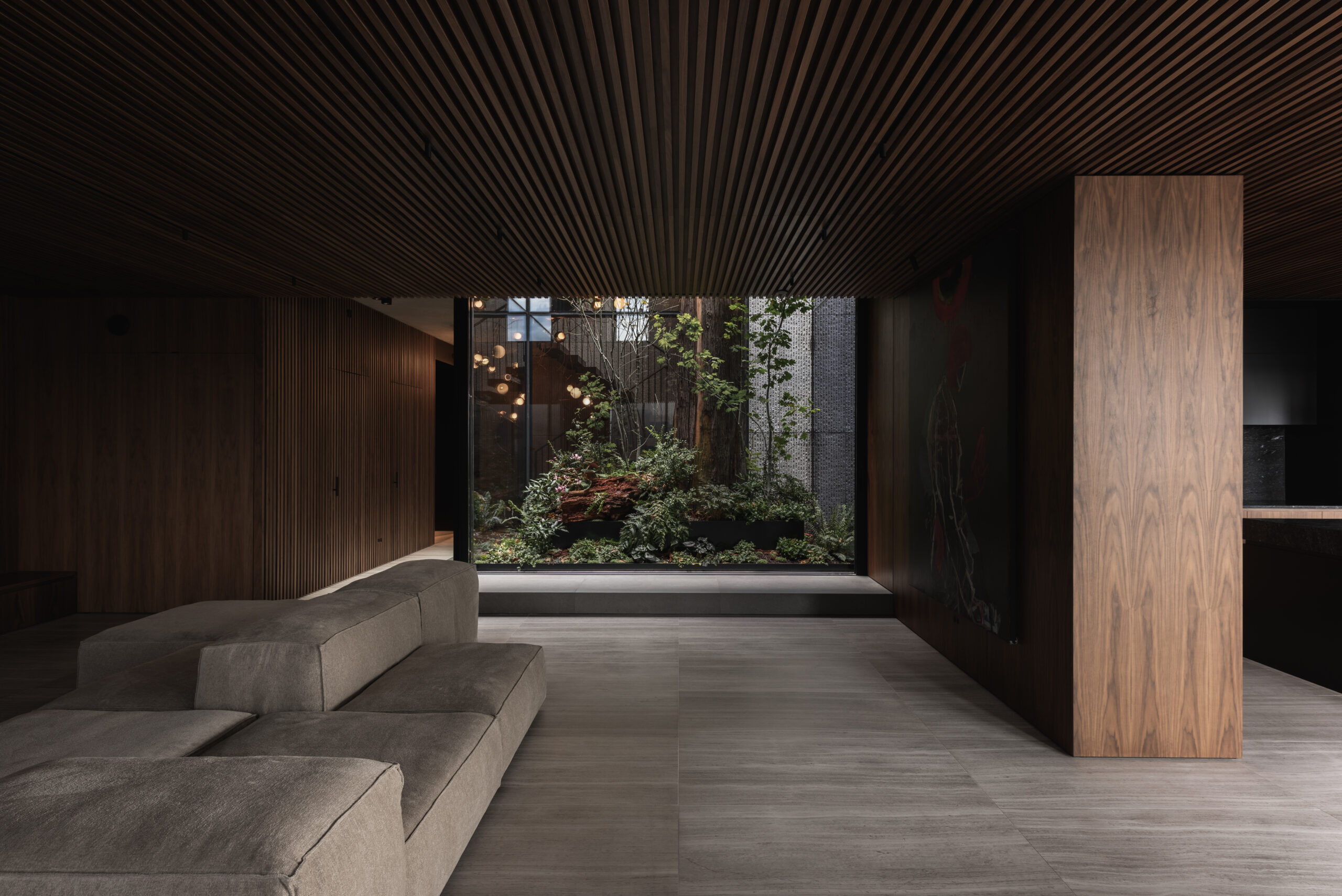 Of course, penthouses like this 3,600-square-foot residence designed by Leckie Studio Architecture + Design represent the pinnacle of city living, and it's always interesting to see how they are customized. This two-storey penthouse (Vancouver House has multiple) faces northwest, with views of English Bay, North Vancouver, and the forests that cover the mountains. The home is perfectly positioned to soak up the beauty of Vancouver sunsets and the glow of city lights once daylight fades.
The Leckie design is sleek and modern in a way that embodies the Pacific Northwest. Rich walnut pervades, providing a textured louvre for the ceiling as well as a bold-grained flat cut in the walls and millwork. Lighter flooring material like travertine and concrete contrast well with the walnut, as do the blackened-steel column in the primary living area (and accents throughout) and the dark-granite countertops of the kitchen.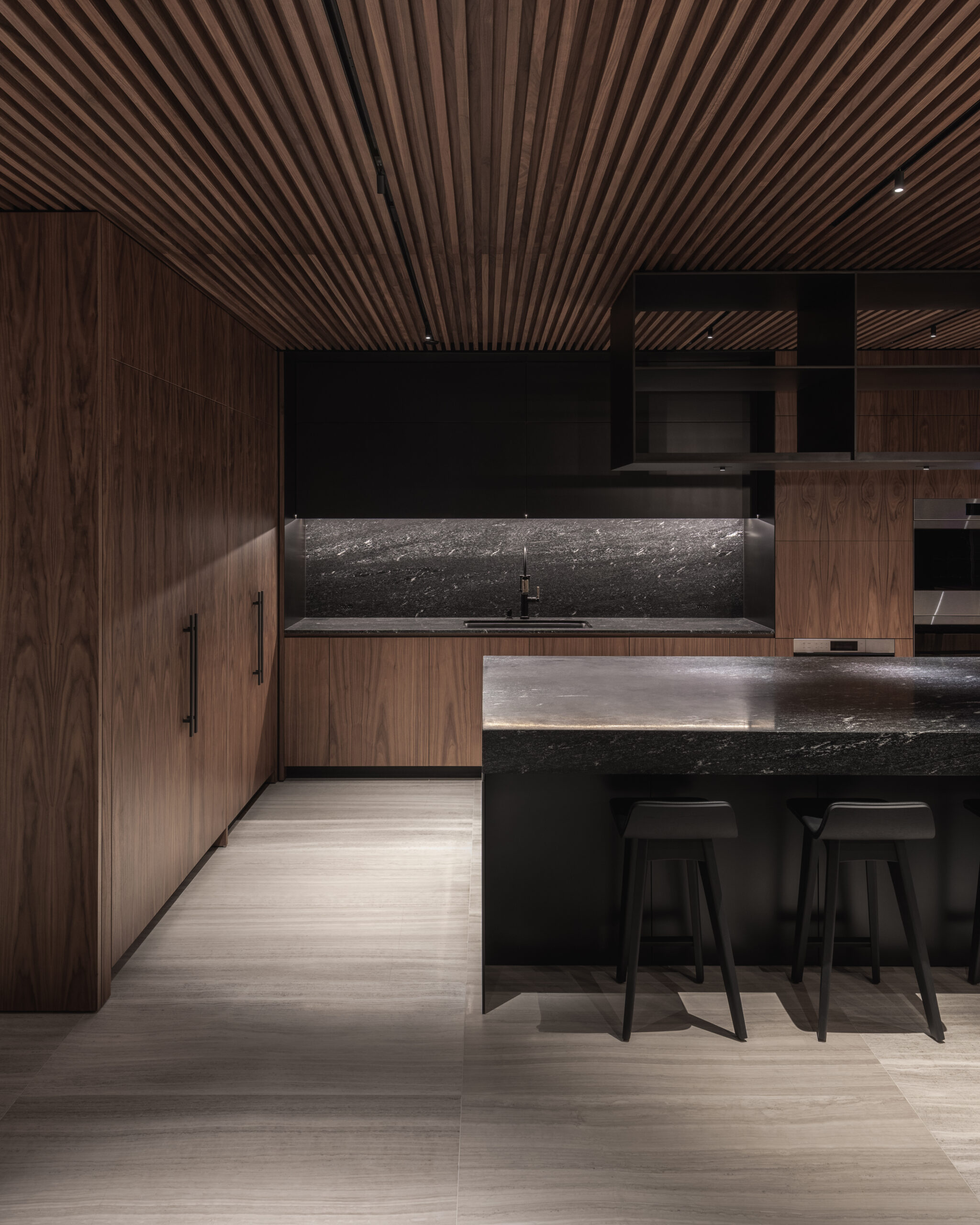 The master suite and a study are upstairs, while downstairs are the primary living spaces and the pièce de résistance of the design: a glass-walled atrium in the centre of the space serves as a terrarium with red cedar stretching from the first floor to the second. This homage to iconic West Coast vegetation gives the whole design a biophilic character that reflects the importance of nature to the client and can be seen from many places in the home, like the central second-floor study. The terrarium is no gimmick: surrounded by a platform step of solid basalt, the ecosystem within is nourished by a decaying "nurse" log that nurtures the plants.
More greenery is featured in the master bath, which has its own terrarium set in beautiful aged bronze and Fior di Bosco marble. Adding to the theme of Pacific Northwest iconography is the classic Bocci blown-glass light installation above the steel-and-walnut staircase, visible through the terrarium, creating a wonderful visual vignette that makes this project so unique.
Open-concept living throughout the living and dining areas of the first storey (which in reality is 59 floors up) leads out to an expansive ipe-wood deck that provides a place for outdoor hosting at the top of the world.
Photography by Conrad Brown. 
Part of our Home of the Week series. Read more HERE.