FICTIONS Tarries With Lost Futures and Mysterious Savoir Faire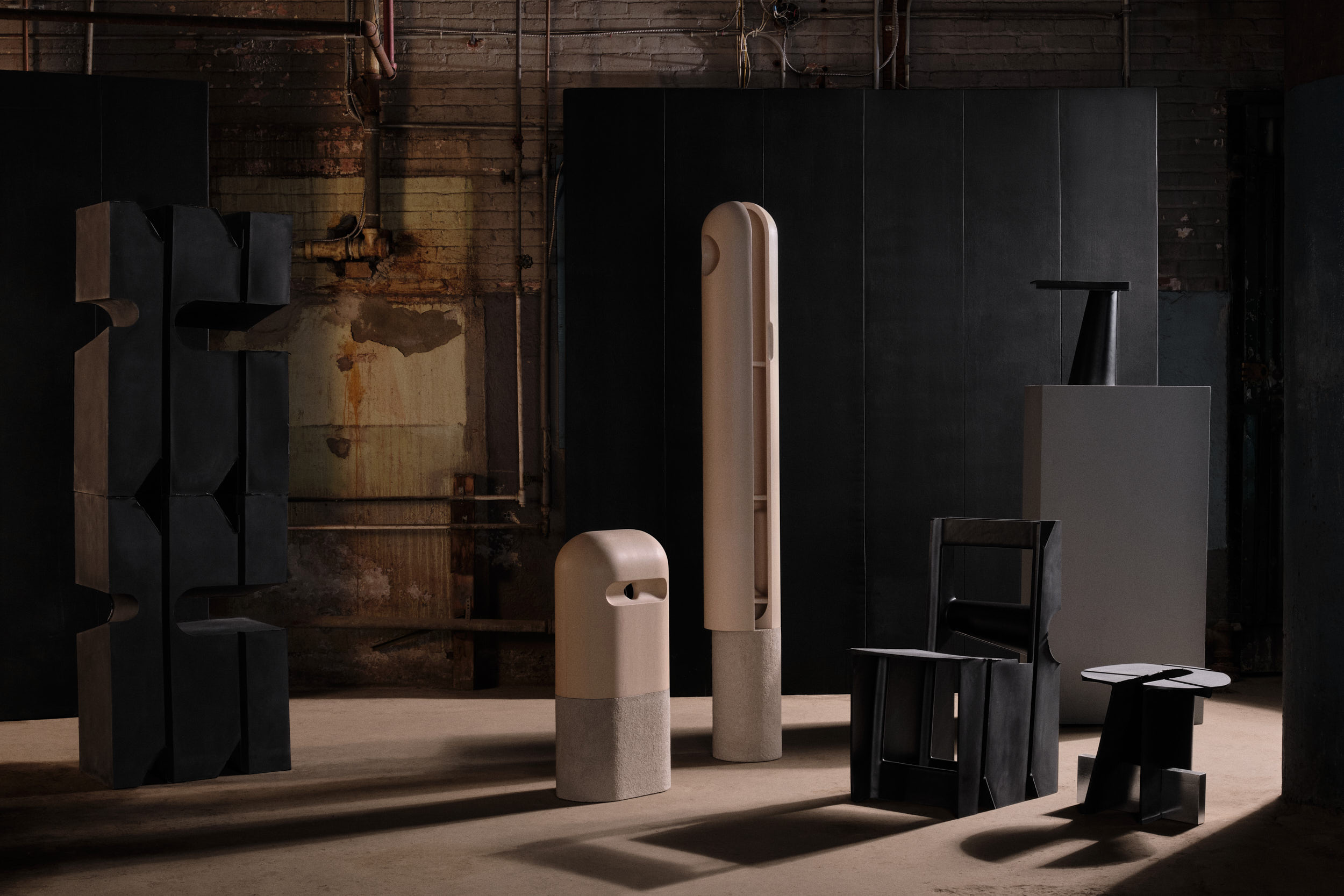 After a year without trade shows or many exhibitions, another launch seems bound to be annulled in the annals of this lost episode. But Fictions, the inaugural exhibition of the Canadian Creatives Collective (CCC), makes an unexpected impact.
"It's a cinematic experience at the end of the day, rather than just a flat website," says Nicolas Bellavance-Lecompte, the Milan-based Quebecer who curated the exhibition, which features eight Canadian designers at various stages in their careers who were given carte blanche to create pieces for it. Viewers can choose one of four camera angles from different points of view. The experience combines video, photography, and music to create a multisensorial exhibition.
What sets the exhibition apart from the mass of virtual shows is a rigorous and well-thought-out conceptual framework. Despite what Bellavance-Lecompte articulates as a diversity of approaches and form in the pieces, the overarching mood of the exhibition is clear. This is aided in huge part by a lyrical essay by Montrealer writer Daniel Canty, who writes that "a loss of coherence is a gain in invention" and that these inventions form the "imaginative sovereignty" of so many fictions made using what a city actually is to build what it could—or should—be.
There is an apocalyptic lilt to this essay that contextualizes the collection of objects, from the Lambert & Fils light sculpture resembling a ghostly tenement to the impossible silk chairs of Yannick Pouliot that summon a state of luxury and rest made unattainable. Taken together, the objects represent a "superposition of states," Canty writes, and in their self-glorifying obsolescence they burn away ideas of use and function, giving rise to the outline of the soul of a city.
"It is an exploration of the city that is more intimate," Bellavance-Lecompte says, referencing the uniqueness of Montreal in its post-industrial, multilingual and multi-ethnic makeup. A multitude of semifamiliar forms, fabrics, and metals assemble to bring to life a vision of the city through design at once familiar yet strange. This is where the name comes in, for fiction uses the familiar to stretch us beyond our own minds and into what we were looking at. As if by double take or conjuration, whatever we see all the time takes on new meaning.
Some of the objects, like Loïc Bard's Cabinet Bone 01 & 02, are mysterious, alien, barely part of this world; others, like Atelier Zébulon Perron's Spineless Chair, are almost menacing. But the suggestion of a function pulls the objects back from an abyss—of art?—into conversation with one another, which reflects the collaborative and feedback-oriented process the designers undertook in bringing these objects into material reality.
The lost and hidden here are glorified as the detritus of so many possible futures, a photographic negative of the shine of the Expo of 67. "Let us admit it," Canty writes, "we specialize, in this uncertain province, in the amplification of unfinished dreams." But when are dreams ever really finished? In the hands of creators, never—one could say.
You can view the exhibition here.
Photography by Alex Lesage.