Bouclé Is the Midcentury Fabric Trend You Need to Watch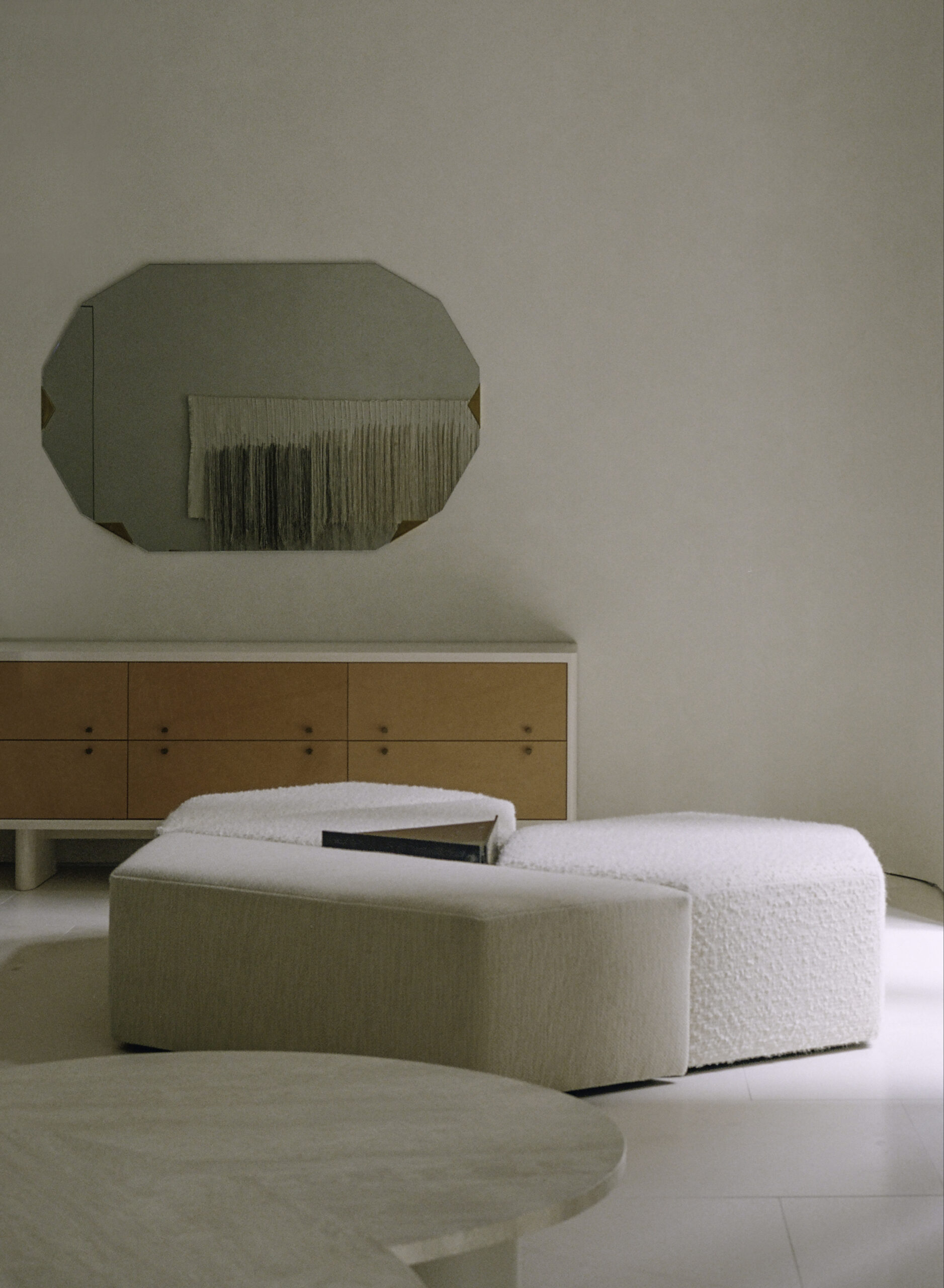 Maybe it's not surprising that bouclé, a popular midcentury fabric, is making a comeback.
If you've missed it, follow the industry's bold-faced names: White bouclé is "the fabric of this season and beyond," according to New York's Jonathan Adler, "you must get everything in white bouclé." You'll spot it on Project Runway star Christian Siriano's first foray into home furnishing, too, and even in Goop's first home furniture collection, for CB2.
The material, made from yarn of the same name, is notable for its looped and curled fibres woven together to form a nubby texture. Traditionally rendered in wool, but also made in anything from cotton to silk, it's almost springy to the touch with variation—unevenness, even—that hints at natural material.
Bouclé's popularity as upholstery dates back. Instructed by the American architect Florence Knoll to create "a chair that was like a basket full of pillows—something she could really curl up in," Finnish-American designer Eero Saarinen unveiled the Womb Chair in the 1940s, a curvy icon upholstered in bouclé that would inspire furniture for decades.
"I think the reason why bouclé is having such a moment is because it's a fabric that, for most people, evokes warm nostalgic feelings of the '70s interiors of our grandparents' or parents' homes," says Jessica MacDonald, co-founding interior designer at Vancouver's Studio Roslyn. "As of late, it has been reinterpreted on furniture pieces with more contemporary shapes."
What bouclé can do to a silhouette is soften edges while remaining thick and difficult to crease; its surface is both warm and inviting.
You'll find traces of that extra-cozy aesthetic in one of Studio Roslyn's favorite bouclé pieces, the Embrace Lounge Chair by Sundays, a furniture startup in Vancouver that describes its piece as a hug in chair form. "We love that the rounded edges of the chair are another subtle nod to the '70s," says MacDonald.
"Bouclé has a playful ageless quality to it," explains Noah Morse, co-founder and product developer at Sundays. "People are always attracted to comfort, so why wouldn't they be attracted to nubby, textural fabric that is also durable?" But it all leads back to comfort and how easily bouclé eases into its environment.
In New York, the design team behind Egg Collective worked with textile artist Hiroko Takeda to develop bouclé upholstery for its bespoke furnishings because the material blends with other textures and fabrics, allowing clients to mix and match while adding depth and visual interest without sacrificing comfort.
"We've noticed the renewed interest in bouclés has also arisen in tandem with a renewed interest in shearling (or shearling-like fabrics), and see this as a sign that people are willing to invest in comfort," explains Crystal Ellis, one of Egg Collective's co-founders. "But while doing so, they don't want to give up on aesthetics. Bouclés offer both. They apply beautifully and are also wonderful to live with."
Not too stiff but not entirely relaxed, bouclé can feel both rich and bespoke—it's just right. It's why bouclé works in its most charming application of late, Pierre Yovanovitch's Papa, Mama, and Baby Bear armchairs, an adorable update to Danish modernist Hans Wegner's iconic Papa Bear Chair. The wingback chair's original anthropomorphic design (with extended arms that feel like a warm embrace) now feels zoomorphic with rounded, bear-like features covered in fuzzy bouclé that are unmistakably high-design—just look at those nubby, cuddly ears.
You might even call these pieces highly adorable, but no matter what, they are highly covetable.
_______
Never miss a story. Sign up for NUVO's weekly newsletter here.