The Rise of Electric Boating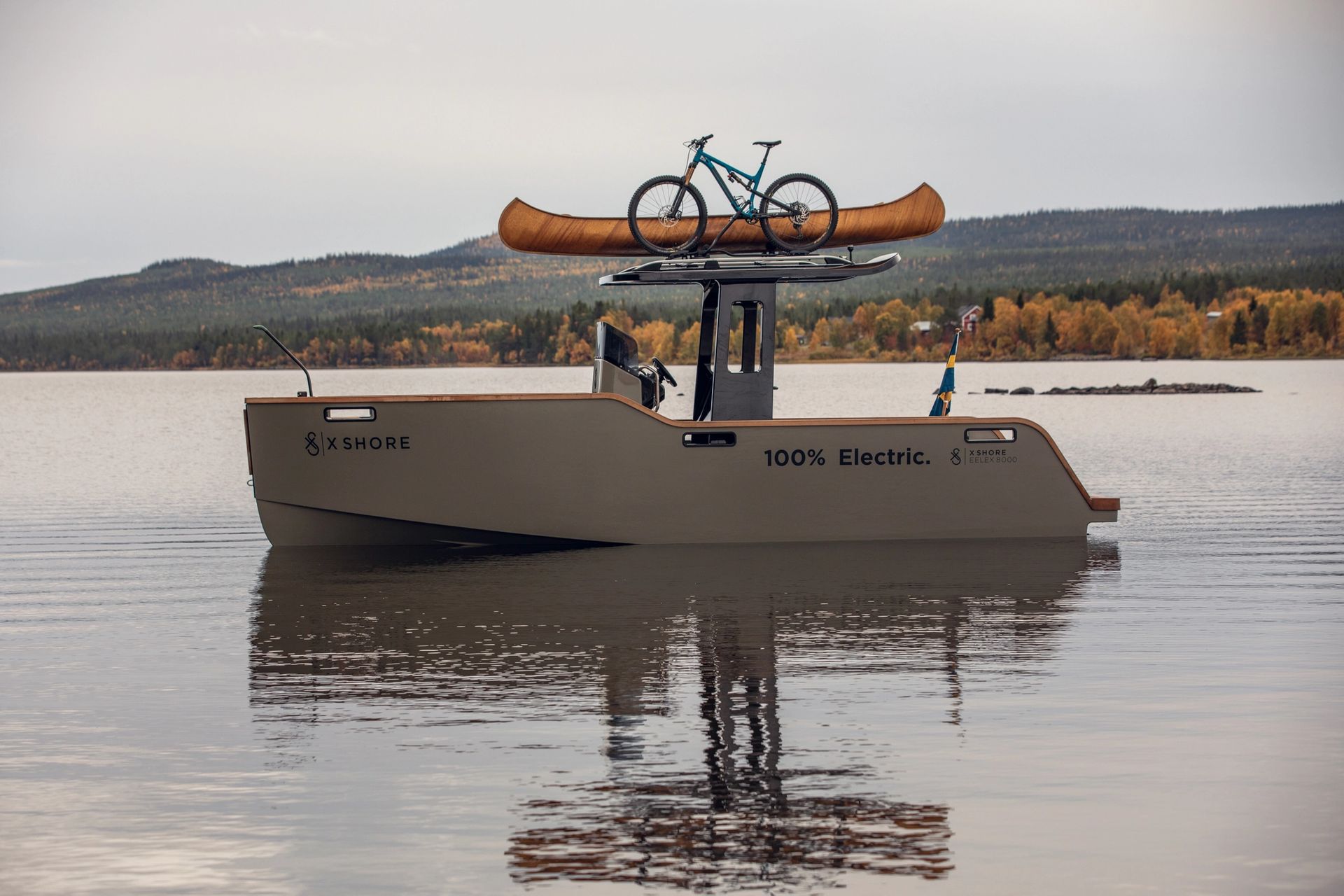 The Eelex 8000 casts a modest profile on the open water. Its fibreglass and carbon-fibre frame only measures eight metres in length, but this all-electric vessel is making outsized waves in the luxury boating industry. When Swedish startup X Shore built its first prototype in 2016, an all-electric luxury boat seemed like a pipe dream. But now it's part of a growing field of like-minded innovators who are—in tandem with government regulation and the public's waning appetite for CO2—poised to redefine yachting and usher in a new era of emission-lite recreation.
When Moritz von Jacobi invented what is generally considered to be the world's first electric boat in 1838, he created a small stir in the St. Petersburg scientific community, but the craft—which maxed out at a lethargic 2.5 kilometres per hour—was never widely adopted. However, by the end of the century, electric boats were back in vogue, and between 1890 and 1920 their only major competition was the myriad steam-powered boats plying the world's waterways. Regrettably, the subsequent popularization of the gas-powered motor rang the death knell on electric boating technology for many decades.
After a century of sycophantic dependence on the combustion engine, electric technology is finally experiencing a robust and overdue renaissance. Tesla brought public attention back to electric cars with sleek designs and prohibitive price tags. X Shore founder and CEO Konrad Bergström is not coy about his influences. Claiming he wants to create "the Tesla of the Sea," Bergström is taking aim at a wealthier demographic. The boat retails for 249,000 euros, making it many times more expensive than the average sports car.
Bergström believes the vessel has the stats to back up its exorbitant price. It can reach 35 knots and drive for 100 nautical miles without refuelling, all with zero direct emissions (of course, there are indirect emissions if the electricity is supplied through coal or other fossil fuels). Perhaps its single greatest selling point is silence. Without the incessant din of an outboard motor, guests can relax to the gentle slap of waves against the Eelex's hull.
So far Bergström's bet is paying off. The coronavirus pandemic catalyzed an industry-wide spike in purchases, seeming to accelerate the adoption of electric boats and offering fodder to those optimists who hope the pandemic could lead to long-term positive changes.
But if X Shore wants to remain a dominant figure in the industry, it will need to tangle with a growing bevy of ambitious upstarts and rapidly adapting boating behemoths. It already faces pressure in its native Sweden from Candela 7, which propels its boats via hydrofoil, thus creating a smoother ride with minimal coastal erosion.
Across the Atlantic, Hinckley Yachts is leveraging its trusted name in luxury yachting to promote the Dasher Electric: a stylish powerboat modelled after its best-selling Picnic Boat. Unlike the growing throngs of electric startups, Hinckley benefits from nearly a century of business history. Founded in 1928, the boat manufacturer has customer loyalty reaching back generations.
While the nascent electric infatuation has all the makings of a bubble, the industry has the statistics to buoy its momentum. It's poised to balloon to an 18-billion-dollar valuation by 2026 according to BlueWeave Consulting, and market research indicates that fully electric boats will overtake hybrids to represent 85 per cent of the market by 2028.
The implications are monumentally important, and activists hope the trend spills over into the shipping industry, which is responsible for 940 million tonnes of CO2 annually, or roughly 2.5 per cent of the global total. Whereas recreational yachting is non-essential, the shipping industry is obstinately integrated into our globalized world. Even a fractional reduction of these emissions could result in exponential benefits. While battery technology is not currently efficient enough for commercial shipping vessels, pioneers like X Shore leave ample opportunity in their wake.
_______
Never miss a story. Sign up for NUVO's weekly newsletter here.