A Calgary Refresh by Interior Designer James McIntyre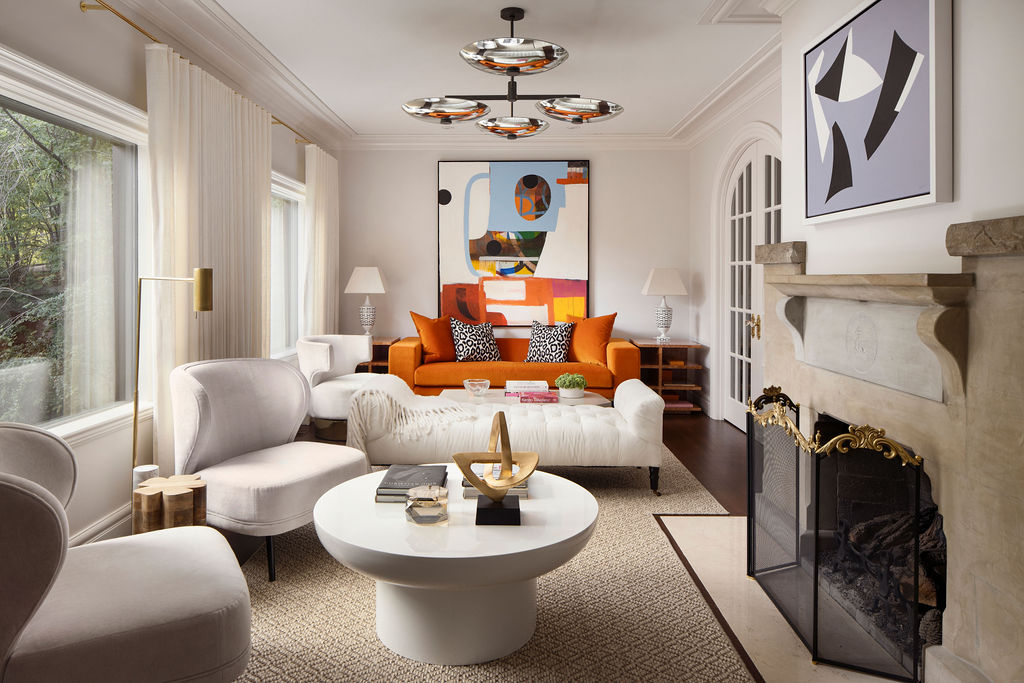 Having lived all over the world, including New York, Florence, Melbourne, and Burkina Faso, it was only natural that Ross Middleton, managing director of a global firm, and his wife, Elizabeth, a retired PR executive, wanted to infuse their inner-city home with a global spirit. The couple hired interior designer James McIntyre of McIntyre Bills to transform their century-old property in Calgary's Mount Royal neighbourhood into a classic yet fashion-forward dwelling able to transport those who enter to London or New York. Known for his ability to interpret clients' wishes, McIntyre embarked on a four-month renovation to transform the dated dwelling with an artful blend of classic and contemporary design and geared toward entertaining.
"The goal was to identify what was worthy of keeping, like the sandstone fireplace, the central staircase, and arched French doors, and what had to go such as the 1980s renovation of the kitchen and bathrooms, dirty beige travertine floor, and faded palette of earth tones," he explains. "As a designer, you hang onto the strong design elements and hope the homeowner is on the same page. Because Elizabeth has an intuitive fashion sense, she was on board immediately."
With its classic Georgian floor plan and French doors leading to rooms surrounding the split staircase, the house already had a London townhouse feel. The first step was the removal of unwanted finishes and details while updating the plumbing and electrical systems. A complete gut of the kitchen, family room, master bedroom, and bathrooms was next.
As the consummate host, entertaining board members, clients, friends, and family, Elizabeth needed a gourmet kitchen. The challenge was to open it up, ensuring there was enough storage and work space while maintaining the original footprint. With its clean aesthetic and a place for everything, the room is beautiful as well as functional. Dark woods and finishes were replaced with cream walls, sensual textures, and a bold black-and-white statement-making stone floor.
In keeping with the home's classic aesthetic, decorative crown mouldings were added to the living and dining room, while the library panelling, stair treads, and handrails were ebonized. The feature staircase with its luxurious black-and-white patterned Axminster-style runner, a key component of many London townhouses, acts as a dramatic backdrop when welcoming guests. The couple's extensive art collection partnered with their love of natural materials and organic shapes creates a visual statement in each room. The result is a timeless yet modern home that would work equally well in London, New York, or Calgary.