What Is Caremongering? And Why Is It So Uniquely Canadian?
Stories of sharing as caring.
Tie-dye, sourdough bread, and puzzles aren't the only things trending during the pandemic. Although we should've been able to predict this, given our reputation for being kind and generous folk, Canadians are uniting in a grassroots movement to help one another out during the coronavirus outbreak, in what has been dubbed "caremongering." An almost obsessive tendency toward being helpful, and it's not just a folksy trait, it is manifesting all over the country. Coined initially in a Toronto Facebook group, networks have emerged in cities and towns coast to coast, sharing everything from groceries and volunteer time to useful online resources and uplifting and funny memes, all with the intention of helping neighbours, and especially vulnerable Canadians from at-risk groups.
Whether or not this trait is innate in this northern nation or something brought out especially for the pandemic is hard to tell, but expressions of care that go above and beyond are moving with rapid speed across the country. In this way, caremongering itself has become a sort of antidote to social ills caused by the pandemic.
It's what prompted fashion stylist Tricia Hall to get out her brand new Hello Kitty sewing machine three years after purchasing it. She's finally using it for the first time, not for repairing clothing and styling projects like she'd bought it for, but rather sewing PPE for health-care workers, new mothers, and their families. Through Instagram, she learned of designer Sarah Splinter's initiative to provide masks, scrub caps, and gowns to hospitals. Hall immediately volunteered. "It's a great way to remove that feeling of helplessness during these uncertain times. So I decided now was a good time to put my sewing machine to work, especially for a good cause," says the Toronto-based mother of two.
She's now transformed her home office into a mini assembly line. "I sew everything in stages so that all the same tasks are being done at the same time to help speed things along. Factoring in having two small kids at home, it does take me a bit longer than I would like. I try to set aside a couple of hours each day after having school at home and before having to make dinner, et cetera," she says.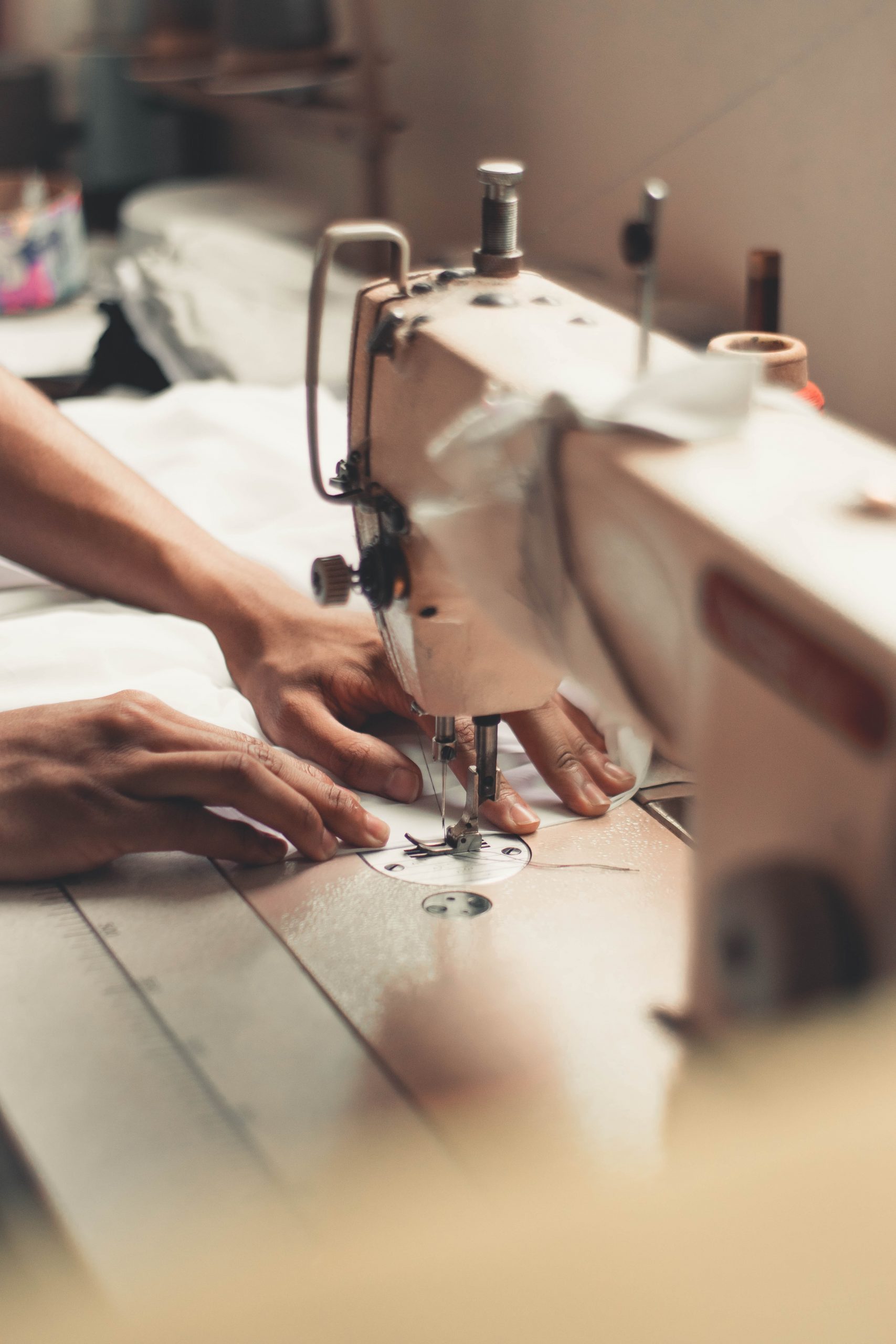 Hall is just one of more than 75 volunteers now sewing and delivering PPE through Sarah Splinter. Splinter's goal is to donate 5,000 masks, and the group is well on its way to reaching that goal thanks to the volunteers, fabric donations from companies including Smythe (where Splinter works), Philip Sparks, and Toni Marlow, plus more than $3,700 in donations from the public to a GoFundMe account.
In western Canada, Calgarian Anna Hawkins Waller joined a local caremongering Facebook group and has helped with grocery shopping for seniors and people with health conditions who are unable to go to the market themselves. In Vancouver, Laura Faint is in the midst of arranging socially distant window visits to seniors with other parents and their kids to help bring some cheer and human interaction to these long days of living in isolation. Vancouver publicists Heather Thompson and Malania Dela Cruz launched a donation drive to collect everything from colouring books to iPads (and of course, monetary gifts) to donate to the Ray-Cam Co-operative Centre located in the Downtown Eastside neighbourhood to help families during this crisis. "We will do contactless, curbside pickups and taking all the necessary safety precautions like wearing masks, gloves, sterilizing our vehicle, and wiping down items before we drop them off at Ray-Cam," says Dela Cruz.
Because, of course, caremongering comes with risks to personal safety, too—any time one leaves their house, there are certain risks. But that hasn't prevented restaurant manager Laura Macdonald-Rumi from arranging pizza parties for front-line hospital staff in Toronto. What she had originally planned as a one-time pizza delivery to St. Michael's Hospital, inspired by her sister's exhausted girlfriend—who is working at St. Mike's—exploded into a $8,000+ GoFundMe account (which includes a five-times-a-week donation of $1,000 from National Homes' Pantalone family) and now twice-daily deliveries of pizza from Terroni and General Assembly to several hospitals. Acts of care are often also acts of bravery.
When Macdonald-Rumi is not spending three hours a day with her husband doing the daytime shift pickup and delivery of pizzas (each pie is individually boxed to meet safety standards), she's wrapped up in phone calls and emails ensuring all protocols are met. Even though it puts their health more at risk than staying home, Macdonald-Rumi feels it's helping her cope through living in quarantine. "I'm used to running a 700-seat restaurant, and to go from that to suddenly stay at home? It's something that's helped us feel good, and it helps those that are keeping the community safe, and it's helping businesses that my friends own, and we're helping feed the city. It's just a good mix all around."
________
Never miss a story. Sign up for NUVO's weekly newsletter here.