Centouno Navi's Vespro cruises comfortably at an astounding 50 knots while spoiling its guests in opulent luxury. Talk about living la dolce vita.
A number of unique new dream boats made their world debut at last month's Cannes Yachting Festival, ranging as usual from tame and mild to utterly wild. And, it should be said, also the blindingly quick. With its blistering top speed of 56 knots, Centouno Navi's Vespro opened more than a few eyes at Cannes with its raw power alone. But when it was further revealed that this sleek sport cruiser can sustain an incredible fuel efficiency of six litres per nautical mile when cruising at a swift 30 knots—still well above the absolute top speeds reached by many of its contemporaries—even the most jaded critics had to admit there's more to the Vespro than its classic good looks and rocket acceleration.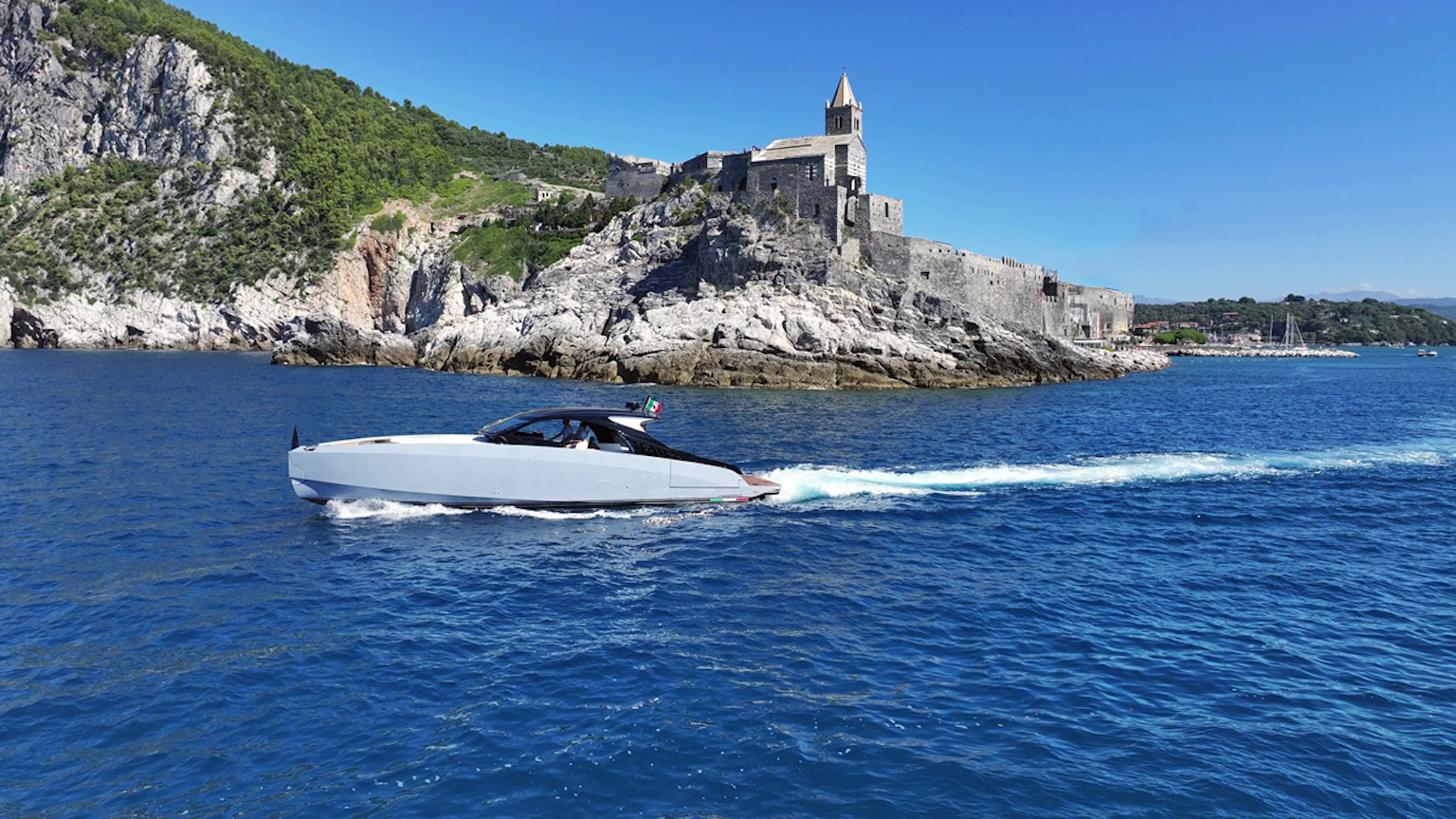 Measuring a trim 16.5 metres in overall length and riding on a crisp 4.6-metre beam, the Vespro looks quick even tied up to the pier. Long and sleek, its overall design hints at the full-throttle fun ahead with its near-plumb bow, gracefully arced windshield, and fluidly swept roofline evoking a sense of motion right from the start. The hull benefits from a very lightweight but super-strong construction using carbon and fibreglass in a hybrid sandwich interwoven with vinylester resin and a PVC foam core to give the Vespro exactly the right balance of strength and rigidity one wants to see in a coastal day yacht.
The exterior design is a fresh and original interpretation of the classic Italian launch, and one that's nicely offset by the brilliant teakwork on deck and the unique Grigio Vespro colour scheme. Accenting that crisp foundation, the raked windshield can be retracted into the roof of the deckhouse if desired, allowing the Vespro to the deliver a genuine barchetta experience on the water. Until you've done it, there's no point in even trying to imagine how invigorating it feels to glide over the waves while totally connected to your environment. Imagine roaring about Lake Como with George Clooney and you'll get the idea.
Under that gracefully sculpted hardtop is the Vespro's main salon, which holds faithfully to the traditional launch with an L-shaped sofa surrounding a dining table, another sofa opposite, a bar unit, and of course, the helm station.
The aft cockpit is devoted to sensual pleasure with its immense, walkaround sundeck, an ideal spot for soaking up the afternoon rays and an equally apt spot for dinner under the stars. Terraces on each side of the cockpit lower flush with the large stern swim platform when the boat is at rest to further enhance the space whether lounging, sunning, or taking a refreshing swim. Overhead, a sunscreen can be deployed to escape the worst of the midday heat while preserving those to-die-for, unencumbered panoramic views.
Further sunning space on the Vespro's spacious foredeck is accessed by wide side decks on both sides of the yacht. The result is three separate private zones for guests to stretch out and enjoy one another's company.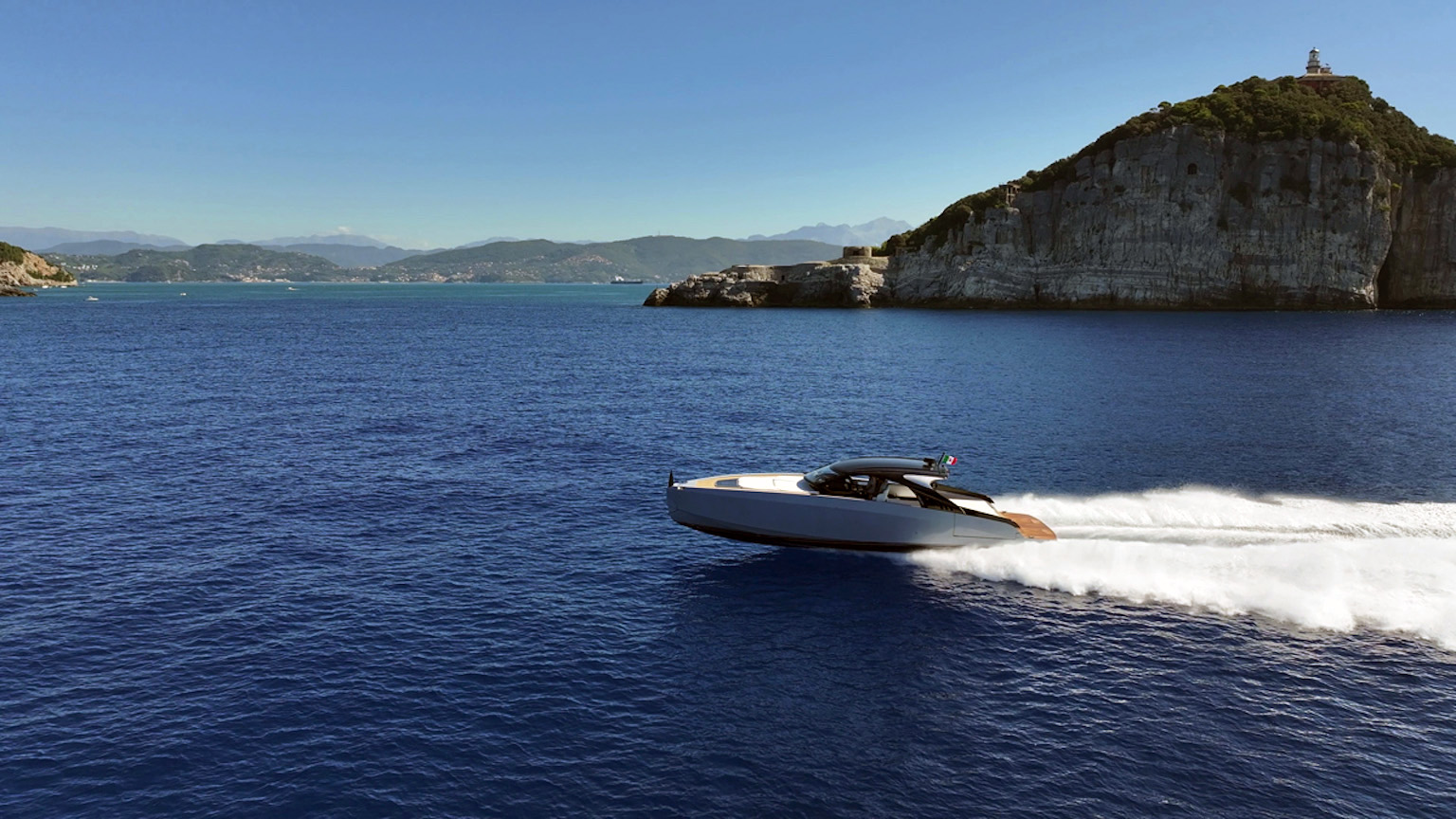 Below decks are the interior accommodations, highlighted by the magnificent owner's suite in the bow, complete with its private ensuite bath and separate shower. There's a large living room with a galley, and a second day head amidships, with the guest VIP stateroom located aft. The interior treatments on the yacht shown at Cannes featured extensive use of luxurious black and white lacquers with large aluminum surfaces and mirrors with white leather seats. The overall effect was brilliant, following the spirit of the traditional launch but with a decidedly fresh, modern, and crisp take.
Equipped with a pair of MAN 1,200 horsepower V8s coupled to MJP 350X waterjets, the Vespro cruises quite comfortably at 50 knots while enjoying a range in excess of 350 nautical miles. No, you won't be taking it on an extended cruise of south-east Asia, but that's not what this sport yacht is about. The Vespro is all about seizing the day and living la dolce vita.
That it does, and in superlative style. Faithful to the classic Italian launch in every respect – power, grace and elegance – Centouno Navi's Vespro will no doubt continue to open eyes everywhere it goes. As it should be.