Träkál: Where, Why, and How to Drink This Patagonian Spirit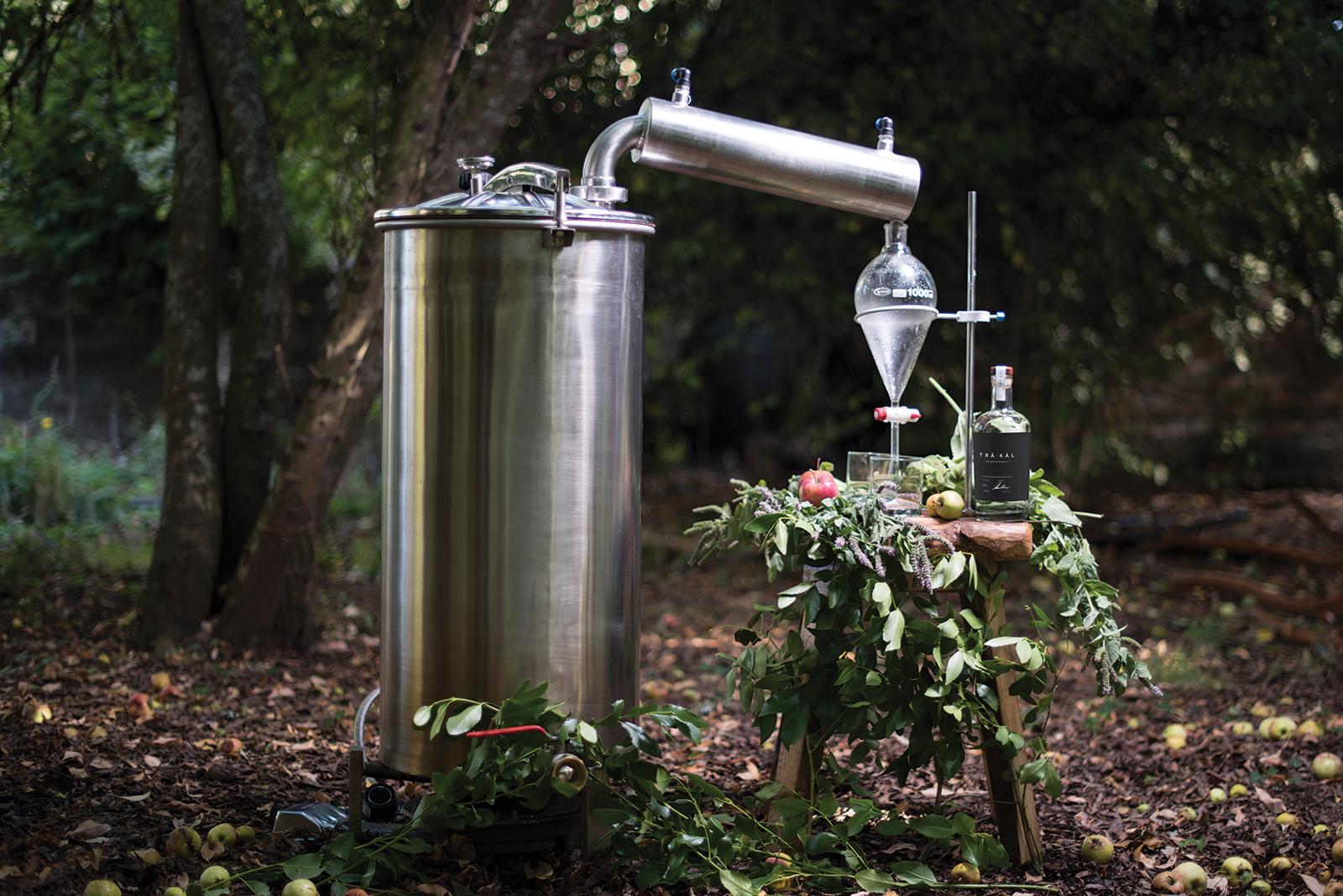 The first time I ever saw Träkál on a menu was at a speakeasy saloon in Golden, Colorado. Golden is a sleepy college town west of Denver, at the base of the Colorado Rocky Mountains, and though it's experienced a recent burst of new breweries and bars, I wouldn't have expected my first rendezvous with Träkál to happen there.
But after learning a bit about Träkál's evolution, it makes sense. Träkál is a new spirit from the Chilean part of Patagonia, and it's designed to honour the distinct environment from which it hails. For several months, it was only available in Chile and, surprisingly, Colorado. So why are so many people falling in love with Träkál?
Träkál's blend of Patagonian herbs and berries makes it a highly unusual elixir—so unusual, in fact, that it resists pre-existing classifications and occupies its own legal category as a "spirit distilled from apple and pear with natural flavors." The singularity of Träkál is largely rooted in its distillation process, composed of three phases: in the second distillation, three native berry species are added to the original base, and later, a proprietary blend of herbal essential oils is vapour-infused into the mix.
Unusual distillation method aside, Adam Hodak, beverage director of Bonanno Concepts and managing partner of Denver's Green Russell bar, asserts that Träkál is, in essence, a brandy. "Brandy is synonymous with distilled grapes," says Hodak. "But it's really an umbrella term for any fruit-based distillate."
Hodak, a cocktail expert with extensive knowledge of alcohol's global history, is particularly fond of brandies. Hoping to demonstrate how Träkál compares, he pours three other tasters. First, I try an Old World cherry distillate, a kirsch from a 130-year-old German Black Forest distillery. It's smooth, fruit-forward, and barely bites at all. Then comes California's St. George Raspberry Brandy—an outrageously fragrant sip that lingers on the tongue, teeming with raspberry and vanilla. Finally, I try Hodak's favourite brandy in the world: Clear Creek Distillery's Douglas Fir Eau de Vie. It tastes like the scent of forest rain.
Träkál is sharp, with none of the rich fruit notes offered by the other labels. "A lot of people like those notes in mezcal," Hodak points out. Träkál is tough to take on its own because of the initial harshness. Nevertheless, as the star of a cocktail, it is thoroughly enjoyable (see below).
While Hodak tends to recommend other brandies to his guests for drinking straight, Träkál is gaining traction in the U.S. and Canada, with plans to reach Europe in the next few months. They chose to introduce their Canadian launch in Vancouver first because they felt it was the market that most closely resonated with Patagonia (read: mountains). Several bars and restaurants in the city already feature Träkál on their menu. If you live in Quebec or Alberta, though, fear not. Träkál soft launched in both provinces recently and are continuously expanding with big plans for 2020 (sorry Ontario, soon). Don't be surprised if you find it on the menu in a small-town restaurant—and when you do, make sure to try it for yourself.
For provinces that are lucky enough to have the spirit at their disposal. Here is a cocktail to try:
1½ oz Träkál
¼ oz Jacoulot Framboise
1 tbsp Suze
¾ oz Lemon Juice
¾ oz Simple Syrup
6-8 Mint Leaves
Combine in a shaker tin with ice and shake. Double strain into a coupe glass. Garnish with a mint leaf and serve.
_________
Never miss a story. Sign up for NUVO's weekly newsletter, here.