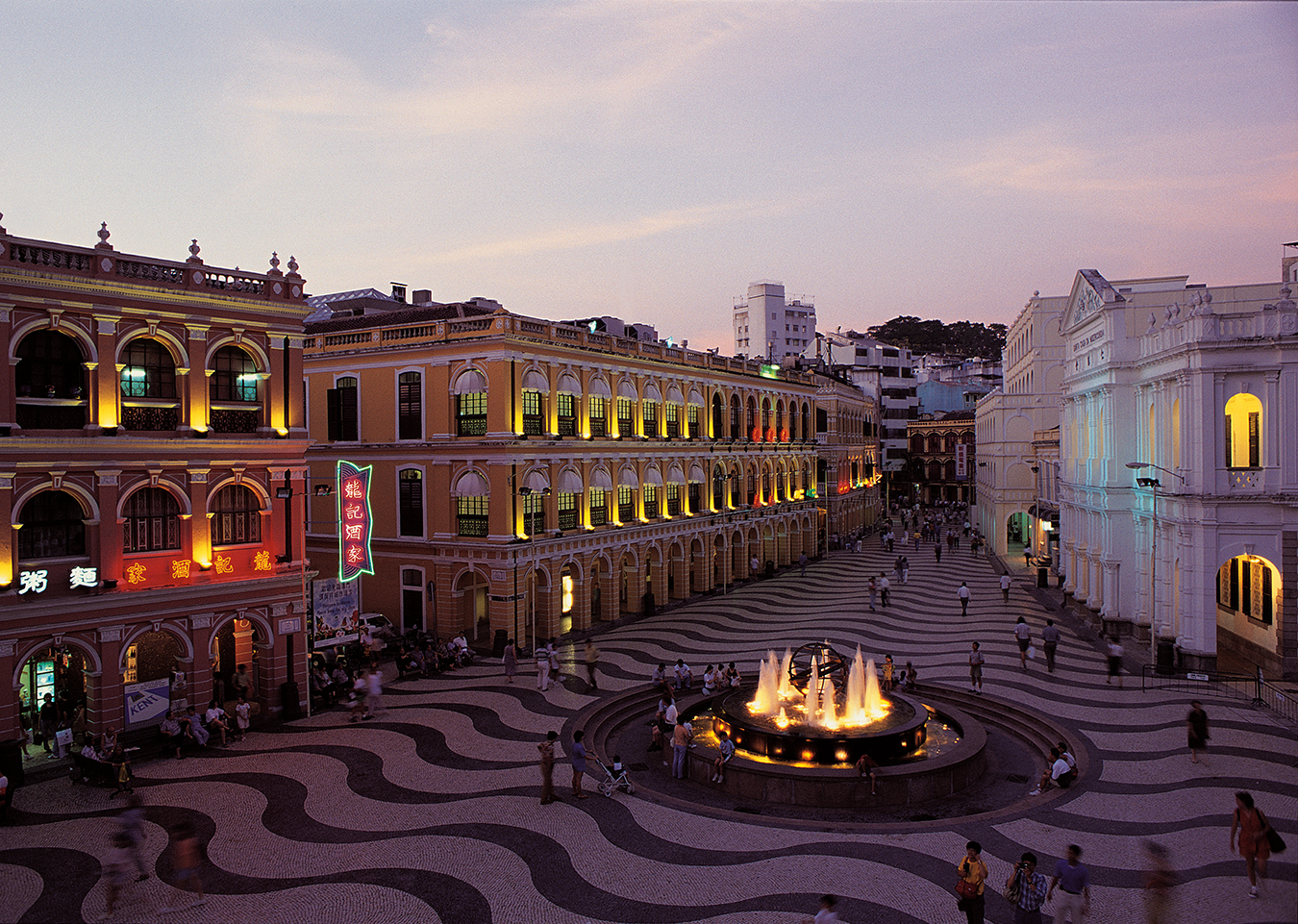 The ideal introduction to Macau's local culture, an amalgam of the East and the West that stretches back to the arrival of Portuguese traders in the 16th century, is a meal.
At O Porto Interior, a Macanese restaurant in the former inner harbour, an endless procession of dishes appears: cream of seafood soup served in scooped-out loaves of bread; caldo verde, a tasty soup of boiled potatoes, fried onions, chopped spinach, and pork sausage; king-sized prawns drenched in garlic and parsley; charcoal-grilled sea bass with boiled potatoes, carrots, broccoli, butter sauce, and lemon; and curried chicken with rice. Each dish is freshly prepared and served simply, family-style; many ingredients—such as the fish—are from Macau or nearby.
"I like to eat. I like food," says Carlos Victal, one of the restaurant's owners. "We have a mixture of Portuguese and Macanese dishes, dishes from Africa, Angola, and Mozambique, with curry, coconut sauce, soy sauce."
Victal doesn't feel threatened by competition from restaurants in Macau's glitzy casino hotels that have sprung up since 2001, when the government started allowing international investors to operate. Although gambling existed here in the 16th century, it was not made legal until 1847, when the Portuguese sought to diversify the economy. Today, casinos are operated by Stanley Ho and Western gaming companies like Wynn Resorts and Las Vegas Sands.
"The restaurants that are open in the casinos serve Italian food, not Macanese food," says Victal. "If we didn't have good food, we couldn't get people to come back. And at the end of the day, they come back."
Although coruscant landmarks like Ho's Grand Lisboa, the Wynn, and the Sands' Venetian may have the highest public profile in Macau, it is the Macanese people and their customs and architecture that give this former Portuguese colony its heart and soul.
Macanese does not refer to inhabitants of Macau, 95 per cent of whom are Chinese. The 10,000 Macanese, who make up only two per cent of Macau's total population, are descendants of male Portuguese settlers (who began arriving several hundred years ago), and of Asian women from India, Malacca, and Japan, as well as, since the late 19th century, Cantonese women. Macau's first settlers were fishermen from Fujian province and farmers from Guangdong province. The peninsula was known then as Ou Mun, which translates to "gateway of the bay", for its location at the mouth of the Pearl River; it was, in fact, part of the Silk Road, with ships loading silk there for Rome. After conquering Arabs in Goa and Malacca on the Malay Peninsula, the Portuguese sailed to Ou Mun in the mid-16th century to trade with China.
Although Macau is well known for its coruscant cityscape, it's the Macanese people that give the place its heart and soul.
Trade thrived, in part because an imperial decree prohibited Chinese merchants from leaving their country. The Portuguese acted as their agents, taking Chinese goods to Goa and trading them for cotton and textiles, which they exchanged for spices and sandalwood in Malacca. They took these to Japan, trading them for silver, swords, lacquerware, and fans that were shipped to Macau, where the cycle began again.
Not surprisingly, the Roman Catholic Church and missionaries, including the Jesuit Francis Xavier, soon followed. The Holy See established the bishopric of Macau in 1576, with Japan and China under its jurisdiction.
The Portuguese empire's fortunes began to decline in the late 16th century, when Portugal was occupied by Spain; trade also faltered when Holland captured Malacca in 1641 and Britain established Hong Kong 200 years later. By the turn of the 20th century, Macau had faded to a quiet, quaint backwater.
Although the Chinese signed a treaty in the late 19th century that recognized Portuguese sovereignty over Macau, a new left-wing government that restored democracy to Portugal in the 1970s brokered a deal that made Macau a Special Administrative Region of China in 1999. Consisting of the Macau Peninsula, the islands of Taipa and Coloane, and the reclaimed area of Cotai, today the SAR remains tiny, occupying just less than 30 square kilometres.
Fortunately, the splendid architecture of its historic centre, a gem of a time capsule that was designated a UNESCO World Heritage Site in 2005, remained intact during Macau's decline.
Of the 25 monuments here, perhaps the most famous is the Ruins of St. Paul's, designed by an Italian Jesuit architect named Father Carlo Spinola and built in the early 17th century by Japanese Christian stonemasons and Chinese craftsmen. Abandoned after the expulsion of the Jesuits in 1762, it was then occupied by the military; a kitchen fire in 1835 destroyed everything but its façade.
Today, visitors reach the Ruins of St. Paul's after climbing a long flight of stairs. At its top is a dove, representing the Holy Spirit, that is surrounded by the sun, moon, and stars. Beneath are the infant Jesus and Virgin Mary ascending to heaven with angels; a peony representing China; and a chrysanthemum, the flower of Japan. Next to a carving of Mary slaying a seven-headed hydra, Chinese characters read, "The holy mother tramples the heads of the dragon."
To Carlos Marreiros, a Macanese architect at the forefront of local preservation efforts, St. Paul's represents the "melding of so many sensibilities, cultures, and techniques. Macau has always been open to the world. What is called globalization today, we had here 300 to 400 years before."
The cobblestoned St. Augustine's Square is another reminder of the Macanese presence; the adjacent neoclassical Dom Pedro V Theatre, built in 1860, was the first Western-style theatre in China and the first in Asia where Puccini's Madame Butterfly was performed. The Sir Robert Ho Tung Library nearby was built in the late 19th century as the residence of a wealthy Portuguese woman and converted in 1955 into a public library; today it includes a modern wing and lovely garden.
Among the most iconic monuments in Senado Square, Macau's urban centre, is the 18th-century Leal Senado (Loyal Senate), named after the government that refused to recognize Spain's 60-year occupation of Portugal; a heraldic inscription inside its entry celebrates re-establishment of Portuguese sovereignty. The first bishop of Macau founded the square's Santa Casa da Misericordia (Holy House of Mercy), Macau's first Western-style medical clinic and social services provider, in 1569; its gorgeously preserved, white neoclassical façade is one of Macau's most beautiful.
UNESCO World Heritage status notwithstanding, one aspect of Macanese culture that is fading is its language, Patuá. In fact, UNESCO recently classified it as critically endangered.
That is not surprising. According to Adriano Neves, owner of well-known Macanese restaurant A Lorcha and a former government employee, because the Macanese people could speak both Chinese and Portuguese, they frequently acted as intermediaries between the two peoples. Macanese residing in Macau today (many left for Hong Kong, Vancouver, and Portuguese-speaking countries in the last century) grew up together, Neves explains, but the community aspect isn't as strong. "And not too many people speak the language," he said, admitting, "I can understand a little bit of it, but I can't speak it."
H. Miguel de Senna Fernandes, a 48-year-old lawyer whose family has been in Macau for over 250 years, is leading the efforts to revive Patuá. Some 15 years ago, he started an amateur theatre group, Doci Papiacam di Macau (Sweet Language of Macau), that each year presents a satiric play, in Patuá, that he wrote; in 2008, he critiqued Macau's current casino craze, describing it as "an ancient city with new, modern gimmicks".
Fernandes calls the UNESCO classification of Patuá "good news and bad news. The bad news is that it's stating the fact that the language is endangered. The good news is that it's alerting the Macanese government to give some attention to Patuá."
To experience Macanese culture, he suggests, "You just have to walk. Macau is made up of a lot of things—colours, odours, Portuguese, Chinese, Indian foods. You have to walk the small streets."
Photos provided by the Macau Government Tourist Office.