4 Elegant Glamping Resorts From Western Canada to Colorado
The great glamping trail.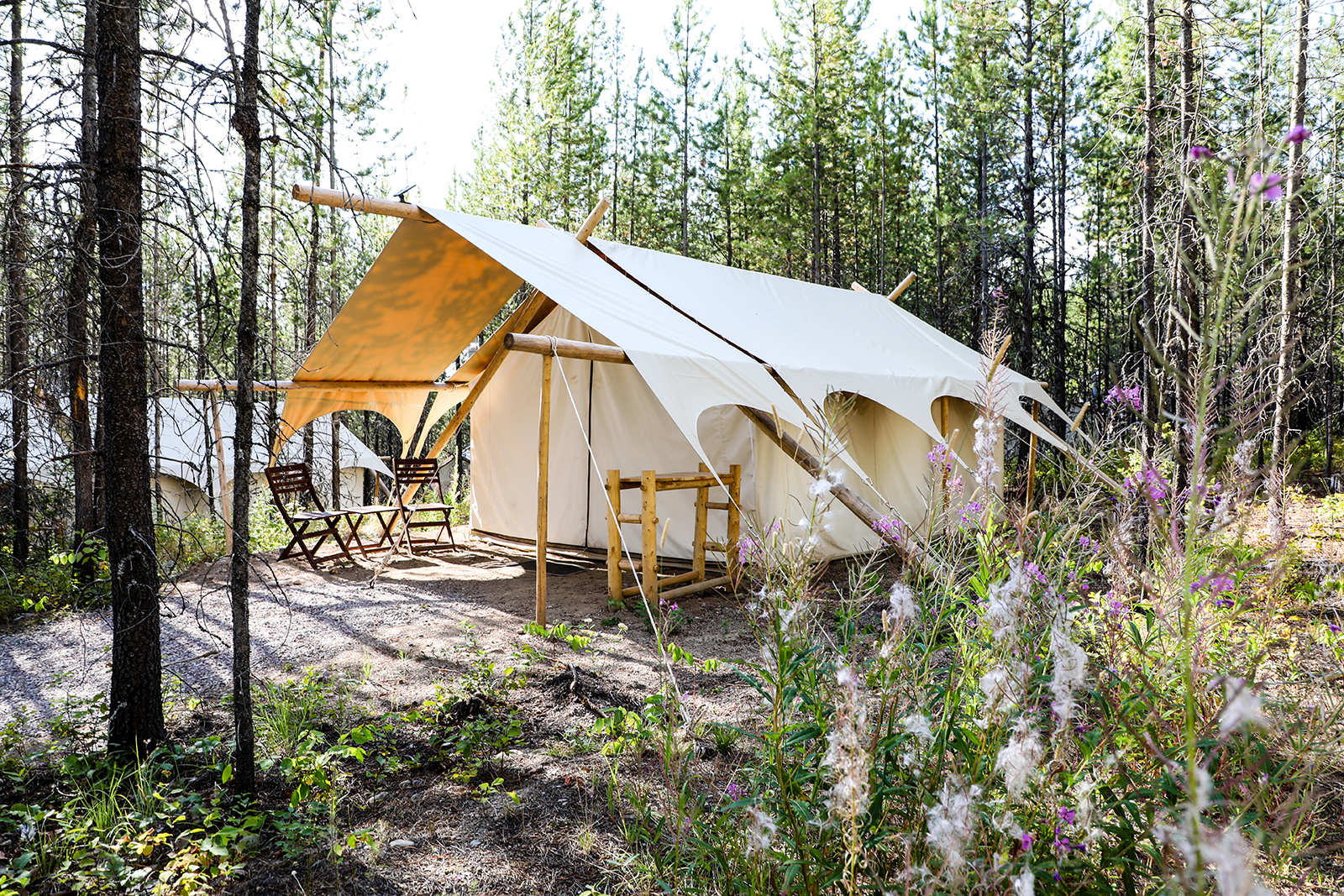 As deciduous leaves assume their autumn glow, the air crisp with the promise of winter, it's essential to savour the outdoors before the cold season settles in. If you love vacationing in nature but aren't keen to sleep on the ground, glamping—or luxury camping—is the perfect solution. Keep these lavish resort escapes, spread through the U.S. and Western Canada, in mind when you plan your next weekend in the woods.
REO Rafting and Yoga Resort, British Columbia
Located 2.5 hours from Vancouver, REO Rafting and Yoga Resort is nestled along the crystalline Nahatlatch River in B.C.'s Coast Mountains. Whether you're on a romantic getaway or a trip with the family, REO's dreamy naturescape is designed around play and relaxation. You'll wake up in your cozy canvas tent—styled by local decorators—then start the day with a walk on REO's secluded beach, a dip in the hot tub, or a sunny yoga session. If you're craving an adrenaline rush, REO offers whitewater rafting and guided hikes through the pine forests of the Fraser Canyon. With hot showers, wholesome meals, and Wi-Fi, REO is a stunning escape from the city—with all the benefits of civilization.
Under Canvas, Montana
Imagine waking up on a brisk autumn morning, swathed in a plush nest of blankets. On the outskirts of Glacier National Park, Under Canvas provides opulent, ecofriendly amenities in the midst of raw Coram, Montana wilderness. The most luxurious multi-wing tents boast a beautiful bathroom, a wood-burning stove, and a private deck perfect for stargazing. After a long day of catching trout or touring the forest on horseback, unwind in a king-sized bed with a fire crackling beside you. You'll rise refreshed and ready to explore more wonders of the Wild West.
Fireside Resort, Wyoming
Six miles from Grand Teton National Park in Jackson Hole, Fireside Resort is the most comfortable way to be in nature. Its blend of modern elegance and rustic comfort makes each cabin a cozy—yet contemporary—backdrop for adventure. After weaving through vibrant forests of willow, aspen, and cottonwood, settle in near the firepit to tell stories by moonlight (each cabin also has an indoor hearth if the night air proves too chilly). When it's time for some shut-eye, your memory foam mattress and goose-down pillows will lull you to sleep. And as dawn creeps over the rugged Teton peaks, don't be surprised if an elk wakes you with his bugle!
Highland Haven Creekside Inn, Colorado
Highland Haven isn't exactly a "glampsite", but for 40 years, this award-winning inn has offered exceptional, picturesque lodging in the twee mountain town of Evergreen. Its extensive list of accommodations—from chic cottages to complete master suites—now includes (if you can believe it)… a tree house. An exquisite embodiment of whimsy and wonder, this hideaway features a stone fireplace, a Jacuzzi, and a two-person steam shower, as part of a meticulous, colourful design. The surrounding landscape will tempt you with meandering trails, but be sure to stick around for breakfast. With gourmet dishes, delicate pastries, and homemade continental fare, the Highland Haven dining experience is truly noteworthy—especially if you opt for breakfast in bed.
_________
Never miss a story. Sign up for NUVO's weekly newsletter, here.