The Makers Modernizing Marrakech's Art Scene
A crop of world-class museums, galleries, and artisans are transforming Marrakech into a capital of contemporary African art and design.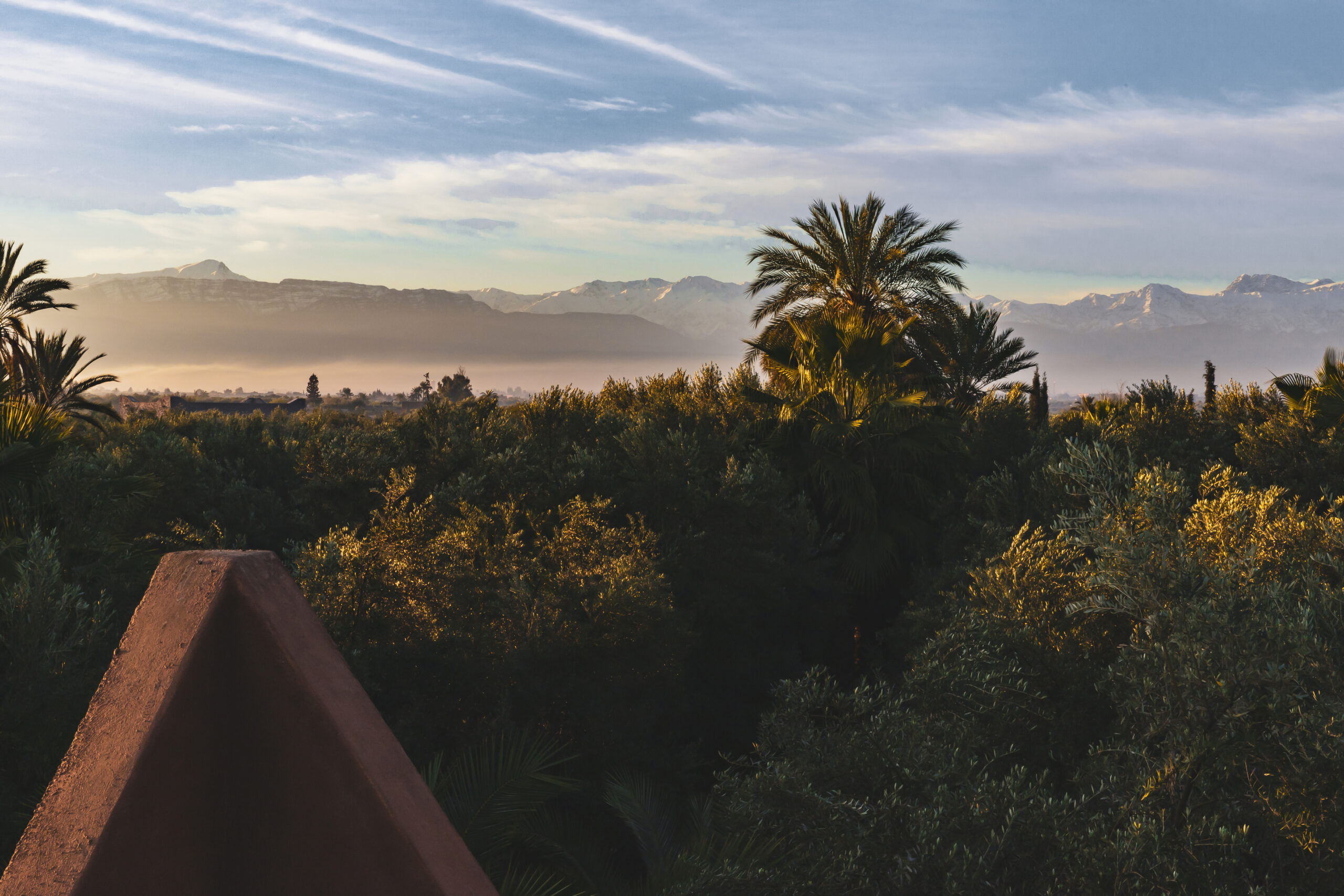 It's early afternoon in Marrakech's walled medina, the beating heart of the city, where most of the population lived until just a century ago. A blanket of heat hovers over the piles of pyramid-shaped spices in straw baskets and sacks lining the cobbled streets. Vendors beckon from either side, showing off pointed-tip, embroidered-leather slippers and handwoven Berber wool carpets. A faint aroma of frankincense quickly dissipates as rusty motorcycles zip through the narrow alleyways, and donkeys carrying carts of goods kick up plumes of dust.
In the mazelike souks, more than 40,000 vendors display their wares. While each stall seems to mimic the next, some artisans find their own oasis in the calmer, tucked-away courtyards and create showrooms worthy of fashion capitals like Paris or Milan. One of these is French Algerian designer Norya Nemiche, who launched her first boutique, Norya Ayron, in 2013 above Le Jardin, a former riad turned restaurant. Dressed in one of her own designs, Nemiche, whose short, coiffured blond hair recalls Catherine Deneuve's in her iconic 1992 French Elle photo shoot in Marrakech, shows off some of her latest patterns inspired by butterflies and botanical gardens.
When she started designing her first collection, Nemiche was largely inspired by more masculine prints and Islamic art. She wanted to shake up traditional North African clothing and "democratize this kind of dress," she says, so she modernized the robe-like abaya and kaftans to give them more feminine silhouettes appropriate for daily wear. She designs the patterns herself and produces the fabric, which is primarily viscose ("It's soft and easy to travel with," she explains), in France. "I grew up in Europe but have North African blood," says Nemiche, whose bold designs have garnered fans like Sharon Stone and Kate Moss. "I wanted to embrace this mix between the lifestyle in Europe and the colours of Marrakech."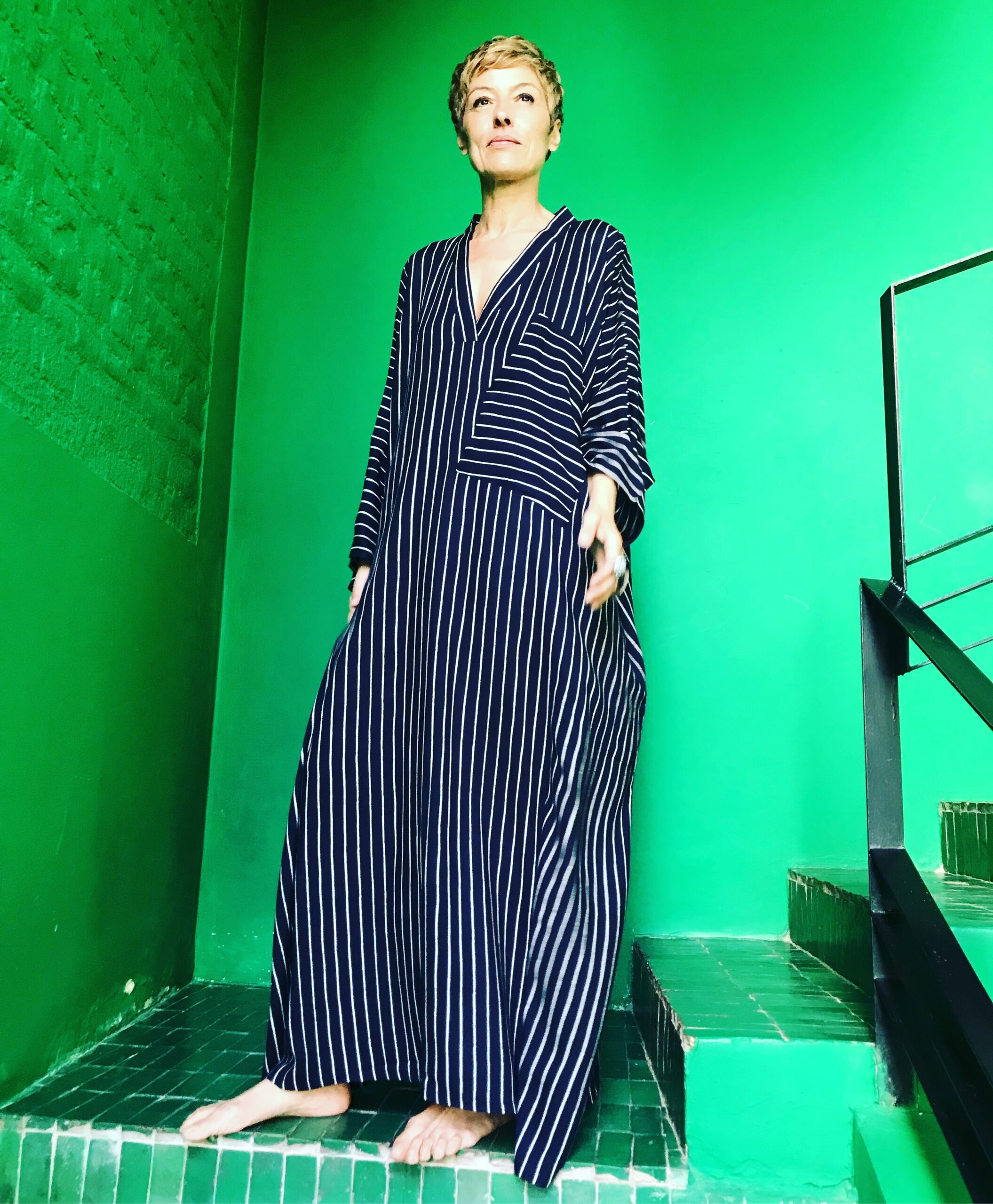 Over the past 20 years, Marrakech has played host to large-scale visual arts events like the Marrakech Biennale and 1-54 Contemporary African Art Fair, prompting more artists and designers to move to the city and surrounding area (Tahannaout) and open their studios to the public. Landmarks like the art deco Grand Café de la Poste, an institution from the 1920s that's Morocco's version of the fictional Rick's Café Américain from the film Casablanca, also received a facelift from one of the leading firms in the world, Studio KO—the design duo behind the four-year-old Musée Yves Saint Laurent. "In Marrakech, it's quite an exciting place in terms of design, and it seems there are more decorators than doctors in the city," says French-born Julie Pingree, who has spent the last 15 years working in architecture and design. "Craftmanship here is very developed. It's an ancient and traditional skill, but it's adapting to modern times. New ideas are coming from everywhere—even when you walk through the souk, you'll see new shapes and designs."
Pingree pivoted from the art auction world in Paris to interior design in Marrakech, where she and her husband, Gregory, have been enlisted by the royal family to design rugs for the palaces with the help of the best weavers in Morocco. Three years ago, they launched interior design agency Sergine, and they recently opened their own carpet factory, Eugène, where they custom-design handcrafted rugs from New Zealand-sourced wool.
In addition to fostering ateliers and showrooms, the city is also championing artists from across Africa at the Museum of African Contemporary Art Al Maaden (MACAAL), one of the first of its kind on the continent that's dedicated to promoting contemporary African art. Showcasing the Lazraq family's 40-plus-year-old private collection of contemporary African art, MACAAL was inaugurated in 2018 with a group photography exhibition entitled "Africa Is No Island," which brought together work from 40 artists across the continent. "We don't want the museum to just be a vitrine for a collection—we want it to be a platform for creatives, artists, and intellectuals," exhibitions director Janine Gaëlle Dieudji explains. "We want to challenge artists and the way we think contemporary art should be."
When Touria El Glaoui, the daughter of Moroccan figurative painter Hassan El Glaoui, launched the annual 1-54 in London in 2013, she initially intended for the fair to be a "mutually beneficial exchange between artists, collectors and curators."
Growing up, Touria's father's studio was the center of their family home, and his work and practice were an integral part of her life. "My father gave me my first arts education and always encouraged us to appreciate art, so I think my move into the arts was inevitable," she says.
By 2018, after several London editions and a few in New York, she knew the format and approach was adaptable and successful enough to finally extend the fair to Africa. "Bringing the fair to Marrakech was important to me; it was a homecoming," she says.
With the fourth edition of 1-54 taking place in March 2022, Touria says the Marrakech fair has had more impact on local artists and cultural practitioners than any other edition, due to the city's smaller size and collaborative nature. In addition to local artists like M'Barek Bouhchichi inspiring others to "look to the context of Morocco, its history, its past cultural practices and explore this in their work," Touria says that cultural spaces in Morocco have been intrinsic to supporting a new generation of artists.
Montresso* Art Foundation, an art foundation and residency (Jardin Rouge) set in an olive grove that hosts up to 30 artists a year, is one of these spots. Designed as a "creative laboratory and place of diffusion," Montresso*'s new presentation spaces, which opened in 2016, are showcasing the work of resident artists and building long-term relationships with painters and sculptors from around the world, such as street artist Skunkdog from Marseilles, who has completed multiple consecutive residencies. "Thanks to international events like the Marrakech Biennale and the 1-54 fair, the city has been able to find a global resonance," says artistic director Estelle Guilié. "On a national level, local initiatives like Le 18 (an independent art space in the medina), MACAAL, Galerie 127, and the creation of the Musée Yves Saint Laurent have helped to consolidate the recognition of the art scene in Marrakech."