A Toronto Gallery Invites Patrons to Spend the Night with Art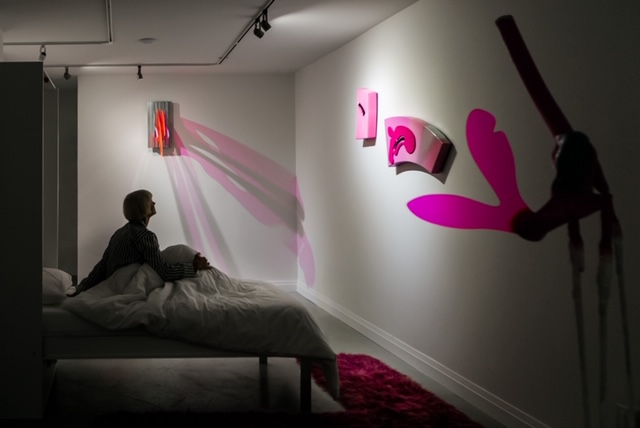 Apollonia Vanova has come up with a novel idea for getting people up close and intimate with the art she sells in her Toronto gallery—a couple of twin-sized beds.
Made of extra-deep memory foam, the Murphy beds come out after dark for art lovers desirous of spending the night with a contemporary art exhibition.
A feature of the recently opened Darren Gallery in the city's west end, the sleepover is meant to provide people with a new way of connecting with art—even with eyes closed.
"Walk into a commercial art gallery and chances are it's always stark and devoid of people. Public galleries are only slightly less uninviting. Even then, there are other distractions getting in the way of your enjoyment of the art—crowds, time restrictions, staff warning you not to get too close to what's on display. In either case, you're always being watched," explains Vanova, a former art fair curator and past director of the Gallery on Wade.
"But here you have the whole gallery to yourself, a space for a private experience that happens to include a curated exhibition you can enjoy on your own terms without being supervised."
Major cultural institutions like the Museum of Natural History in New York and the Royal Ontario Museum in Toronto have been offering sleepovers to the public since the Ben Stiller film Night at the Museum first made them popular in 2006. But those events have typically been geared to large groups of chaperoned children as a component of organized educational programming.
The sleepover option at the Darren Gallery, on the other hand, is for adults only— one or two at a time—making it a more intimate and immersive affair.
To ensure intimacy, participants can draw heavy curtains over the windows of the main floor's 700 square feet of newly renovated space. The lower level, occupying an additional 500 square feet, houses a kitchenette and washroom with walk-in shower.
Bookings can be made through the gallery or Airbnb, and, of course, there's no obligation to buy the art.
"But who knows?" rejoins Vanova. "People might just end up falling in love with a piece they've just spent the night with. They might want to take it back home with them."
Patrons just might be tempted, given the current exhibition—Cozy Venom, comprising work by the Czech-born, Toronto-based multidisciplinary artist Lumir Hladik.
His intense creations (at the Darren Gallery until May 3) explore complex and often confusing relationships between sex, science, culture, philosophy, and religions – themes to contemplate while lying in bed.
________
Never miss a story. Sign up for NUVO's weekly newsletter here.