Paris' Penthouse Pieds-à-terre
Penthouse perspectives on Paris.
For keen Francophiles, booking a Parisian pied-à-terre—specifically a penthouse—is an alliterative dream. The thought of booking a Paris penthouse is so appealing, it's funny to think, that historically, opulence lay lower to the ground. In pre-elevator Paris, when top floors, especially those inside pre-20th century Haussmann-era buildings, were often designated as staff quarters (hiking four flights to the attic requires work, after all). The advent of the lift reversed the class-structure, and eventually, Paris' uppermost floors grew taller and achieved higher status for their sweeping views.
Today, the charm of these spaces, often complete with dormer windows, angled walls, and pitched roofs, seem all the more romantic—and luckily, many operate as apartment-style hotels. Finally, these flights of fancy are within reach.
Margaux
If a Parisian sunset without the Eiffel Tower sounds like a toast without champagne, Margaux will leave you bubbly. The apartment, managed by Paris Perfect, overlooks the 7th arrondissement from its balcony—a wraparound balcony, to be exact—and, whether night or day, offers views of the sparkling tower. Inside, roomy interiors and three bedrooms are sunny and chic, upholstered with soft white, lavender, and pink fabrics. There's nearly a chandelier for each room, just in case the City of Light's brightest landmark didn't already offer enough shine.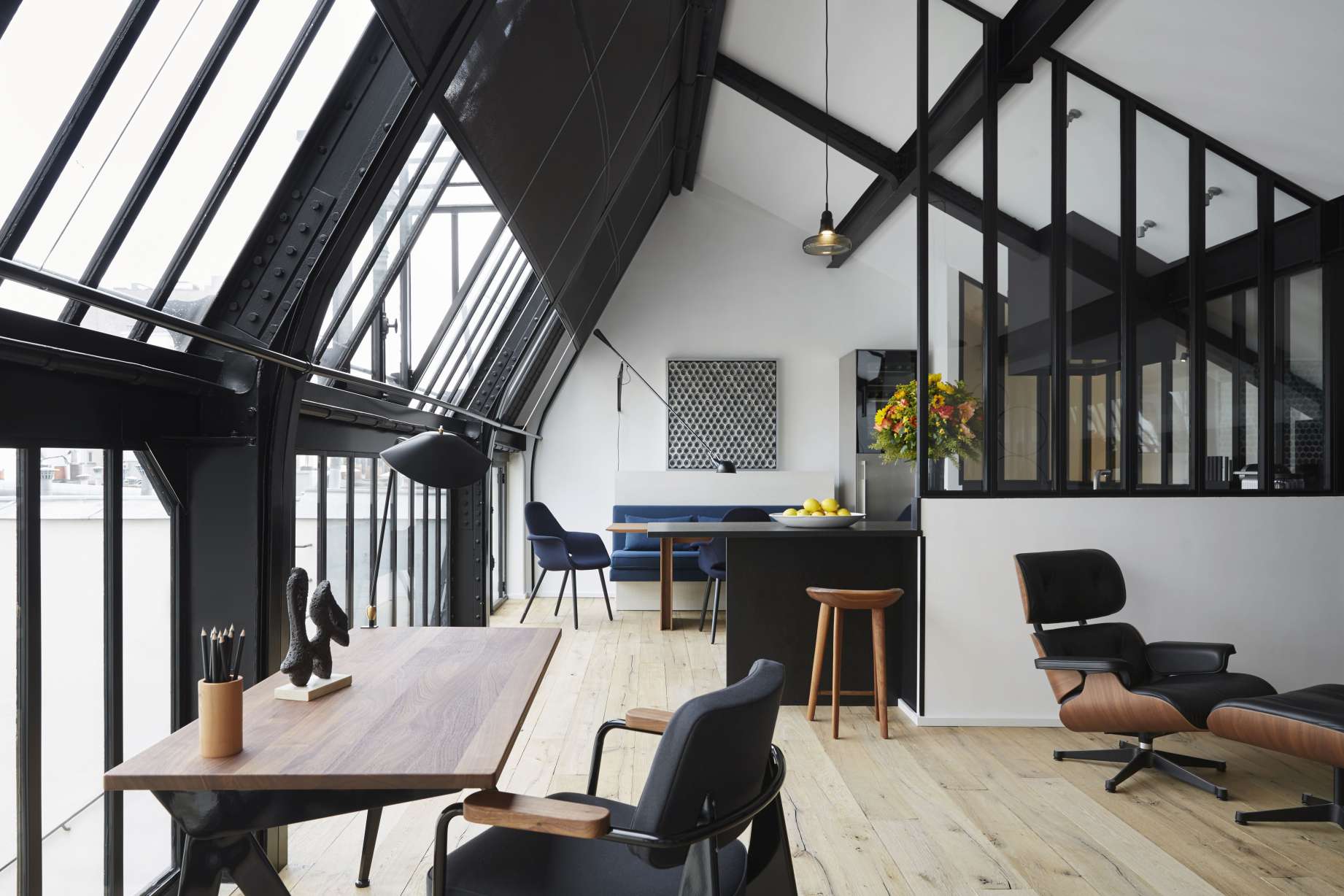 La Tête dans les Étoiles
La Tête dans les Étoiles, the apartment atop Hôtel du Ministère, wasn't designed for guests; it was originally intended to be the hotel owner's private penthouse pied-à-terre. Luckily, plans changed, and the eye-catching apartment is now open for bookings. Steep pitched ceilings rise towards wall-to-ceiling, steel-paneled windows for a sharp, sweeping view. Designed by François Champsaur, the interiors lift higher with white walls and oak floors, while bold-coloured furnishings—from a black-leather Eames lounge chair to the dining table's deep blue banquette—anchor the sky-appointed, two-bedroom apartment. The edgy number gets rounded out with all the perks of the hotel underfoot, but with a penthouse perspective.
Rue Beaubourg II
Part of the appeal of booking an apartment in Paris is that the owner might have a better eye than a hotel designer. Rue Beaubourg II, seven floors above the boutique-lined streets of Le Marais, is amongst Onefinestay's most popular penthouse apartments. Owned by an accessories designer, the refreshingly minimal apartment is full of stylish accents, from abstract paintings to small, brightly painted sculptures that make walls and shelves pop. The material goods might floor you—a slate marbled bathroom, and a silver and white themed kitchen—but the views will sweep you off your feet. A wild and lush terrace is like stepping into a tiny patch of forest, while another view—through an ornate picture-framed window—reveals a spread of chimneys and rooftops that could break your heart.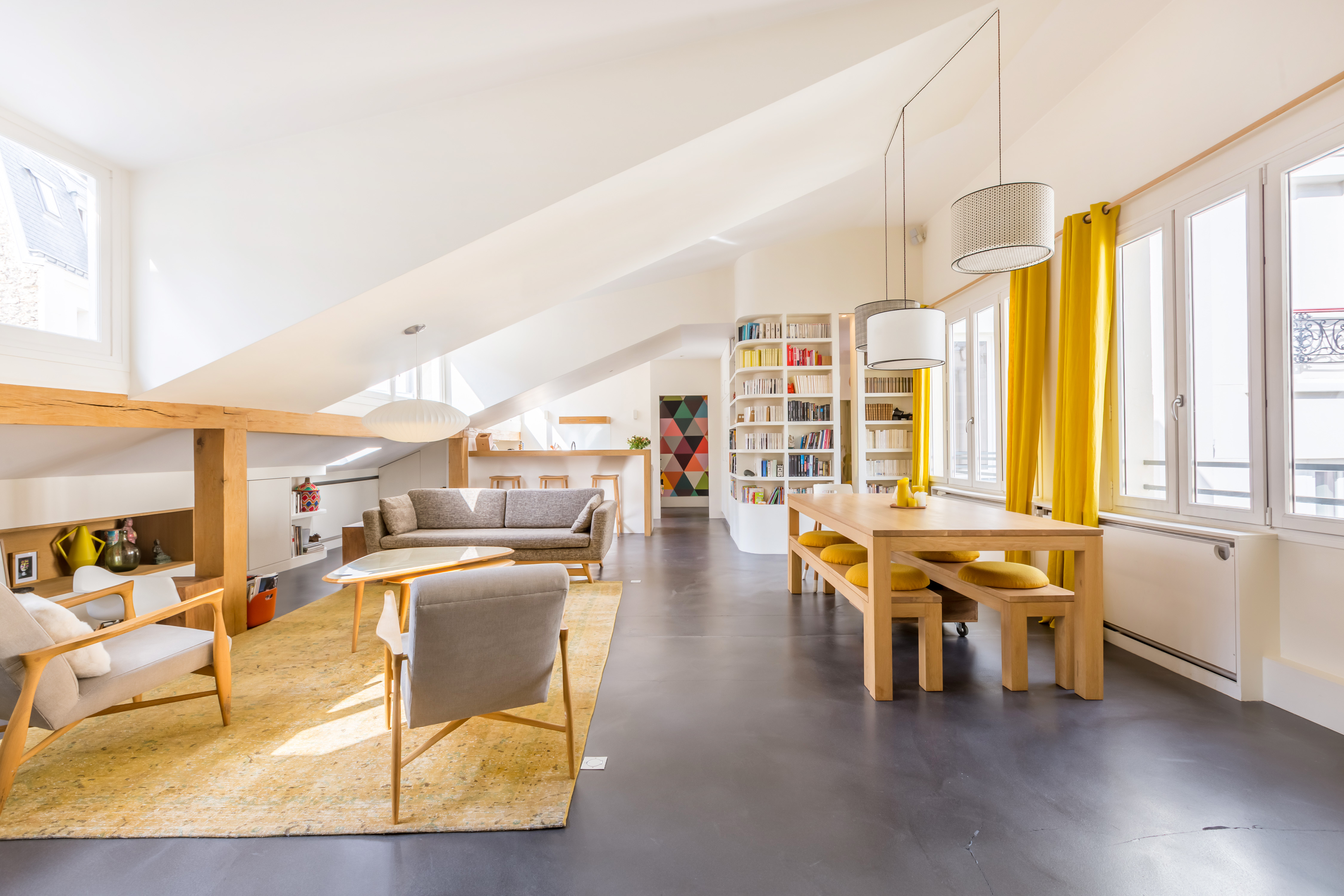 Bichat
There's no elevator in the building, but it's of little concern: Bichat commands the top floor, just a three storey climb. Serviced by Oasis, the apartment's owner, an architect, designed the two-bedroom apartment with a professional eye. A sloped roof folds all the right angles as light pours through wide dormers onto the open and airy space. Outfitted in yellow textiles, warm woods, and splashes of colour—whether it's a curvilinear bookshelf lined with books arranged by hue, or a triangle-patterned painting along the wall leading into the apartment's right wing—this sun-soaked space is like honey, smack center in Paris' Canal Saint-Martin. You'll need to stick around, considering the unit must be booked for a minimum of one month, but really, who can complain about staying longer in Paris?
_________
Never miss a story. Sign up for NUVO's weekly newsletter.