Canadian Architect Omar Gandhi
The problem with home renovation shows on TV is that most of them are a sham. They'd have you believe your shabby bathroom, for example, can be transformed into a ritzy spa overnight. There is no accounting for spatial planning or practical tasks such as sanding walls or relocating plumbing. Then, with the grout barely dry, a camera crew swoops in along with a cornball host to do the reveal.
Such artifice rankles 36-year-old architect Omar Gandhi, whose approach to design is the polar opposite of speedy and shoddy. You can see it in his residential projects—modern, sparse compositions on the East Coast, the landscapes so barren and boundless they could double as a set for Game of Thrones. "Omar Gandhi is creating delicate magic in a cluster of small communities along the shores of Nova Scotia," enthuses architectural critic John Leroux in the Saint John, N.B.-based Telegraph-Journal.
Indeed he is, and he's bringing his special touch to Toronto, where he's joined forces with fellow architect Drew Sinclair at Sinclair's SvN firm. (Gandhi's eponymous firm is still going strong in Halifax.) Gandhi has been widely praised by his peers. In 2014, he won the Canada Council for the Arts's Professional Prix de Rome in Architecture and with it $50,000. (Sinclair nabbed the Prix de Rome in Architecture for Emerging Practitioners, and a $34,000 prize, in 2008.) In 2014, Wallpaper* named Gandhi one of the top 20 young architects worldwide. This year, he received the Architectural League of New York's Emerging Voices award.
"Making a building cool or trendy or attractive is easy. I'm searching for a deeper meaning that ties a building with people and place."
Gandhi doesn't seem fazed or surprised by the popularity. "Maybe it's partly my age and that I've built a lot of projects in a short period of time. I've had my practice since I was 30," he says nonchalantly, as if every new graduate sets up shop so quickly. "I worked for KPMB [Architects] and Brian MacKay-Lyons [of MacKay-Lyons Sweetapple Architects] before starting my own thing, but I think the main thing is that there's a critical approach to every project I take on. There is no bread and butter [as in just-for-the-money projects]. There is no average. I think that sort of attitude is learned, and having worked at the places I did prior to starting my own practice was invaluable."
Translation: he won't do what you want if it goes against his ideology.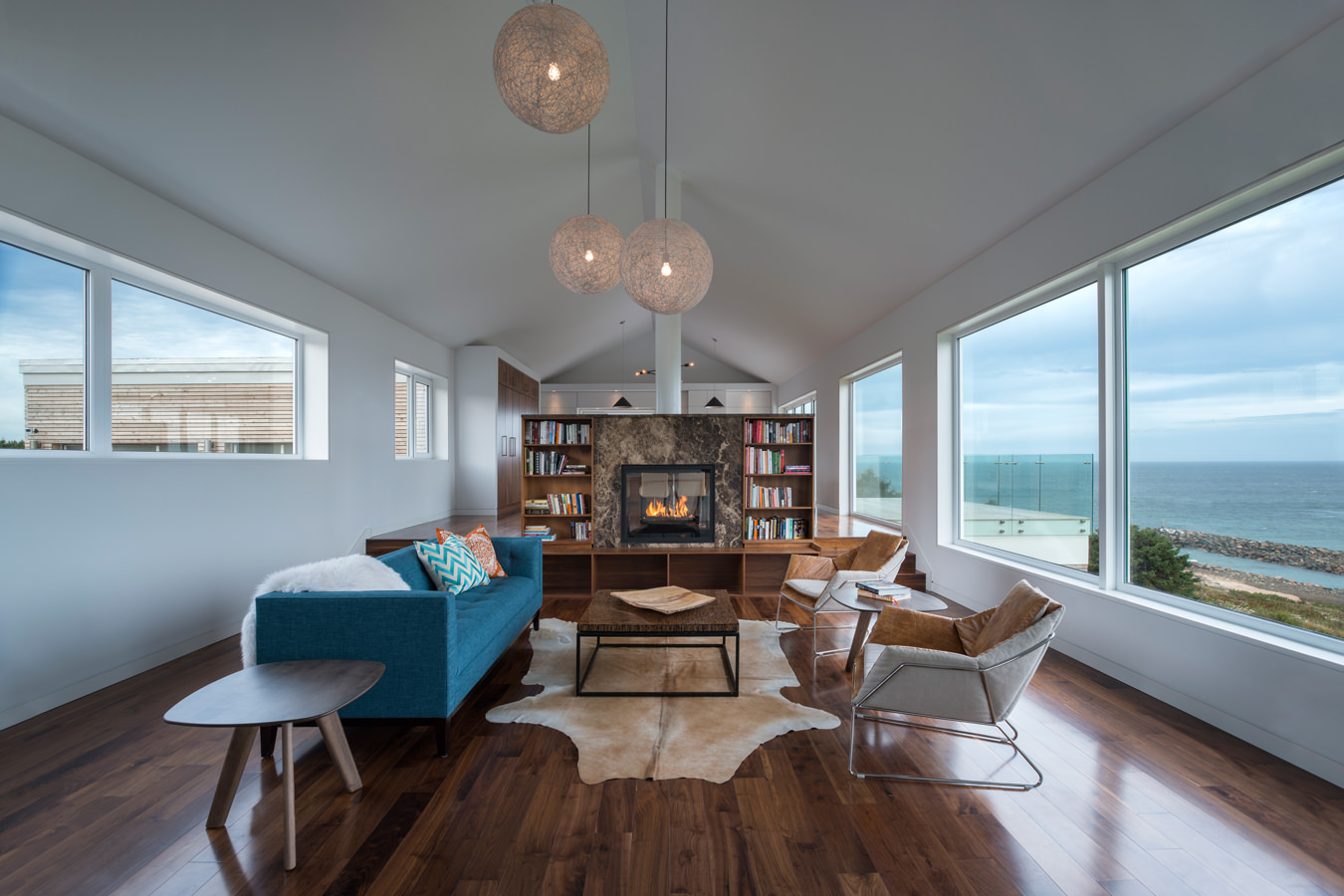 His confidence could come off as arrogant if Gandhi didn't seem so genuinely passionate about what he does. He spreads his gospel by teaching at Dalhousie University's School of Architecture, where he earned his master's degree in 2005, and he lectures in places as far-flung as Scotland, Denmark, and Colombia. (Not bad for a guy from Brampton, Ontario, who, after graduating from artsy Mayfield Secondary School in Caledon, was rejected by his number one choice, the University of Waterloo, despite having good grades. "It was heartbreaking," he recalls.)
Given his profession, it's no surprise that Gandhi is outspoken on the subject of second-rate makeover shows. "I remember seeing a friend of mine's place that was fixed up on a show. It was an extensive renovation, and I don't think I've seen so much glue gun in my life," he says. "Budget is a lie [on makeover shows]," he continues. "Television networks are gifted certain materials, and there are sponsors. Timelines are obviously not true, but what I find most upsetting about that world is quality."
He had his own five minutes of fame in Halifax when he was 30, doing one episode of a TV show called Family Renovation before being booted off for being a dud. "I wouldn't watch me. I wasn't being dramatic. I was boring. I was doing my job."
Gandhi won't do what you want if it goes against his ideology.
Gandhi is a natural talker, someone you would be happy to be seated next to at a dinner party. Beyond the 12th floor floor-to-ceiling windows of his bright Toronto condo is a picturesque view of St. Mary's Church on Adelaide Street West. The grand, Gothic spires are a fitting accompaniment to a discussion about architecture.
Slapdash isn't part of Gandhi's lexicon. The mostly private houses he has designed are done with longevity in mind. "They're built with the intention of being there as long as possible. It's a solid craft, like this chair that I invested in—it was a dream to buy it." He's referring to the woven Wegner Easy Chair he's sitting on, his legs crossed at the ankles to show off teal polka dot socks. The wonderfully understated chair is one of exactly three pieces of furniture in his condo. He also has a sofa and a bed.
"If I can only afford one chair in a very open room, I'll buy the one I can have for the rest of my life that I can give to my son—he's four—when he's older," he says. "How can I push ideals about design and quality and then buy disposable furniture?"
Sparing the landfills by saving up to buy solid furniture is noble, if a tad idealistic, for an architect whose services surely don't come cheap? Not true, he says. "I've been able to do houses for a lot of different people. Some of the most interesting projects I've done have used modest salvaged material. You come up with ways to do things beautifully with simple means," he says.
One example is the serene Moore Studio. Nestled in an isolated forest on Nova Scotia's south shore, in Hubbards, the building harnesses simple barn typology. This vernacular form pays tribute to structures found in the region, so it feels in tune with the site. Nothing about it is overly embellished or obnoxious: the inside is blanketed in plywood, reducing the need for drywall and emphasizing the rawness of the interior, further accented with caged industrial fixtures and salvaged steel grating. Gandhi designed the studio so that it dips on one side to hug a hill, rather than crudely plunking it, like a regular barn, on flat earth. It is perfection in its simplicity.
Built for a pair of empty nesters, the studio is a haven for a couple who studied art when they were younger and wanted to revisit their creative lives now that their kids are grown. "This was going to be where they were going to jump back into their youthful dreams and produce work full-time for their own pleasure," Gandhi says, clearly delighted in his part as catalyst.
"There's a critical approach to every project I take on. There is no bread and butter. There is no average."
Where Moore Studio is horizontal, the Rabbit Snare Gorge Cabin is vertical. The minimalist design, a joint project of Omar Gandhi Architect and Design Base 8 out of New York, aims for the sky in Inverness on the coast of Cape Breton Island. A captivating quietude infuses the interior, where both large-and-boxy and slivered-and-sleek windows follow the path of the sun to seize snippets of sky and tree to emphasize the sense of place.
One glance at each of these structures, and the attraction of an agrarian lifestyle starts to make sense. Who wouldn't want to relax in beautiful rooms enjoying views morning, noon, and night? Working on such projects and living in them is a dream for both end user and architect. The challenge for Gandhi, it would appear, is how to translate the magic of the natural environment to Toronto, a city tangled in power lines and too-close neighbours.
He's got an infill house on the go in West Queen West, as well as a new restaurant in the works. There are also two projects outside the city: a museum addition in Sharon Temple near Newmarket and a modern housing development in Craigleith, at the base of the Blue Mountains. "Part of the challenge, and what is exciting about this next chapter, is answering [the question] people keep asking. 'You've done stuff in remote areas that have beautiful landscapes. How are you going to do that here?' " Gandhi says.
His view of the future sounds both pragmatic and poetic. Gandhi explains that his architectural projects are firmly rooted in being alive to the place he's in. "It comes down to reading context—looking at proportion and scale and local materials," he says. "Looking at history, how people built before there was this international banal or mundane style I like to call 'generic modern', where everything was made the same way no matter where you are on Earth, to try to come up with an architecture that tells stories about a place."
In future, whether it's an infill house in Cabbagetown or Kensington Market, Gandhi says his goal is to connect the architecture with the context. "Kensington is a great example because there are several generations of people who lived in the area over the century. There are architectural ways to tell that story. Making a building cool or trendy or attractive is easy," he says. "I'm searching for a deeper meaning that ties a building with people and place."
If his success thus far is any indication, it's a good bet we'll be seeing Gandhi's name for a long time to come. He's pleased with the recognition and at the same time highly aware that popularity elicits self-scrutiny. "It's a very competitive profession, so when the spotlight hits you very brightly, you start thinking about what your peers are going to think," he says, then adds after a pause, "I just try to focus on my own growth."