"Two years ago, I almost died," says Todd Saunders. "Since then, every decision that I'm confronted with I ask, 'Would I be doing this if I had a choice?' " Saunders was in Japan backcountry skiing with a few friends when an avalanche caught them by surprise. In shock for five days, the group barely survived. Since his recovery, he has pretended that he's got just one year left to live, so he focuses on what matters most: working on projects that make him happy.
As one critic cheekily put it, Saunders might be the most renowned practising Canadian architect without an English-language Wikipedia page. Working out of Bergen, Norway, but making his biggest international mark in his birthplace, Newfoundland, Saunders' identity stretches across the Atlantic. As the architect behind the wildly successful Fogo Island Inn and its art studios, he now has the liberty to pick his projects. If he had his druthers, he'd make a room just for contemplation. "The studios kind of do that at Fogo, but maybe just a room where people can sit and think, because the world's getting so busy," he says.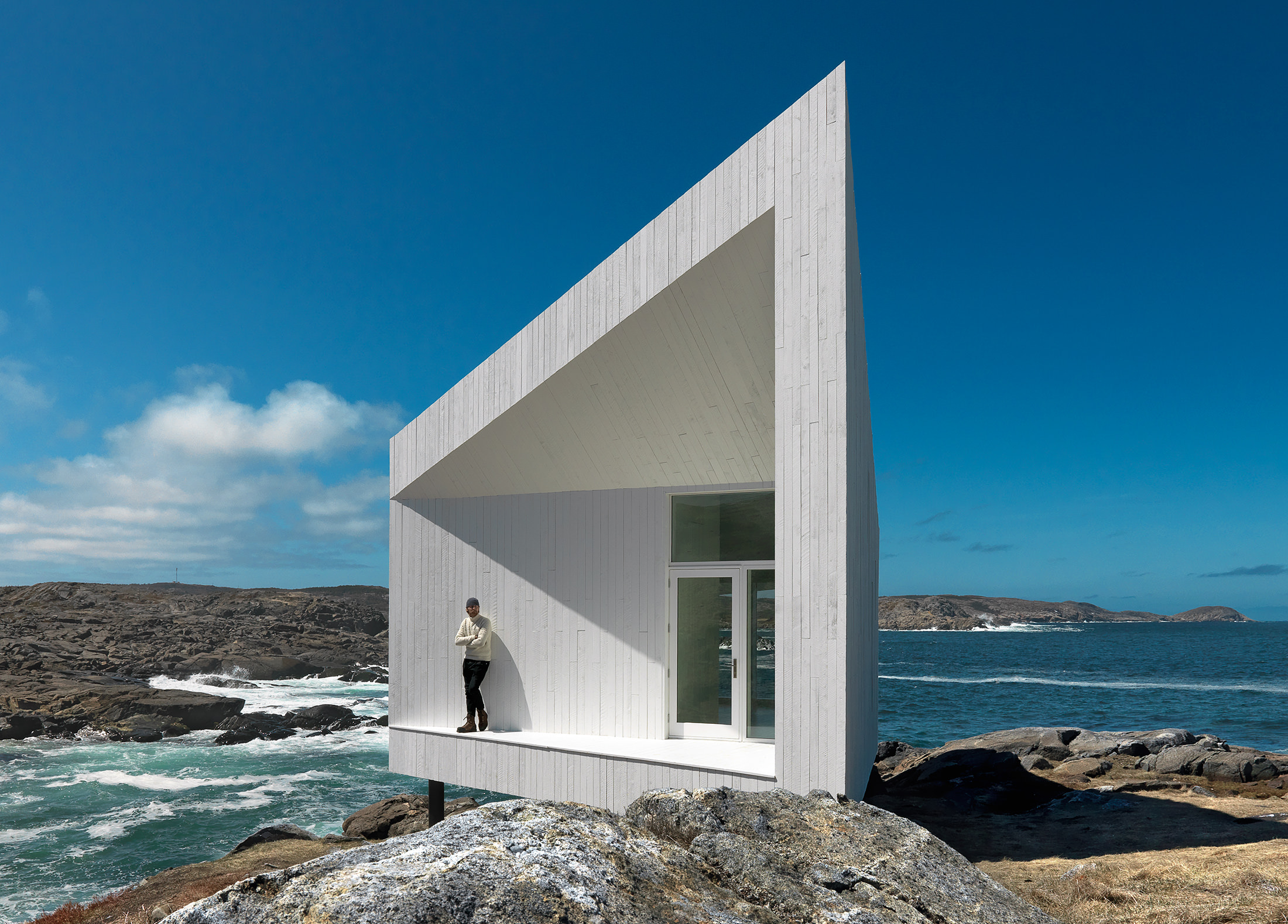 Even when Saunders talks about lofty architecture ideas like this, he doesn't sound like an architect. He'll reference growing up fur trapping and fishing in the same breath as a design principle, and his plain language descriptions of his work are refreshing. It's a disarming effect that no doubt helps him connect with local builders, who work with him to incorporate traditional materials and techniques into the designs. He even says that, sometimes, architecture isn't needed. "I've actually said no to a bunch of projects where I said it's better not to build here," he says.
"Two years ago, I almost died," says Todd Saunders. "Since then, every decision that I'm confronted with I ask, 'Would I be doing this if I had a choice?' "
Aurland Lookout was nearly one such place. In 2002, Saunders and his then-business-partner, Tommie Wilhelmsen, were invited to participate in a competition run by the Norwegian highway department to design a lookout at a site above a stunning fjord three hours from Bergen. "Architecture could have ruined the place, so it came with a lot of responsibility," he says of figuring out how to make an already beautiful place more beautiful. "We tried to give it an element that didn't exist. You know when you're driving in a car and you kind of get numb to the landscape, like you're watching TV? We wanted to give people a reason to stop, get outside, and see it all from a different perspective." While other teams presented 20 drawings, Saunders and Wilhelmsen presented one with minimal text, just the site plan and a perspective drawing of a wooden platform jutting out 30 metres over the fjord with a thick plate of glass at the end, allowing for panoramic views.
"Our motto was, 'Six hundred and forty metres over Aurland,' exemplifying height, and '20,000 kilometres from Tokyo,' " says Saunders. "We meant that if we make a really good piece of architecture, we can attract people from Japan to this place that's three hours outside of any major city." Since opening, it's become a popular attraction, and Saunders jokes that if he had a penny for every visitor, he'd be a wealthy man today. Using architecture to put a remote place on the map would become a theme in Saunders' career.
Saunders has had a nomadic life. Born in Gander, he moved with his family to Nova Scotia as he neared the end of high school. He attended the famed Rhode Island School of Design as an exchange student, got his bachelor's degree at NSCAD, Nova Scotia College of Art and Design, and finally settled into his master's studies at McGill. Afterward, while travelling the world, he found himself living in Norway and working at a Bergen architecture firm.
"I was a 25- or 26-year-old kid and didn't have a rich uncle and didn't know the local building rules," he says. "If they told me the story today, I'd not bet money on this guy." While there, he got a commission to design and build a kindergarten playground on a low budget. To keep costs down, he wrangled local parents to come out to help each night, a kind of Norwegian barn-raising bee where more parents joined each evening as the project progressed.
His solo breakthrough was applying for a three-year, $60,000-per-year scholarship to work on a project of his choice. With the money, he bought land on a mountain with the intention of building a cabin. But in what he calls a "Top-10 best mistake," he was told by the town council that he couldn't build there. After some wrangling they allowed a small cabin, but that constraint caused him to create something special. He flew materials in by helicopter, showered in waterfalls, dreamed about architecture, and along the way learned about building. "I can remember every nail," he says of the cabin, which was later written about in the media, giving him the renown in Norway he needed. Later, Aurland garnered global attention, and then Zita Cobb called him home.
Using architecture to put a remote place on the map has become a recurring theme in Todd Saunders' career.
Like many small, resource-based economies, Fogo Island, off the east coast of Newfoundland, had fallen on hard times. It was a place people moved away from, like Cobb had, but she made millions in the tech industry and returned to her birthplace with a mission: invest in social enterprises to revitalize the island. She founded Shorefast, a charity hoping to drive cultural and economic resilience on Fogo Island, with her own money, as well as government and philanthropic contributions, and she set up an arts centre, a hotel, and other locally based economic initiatives. All of this would be owned by the community and profits would be reinvested there. This alone is worth the press the project has received, but Cobb called on Saunders to design it all, and images of his artist studios and inn rising from the rocky coastline sent it into superstardom. Coming home wasn't easy, though.
"The first time we presented to the community, I was quite scared, actually," says Saunders. "It still makes me well up. I never thought I'd do architecture here. It was a dream and when I got up to present, I couldn't talk. I can talk to the devil, I just gave a lecture in front of 1,500 people, but in front of that community 11 years ago, I choked up. I looked around and saw women with hairnets, I could see people that looked like my uncle and my grandma." Once he collected himself, he told the community he needed to work with them, to use their skills and create new architecture based on the region's 400-year tradition of constructing robust wooden buildings in rugged conditions. With so much personal connection to this high-profile project, the pressure was intense.
"If I did a bad job, it could be the worst hit of my life," he says. "I could've given up easily. It was so much stress, I quit drinking alcohol, because I realized I had to be 100 per cent on my game. I haven't drank since." Though Fogo is an ongoing project and Saunders anticipates designing a new building there every couple of years, its success has contributed to him getting a series of commissions to design stunning houses and luxury apartments in Norway, Canada, the United States, and other parts of Europe. Today, Saunders has been to 120 countries and is working in 10 right now, so he's often an outsider.
His firm, Saunders Architecture, fluctuates between 10 and 15 people, but he's looking to open hubs in London, New York, and Toronto to be closer to clients. Though his home base is in Bergen, he considers he and his employees to be "digital nomads", which makes the company seem bigger than it is. He'll Skype with his designer in Lisbon, relay messages to his personal assistant in London or another staff member in Seattle. "People think there are 50 of us and that I'm 75 years old." Despite all that, he insists that his staff don't work overtime and that they adhere to a Scandinavian work-life balance.
Perhaps it's the Fogo effect—while the private commissions are lucrative, Saunders is increasingly interested in the public realm. His current major project is in another remote location: it's the Illusuak Cultural Centre in Nain, Labrador, an initiative of the Government of Nunatsiavut, an autonomous region in Newfoundland and Labrador. Saunders hopes it will become the living room for Labrador Inuit when it opens this fall. "What I noticed is there was no one building in town where people could collect," he says. "They were meeting in the grocery store. So it was actually missing a heart, like a public square you'd have in European places." Always looking for local, older sources to base his designs on, Saunders says he was inspired by the soft oval forms he saw on a visit to Rose Island off the north coast of Labrador, the site of nearly 700 traditional Inuit graves. "We put all our ideas on the wall, and they gravitated to this really soft form," says Saunders of the community meetings held in Nain. "So they picked this design."
These kinds of public projects are related to a developing interest Saunders has in understanding how philanthropy and architecture can work together in the spirit of Andrew Carnegie and the more than 2,500 libraries he built a century ago. "Does that exist anymore?" he asks. "Or is architecture now more of a commodity than a game changer? I want to get back to that. I worked with businesspeople like Zita. They're experts in that field. I'm an expert in my field. Together, there's a new magic."
Since his brush with death, Saunders has worked to eliminate from his life things that make it complicated and noisy, so he can focus on projects like this. "I don't want to do a thousand buildings," he says. "I want to do 20 good ones. And I've done that already."
Todd Saunders was photographed in Toronto at the Grange, a nationally designated historic site and the original home of the Art Gallery of Ontario.
Architecture photos ©Bent René Synnevåg.
_________
Never miss a story. Sign up for NUVO's weekly newsletter, here.