Sami Tsang's Rule-Breaking Sculptures
The artist's work is on view at the Power Plant until September 4.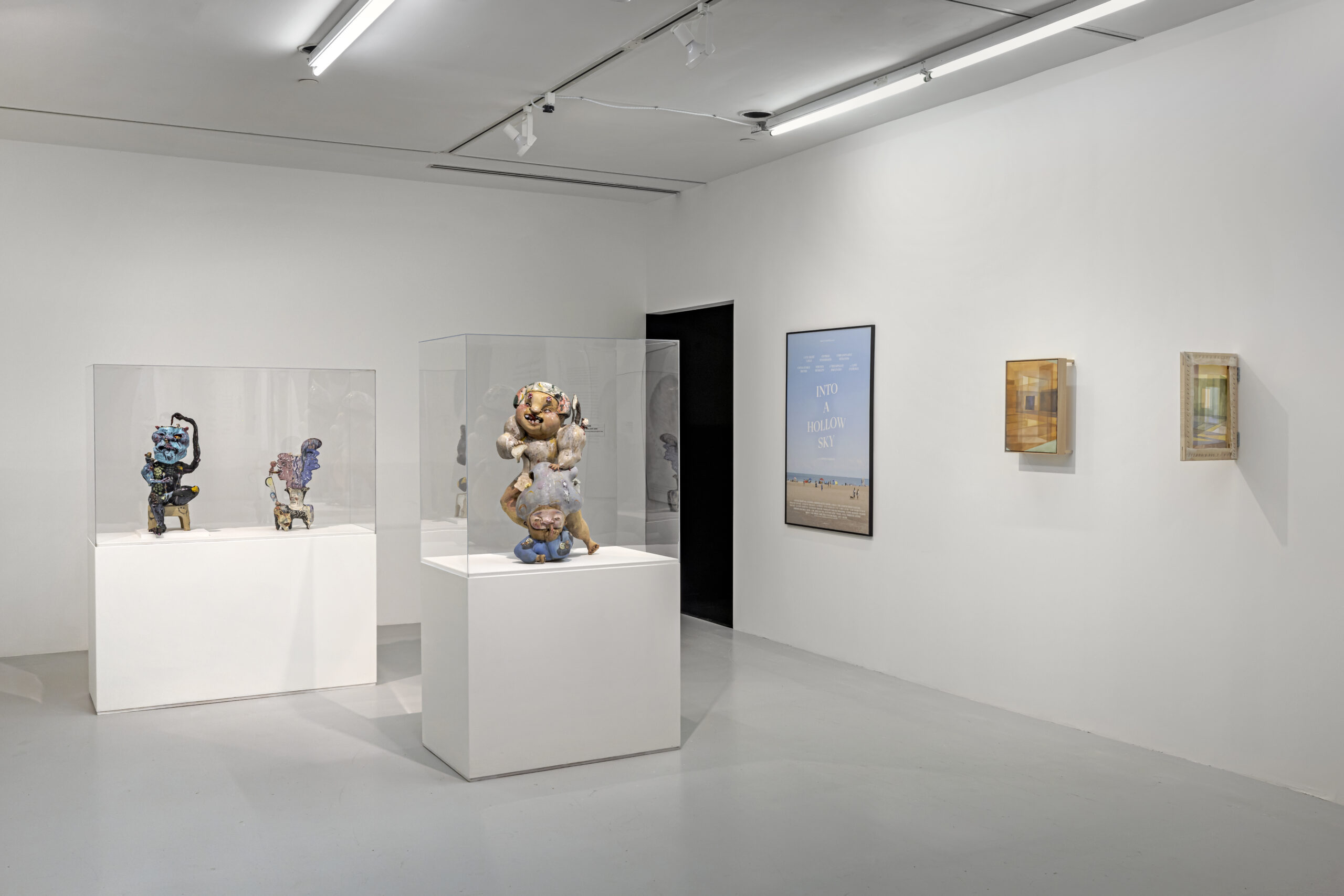 "Breaking rules is a huge element in my work," says Sami Tsang, whose development as an artist has been marked by unleashing her own creativity from the conservative Chinese household she was raised in. As a child, she studied traditional Chinese painting, copying every minute detail in other artists' work, but it did little to encourage self-expression—replication over creativity and realism over imagination. "I felt like I wasn't even attempting to form an opinion or to go into my imagination," she says. "It wasn't until I came to Canada, having that physical distance from my family. And slowly, mentally, I was able to build the space and platform for myself to explore my inner world."

Now, Tsang works mainly in ceramics, but her pieces often feature other materials, like polymer clay, acrylic paints, ink, fabric, and bits of cord or chain. Her sculptures, usually of people, are whimsical, colourful, cartoonish, and expressive, and she often takes inspiration from the Chinese proverbs of her childhood.

Tsang is one of the six artists whose work is currently on display at the Power Plant Contemporary Art Gallery in Toronto as part of the In Parallel group exhibition, on view until September 4. The mediums are varied, from Afghan rugs mapped out in Microsoft Word by Shaheer Zazai to Ella Gonzales's paintings on translucent piña silk, but all the artists have a connection to Toronto.

Three of Tsang's pieces are included in the exhibition: I'm an Only Child, Take a Chocolate Mint Moment, and That Bathroom Nightmare. As with all her work, they explore her journey to carve out her own identity, navigating the intersection of Chinese and Western cultures, and domestic hardships.

Born in Canada but raised in Hong Kong, Tsang returned to Ontario when she was 12 to attend the arts program at H.B. Beal Secondary in London and gain some independence from her family. She went on to earn a bachelor of craft and design from Sheridan College and a master of fine arts from New York's Alfred University. In the last few years, the now 26-year-old artist has had solo exhibitions at the Art Gallery of Burlington, the Gardiner Museum, and Cooper Cole Gallery, among others, as well as group exhibitions all over North America. Later this year, she will have solo shows in Rome and Tennessee and group exhibitions in Kelowna, B.C., and Richmond, Virginia. She is currently midway through an artist-in-residency program at the Harbourfront Centre.

Tsang uses a traditional coil-building technique, a circular and time-consuming process that she compares to slow dancing with the sculpture. "It's a very romantic relationship I have with clay," she explains. "Art is also the longest relationship I have besides my family."


One piece on display at the Power Plant, I'm an Only Child, stands 76 centimetres tall, and depicts a child figure, tongue out, eyes crossed, straddling another child wearing a mask and lying on their belly. It's playful and exudes a sense of mischief. As with much of Tsang's work, there is a sea of details to get lost in: a small polymer figure sits on one shoulder, red flowers protrude from the forehead like horns, and acrylic paint depicts images like a smattering of smiley faces, streaks of colour, and a duck pattern. "I wanted to imagine the world of me not having a sibling," says Tsang, who has a brother. "Because growing up as the youngest female in the family, I felt like I had to give faces to the men in the house. And I had to be a follower. To obey. I had to respect them and be more understanding."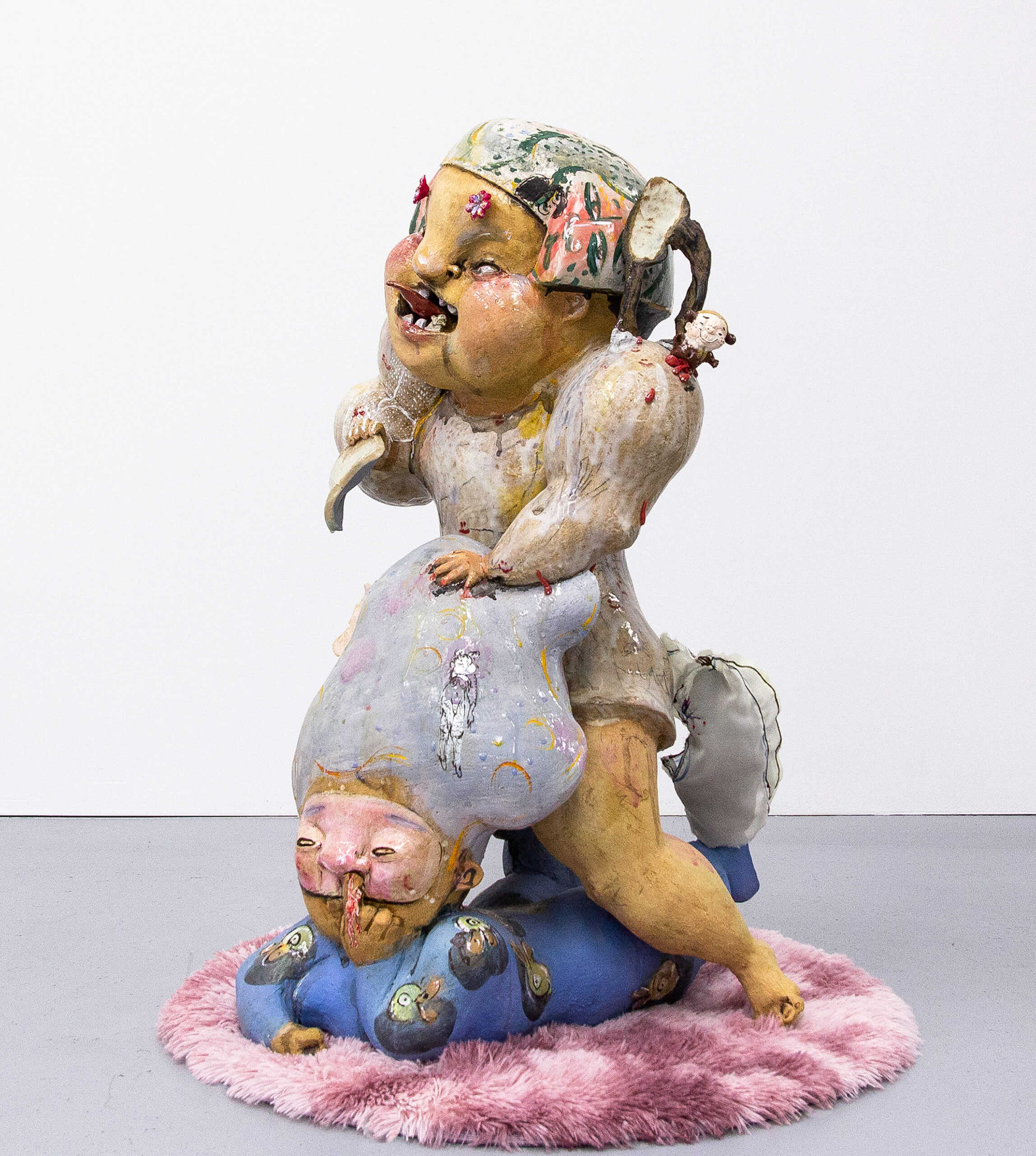 The other two pieces centre around the tumultuous COVID-19 pandemic period, when she moved to upstate New York with her parents, who had come to North America a few years after her. The combination of inadequate health care during the crisis, the inescapability of domestic disputes, limited access to clay, and the racism she experienced as a Chinese person, Tsang describes it as a scary time. "I was making work at midnight because I didn't want to see the world in the daytime." With no lock on her bedroom door, bathing became her place of sanctuary and serenity, the basis for a series of her work.
In Take a Chocolate Mint Moment, a goblin-like figure with a blue head and a black body reaches up with one spindly arm to scratch a head filled with water. Tsang points out a little pink figure with an oversized head in the back, trapped in cement and making a desperate climb up a thin piece of chain to make it to the holy water in the head while another tries to cut the chain. "There's a glimpse of me still trying to heal myself," she says of the climbing figure. "I always had a really strong survival instinct. Since I was young, when I was 12, I decided to move to a different country—it was all because I needed to survive. When I hit rock bottom, I had to survive. I still face a lot of struggling."
Her third piece at the Power Plant, That Bathroom Nightmare, is a two-tiered vase structure with two thin pastel facial profiles protruding like fins from either side that she made while reflecting on the pandemic. A small figure heaves itself onto the tongue of one of the profiles, a bit of nylon cord wrapped around its hand bearing a piece of rice paper Tsang brought with her when she first came to Canada.

While there is still evidence of the years spent training in traditional Chinese painting, mainly the attention to line and technique of the brush strokes, Tsang's work now brims with imagination and creativity. And although making pieces that openly address the struggles she faces with her family has been scary—Tsang cites a Chinese proverb she was taught from a young age that maintains family shame cannot be shown to the outside world—her work has resonated deeply with people.


"My general message is that I'm a Chinese Canadian artist. I grew up as the youngest female child in the Chinese family. And even just saying that, I think a lot of women have been able to connect and relate to me," Tsang says. "At first it was very shocking, and in a way, heart warming, because growing up, being with my family made me feel so lonely."

When asked what she's most proud of in her work, she pauses for a long moment. "I'm still making art." She lets that sit in the air for a moment, and it's clear her art is a lifeline, a fundamental part of who she is that is worth all the sacrifices. Later, she adds, "There's a lot of things I still want to say, and every day there's something to process. It's an ongoing project with myself."

The In Parallel show at the Power Plant is on until September 4.