What Post-COVID Travel Should Look Like, According to G Adventures' Bruce Poon Tip
Why we should unlearn tourism.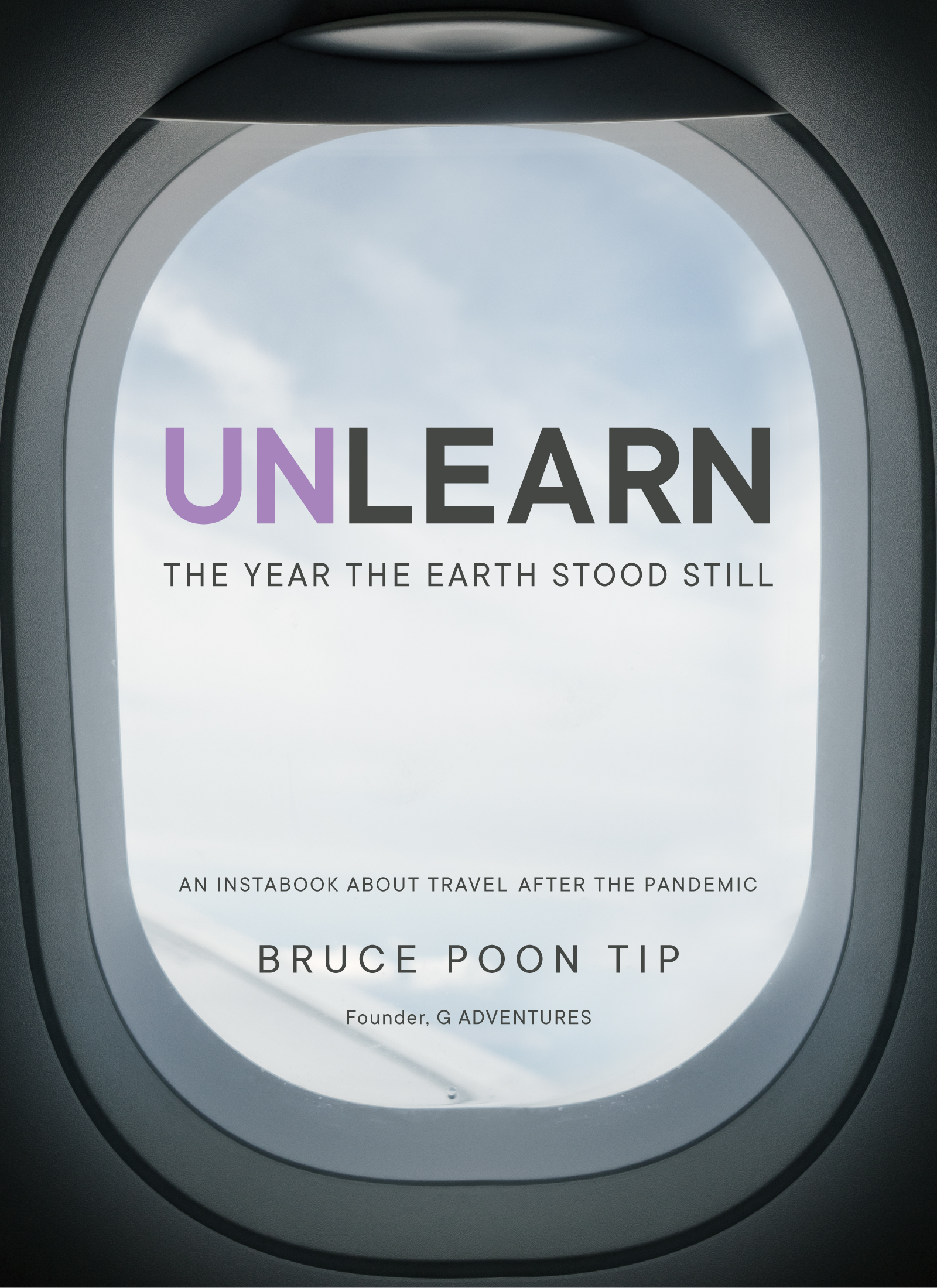 If I hear the term "unprecedented times" one more time, I might flip a table. Still, there's a reason why we're all inundated with such sayings: the times are, well, unprecedented. Normality has been flipped upside down in almost every industry, and travel and tourism has certainly felt the consequences. With closed borders, travel bans, and widespread lockdowns in place, the notion of travel has taken on a new-found complexity, rife with fears and complications. As economies tiptoe toward opening up again, global travel will have to reform itself to suit the times.
Bruce Poon Tip, founder of the small-group travel company G Adventures, considers the world of travel post-COVID in a new e-book, Unlearn: The Year the Earth Stood Still, a 24-page "love letter to travellers" and contemplation of what a better world could look like. In a virtual press conference over Zoom, the author and philanthropist likened the new changes to flight procedures, like mandatory face masks, to the stricter security measures seen following 9/11. There is an initial discomfort to change, but "we adapt," he said.
For Poon Tip, whose entire career and lifestyle is based on travel, a paradigm shift on how the world travels is a good thing. It's a clean slate, a chance to start over better. Drawing off of Austrian economist Joseph Schumpeter's concept of "creative destruction," whereby the economy evolves through its own destruction, Poon Tip sees the destruction of traditional travel as a chance to revolutionize the industry. "Just as a meteorite or an ice age can hurry along evolutionary processes that may already have been underway," he writes, "this virus, by destroying so much that underpinned the way we travel, is almost certainly going to get all Darwinian on travel."
Poon Tip writes with a romantic affinity for travel, calling humans "natural explorers." The tourism industry, however, has turned us from explorers into tourists. Never straying far from the comforts that big chains, cruises, and all-inclusive resorts have to offer, many tourists have come to define travel in narrow terms. "In so many ways, the travel industry does to travellers what the Tiger King did to tigers," he writes. "It takes these noble creatures and packs them into tight spaces, feeds them off-label food, and makes them behave in whatever ways earn the most profit."
He drives his point the most in his chapter detailing the (uncomfortably termed) concept of "leakage" in the tourism industry. This describes how "money we spend as travellers leaks out of the country into the hands of multinational corporations." In many cases, the money we spend on tourism has no, and sometimes negative, benefit for the countries we travel to. "The term 'leakage' makes it sound natural; it is not," Poon Tip explains in his book. "This is a planned economic effect, a specific business plan devised by resorts, cruise lines, and multinational chains of all sorts."
Across the digital pages, anecdotes of Poon Tip's "touristy" and exploitative travel experiences with cruises and all-inclusive resorts are juxtaposed with more authentic travel memories, as he urges travellers to be more conscientious about who really profits from their travel choices.
The tourism industry is only the result of what travellers ask of it. "Travellers create the demand of change," he said over Zoom. To offset the consumerist culture, he asks post-COVID travellers to make changes in how they travel: changes like choosing lesser known yet extraordinary destinations, like Malawi and Haiti, over the more common (and overcrowded) hot spots. Or choosing to buy a drink from a streetside vendor over the big chain restaurant. He challenges travellers to redefine luxury by venturing beyond the familiar Western ideas of luxury and consider options like homestays as well as locally owned hotels.
He asks us to not travel less, but travel better:
"If there is one thing we should learn from this pandemic, it is that we all share the same planet, and the better we understand each other the better we'll appreciate who we are and where we came from. That's why your decision to travel is important. We cannot let fear spread faster than coronavirus. With great challenge always comes great opportunity for those who choose to rise and meet it."
Unlearn: The Year the Earth Stood Still can be downloaded here.
________
Never miss a story. Sign up for NUVO's weekly newsletter here.