Point William by Shim-Sutcliffe Architects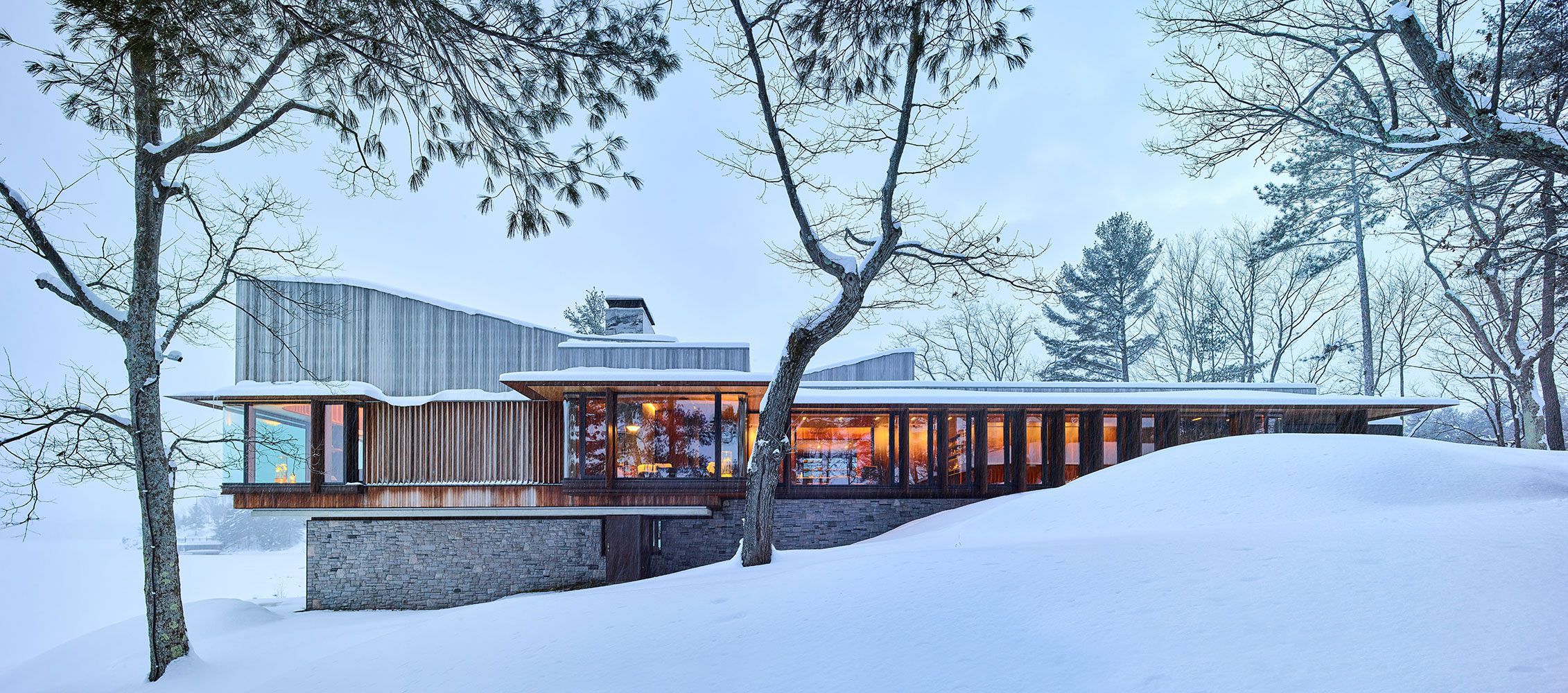 This week's home by Shim-Sutcliffe Architects is a special one, and it is highlighted here in part to mark the publication of a wonderful book by Kenneth Frampton and Michael Webb about this Muskoka residence, whose construction has been a multi-decade tale of innovation and obstacles. The book features detailed illustrations and photography by some big names like Edward Burtynsky.
Begun in 1997 and finished in 2018, Point William is an experiment in critical regionalism, drawing not only from the shape of the land but also Muskoka woodworking and the building culture of cottage country, as well as the structure that existed where the current one now stands. The building protocols the region, stemming from the earth, recombine in this stunning work. The long construction time speaks to the work of the architects to unite the different buildings across the compound.
The book's subtitle is "A Laboratory for Living," which couldn't be a more apt description of Point William, especially because of the trial and error that went into its completion.
The home sits on a granite outcropping, and a part of this large granite mass rises untampered from the ground between the site's primary structure and secondary cottage. From the water, the structure appears stacked, with a massive column sprouting from the rock to support a generous patio. The exterior is divided into three main strata: the bottom is local granite, while the upper sections consist of bronze-clad windows, untreated ipe wood, and atmospheric steel. The heavily windowed main floor is crested by a ceiling expansion that borders the biophilic rooftop.
Upon entry, a series of steel fins traverse from the exterior, punctuating the curvilinear windows. Light is suffused, and handsome Douglas fir panelling curves gentle above. The sloping vaulted ceiling in the main living space allows for louvred clerestory windows that admit even more light from the lake-facing walls.
A sense of process animates this home as one moves between the floors and through the outside spaces. Processes like those that form the sublime topographies of nature are emulated, respected, and made human here.
To see more of this stunning house, check out the recently published book from ORO editions here.
Part of our Home of the Week series. Read more HERE.