Nupo by Darren MacLean: Calgary's Premiere Omakase Sushi Experience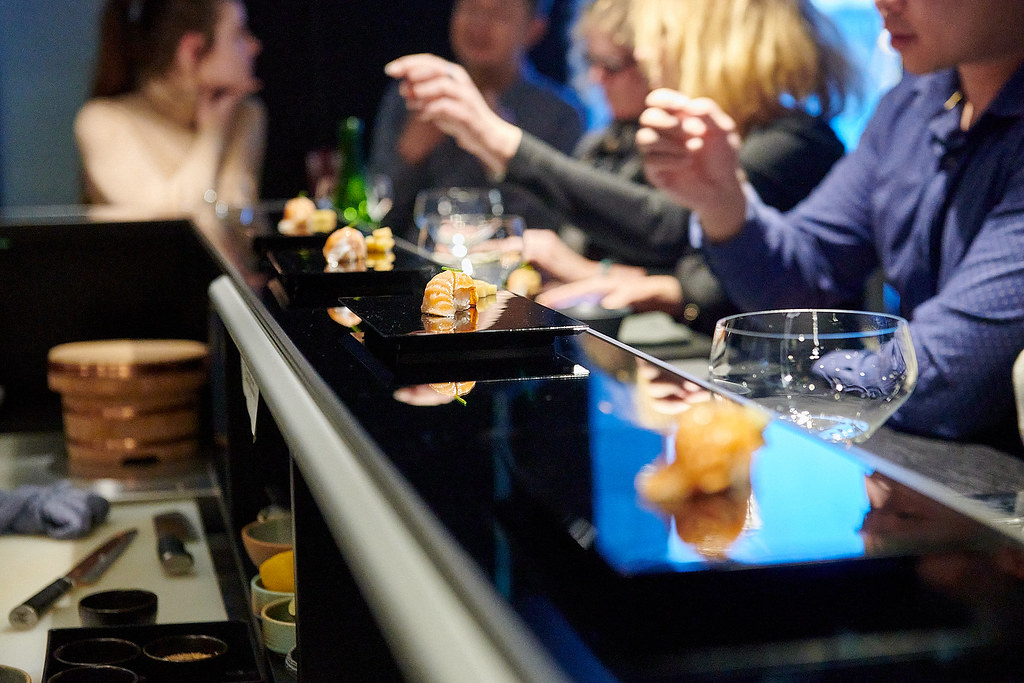 As I enter Alt Hotel by Le Germain in the East Village, I am greeted by a stark white hallway lined with floor-to-ceiling photographs that depict perspectives of Calgary. I turn to my right and follow the dimmed lights and a gregarious buzz into the chic and moody space of Nupo.
Nupo, Calgary's newest high-profile culinary adventure, was imagined and brought to life by chef Darren MacLean—of Shokunin and Netflix's The Final Table—and is now open in the heart of the recently revived East Village. The name pays homage to Maclean's mother's maiden name (Nupponen) and a love for fresh, plant-forward food that the two share.
The restaurant features MacLean's own version of Tokyo-style omakase sushi, along with a rotating à la carte menu. Additionally, diners are treated to an exclusive concept-dining space called Eight.
Nupo's interior combines a Japanese aesthetic with Canadian detailing: modern gold-and-black accents that complement koi fish, birchwood, woven leather, black slate, exposed concrete, and shou sugi ban (a Japanese technique for charring wood). The aim is to celebrate the confluence of community and cross-cultural relationships through food.
"There are three things that you need for cuisine to exist," MacLean says. "You need something to cook, the movement of people, and culture, which is combined and represented in the dishes."
The omakase is executed at an eight-seat birchwood-clad bar, where guests can interact with the chef, ask questions, and take in the experience on a more intimate level. Traditionally, omakase, which means "I'll leave it up to you, chef," is performed in a very stiff, quiet, and proper environment. Instead, MacLean's version draws inspiration from tradition while encouraging messiness in the eating. He and his partner, Maki—the only female omakase sushi chef in Canada—encourage guests to dive into each dish and eat with their hands, feeling the textures and sauces.
Diners try 12 courses of handmade nigiri, from fresh to rich to seven-day in-house dry-aged fish: striped bass, Hokkaido scallops, tuna belly, horse mackerel, and white tuna —all sustainably sourced, of course). Each course is garnished with ingredients such as fresh Canadian caviar, real wasabi, cubes of aged ginger that tingles all of your senses, and house-made XO sauce served on warm, fluffy rice seasoned with house-made Japanese red-aged vinegar and black sugar from Okinawa.
"The key to really good sushi is the rice," says MacLean. "That's why we begin the experience with a course of rice and 2017 vintage nori from Japan that dissolves under your tongue. In omakase sushi, the fish and the rice are meant to flow together as one instead of being two distinct textures."
The best way to bring out the flavours in your sushi is to explore the extensive junmai-style sake list, the first of its kind in Canada. Many of the sakes are exclusive to Nupo, thanks to international partnerships that MacLean has leveraged, and feature numerous female-centred sake brewers in Japan.
If sake doesn't tickle your fancy, Nupo's talented mixologists have created tea-infused cocktails (including seven tea-infused vermouths), which are all meant to promote ritual, health, and energy. Each one reflects MacLean's travels through myriad tea plantations, while enhancing the essence of your sushi.
Toward the end of the meal arrives, guests are served a strong-flavoured roasted snapper bone and butter miso soup to wash down the nigiri, followed by a pickled-ginger sorbet to cleanse the palate. This is a nod to the roots of the traditional Japanese omakase experience that Nupo aims to preserve and respect. Arigatou gozaimasu!
________
Never miss a story. Sign up for NUVO's weekly newsletter here.