Naramata Inn Chef Liz Stevenson's Amazing Apple Oat Crumble
A dessert that tastes like a warm hug.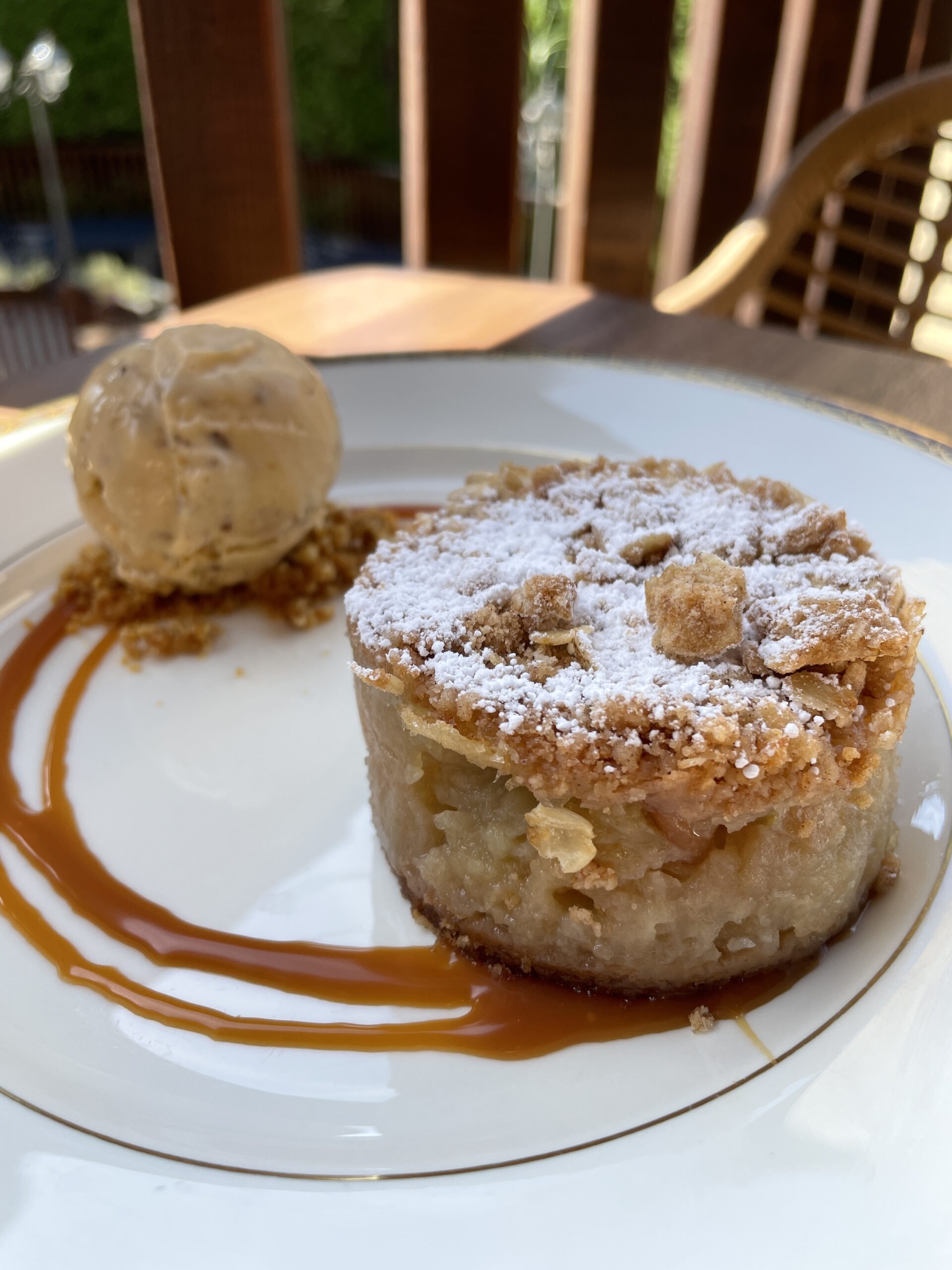 Who doesn't love a good apple crumble? Sure, it doesn't get the same overwhelmingly positive press as, say, chocolate cake or crème brûlée, but it's reliable and, especially at this time of year, comforting. What it lacks in pizzaz, the humble apple crumble more than makes up for in heartiness and warmth, a couple of qualities we look for more and more as the days shorten and the air gets chilly. Naramata Inn's pastry chef, Liz Stevenson, has provided NUVO with her recipe for an apple crumble that tastes as comforting as your grandma's and feels as sophisticated as diners at the Naramata Inn have come to expect.
Serves 4–6
Ingredients
For the apple compote:
100 grams unsalted butter
6–8 large apples, peeled, cored, and chopped into 1-centimetre chunks
100–200 grams organic cane sugar to taste
For the crumble topping:
250 grams all-purpose flour
50 grams spelt flour
166 grams unsalted butter
110 grams light brown sugar
1 egg
65 grams oats
5 grams cinnamon
Method
For the apple compote:
Butter the base and sides of a casserole dish and set aside.
In a medium-sized saucepan over medium-high heat, melt the butter until it starts to brown slightly.
Add 1/3 of the apples, along with some of the sugar. Cook until soft.
Repeat this process with another 1/3 and a sprinkling of sugar. Lower the heat.
Finish with the remaining 1/3 of the apples. Adjust the sugar to taste and continue to cook until the last 1/3 has softened.
Turn out from the pan and into the casserole dish. Spread into an even layer and place in the fridge to chill. Alternatively, place the compote in an airtight container and chill until ready for use.
For the crumble topping:
Mix the flours and butter together in the bowl of a tabletop mixer and rub together using a paddle attachment. Alternatively, pulse together using a food processor. If mixing by hand, place the flour and butter into a large bowl and combine with your hands.
Mix until you achieve a breadcrumb-like consistency. Add the sugar, oats, and cinnamon and continue to mix until well-combined.
Add the egg and blend until the mixture just starts to come together; it should be tacky, but slightly dry and crumbly.
Spread on a baking sheet and place in the refrigerator to set, about 30 minutes.
Once firm, crumble the mixture with your hands to break it up. Use it immediately, or store in an airtight container in the fridge or freezer. It keeps well for a long time.
Assembly
Sprinkle the crumble topping on top of the apple compote layer. Bake at 370°F, low fan, for 15–20 minutes (longer if you are using a conventional oven), until the crust is golden-brown and your kitchen smells like Grandma's house. Serve immediately with your favourite ice cream, crème fraîche, or yogurt.