Lyon Porter Opens Urban Cowboy Lodge in the Catskills to Make You Feel Like a Kid Again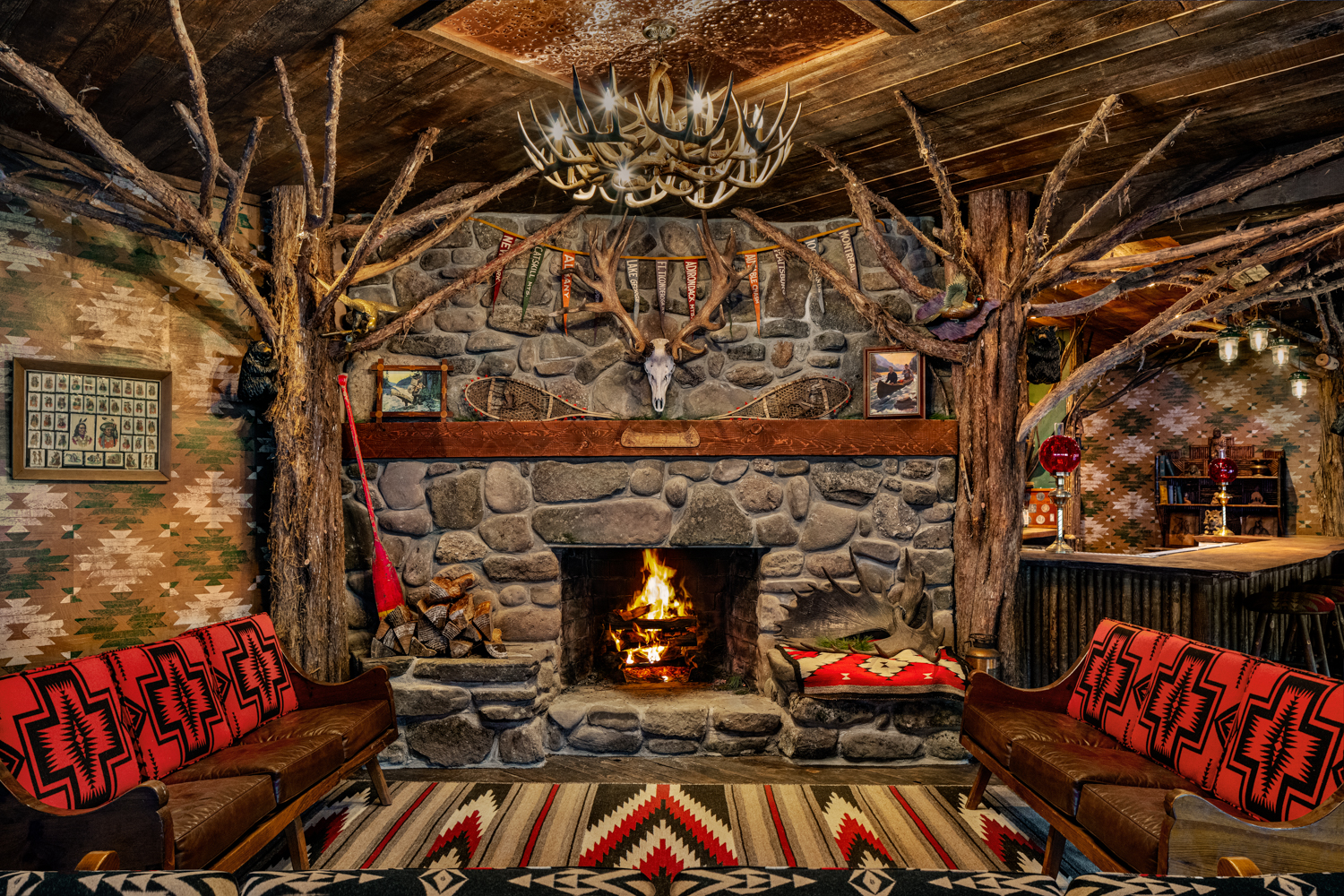 Maybe it was the Ray Charles record that spun on vinyl. Or the smell of eucalyptus firewood and homemade s'mores. Strangers in plaid, denim, and wide-brimmed hats danced and drank in the dimly lit room as if in a spaghetti western. Or perhaps it was simply that the hotel check-in was at the bar. Whatever it was, walking into Urban Cowboy Lodge, a 68-acre wilderness retreat in the Catskills, felt like being transported back in time. In its magical way, Urban Cowboy makes the stresses of city life feel distant (when in reality, New York City is just two hours away). The moment I stepped through the lodge's double doors, my shoulders dropped, my muscles loosened, and my mind was at ease. "Room 12," the manager said. He was wearing a vintage letterman jacket and his own brand of cool. "Grab a drink, chill out, and I'll bring you to your room when you're ready. No rush." No rush. To a city dweller, these words are as sexy as a smoky mezcal (of which I had many—topped with pine garnishes). I sank into a leather chair by the fire and sipped slowly.
Urban Cowboy Lodge is the brainchild of hoteliers Lyon Porter and Jersey Banks, known for their two Urban Cowboy hotels in Brooklyn and Nashville. The collective ethos of the Urban Cowboy brand has always been about freedom, romance, and the transformative power of design. "The name Urban Cowboy was inspired by a romanticized nostalgia centred around a cowboy's association with freedom," says Porter. "The goal [of the Urban Cowboy brand] was to welcome everyone and create an inspiring hospitality experience through design and community." For this project, they partnered with Canadian hotel developer Phil Hospod, known for his work on hotels like Freehand, Line Hotel DC, NoMad Hotel, and the soon-to-be open Wayfinder. The partnership has proven successful; while Urban Cowboy Lodge certainly achieves the laid-back spirit of the brand's core values, it does so in a more elevated way—as if to say, the Urban Cowboy has grown up.
Porter's passion for design is unique. He is a master of storytelling and painting imaginative scenes through objects and spaces that convey a certain mood. "There is an energy in found objects that elicits emotion," Porter says. From the collection of odd antiques he personally sourced, or the woodwork done by a "twig guy" named Rick (of whom Porter speaks fondly), the lodge is full of romance, whimsy, and a sense of humour. "There's a soul in the sauce," he adds. While it's impossible to cherry-pick favourites—each space has its own individual character and charm—the suites are in a league of their own. Spread between two buildings, the Alpine Lodge and the Walden Lodge, the rooms feature bold, custom-handprinted wallpaper paired with loud, graphic bedding. They also come equipped with pot-belly stoves and campy items like wooden paddles, snowshoes, and antlers. The most indulgent item is the clawfoot bathtub, which voyeuristically sits in front of open windows. Over in the main building are the restaurant, bar, and main common areas, whose rustic charms embrace you immediately. In the Americana-themed common area, you are encouraged to indulge in games like backgammon and bingo with fellow guests in front of a wood-burning fireplace. The restaurant continues to foster a community atmosphere with long banquet tables that prompt guests to interact as they wine and dine—friendships are forged as quickly as hangovers.
The mood Porter creates at Urban Cowboy Lodge has everyone playing along. Guests and staff dress to theme, not because it's a requirement but because the space elicits a playfully inclusive energy. "Come as strangers, leave as friends" is the brand's motto, and that's exactly what happens here. When so many hospitality brands are promoting "escapes," it's refreshing for one to market community. In a sense, my stay ended the same way it began—in the same leather chair with the same buzz on—only by then, I was enjoying the night in laughter with my new friends. The unique experience at Urban Cowboy Lodge reminds us how important community actually is, and while you arrive with the intention of solitude, you leave with the reward of connection. Sometimes it takes feeling like a kid again to remember that's a good thing.
________
Never miss a story. Sign up for NUVO's weekly newsletter here.