Louis Vuitton's Latest Savoir-Faire is a Fully Shoppable Vancouver Penthouse
Much more than a fashion brand.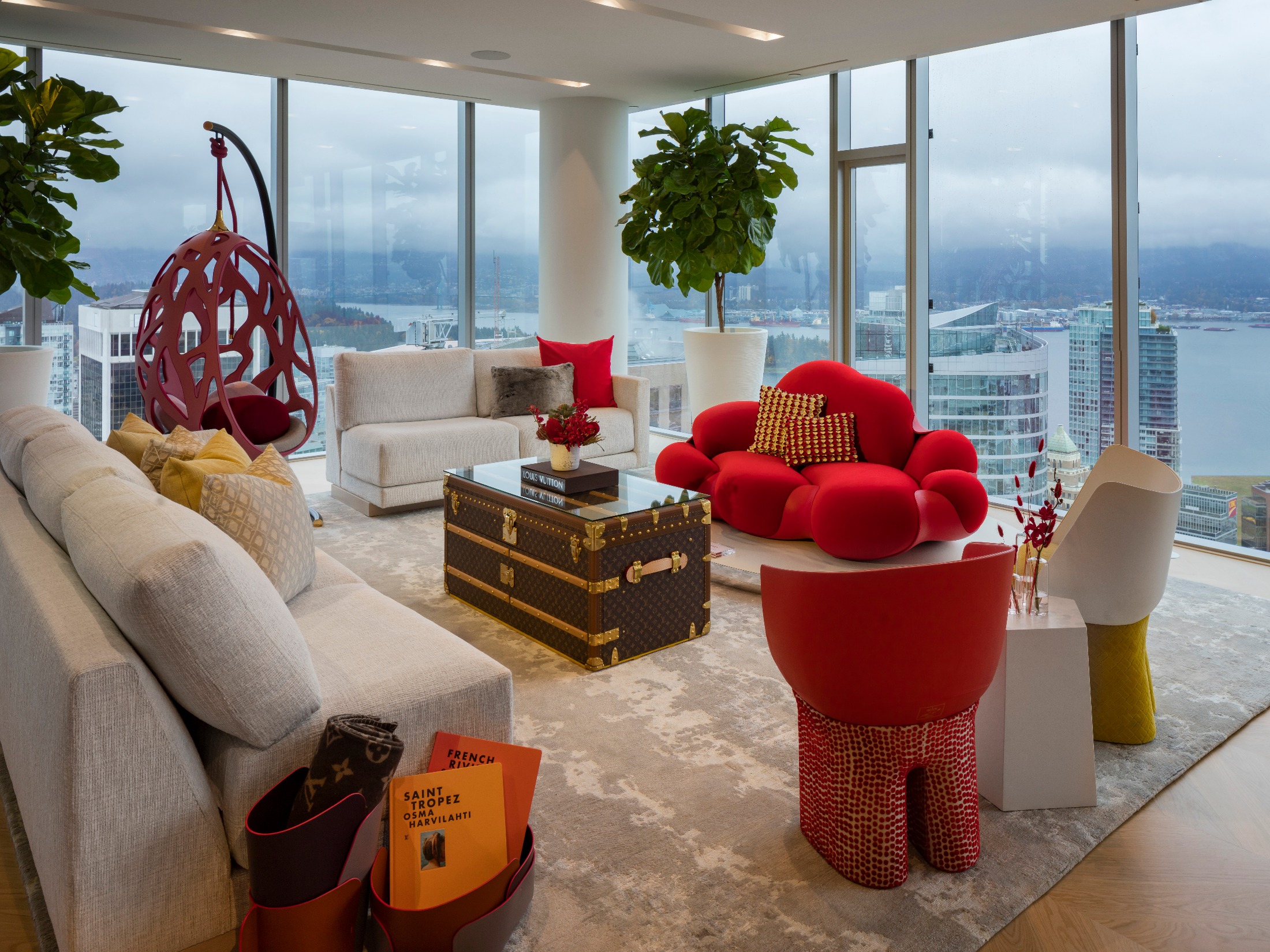 In the penthouse of the Hotel Georgia's Private Residences, the beloved Louis Vuitton Cocoon chair, designed by the Campana Brothers, overlooks the misty, rain-soaked Vancouver cityscape. The chair has sat in every Savoir-Faire maison from New York to Aspen to Toronto, but here it is surrounded by new and exclusive-to-Vancouver pieces. For seven days only, the universe of Louis Vuitton has been gathered in one place and wrapped in floor-to-ceiling windows.
The Savoir-Faire experience has set up shop to offer Vancouverites a customizable, one-on-one introduction to the brand's lifestyle in a setting that combines artisanal artistry and cosmopolitan innovation. Clients book an appointment by email and are welcomed into a polished marble entryway, where an overhead river of jewelled flowers casts light on a circle of equally colourful Louis Vuitton handbags. It is just the beginning of a tour that winds its way through the rooms of a home—including an antechamber that re-creates a backyard—fashioned head to toe (or more aptly: floor to ceiling) in Louis Vuitton collections by various international designers.
Last year, Toronto's Integral House played host to the brand's Objets Nomades home collections for a similar experience. In selecting its venue for the West Coast, the French fashion house considered the diversity of the landscape and adjusted its offerings to reflect the new host city, flying in pieces to inspire those who call Vancouver home. Two different tea sets, both bestsellers in Vancouver, sit in elegant leather cases on the penthouse's dining room windowsill, against a fitting backdrop of sparkling raindrops on the glass. Clients who visit the Savoir-Faire can experience the sets in situ during a traditional tea ceremony performed at 3 p.m. each day.
The event is a celebration of the brand's heritage in fashion and homeware as it continues to immerse clientele in the imagination of design. The latest experience encourages all who enter to leave their own mark on the offerings, with a specially trained Toronto-based artisan on-hand to create custom paintings on any of the trunks. Not to mention the exotic collection of handbags—which provide a motif throughout the 8,000-square-foot space—are completely bespoke. A station is set up with swatches of the exotic materials and colour options with which clients can design their own handbags, which will then be made in Paris. Anything your heart desires, anything you imagine a trunk or a handbag could be, the Asnières atelier can create.
Also making its debut here—inspired by our connection to the outdoors—a Louis Vuitton trunk designed specifically for Canadians and equipped with everything one might need for a night of cosmic contemplation. The Malle Nuit Sous Les Étoiles, or "stargazing trunk", comes equipped with two collapsible Concertina Chairs by Raw Edges and a Bell Lamp by Barber & Osgerby (both from the Objets Nomades collection), a pillow and blanket with an astronaut motif, and of course a telescope.
Louis Vuitton has made a name for itself in travel with its trunks, and they are unarguably the centrepiece of the apartment salon at Savoir-Faire. Around every corner sits a new trunk that reimagines the form: a trunk in pastel pink that folds out to reveal a complete vanity table; a coffee-table trunk with fold-out storage compartments; and a movable, multi-compartment travel wardrobe trunk. Those who choose to visit and shop the penthouse are certain to uncover surprises. From the fine jewellery on display in the walk-in closet to the mini fragrances in each bathroom, you are playing house in Louis Vuitton's dream world.
Louis Vuitton's Savoir-Faire event is on in Vancouver from October 18 to 24. To make a reservation, send your name, preferred date, and time to [email protected].
Photos courtesy of Louis Vuitton / Paul Warchol.
_________
Never miss a story. Sign up for NUVO's weekly newsletter, here.