Louis Vuitton's Home Collections
Accessories for living from the venerable French maison.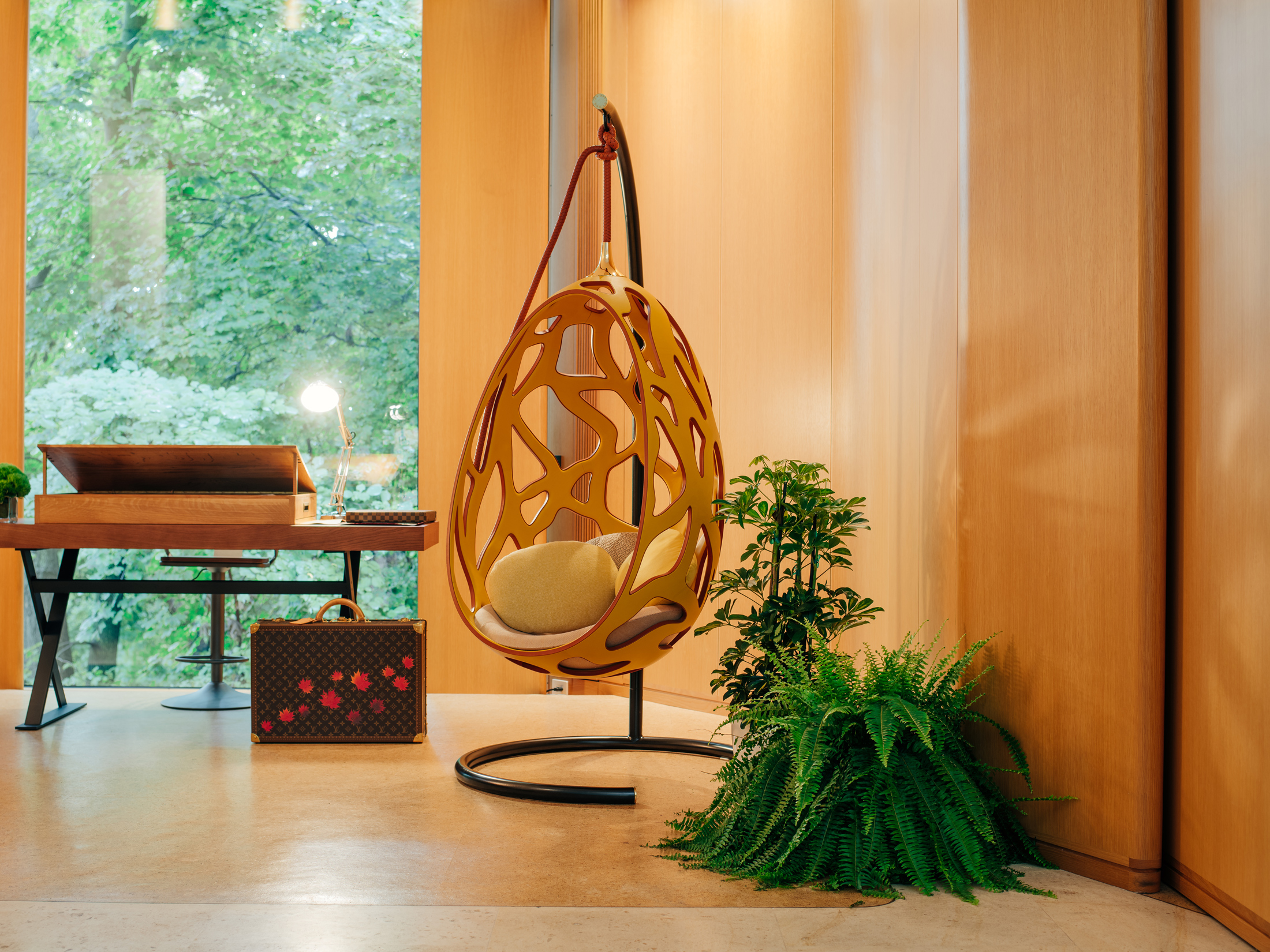 Henry Miller once observed that a person's "destination is never a place, but rather a new way of looking at things," and the same could be said of design. Perhaps nowhere is this commonality between travel and design better represented than at the venerable French maison of Louis Vuitton, which owes its entire genesis story to the nexus between the two pursuits. After its eponymous founder's reimagining of the travel trunk landed him the title of official trunk maker to the court of Napoleon III, along with such high-profile commissions as the now-iconic bed trunk for French explorer Pierre Savorgnan de Brazza in 1874, the initials LV became synonymous with innovation and an adventurous spirit.
Never content to rely on its past, however, Louis Vuitton continues to explore. In 2012, it launched the Objets Nomades collection—a collaboration with a hand-picked coterie of the world's top design names. These luminaries were tasked with mining that sweet spot between design and travel for a series of extraordinary home furnishings that draw on the brand's heritage while taking it in new directions, all the while incorporating the maison's Nomade leather. This year, a selected few of these designers have tuned their focus toward Louis Vuitton's decorative objects: Les Petits Nomades, a new collection of home accessories.
The latest results of these ongoing collaborations were on view in Toronto in September to coincide with Louis Vuitton's Time Capsule exhibit at Union Station. The maison unwrapped the Nomades collections during a pop-up event at Shim-Sutcliffe Architects' iconic Integral House, dubbed Maison Rosedale for the occasion.
The collective of Objets Nomades explores the capabilities of the formidable atelier while representing the creative responses of top design minds—often esoteric answers to the question of where design is headed today—from the likes of Britain's Raw Edges to Tokujin Yoshioka of Japan. Dutchman Maarten Baas' folding beach chair with hand-resined webbing can be disguised as an attaché case, or a frosted glass lamp by London's Barber & Osgerby that is cordless and solar powered. Swiss-based Atelier Oï confounds with its precision in pieces like Tabouret, a leather stool that folds like origami into its own matching envelope, and a charming swing inspired by a foldable vintage boat that the design team uses on a Swiss lake.
Introduced this year to Objets Nomades was Hong Kong–based André Fu's Ribbon Dance, a two-person conversation chair that captures the movement of a traditional Asian art form as the structural element in this striking piece, and Amsterdam's Marcel Wanders' Diamond Mirror, an octagonal mirror circled by 25 smaller mirrored triangles.
As one of those asked to turn their eye to Les Petits Nomades, Wanders scaled down his mirror for the debut collection, grounding the many facets with a marble foot. Patricia Urquiola's puzzle-piece Overlay Bowl, the Campana Brothers' leather-clad metal Tropicalist Vase, and four whimsical designs from Atelier Oï round out the Les Petits Nomades collection. The Swiss studio's kaleidoscopic bouquet of leather Origami Flowers wouldn't look out of place blooming on a monogrammed Louis Vuitton trunk. In fact, framed among the wanderlust-inducing Nomades collections, the home becomes both a cozy destination and an adventure inspiration.

Scroll for more photos of Louis Vuitton's Objets Nomades and Les Petits Nomades collections.
_________
Never miss a story. Sign up for NUVO's weekly newsletter.