Late Night Hosts Let Us Into Their Homes During Quarantine
The new normal. What that is, and how to adjust, takes awhile to sort out. Since March, when many workers were sent home to social distance, we've all had to explore new ways of doing our jobs. Most of us do that pretty much in private, apart from periodic video chats with coworkers. Late-night hosts, on the other hand, have had to sort out adapting to broadcasting from home while the rest of us watch how their backdrops, wardrobes, and production values evolve.
Maybe it helps to have a background in improv—like Stephen Colbert. Stuck at home, he played around with several locations to record online video monologues: his porch, with a view of the palatial place next door; his patio, with scattered chairs illustrating the absence of set stylists; the garage, where he changed a bike tire; and his bathtub, in which he wore a suit covered in bubble bath (The Lather Show With Stephen Colbert). As it became clear social distancing would persist, he finally settled on a corner with grey-painted wood-pannelled walls, a handsome dropleaf desk, and shelves of books that look as if they've benefited from a designer's touch. The whole setup received some professional tweaks: above the desk, a wall-mounted flatscreen displays the logo A Late Show With Stephen Colbert, the show is shot with a proper camera, and graphics and videos are edited in. Colbert sits to do his monologue, which seems more relaxed for a home setting, and occasionally acknowledges one of his kids assisting off to the side. As for wardrobe, after trying suits, and khakis with fleece, he has compromised with dress-casual open-neck shirts.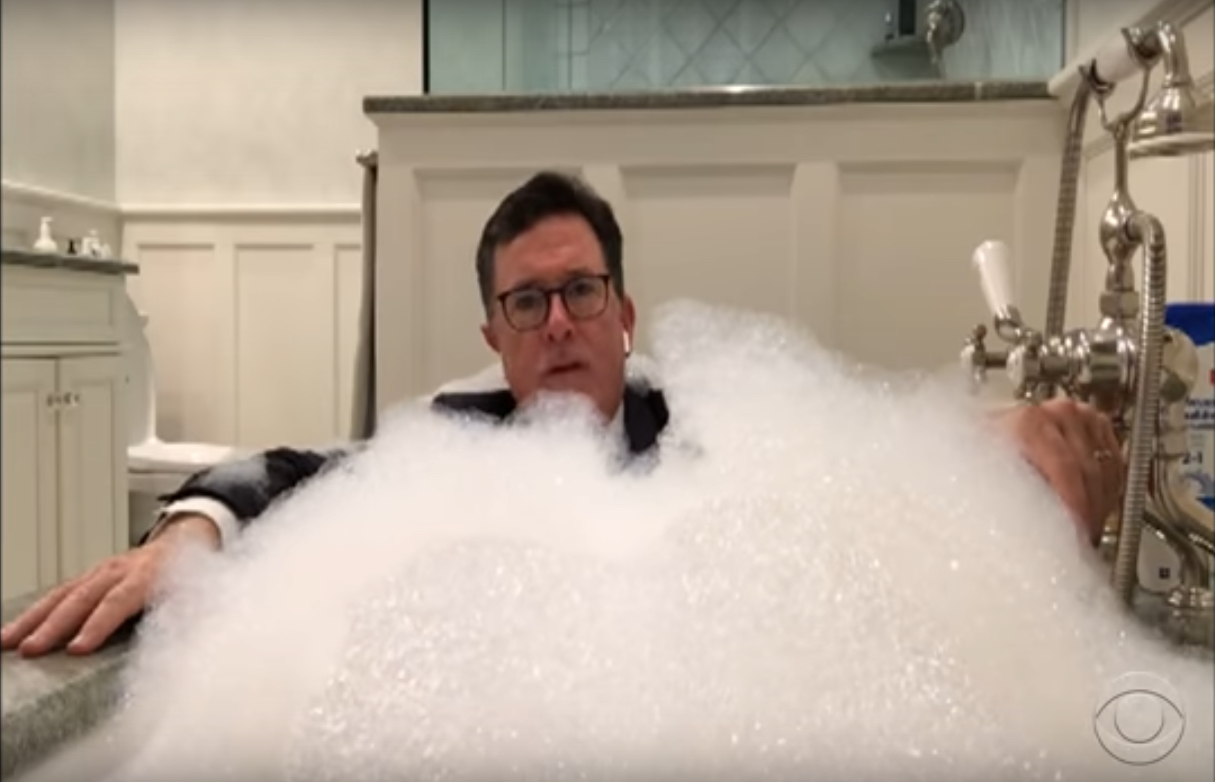 The Daily Show's Trevor Noah started off filming from what seemed to be his living room. Seated at a white fold-up portable table, he was backed by a stylish credenza topped with shelves of neatly arranged books, a white vase of orange flowers, and two identical but different size lamps side by side that he gave various facetious explanations for. Now, like Colbert, he has moved to a corner, but with featureless white walls, a flatscreen TV exhibiting The Daily Distancing Show With Trevor Noah logo, and wooden wall shelves awkwardly close to his head. He has also gravitated from casual jackets to a series of hoodies, a new colour each day, and, for the first few episodes, disorienting film edits cut back and forth between zoom shots and regular ones.
Jimmy Kimmel originally broadcasted using an iPad from a den or home office, then migrated to a nook off his kitchen, which has banquette seating and a low table. He now has three cameras filming him and stands in front of the table to do his monologue—odd for most of us but perhaps most comfortable for a standup comedian. He then sits in a low chair with a monitor on the table for video interviews. Kimmel started out dressed casually, put on a suit for Formal Friday and carried it over into the following week, but now seems to be going with open-neck dress shirts left untucked. His five-year-old daughter illustrated and voices the intro to the show, now called Jimmy Kimmel Live From His House.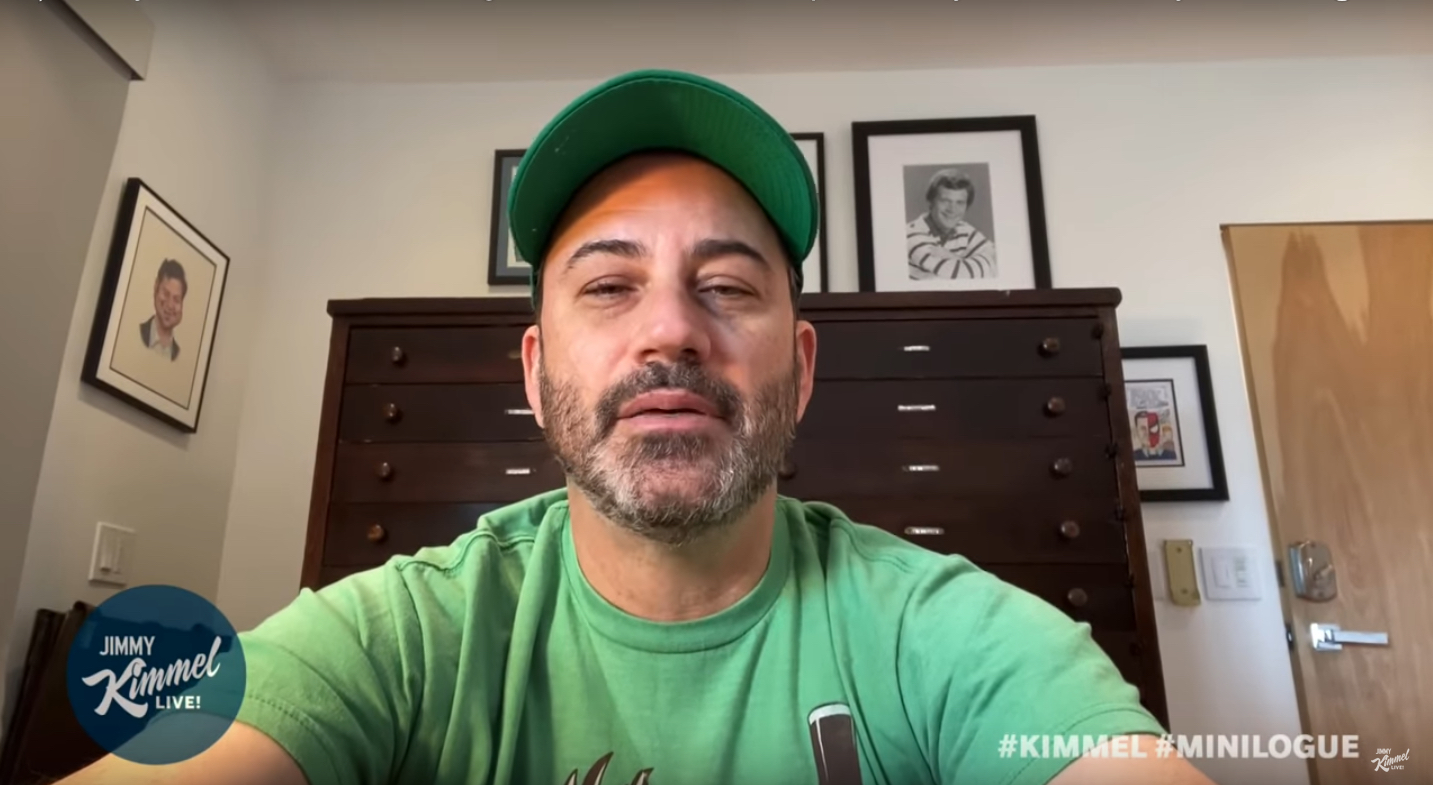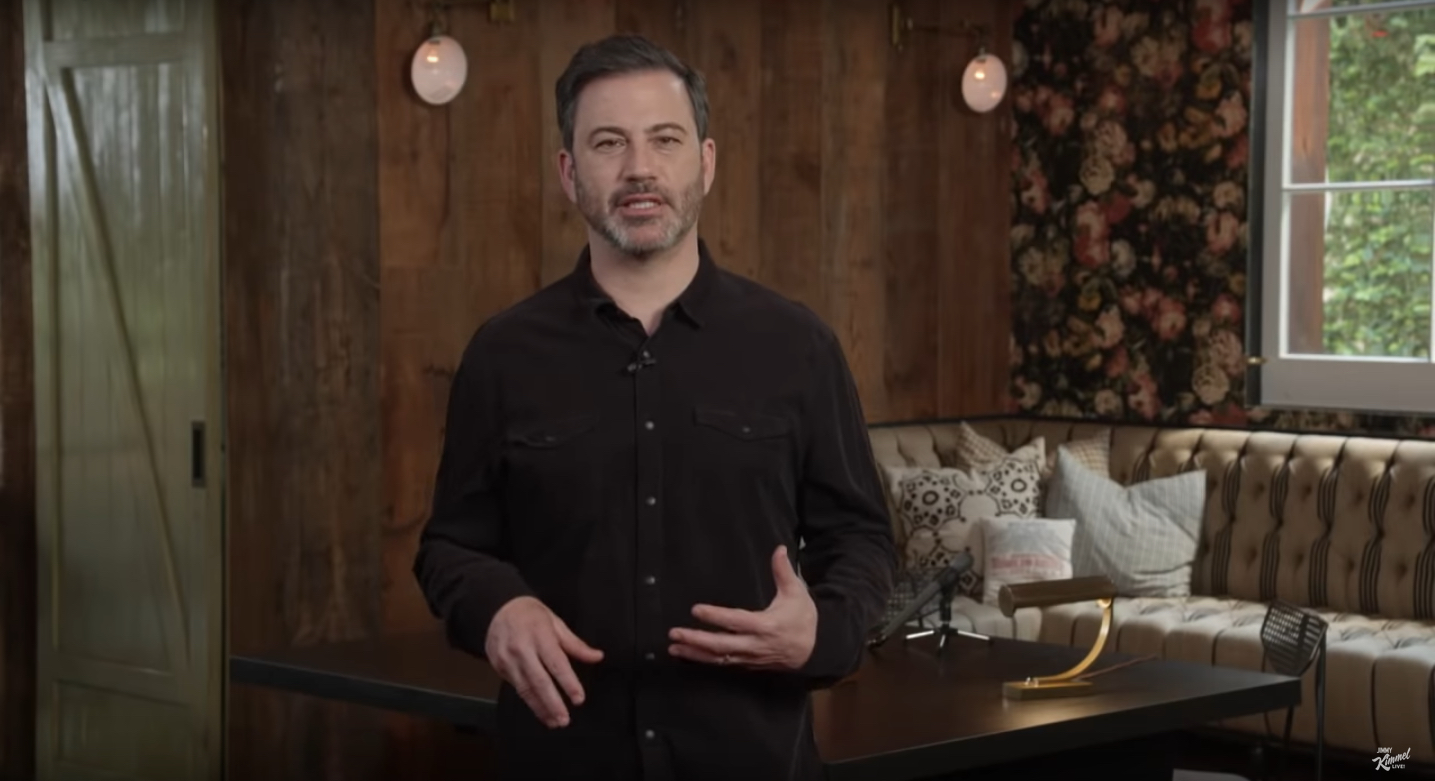 Full Frontal With Samantha Bee has become Little Show in the Big Woods and also relies on family members. As Bee explained, "We will be shooting the show from our own house with my husband on camera and my kids doing all the important stuff." She films mainly outdoors at her country home with woods in the background, but in a recent episode did a split-screen interview with Congresswoman Katie Porter from a bedroom. When Porter mentioned struggling with the technology of 200-person conference calls, Bee, in a grey blazer and orange camisole, observed, "Everybody is struggling with the technology right now. I just learned that when I bend over like this, it appears that I am wearing a blazer and no top." Camera angles aside, Bee's standard outfit of jacket and pants has translated well to the country setting.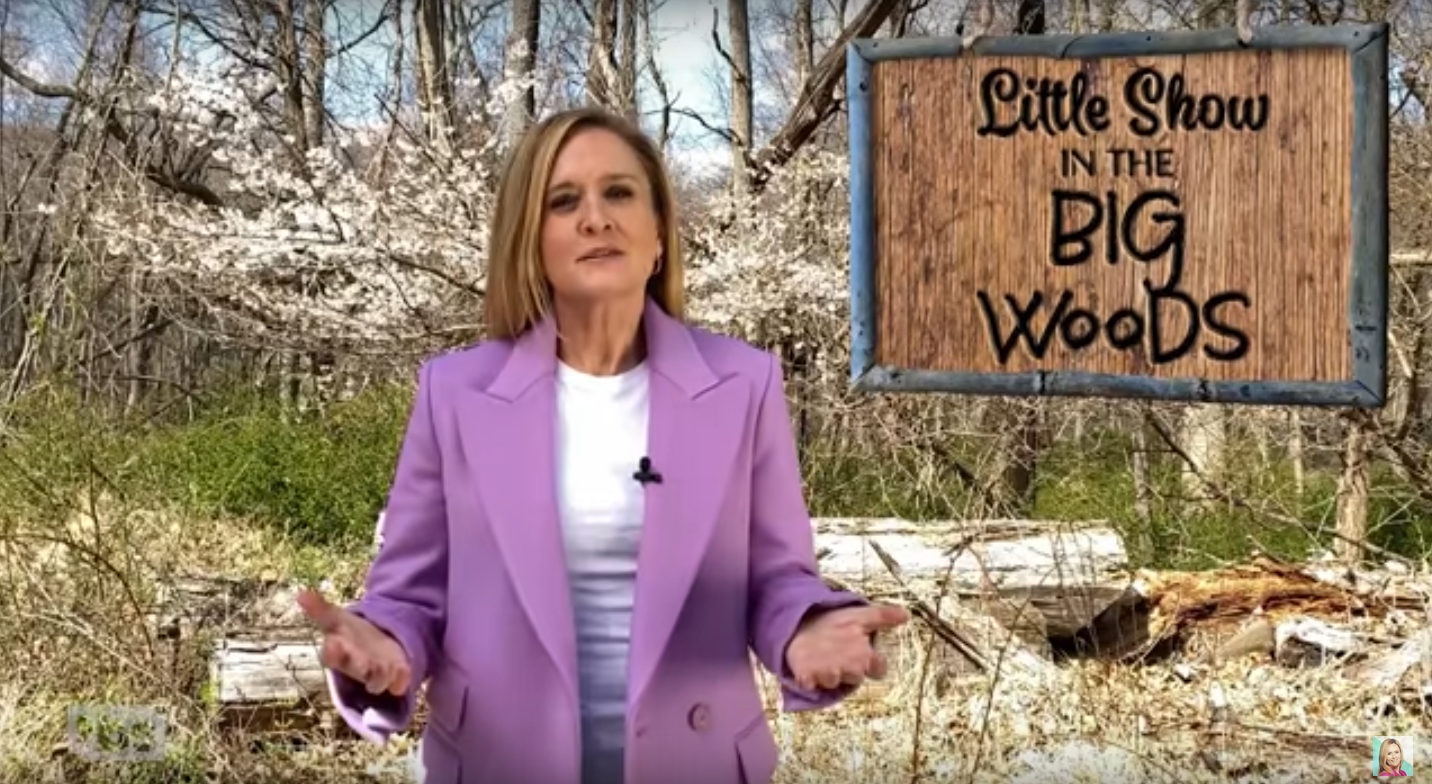 Late Night's Seth Meyers has had a few struggles finding a spot to work from home. He started out in a hallway in his Manhattan duplex but was in his family's way so moved to his library. The setup was engagingly unpretentious: books in the wall-hung bookshelves are clearly unstyled (one is upside down), and Meyers is casually dressed, wearing, for example, a plaid flannel shirt with one pocket unbuttoned. He has since moved upstairs to a cozy room in the attic: white-painted walls and woodwork; exposed bricks and beams; table with a lamp, two artfully placed books, and a vase of forsythia branches; and a wicker basket on the floor with a blanket rolled up inside. Meyers' spaces are charming, especially compared to the soulless warehouse-like studio Late Night normally records from.
Speaking of soulless, John Oliver is doing Last Week Tonight in front of a white background so plain that it could be a photographer's backdrop. As he put it, "It kind of looks like the place movie characters go when they've just died." He wears a suit and tie as he would in the studio. We all have our new normal.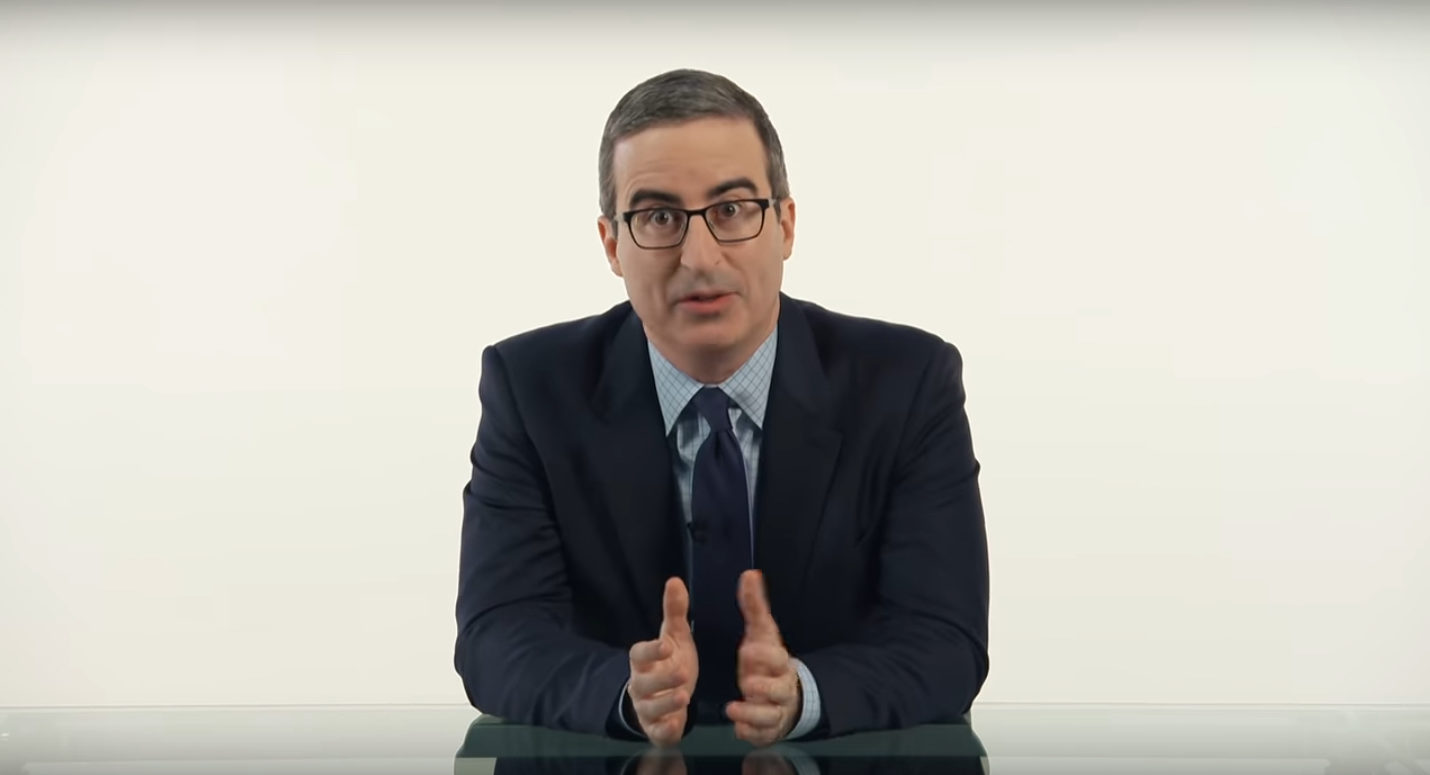 ________
Never miss a story. Sign up for NUVO's weekly newsletter here.