Walk-Through the Stunning Invictus TT460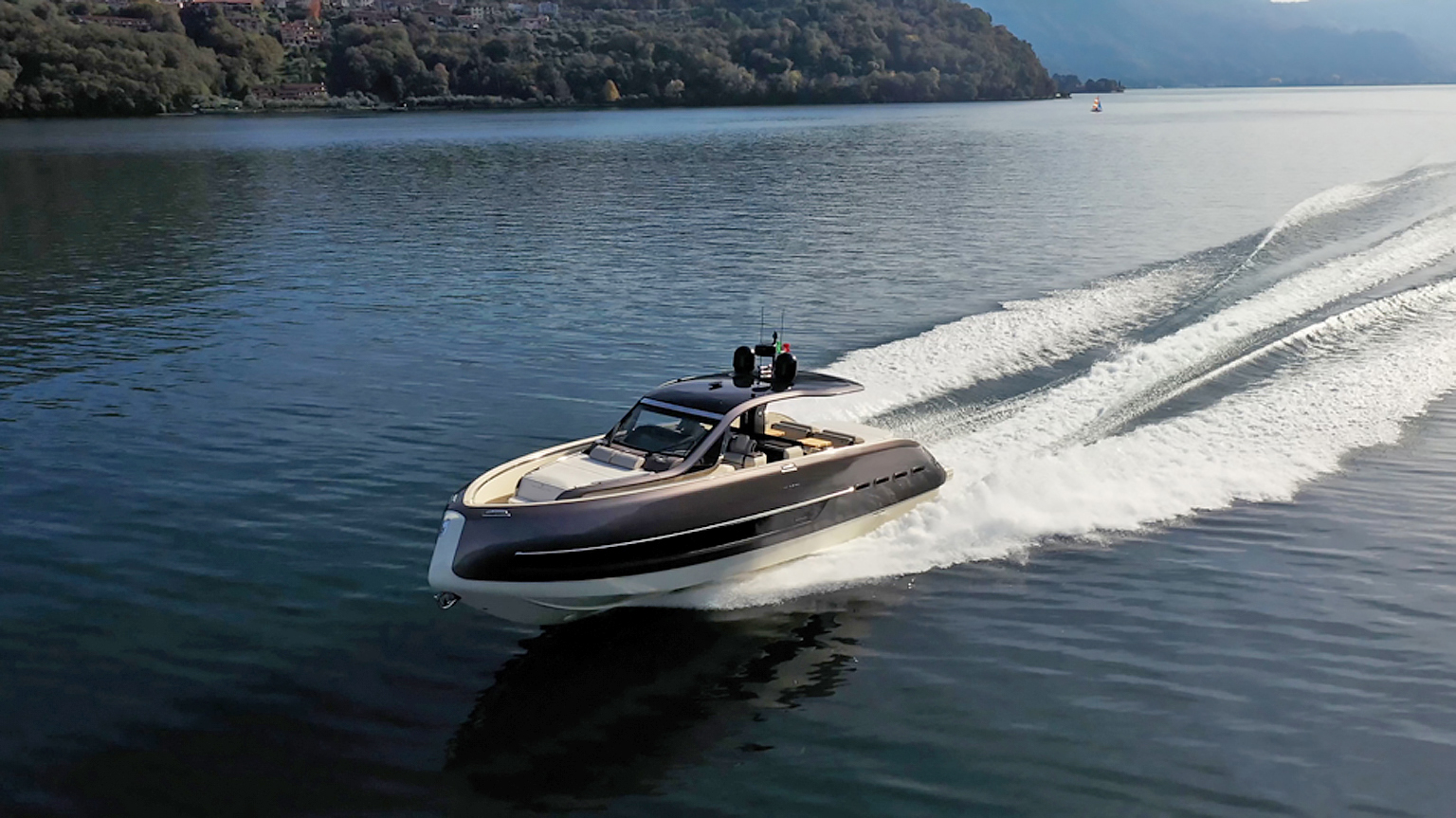 A walk-through of the new Invictus TT460 can't fail to elicit a boatload of smiles from the most discerning buyer. Elegant, sporty, and capable, this new yacht impresses with its design, build quality, and engineering.
Designed by Christian Grande and built in Italy by Cantieri Aschenez for Invictus Yacht, the TT460 is deceptively simple, its clean lines concealing all manner of surprises within. Stretching a generous 14.27 metres in overall length and with a 4.43-metre beam, the TT460 at first glance looks like a particularly stylish day boat with its broad bow seating area, inviting aft cockpit, and sweeping hardtop supported by a single central pedestal to resemble a cantilevered roof.
But to really appreciate this yacht, you have to step aboard its deep, full-width swim platform and look around. Beautiful teak decking on the platform (and throughout the yacht) balances the flowing fibreglass and carbon fibre elsewhere for a modern look that's rooted in yachting tradition. Yet beneath that classic form lies modern innovation, including a hydraulic lift on the swim platform to facilitate reboarding.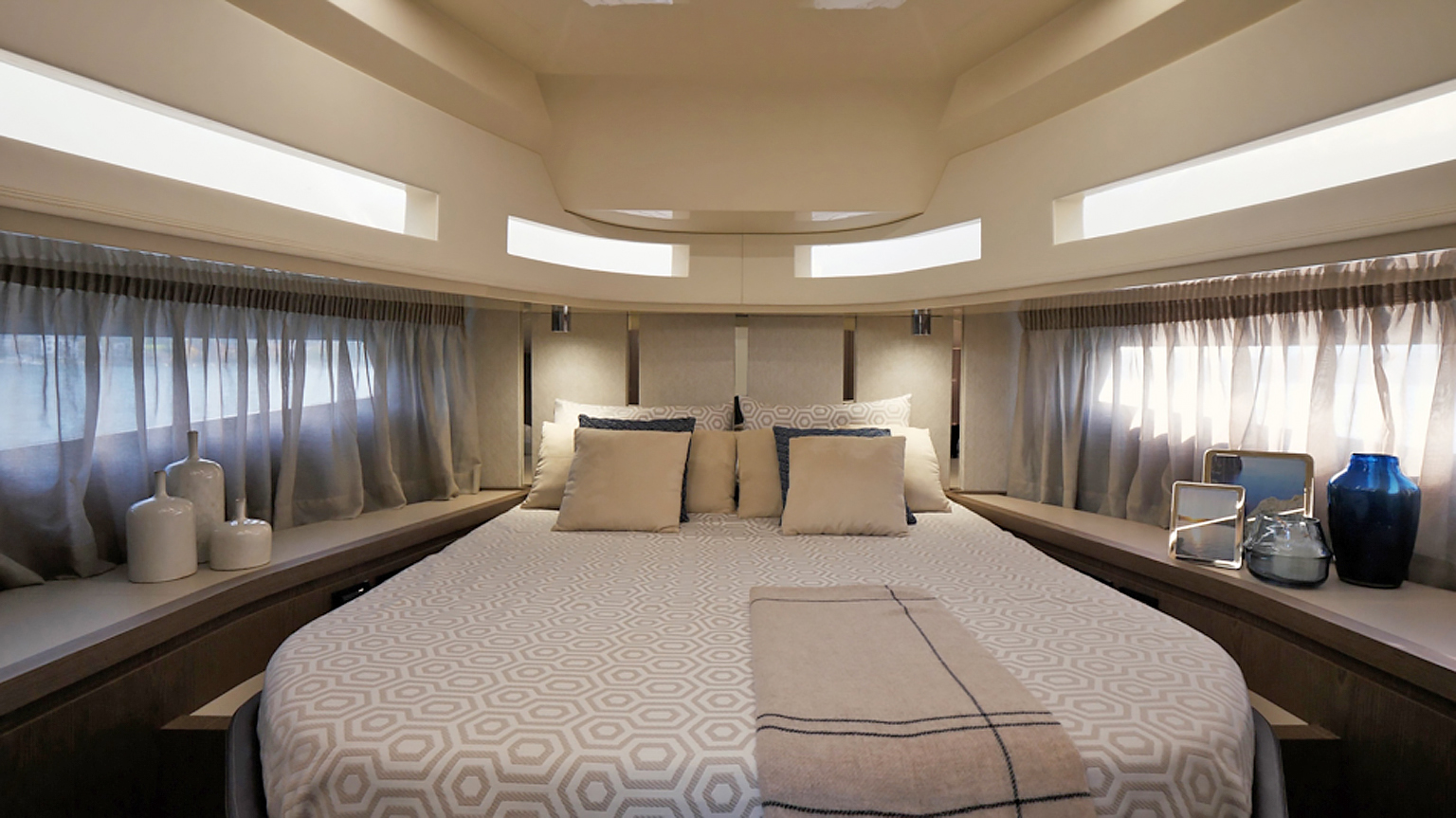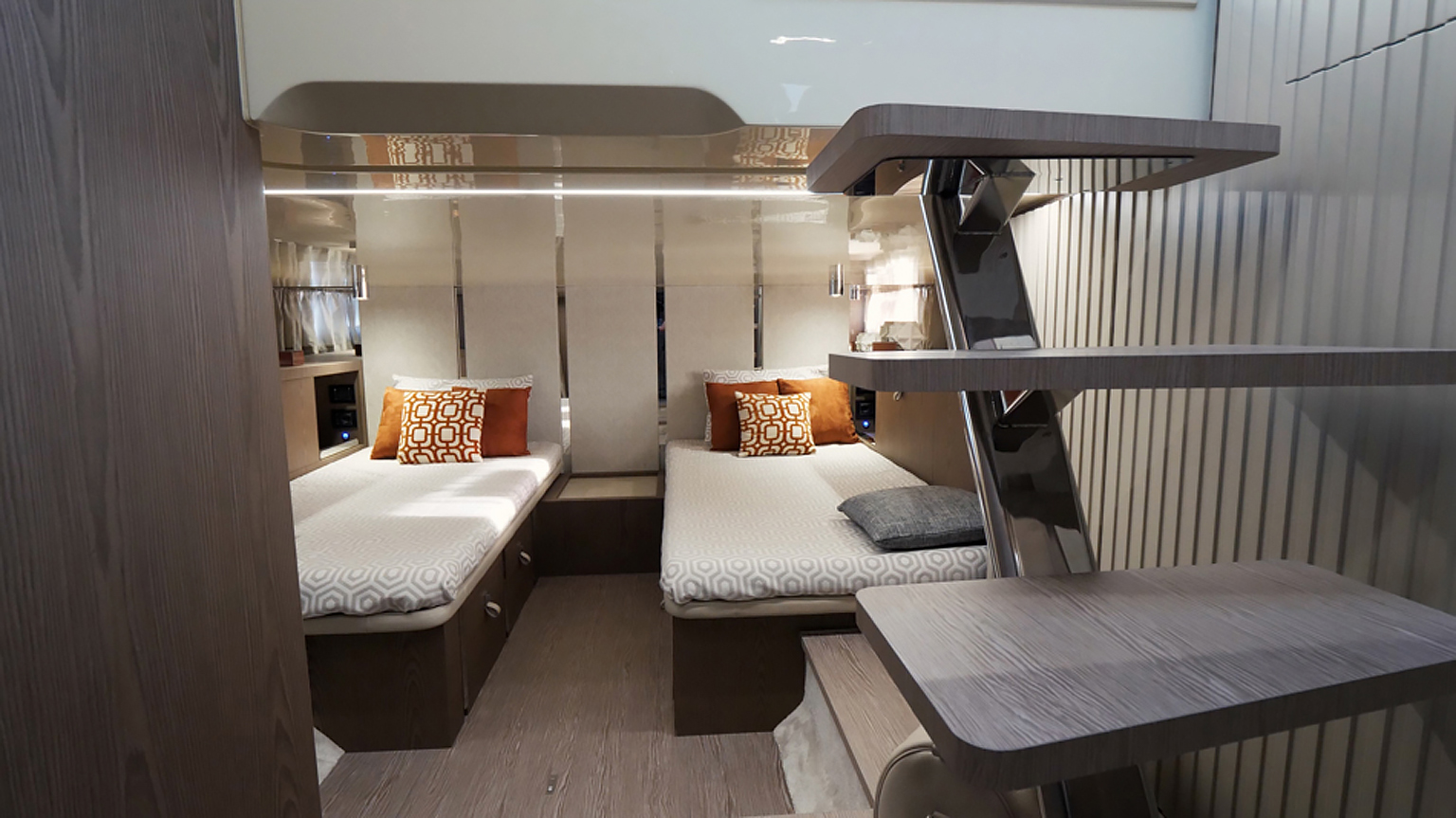 Beneath the TT460's enormous, aft-facing sun lounge is a tender garage, a feature rarely seen on an open yacht of this size. Pushing a button raises the sun lounge on twin rams to provide easy, unrestricted access.
The TT460 can accommodate the tender partly thanks to the yacht's generous beam and partly because of the compact dimensions of its Volvo Penta twin D6 IPS 650 engines. With their massive low-end grunt, the Volvos give this yacht a top speed of more than 35 knots while cruising quite happily at 25.
Walk-throughs on either end of the platform lead forward into the cockpit, with its panoramic perspectives under the protection of that floating hard top. The ideal spot to take in the views with a cold drink or a hot dinner, its twin height-adjustable wood tables extend to form a single, near full-width continuous dining surface when entertaining guests. A central island houses a wet bar and galley area, with space below for drawer storage, a cockpit refrigerator, and a freezer.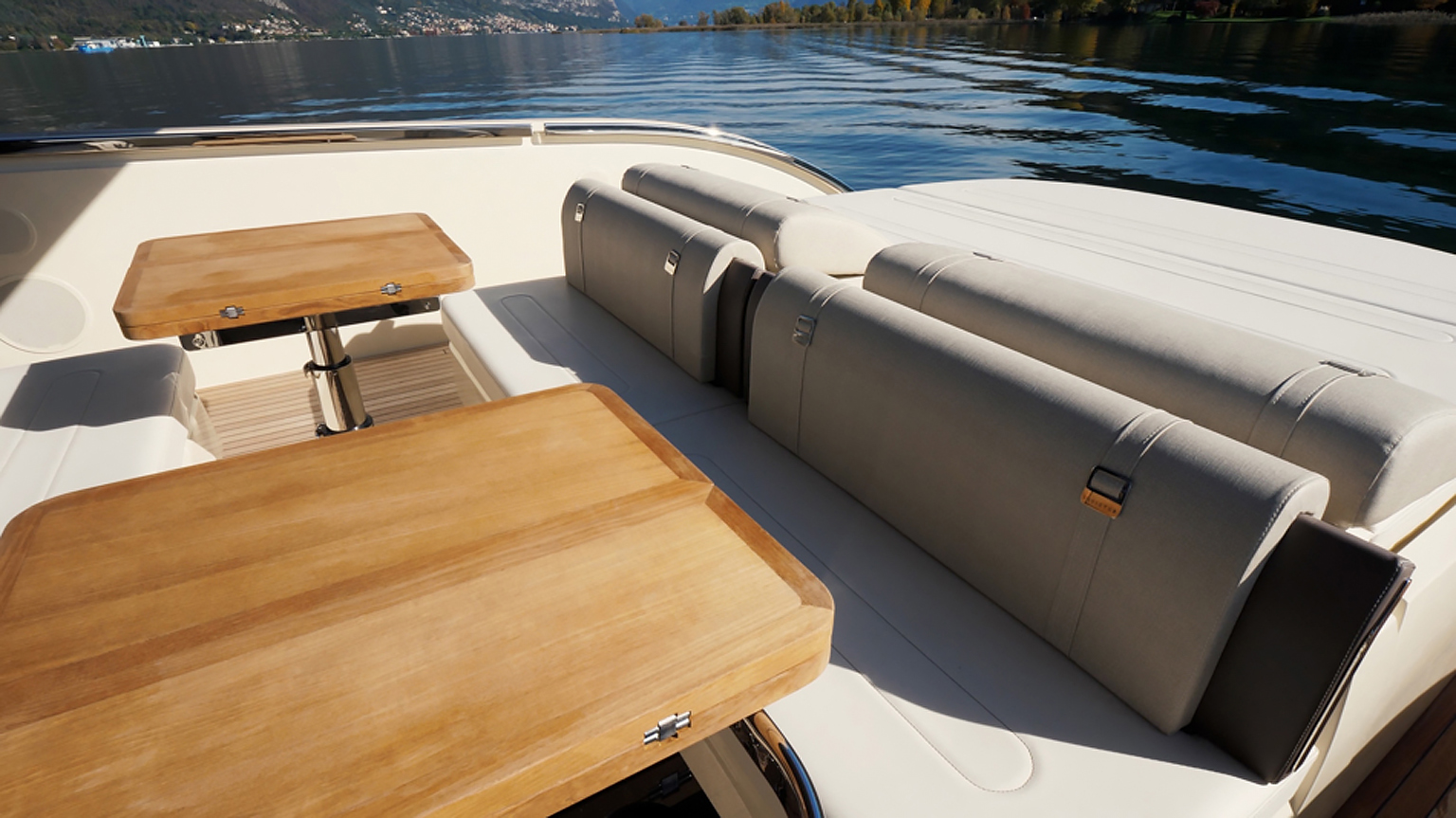 Just ahead, the attractive console features Volvo Penta's glass helm, giving the yacht a fully digital dash that looks like something right out of a private jet. The triple-wide helm seat provides unobstructed views thanks to the ingenious design of the elegantly swooping windshield and side-window profile, while ensuring full wind protection. The beefy padded steering wheel, located before the starboard-side seat, adjusts to suit drivers of all heights.
From the helm, if you follow the side promenades further forward, you'll arrive at the spacious bow, where a double-wide elevated sun lounge invites relaxation with a view. Or you can head below to explore the overnight accommodations.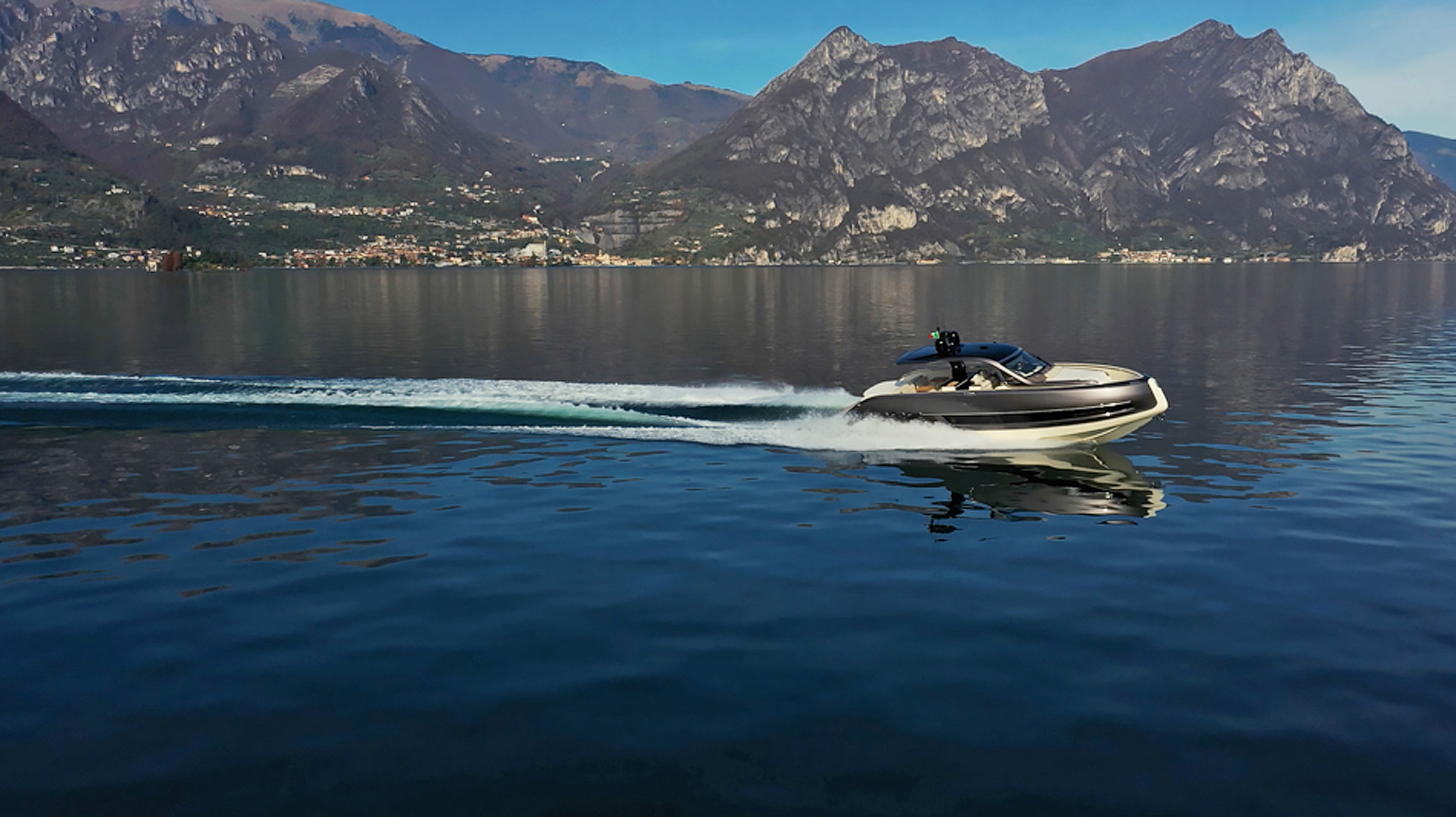 The TT460 offers two private suites, something virtually unheard of in a yacht of this size. The master accommodations in the bow provide ample space and remarkable headroom, while guest accommodations feature twins that can be pushed together to form a king berth. Large privacy windows ensure an abundance of natural light throughout the lower deck.
With a generous 1,300-litre fuel capacity, the TT460 is built to go the distance, so owners can make the most of its high speed and explore far and wide.
Stuck between wanting an open day boat to enjoy the summer sun but need a bit of luxury for long weekend getaways? Invictus has the answer in its TT460—a brilliant, stylish yacht that can't help leaving smiles in its wake.