Heavenly Lamb Belly With a Spring Pea Purée
Chef Chris Lam shows that lamb and peas go together like peanut butter and jelly.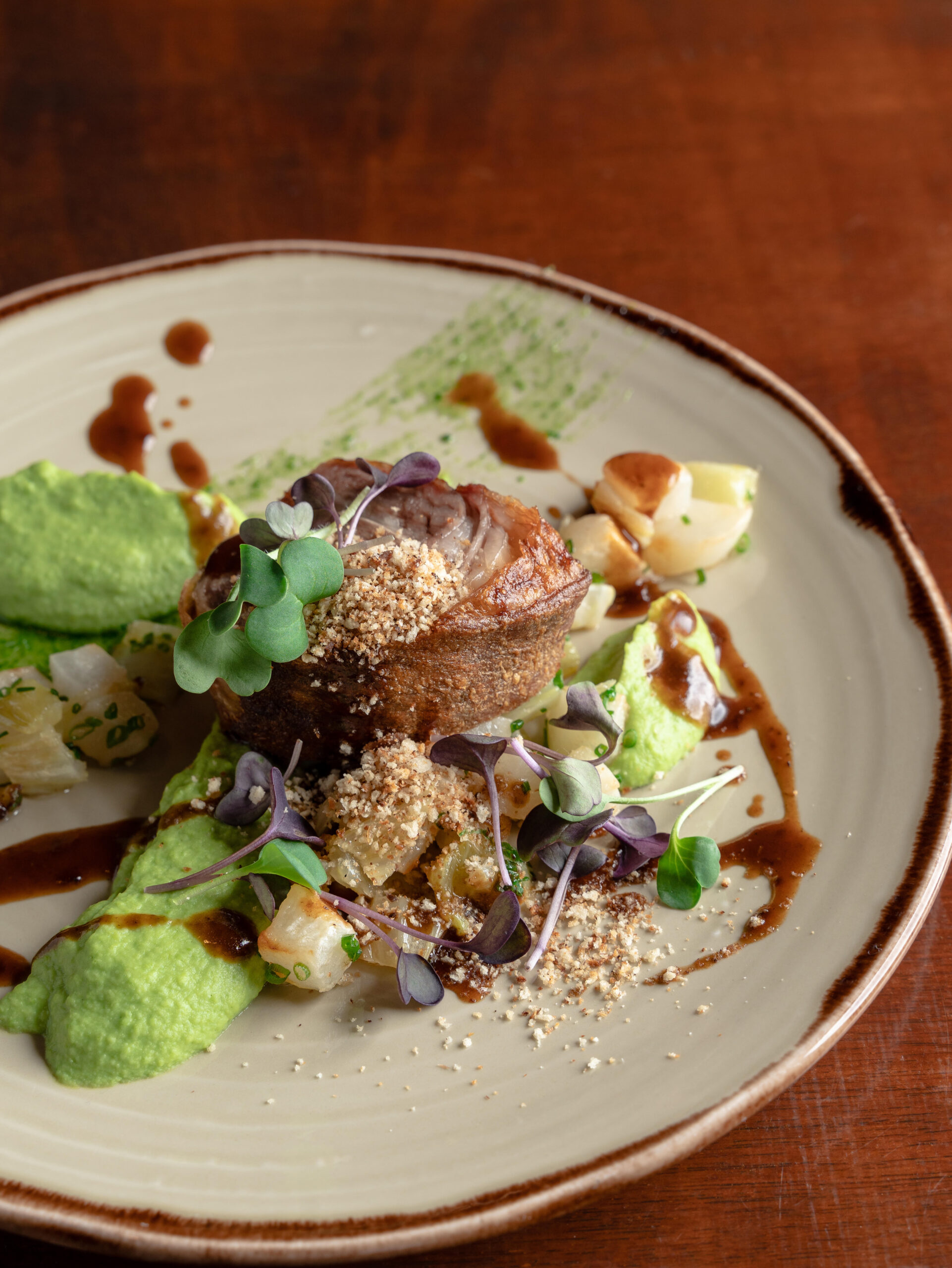 While it may not get the love peanut butter and jelly or bacon and eggs do, lamb and peas are as classic a food pairing as any. Chris Lam, chef/owner of Vancouver's Straight and Marrow, recognizes this. With the recent release of the restaurant's summer menu, Lam knocks the lamb and pea pairing out of the park with the addition of roasted turnips and fennel as well as anchovy breadcrumbs. Below, chef Lam has provided his recipe that pairs well with summer or any other season.
Ingredients
For the lamb belly:
1 whole lamb belly, deboned
2 tablespoons salt
1 tablespoon pepper
½ cup red wine
1.5 cups beef stock
2 tablespoons butter
For the spring pea purée:
6 tablespoons butter
1 tablespoons vegetable oil
½ white onion, diced
3 garlic cloves, minced
1.5 pounds frozen peas
½ tablespoon salt
1 cup chicken stock
½ cup whipping cream
½ bunch of fresh mint
For the roast vegetables:
2 turnips, peeled
1 head of fennel
2 tablespoons vegetable oil
Salt and pepper to taste
For the anchovy breadcrumb:
15 grams anchovy paste
1 tablespoon vegetable oil
½ cup panko breadcrumbs
Method
For the lamb belly:
Wipe away any extra moisture on the lamb with paper towels and season both sides with salt and pepper.
Roll the belly with the fat side facing the outside and tie tightly with butchers twine—4–5 strings should suffice. Bake on a wire rack in a preheated 325°F oven for 3.5 hours.
Let it rest, covered with aluminum foil, for 15 minutes before serving.
To make a sauce, deglaze the pan with the red wine, making sure to scrape off any bits with a wooden spoon. Pour into a pot and add the beef stock. Bring to a simmer before whisking in the butter.
For the spring pea purée:
In a heavy-bottomed pan on medium high heat, add the butter and oil. When melted, add the onion and garlic and sauté until the onions are translucent.
Add the peas and salt. Cook for 3–4 minutes, stirring occasionally with a wooden spoon.
Add the stock and cream and heat until bubbling. Add the mint leaves.
Place the heated mixture in a blender or food processor and blend until smooth. Set aside until ready to use.
For the roast vegetables:
Cut the turnips and fennel into equal-sized cubes (roughly ½ inch).
In a bowl, mix the vegetables with the oil and season generously with salt and pepper.
Pour the vegetables onto an oven tray and roast in a preheated 425°F oven for 15–20 minutes. Set aside until ready to use.
For the anchovy breadcrumbs:
In a sauté pan, heat the anchovy paste and oil on medium-low heat. Stir until incorporated.
Add the breadcrumbs and cook until golden brown or desired colour is achieved, making sure to stir occasionally to avoid burning.
To assemble:
Spoon a base of pea purée onto a plate. Add the roasted turnips and fennel.
Remove the butchers twine from the belly roll and slice into desired portions.
Lay one of these portions on top of the vegetables.
Spoon the pan sauce on and garnish with the anchovy breadcrumbs.