The Evolution of Ergonomics—Furniture That Works With You
From "active chairs" to sustainable standing desks, home office furniture is getting an upgrade.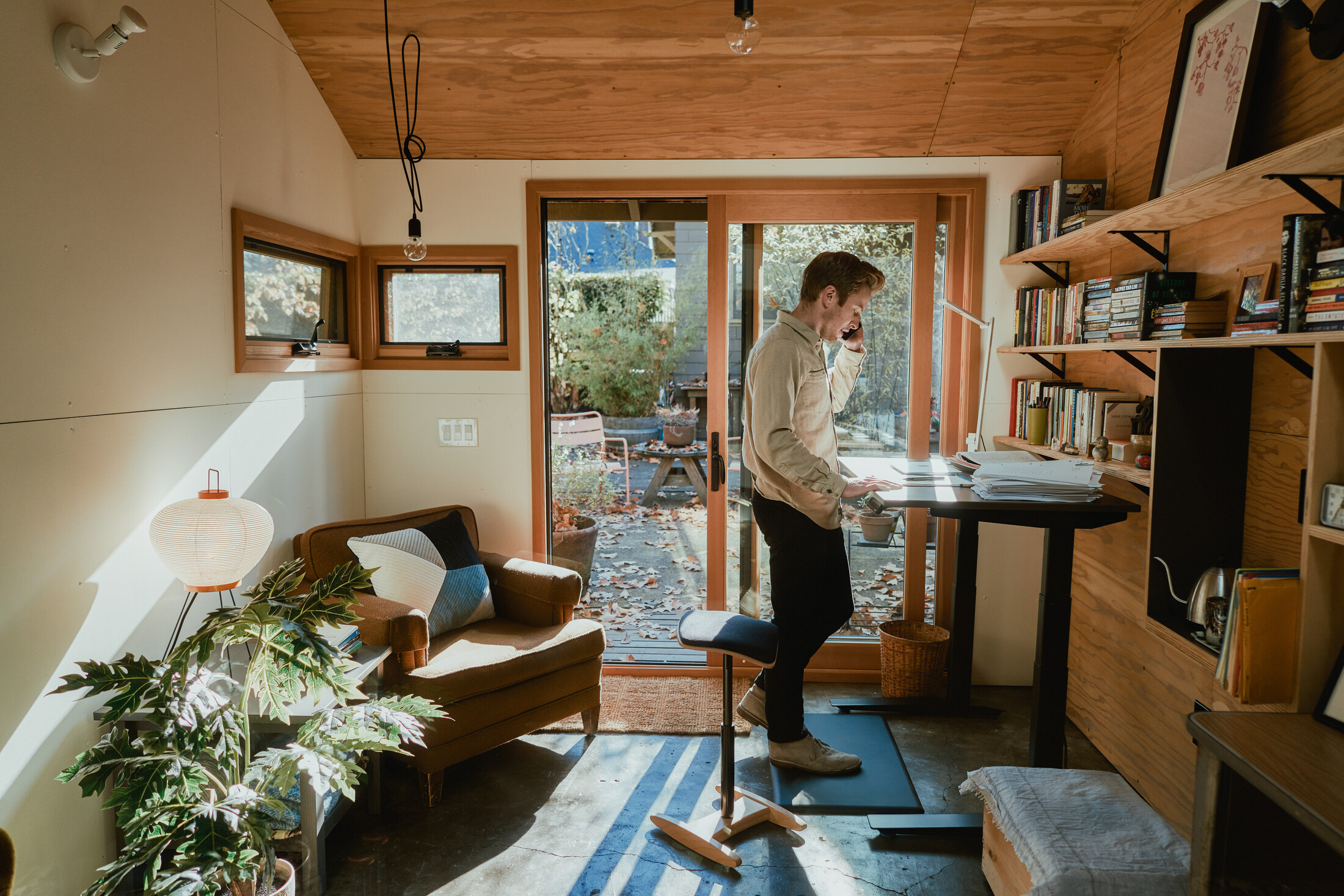 Before the humble home office became central to our daily lives, most workspaces were a sea of black and grey plastic. Now, as health and design increasingly intersect, options for ergonomic furniture are expanding far beyond the classic Herman Miller Aeron chair. Today's setups are as aesthetically pleasing as they are environmentally friendly and beneficial to our posture—a necessary shift amid the stresses of the pandemic.
Over the past 15 months, osteopaths like Dr. Liza Egbogah of the[fix], a boutique manual therapy clinic in downtown Toronto, have seen a sharp rise in back and neck strains due to makeshift home offices and bad habits like working from the couch or, worse, from bed.
Fortunately, more furniture designers are emerging with pieces devised to bridge the gap between coziness and functionality. "The new ergonomic chairs have high-tech features like adjustable lumbar support, but they also fit into a more modern luxe office space or the home," Egbogah says.
While the industrial revolutions marked the birth of the 90-90-90 sitting position (where the elbows, knees, and hips are all bent at right angles), companies such as Fully have rejected rigidity in favour of chairs that encourage blood flow and muscle engagement. Some of the brand's most popular "active chairs" like the Tic Toc stool allow for a subtle back-and-forth movement to help activate the core, while their award-winning Capisco Chair by HÅG has a saddle-like seat that opens the hips and reduces pressure on the tailbone.
Not long ago sitting was called "the new smoking" by endocrinologist James Levine—sparking the standing desk revolution—but recent studies show prolonged standing isn't healthy for the joints, either.
In response, flexible standing desk solutions have emerged, making it easier to switch between standing and sitting throughout the day. Take the electric height-adjustable FlexiSpot Bamboo Kana, which features a dual-motor lifting system and crossbar-free frame that can be customized for different height ranges and weight capacities. For remote workers on the go, Harmoni—a company founded in 2020 by a group of entrepreneurs in Berlin and Manchester—offers an elegant and portable laptop stand that transforms any table into a standing desk. Made of FSC-certified birch, maple, oak, and walnut sustainably sourced from Canadian forests, each model offers a unique tone and character—without a huge carbon footprint.
Even for longstanding ergonomic furniture companies, sustainability has become an important consideration. Humanscale, best known for its ergonomic task chairs created in collaboration with industrial designer Niels Diffrient, now uses captured rainwater for 100 per cent of its production and powers its facility with solar energy. Among its climate-positive products is the Smart Ocean chair made from almost two pounds of recycled fishing net woven to create a form-sensing mesh.
The arrival of greener furniture coincides with more offices setting aggressive environmental objectives. "These goals start to affect their purchasing decisions across the board, including office furniture," Humanscale's chief sustainability officer Jane Abernethy says. "This leads to higher expectations for using healthy materials, being transparent, low embodied carbon, and also more interest in products that are sustainable in an innovative way."
As the future of shared office environments still hangs in the balance, how—and where—we work is top of mind. Fortunately, the death of the drab cubicle has brought about a world of new possibilities.