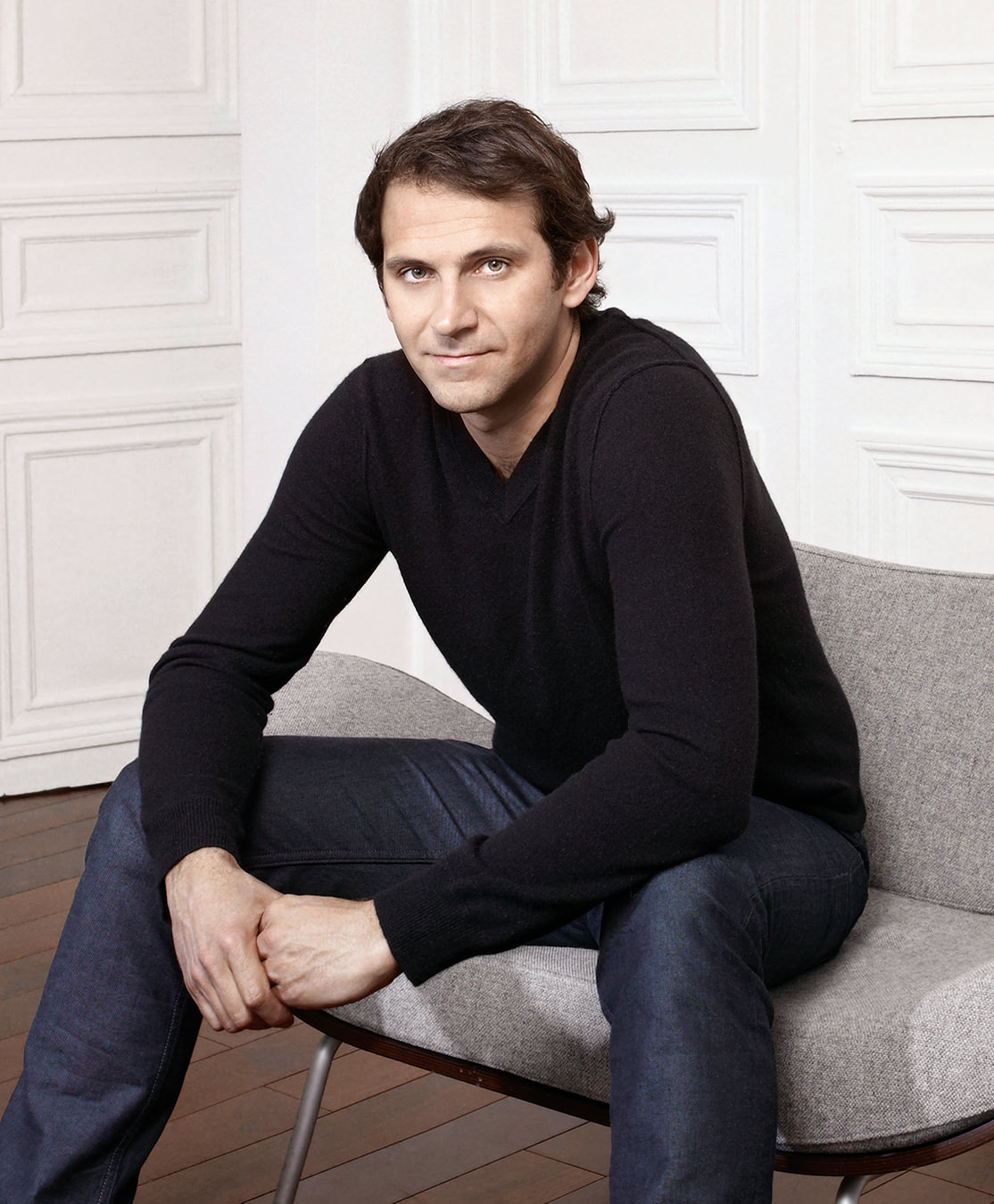 Jean-Marc Gady appears to ask himself most often, "What would happen if…?" About the only element common to the far-ranging projects in his portfolio is a unique take on everyday objects. Show the Paris-born designer a pleated lampshade—yawn, you've seen it a million times—and what does he do? He multiplies and changes the scale of it, joining the shades into a sculptural wheel almost two metres across, and describing it as "a deliberately mischievous evocation of a cancan dancer's petticoat." Hand Gady an amphora crystal vase from Baccarat and he tilts it subversively, setting it on its side to resemble "a buried treasure brought to the surface." This is someone who consistently considers things from a different, sometimes literally skewed, perspective, riffing on familiar objects to present them in a new light that, while undeniably modern, never loses sight of their roots.
Gady graduated from design school—L'École Bleue in Paris, where he now teaches—and kicked off his career with furniture, lighting, and tableware for Ligne Roset and Liv'it. His next move was masterminding store windows and events for Louis Vuitton in 2002. Four years later, he left and "decided to found my own little company … Today it's all mixed together," he says, "and that's fine with me."
His company is headquartered on a back street between Gare Saint-Lazare and the shopping hub of Boulevard Haussmann, and it has now grown to eight collaborators. Work that halts you in your tracks is displayed at the entrance. Suggesting both a blossom and a container for it, the deeply red Royale Rose vase is all angles. "More like the computerization of a flower. I've been doing a lot of laid-down vases," says Gady. These include Ammo, a gravity-defying glass piece that he compares to "a cannon on its base, but with flowers for ammunition."
It doesn't tip over, either: for Gady, style never trumps practicality. One of the most useful serving devices around, his Gourmet line consists of platters formed from three, five, or seven different-sized white plates attached to each other so that foods can be separate but still together—and, yes, he says, the smaller ones fit in a dishwasher. First designed in 1996, his mouth-blown Pyrex Air Cup for Ligne Roset, with double-walled construction that keeps espressos piping hot, is still in production.
Gady may work with blue-chip brands (he has a long-term relationship with Moët & Chandon; a chandelier project with Baccarat is currently in the works), but he doesn't lose sight of everyday design. In a video for L'Express Styles, an online French magazine, Gady demonstrates a do-it-yourself installation that combines polystyrene balls with toothpicks and is illuminated by an IKEA lamp.
Making magic of bourgeois lampshades and iconic crystal vases is nothing compared with how Gady transforms the visual bête noire of fluorescent tube lighting. Gady is a fan of its power-efficiency, and he's intrigued by "the diffraction of the lamp inside", so he joined forces with a glass-blower and set out to do a major makeover. The result is Candy Cane, an elegant length of ribbed glass with an incandescent core.
"I had this click two years ago. I had time to do products," says the designer, who is often in partnership with long-established companies. Along with stretching his own boundaries, Gady likes to do the same for others. For his Yume chair, he first contacted Perrouin, a five-generations-old firm known for its woven chairs, and then he came up with a new streamlined design. He would like to rethink his iconic rush-seated chair, but convincing traditional craftspeople to work with him isn't always easy. "They think all designers are divas," he says. "You have to get their confidence."
Whimsical, witty, but remarkably down-to-earth, Gady defies classification. Projects for Diptyque blend materials as various as leather and porcelain with the company's signature scented wax. His scenography can mean displays for Repetto, the go-to boutique for ballerina flats, or a Louis Vuitton exhibit at the Carnavalet Museum in Paris, or a Chanel press launch during which a video is shown inside a gargantuan No. 5 bottle. "I like all the projects where you can find territory to dream," he concludes. "My style? I'm not really sure I have one."
Top photo by by Elodie Dupuis.