Design Space: Bel Corpo Aesthetics Studio by Babayants Architects
A monochromatic clinic with a sculptural staircase.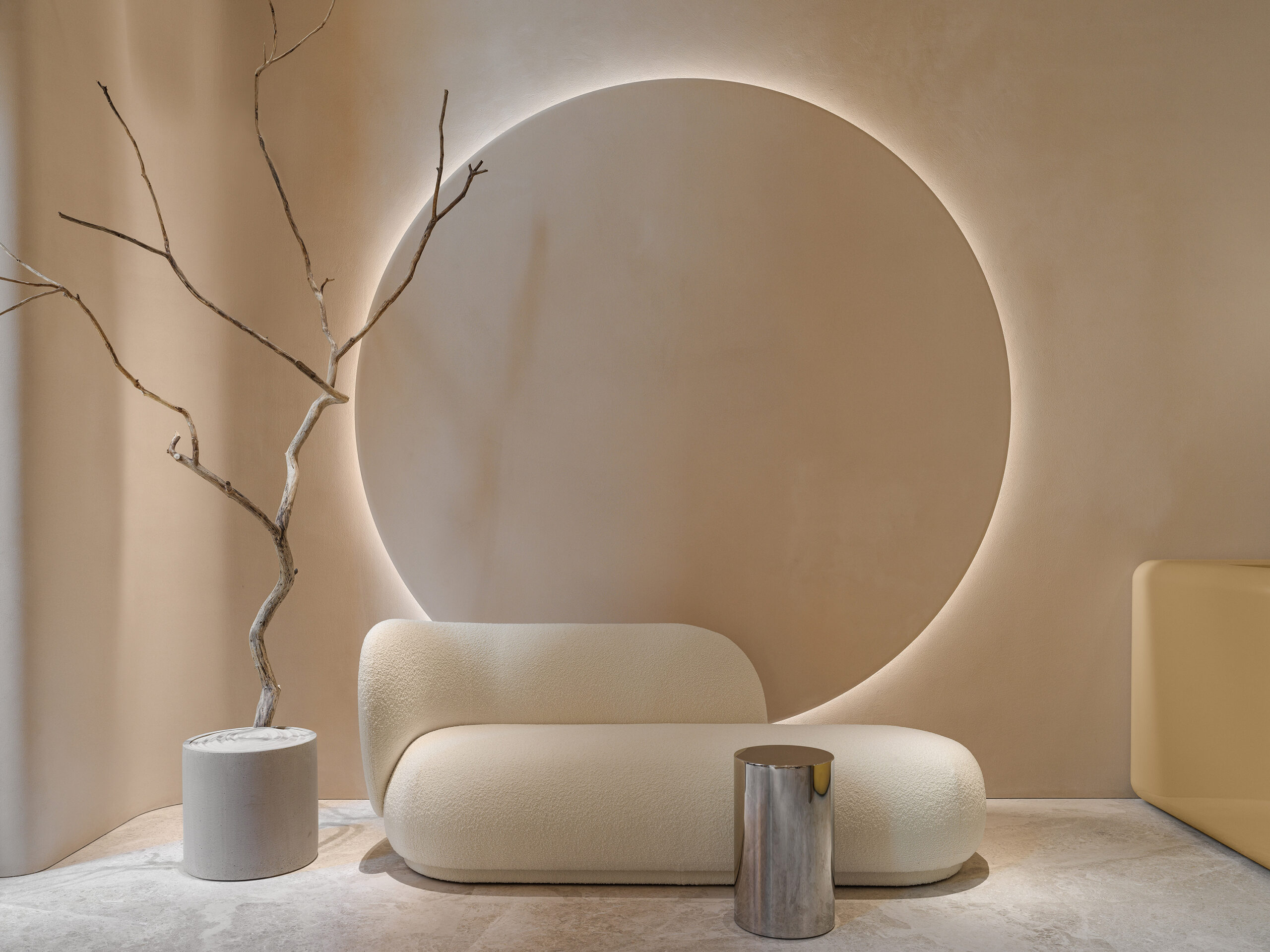 In Moscow, a monochromatic body aesthetics clinic by Babayants Architects is an escape from the bustle of the city, marking the firm's first foray into commercial design. Babayants's assignment was to create a beautiful and soothing minimalist studio that would put Bel Corpo's clients at ease during every step of their treatments. The answering 1,600-square-foot space, opened earlier this year, uses soft lighting, a warm beige colour scheme, and tactile textures to create a peaceful spa retreat.
A tall atrium reception is dominated by a sculptural grand staircase with a handmade railing covered in plaster that curves and spirals. In the entryway, a rounded reception desk and matching juice bar in pale yellow, custom-made from fibreglass, are subdued pops of colour, and their glossy finish contrasts with the matte plaster walls. Stripped tree branches that stand vertically act as artwork that adds a natural element to the space. An arched hallway leads to treatment and shower rooms.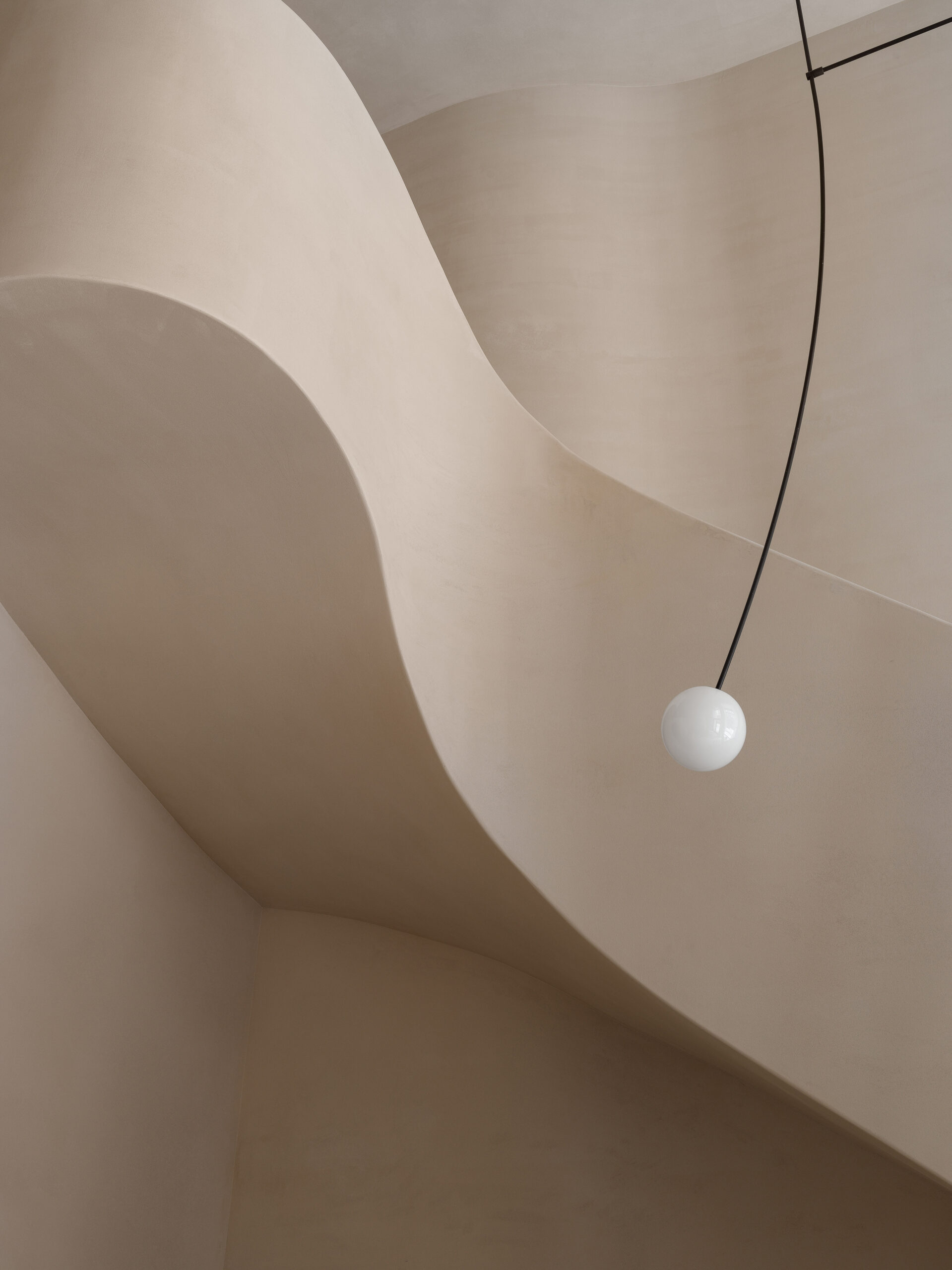 Simple and modern pendant lights, arcing rods with globes on the ends, by London-based lighting designer Michael Anastassiades illuminate the atrium, while round wall sconces with adjustable colour tint and brightness set the mood in the treatment rooms. Diffused backlighting adds additional soft illumination throughout.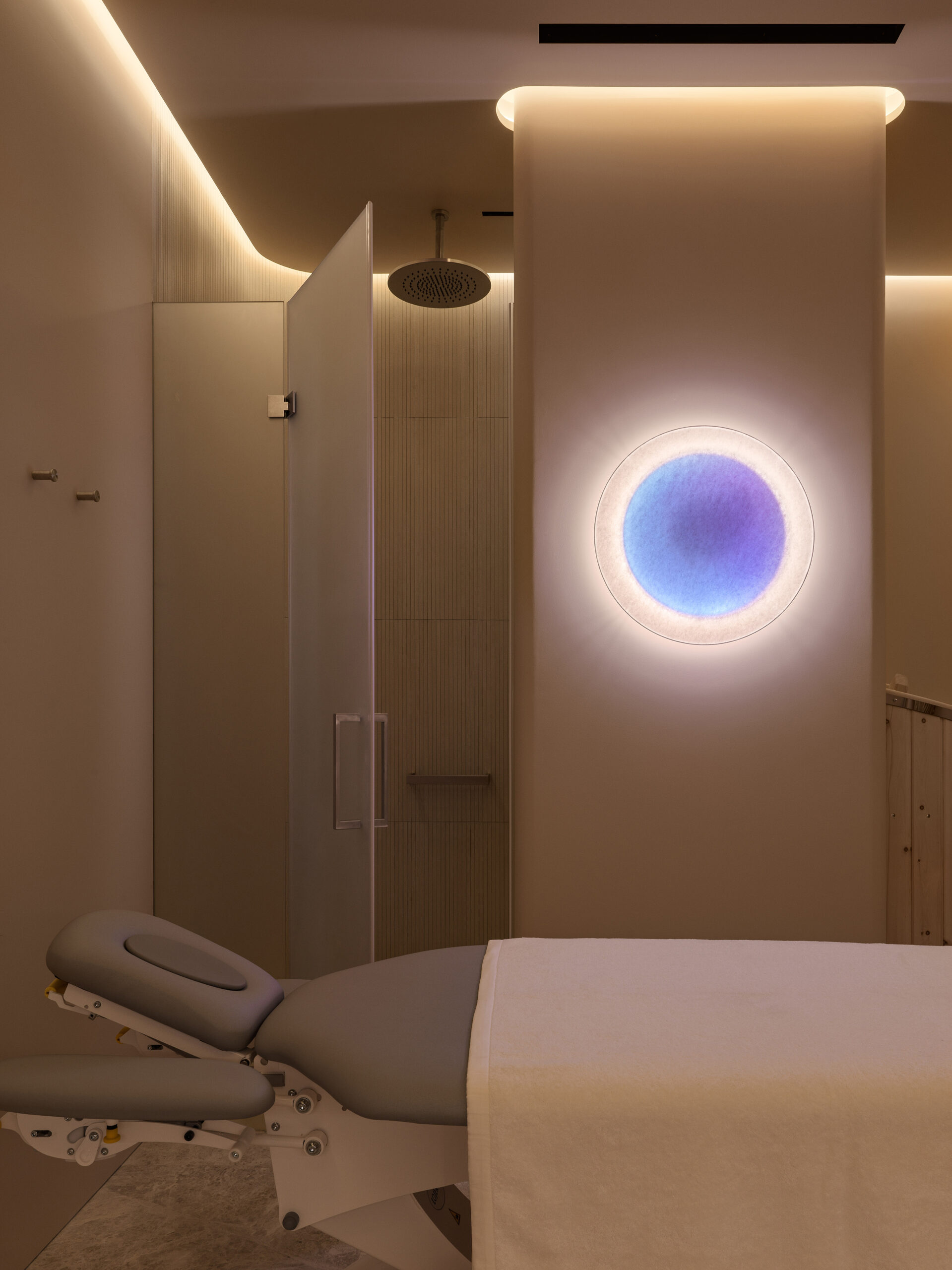 The natural stone floor continues up the stairs. On the second-storey mezzanine, a bed of dried grass from the Netherlands creates textural interest, a grounding contrast to the high-tech alien-like oxygen capsule nearby. More treatment rooms as well as staff and utility areas are also on the second storey.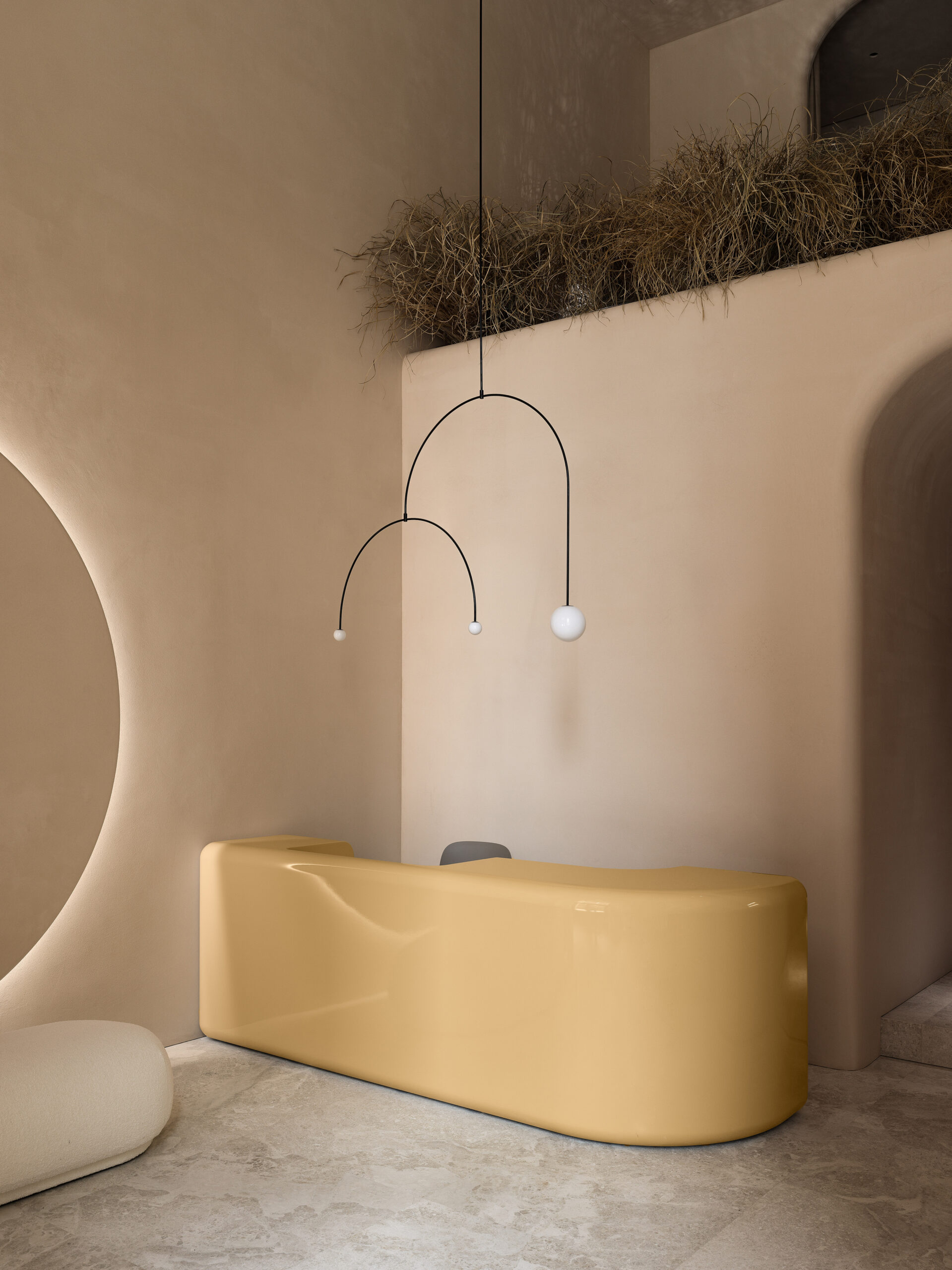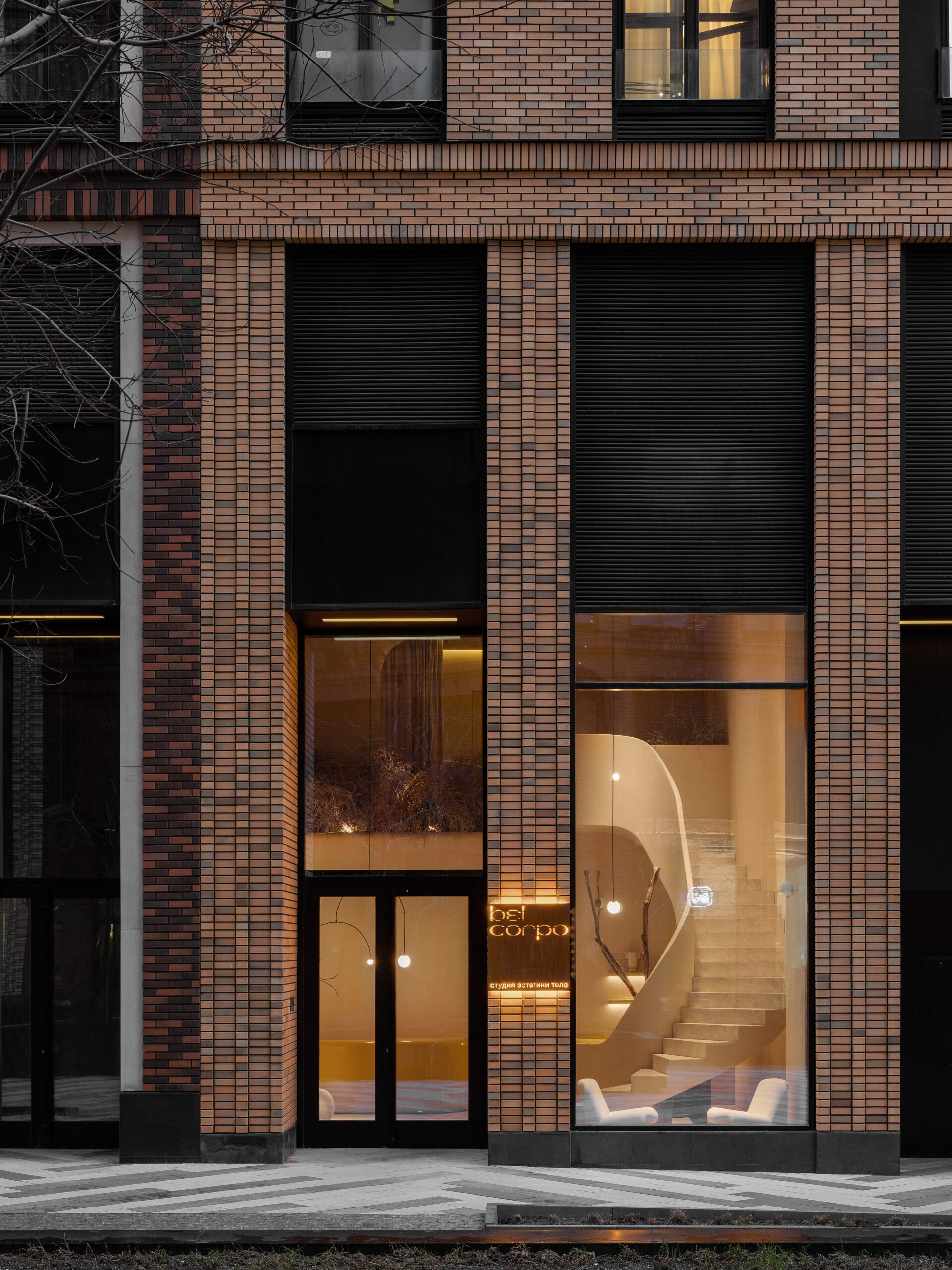 While minimalism can tend toward being cold and uninviting, Babayants rebukes this by mimicking the lines and colours of nature. With its sandy hues, tree branch and dried grass decor, and staircase that feels as though it's been shaped by the wind, Bel Corpo is an ode the softer side of a desertscape, one that invites you in for a juice and a massage.
Photography by Sergey Krasyuk.