History, Design, and Culinary Delights in Dalmatia
Seemingly dropped into crystalline turquoise waters, the island of Hvar in Croatia's Dalmatia region looks like a Photoshopped dream. Wealthy Romans built summer villas here. European society flocked to the island on pilgrimages to the Holy Land in the Middle Ages. And in the 1800s, Empress Elisabeth of Austria helped establish the first hotel on the island, then a health-focused winter getaway for well-to-do Europeans, one that still stands.
These days, you might visit modern-day Hvar for its 2,724 sunshine-filled hours a year, high-end hotels, yacht-filled marinas and just-caught seafood, gothic palaces, and historic pedestrian-only streets. And that would be a mere drop in the Adriatic Sea.

Architecture by Design
The old town is surrounded by 13th-century Romanesque walls, red clay-tiled roofs top buildings here, and smooth, polished-marble stones line city streets and alleyways. A mix of Roman, Venetian, and Austrian architecture envelops the curious wanderer with picture-perfect vistas at every turn.
The recently refurbished Riva Marina is a few steps from the main promenade facing the marina. Michael Jordan, Beyoncé, Jay-Z, and a list of A-listers as long as the thoroughfare have parked their floating homes away from home here. For those staying on terra firma, the 50 elegant hotel rooms at Riva Marina have been reimagined in cool blues and whites with a nod to the building's Mediterranean villa roots dating back to 1914.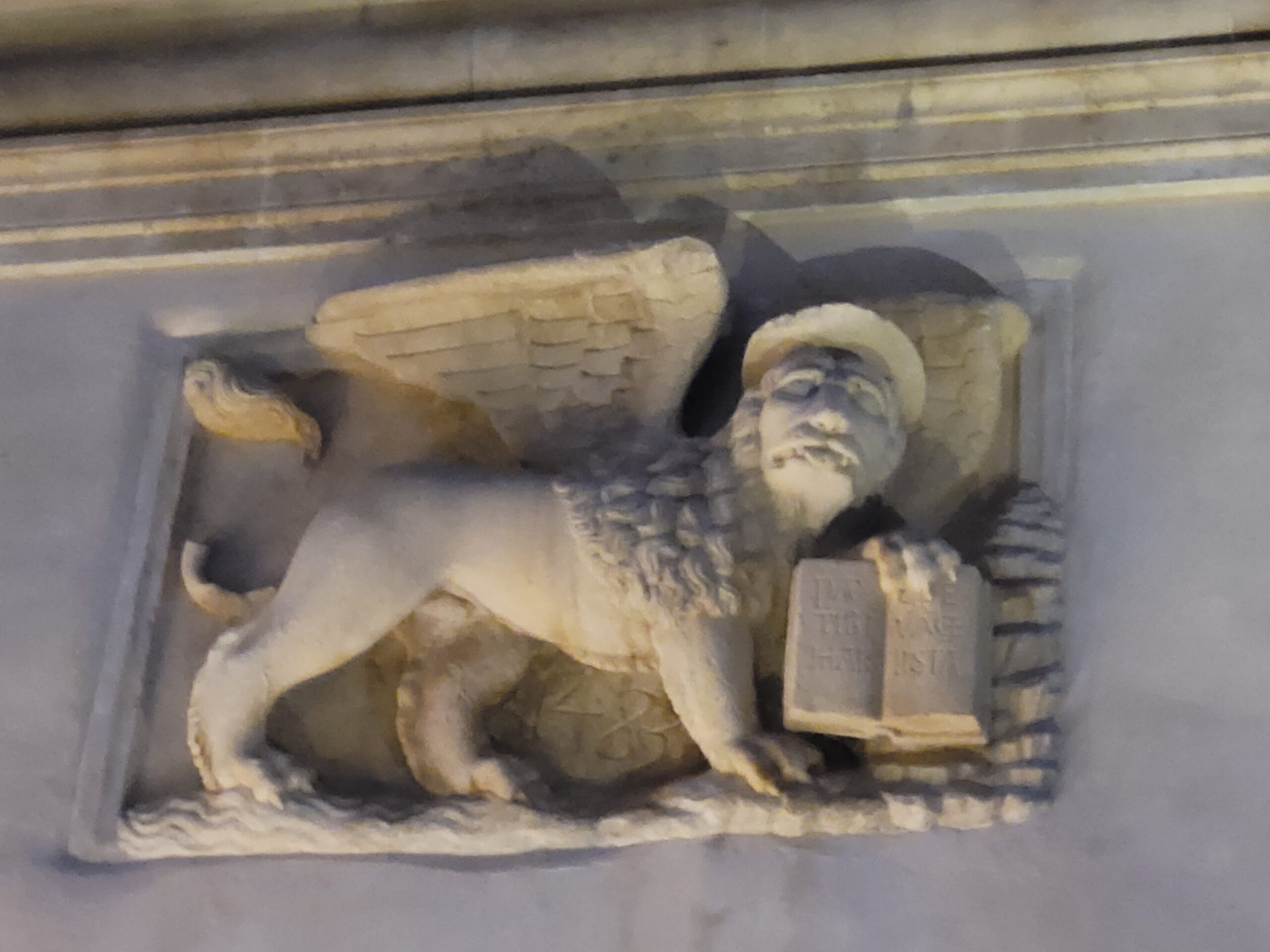 If you arrive via catamaran ferry from Split, you'll be dropped off steps from the hotel's expansive, sun-shaded terrace facing the water. And if you're lucky enough to get a room with a terrace, that's the perfect spot to start or end the day with a glass of something bubbly.
The difference is always in the details, and Riva Marina has thought of just about everything, from a deep claw-footed tub with your very own selection of island lavender or rosemary-flecked bath sea salts to the welcome chocolate bars featuring Dalmatia's bean-to-bar maker, Nadalina's Fig and Sweet Wine bars. Buttery-soft linens, locally made Biobaza toiletries, and thoughtfully designed rooms by Poreč-based architectural firm Tissa and interior design by Oto Blaha provide a restorative stay.

Dalmatian Delicacies
The hotel's bountiful breakfasts feature local products, freshly baked olive-oil rolls, a mini cheese and charcuterie board, just-pulled coffees, and the most delicious savoury entrée on the menu: Turkish poached eggs nestled in a garlicky yogurt and olive oil swirled pool, fuelling your exploration of the island in the best possible way.
Turn right at the seafront promenade and head to the hotel's sister property, the stunning Palace Elisabeth Hvar Heritage Hotel, for a memorable meal at San Marco Restaurant. It is on top of the old town's 15th-century loggia (a lodge that used to be part of the Rector's palace) and comes with an unparalleled sea view.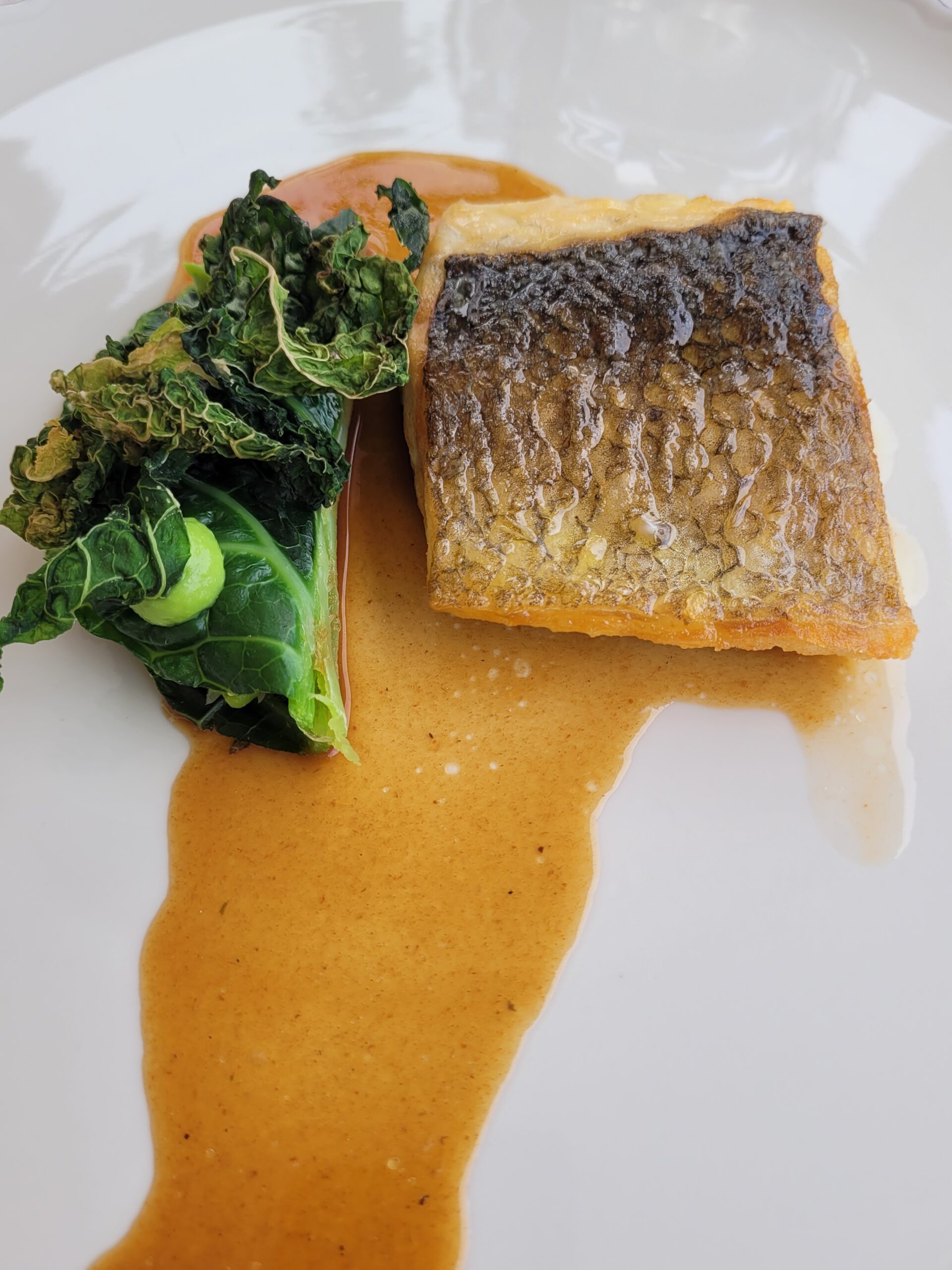 San Marco's menu is Mediterranean in approach, using local produce and products. Start with seared, locally caught capesante (scallops) served over cauliflower cream, parsley oil, crisp Dalmatian pancetta, pillowy black gnocchi tinted with squid ink, and pickled sea fennel. Pair that with a glass of island-produced Bogdanuša wine that's herbal, fresh, bright, and floral—ideal for hot-weather dining. The grilled fillet of branzino (sea bass) is served with wilted kale and a beautiful mushroom reduction that sets the whole dish off. End with the honey and orange beeswax ice cream, orange bitter compote, local honey, and an almond crumble with a dusting of bee pollen. It's an unexpected ode to the island. A satisfying meal ends with a Travarica digestif, a type of rakija (brandy) infused with local aromatic herbs.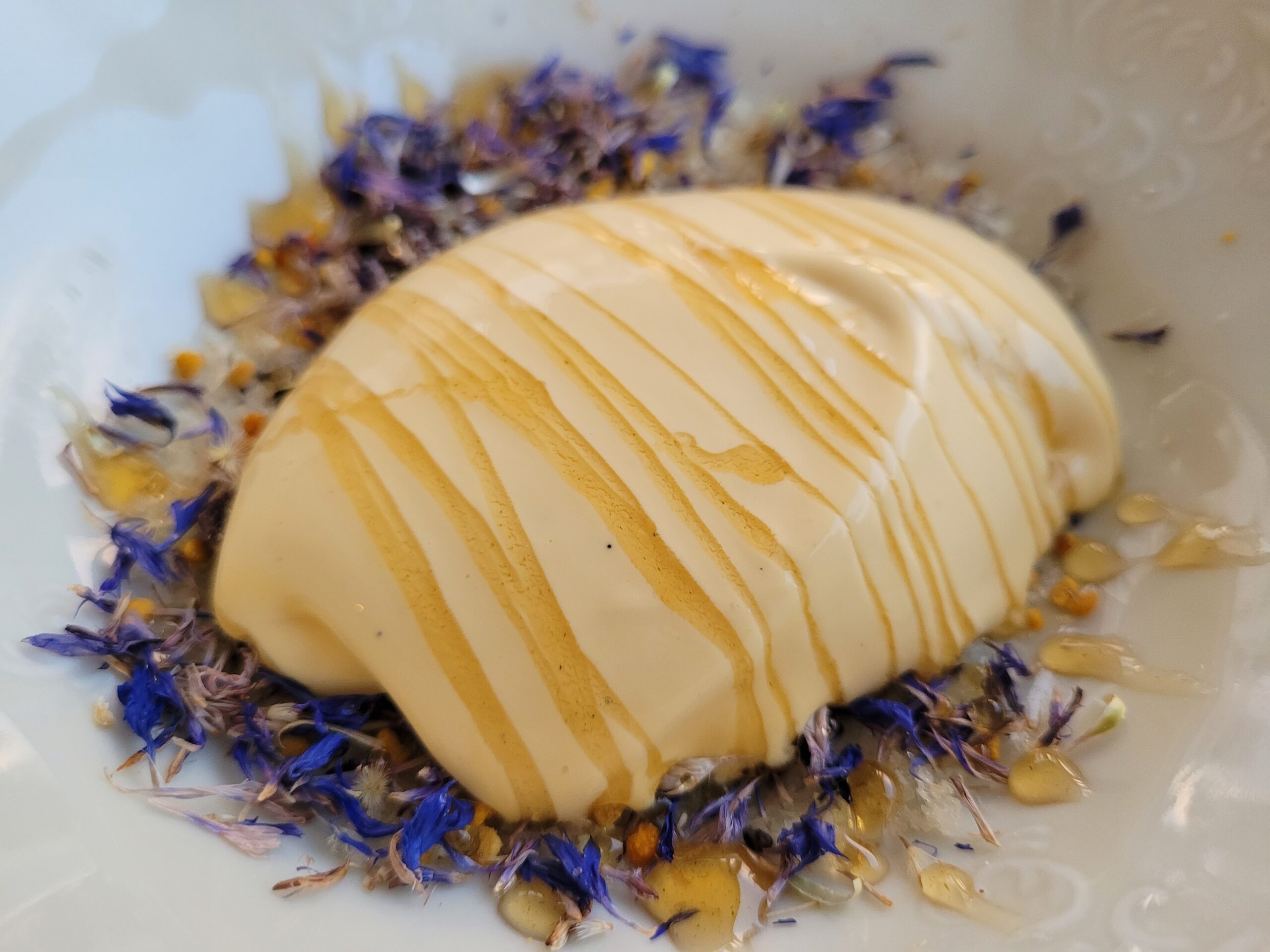 For something more casual, meander the alleyways to the family-owned and operated Grande Luna. Climb up to the open-air rooftop terrace and enjoy a cityscape view alongside your dinner: fresh octopus salad studded with black Croatian olives, grilled fish served with vegetables, cool glasses of local wines, and a rožata, Dalmatia's answer to crème caramel but with a citrusy twist that makes it even more special.

Day Tripping
Zip over to Mlini beach by water taxi, where turquoise water fringes a pebble beach (bring water shoes) baked by a golden Mediterranean sun. Rent a lounger and breathe in that salt-tinged ocean air.
At Luviji Winery, the knowledgeable and hospitable Georgia, a member of the Bracanović family, provides a tutored tasting. Fun fact: because there are seven families with the same last name on Hvar, it's typical to adopt a nickname. Theirs comes from Luigi, which morphed into Luviji.
Beginning production in 1993, Luviji got its start as a shrewd way to continue earning revenue despite the decline in tourism during the former Yugoslavia's dark civil war. The winery is located near the town square in the family's expansive home, surrounded by vineyards.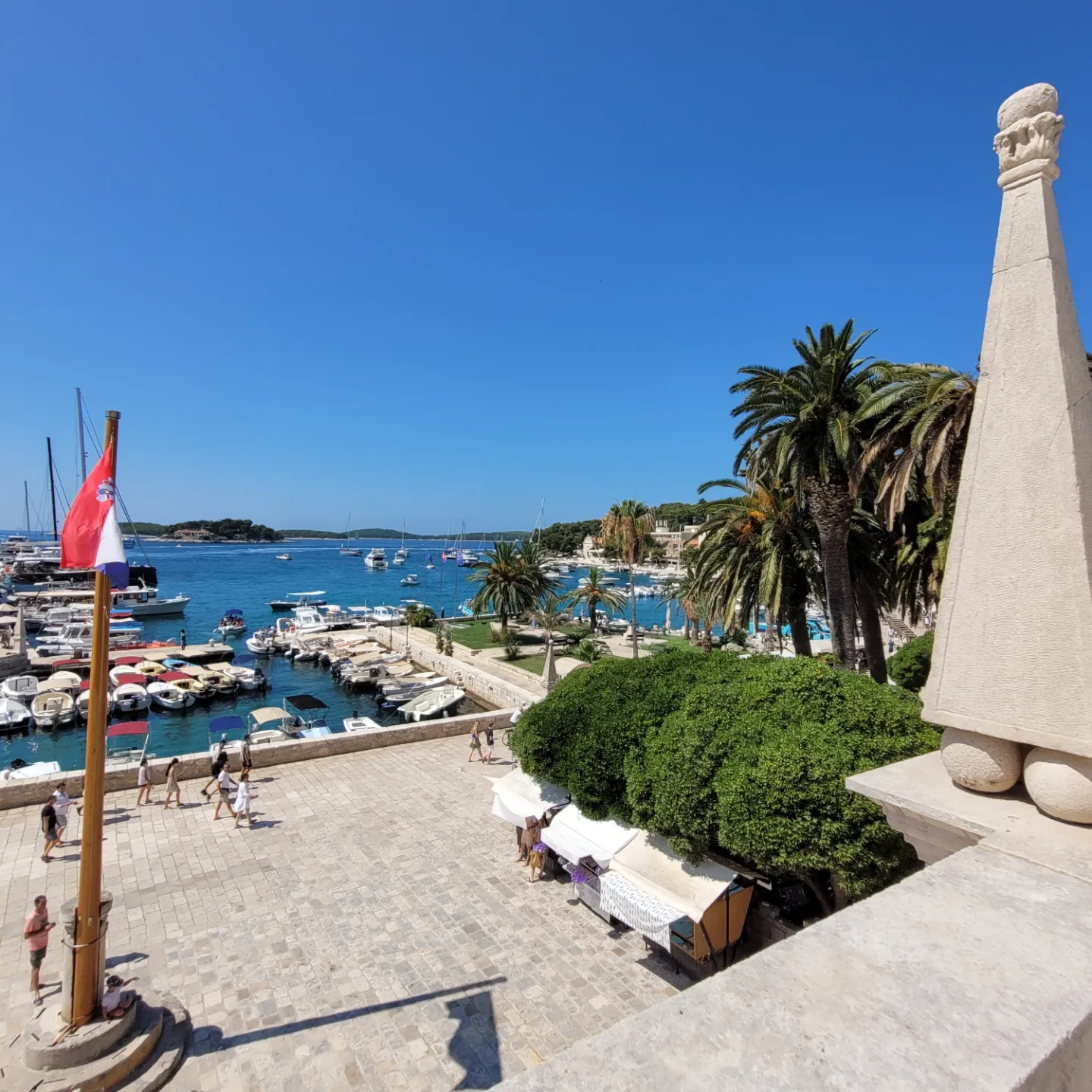 The tasting starts in the cool, darkened cellar with the white Bogdanuša wines, which offer well-structured body, citrus, and freshness, thanks to a lack of oak. Switching gears through the award-winning Pošip to the dark pink of the Plavac Mali Rosé culminates in a delicious crescendo. The DivJok, made from plavac mali grapes grown on the steep slopes of southern Hvar and then aged in oak barrels for a year, is a stunner—intense, broody, and well-balanced.
Hvar is a still mostly undiscovered labyrinth of mountain-perched towns, beaches, and panoramas where modern buildings slot in seamlessly with the historic. The beauty of Hvar lies in not knowing exactly what to expect, in being prepared to be surprised, swept away by the charm of its people, the scent of the ocean breeze, of lavender fields, the taste of its delicacies, and the breathtaking beauty of its vistas.
Photography by Mary Luz Mejia.