Ben Johnston Opens Wordplay at Toronto's Taglialatella Gallery
Multidisciplinary artist and designer Ben Johnston has a way with words. The Toronto creative's murals, paintings, and most recently, sculptures feature colourful three-dimensional word art that offer a moment of reflection for the viewer. Johnston's latest exhibition, Wordplay, opened in Toronto yesterday at Yorkville Avenue's Taglialatella Gallery and marks his largest gallery show yet. Composed of six resin sculptures, his first use of the medium, and 10 paintings, the collection is a natural continuation of Johnston's typographic exploration. NUVO chatted with Johnston about what makes Wordplay special, his sculptural debut, what's next for the graphics artist.
How did you first get into art?
I always kind of dabbled in painting and sort of messed around with graphic design stuff in school. It wasn't until I finished high school that I actually studied furniture design for a couple of years back in South Africa, and then realized I kind of had no interest and was no good at it as well. I ended up dropping out and then trying to figure out what path I was going to take. I landed in graphic design because I've had an interest. So I pursued that and taught myself the programs and landed a couple jobs at agencies and that kind of thing, and then started doing art on the side. So taking part in some group shows, exhibitions, and exploring more typographic stuff on like a freelance basis. It wasn't until I moved to Toronto, 10 years ago, that I explored doing typography on walls. That was kind of a big shift for me. And while I was working here, in some agencies, I started, you know, doing freelance mural work. Once that kind of snowballed into what was looking like a decent career, I decided to shift to full-time mural painting and doing some art stuff.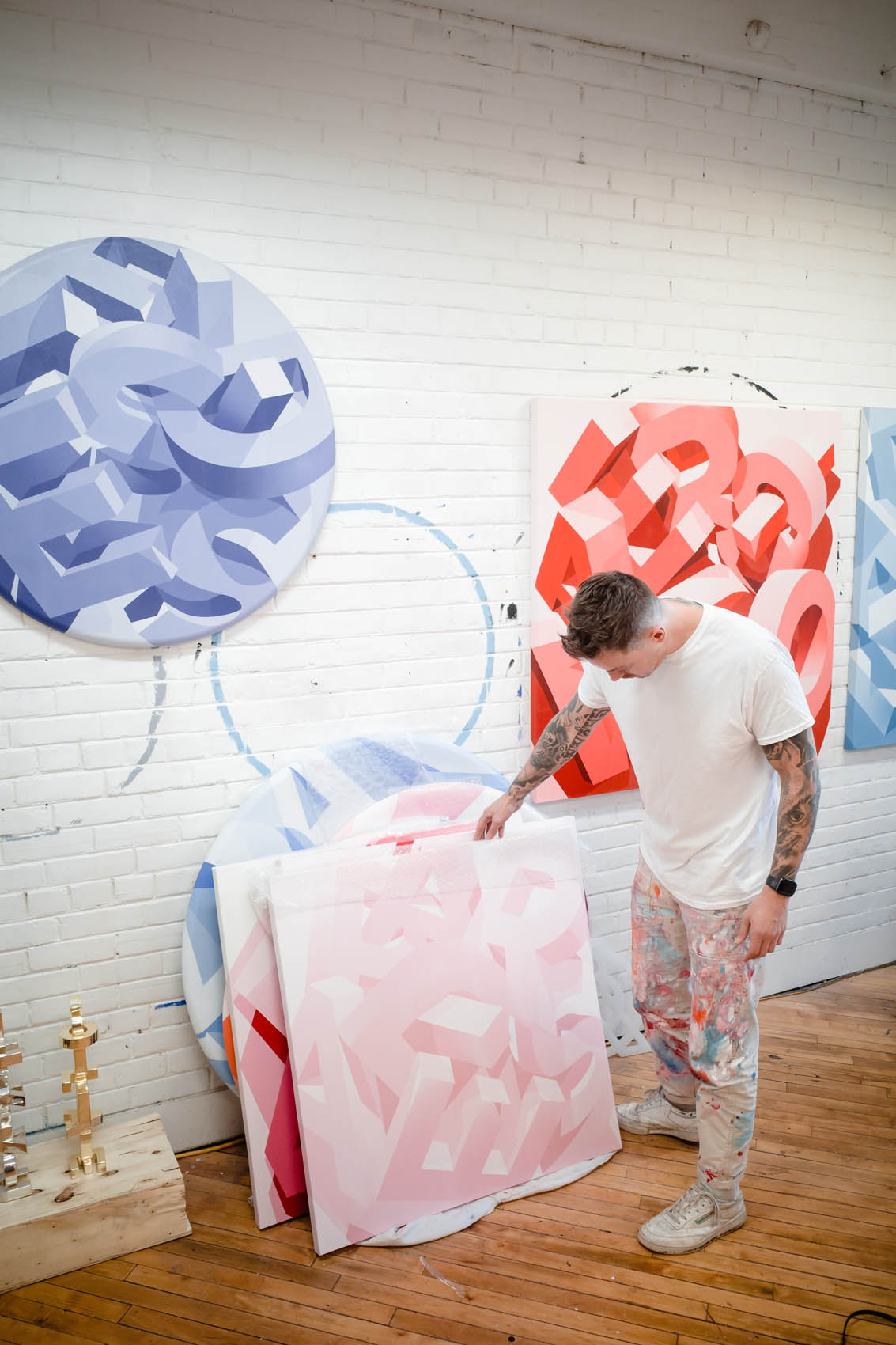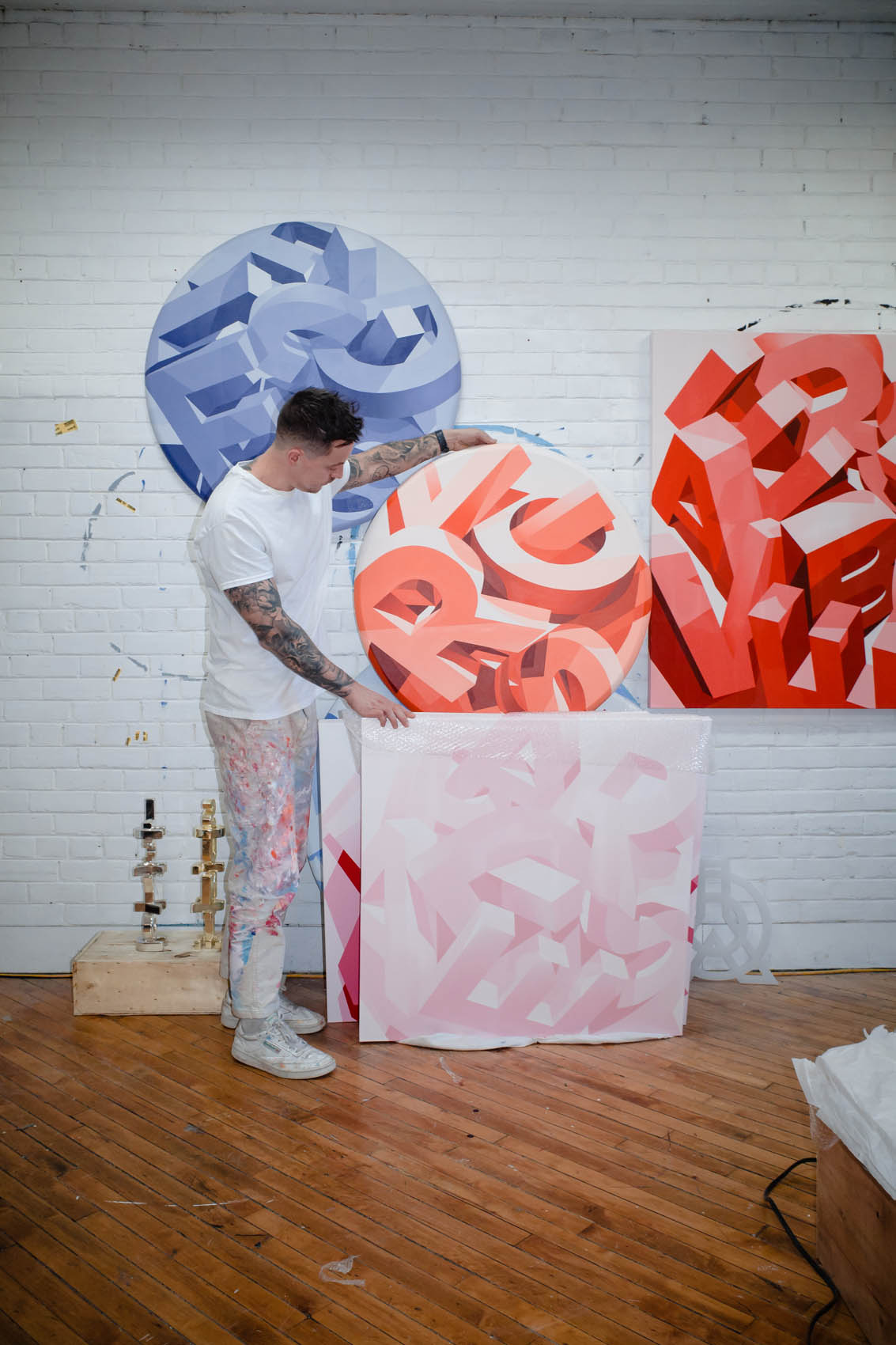 This is your third show with Taglialatella Gallery. What makes this show special? 
This is not only the most work I've ever created for a show, I feel like this is the most accurate representation of what I do on-wall, but now I've managed to encapsulate that on a much smaller scale finally. I think, with having the other shows as almost a warm-up, it's really coming together with this show. It's difficult to sometimes take something like a big mural that's 30 feet high or bigger and then also create the same amount of engagement on a tiny canvas. I feel like this time around, I've explored a lot of different routes and techniques.
It seems pretty self-explanatory, but how did you come up with the title Wordplay?
It's two things. It's basically playing with words, which is kind of my whole career. And then on the other side of things, the language that I use for the paintings and murals, I often like to keep open-ended or ambiguous words. I like the fact that a particular mural could mean something different depending on who's looking at it. I've done murals in the past, for instance, that said "forever," and then I get people taking engagement pictures in front of it or families having pictures in front of it. So I really like the way that it can be translated or mean something different to each person.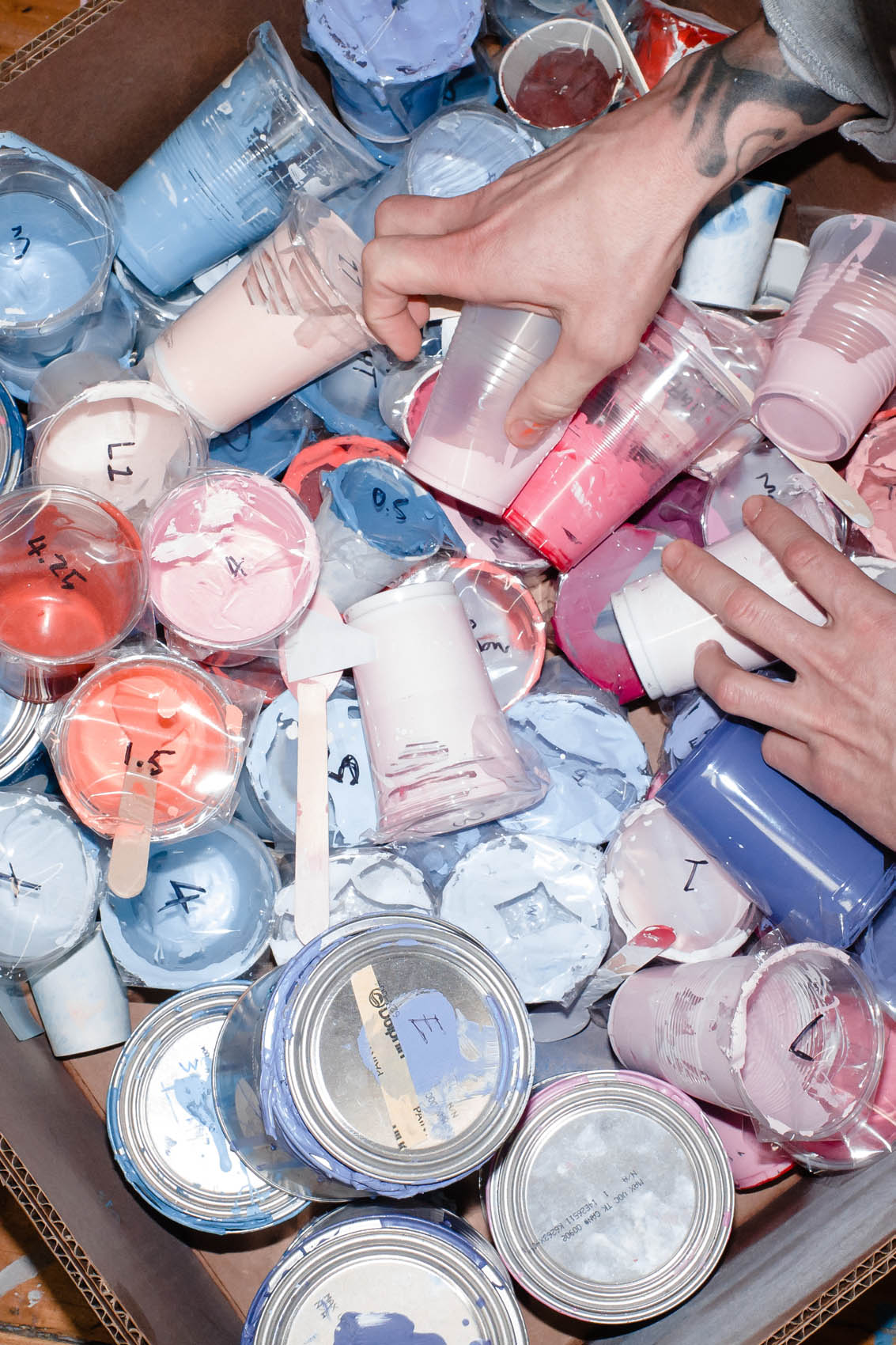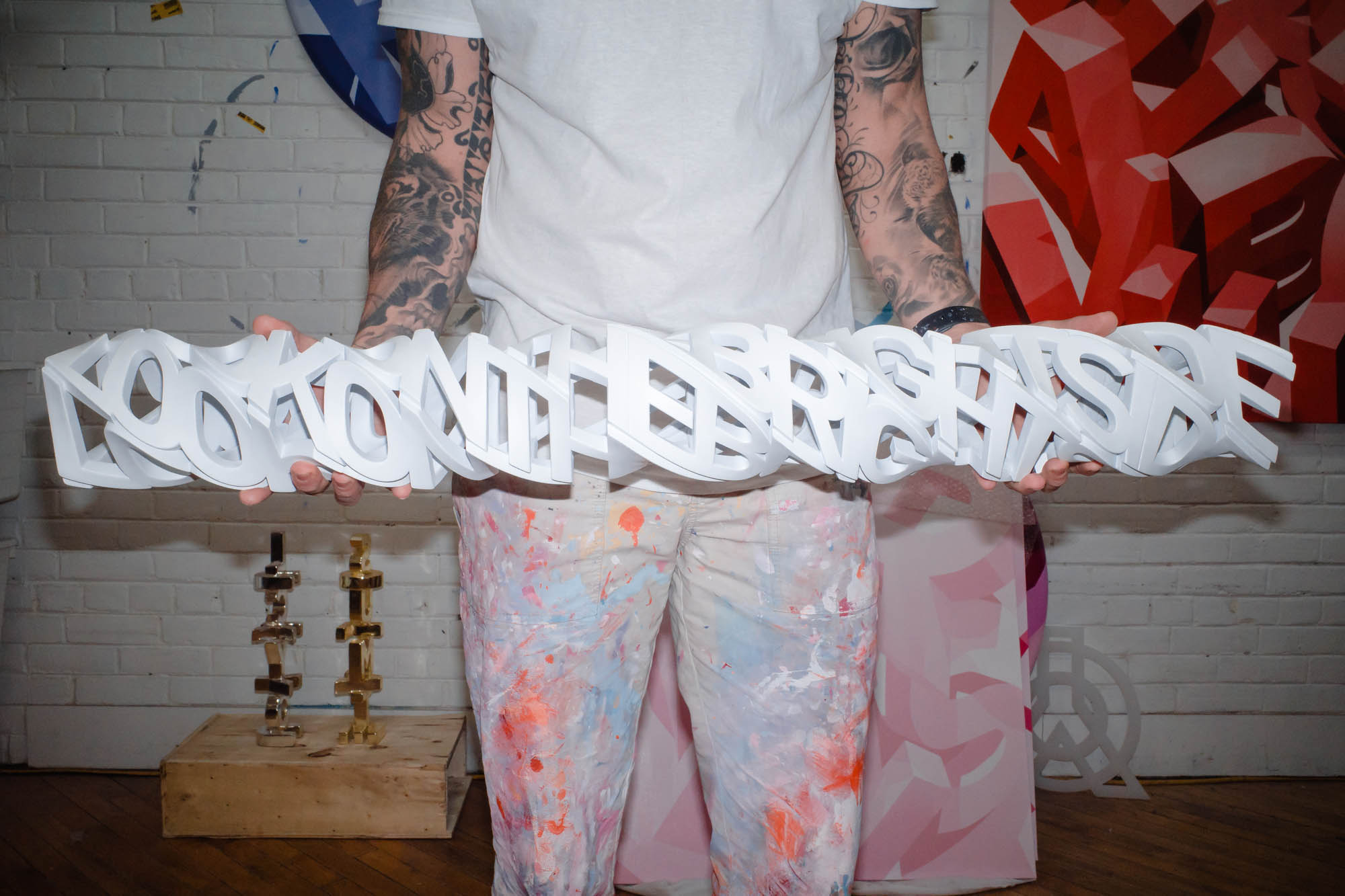 With a lot of your work, it's not immediately clear what a word is. As the artist, what do you think is added in the process of trying to figure it out?  
I think it just adds a layer of complexity. With typography, especially, people are so used to seeing advertising and signage on a daily basis, but I don't really want the two to get confused. If my wall just said "love" in Helvetica, people might not relate to it as an artwork or something. So there's that angle, and then also the fact that I really love just playing with shadows and colour. And over the years, I think things have just naturally become a little more abstracted as I go.
This exhibit marks your foray into sculpture. What made you decide to explore sculpture?
I've noticed, obviously, over the 10 years of painting murals that a lot of the time a mural might only last a few months, or maybe a couple of years if you're lucky. But buildings get knocked down and walls get painted over. This idea of something that's going to last a little bit longer has really appealed to me over the last couple years, so that's why I'm starting to explore the sculptural stuff. Obviously on a small scale, it's great to be able to sell these, and hopefully people want to have them in their actual home. Then the next step from this exploration would be to hopefully long term have some permanent public sculptures. The main goal is to have beautiful bronze or concrete sculptures.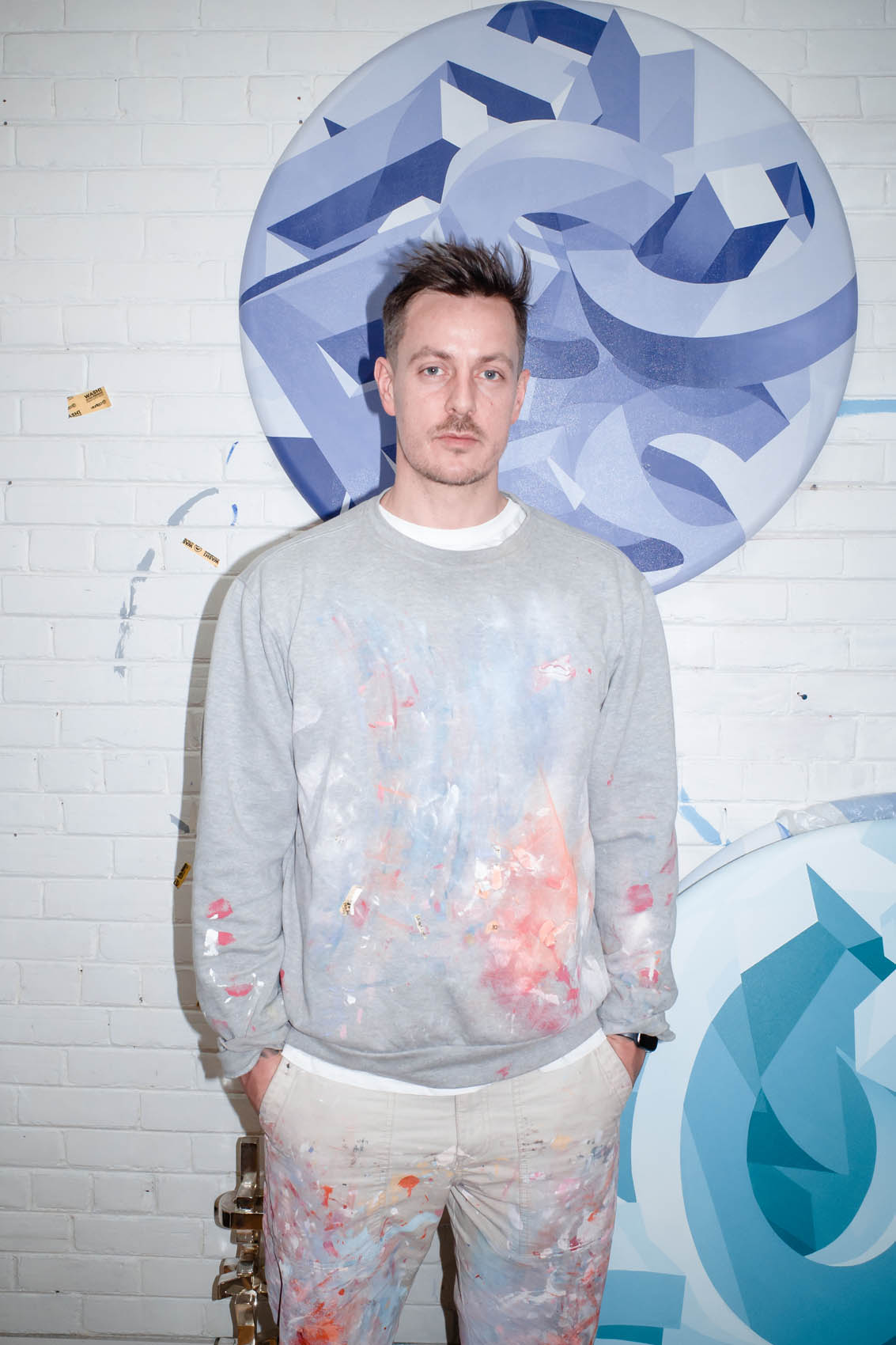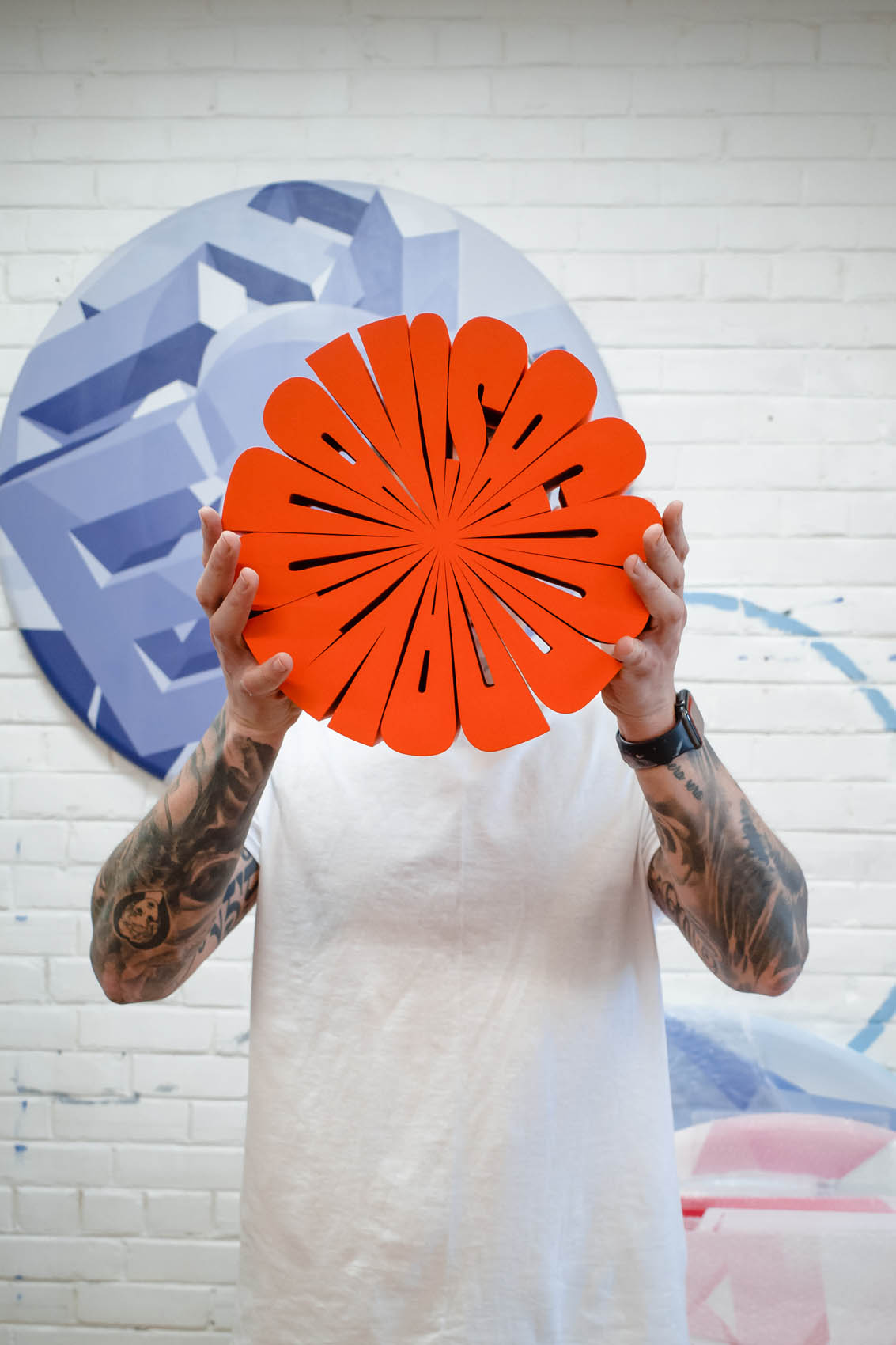 It must be fun to take on a new challenge as an artist and get to figure out new things and see where it takes you.
Yeah, it's amazing. I'm really loving this sculptural journey. And I honestly can't wait to build more. That's the idea. Hopefully I can sell them, and then I'm just going to put all of that straight back into making more and just keep that going and see how many unique pieces that I can make over the next few years. But I've got so many ideas I've been playing around with already since making these ones.
One of the pieces at the exhibition is a sculpture of your Yorkville mural Look on the Bright Side. How do you see the experience of the viewer evolving and changing when they're experiencing a mural versus the sculptural interpretation of it?
It's kind of unique because that particular mural was about 80 feet, if I'm not mistaken. So up close, it was really hard to even figure out what it said or what it was, but obviously from a drone or from one of the buildings you could easily read it. So I think just being able to experience the piece in a different way but on a smaller scale is really interesting, and being able to figure it out and see how it's created with this cool tube of all the words wrapping around each other. And yeah, again, that mural is gone now. It just shows that ephemeral nature of murals and how they're very temporary. Now, this sculpture is going to be something that's going to be around for hopefully a very, very long time.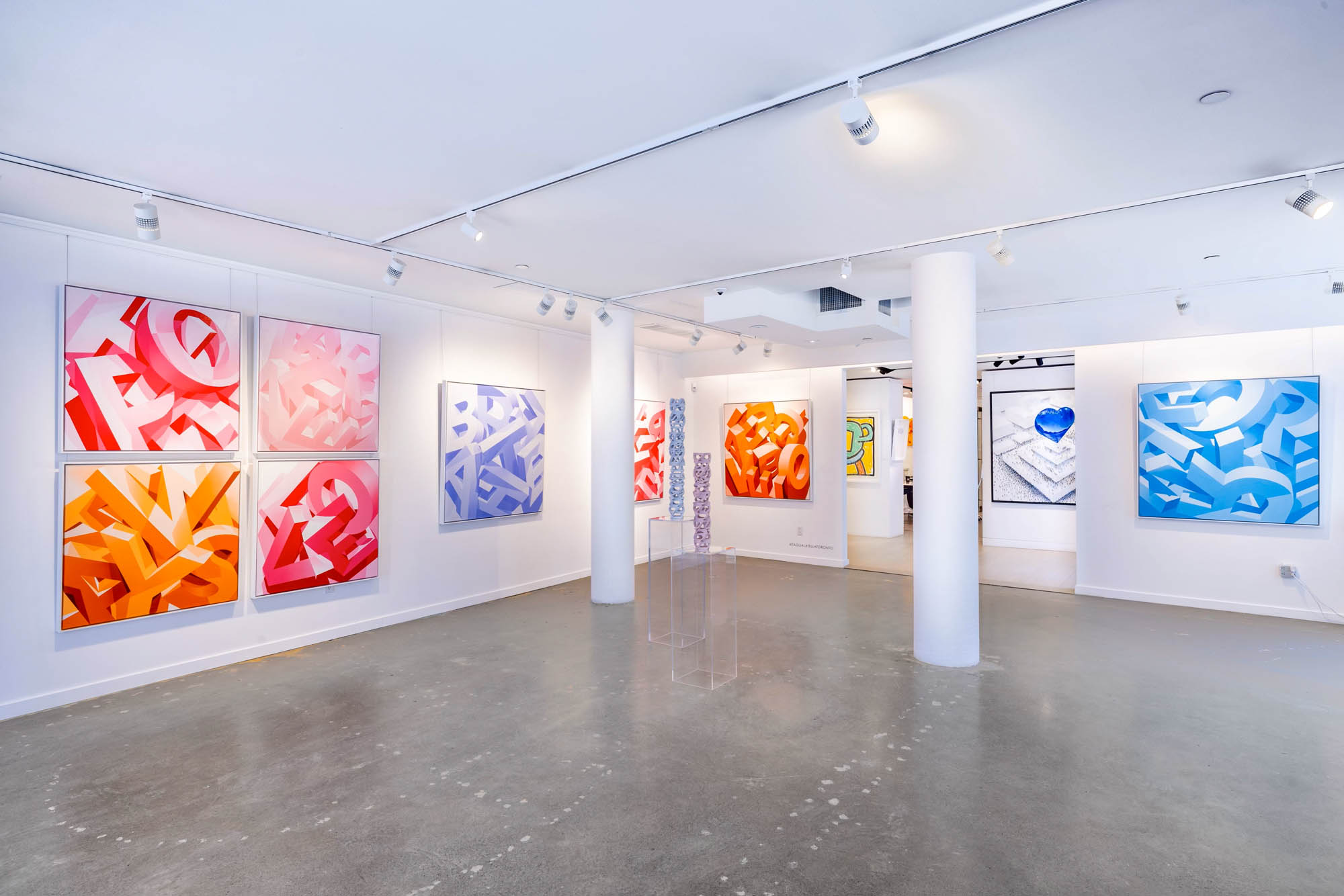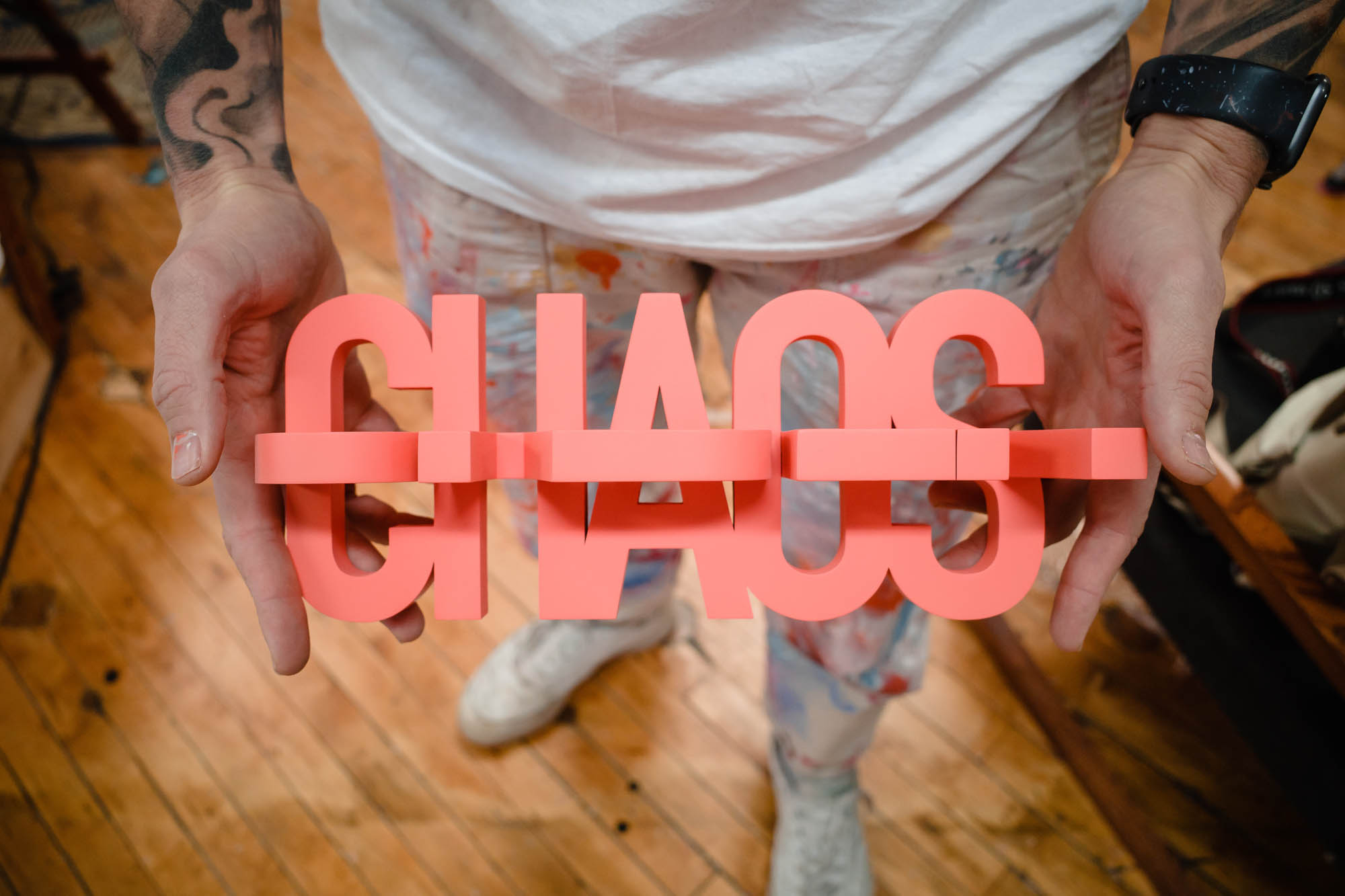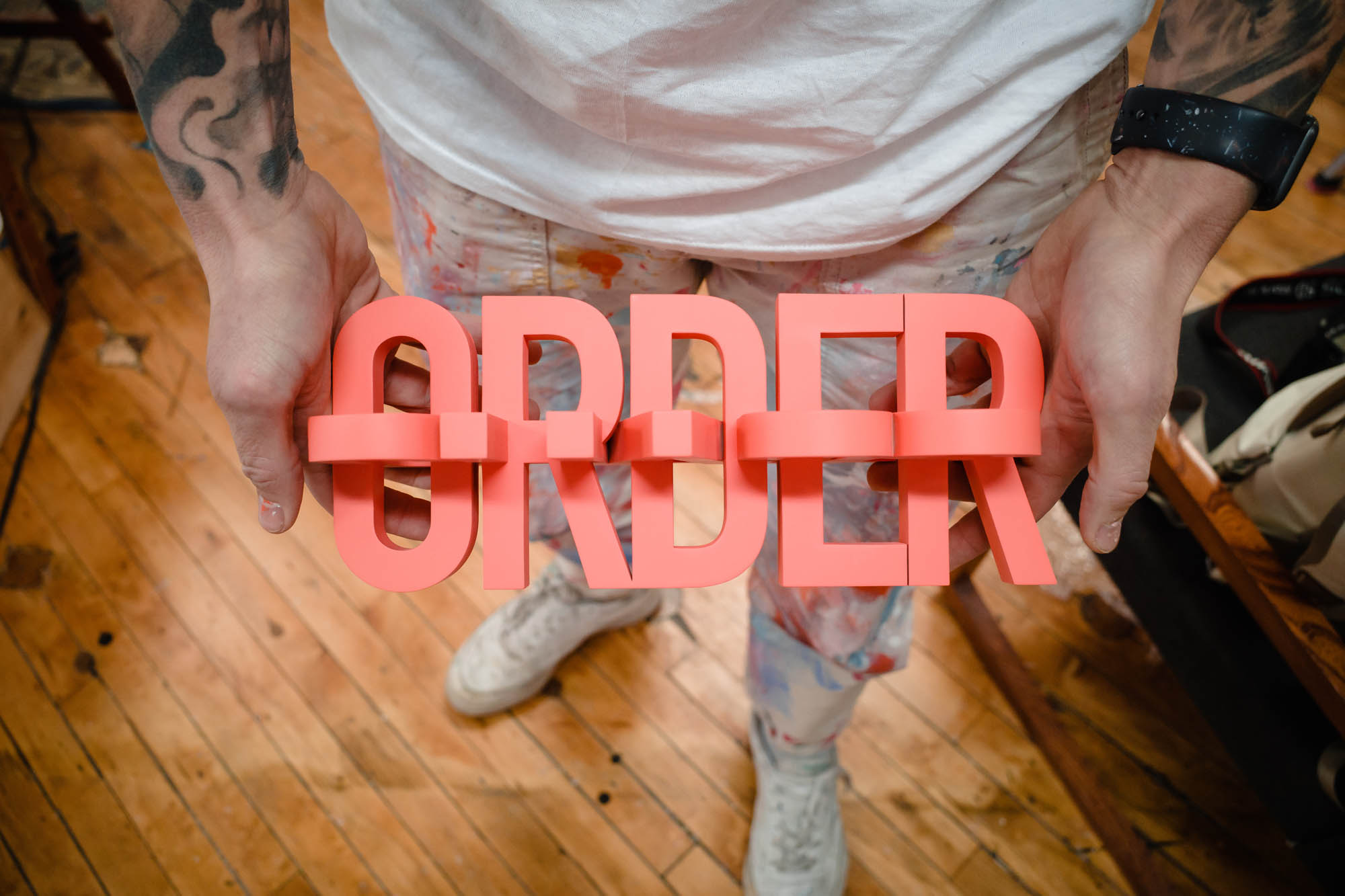 Do you have any favorite pieces in the exhibition?
Honestly, I love all of this work. Sometimes after things I've done, I don't always love them, but I am proud of this body of work, and I really enjoyed integrating airbrushing and being able to achieve some of these more interesting colour gradients within the work. I love the painting. Then the sculptures, I'm really happy with the way they came out. As a whole, I'm really proud of this show and it's been great to collaborate with [Taglialatella] Gallery as well. They've been really supportive through the whole process. It helps when you find someone you can work with, and they believe in the work and let you take over a gallery for a few weeks.
Ben Johnston's Wordplay will be at the Toronto Taglialatella Gallery until April 10, 2023.
Photography by Jonathan Gazze and Anthony Tuccitto.