Bar Cart: Forty Creek Cherrywood Reserve
A Canadian distillery makes the case for cherry wood in whisky.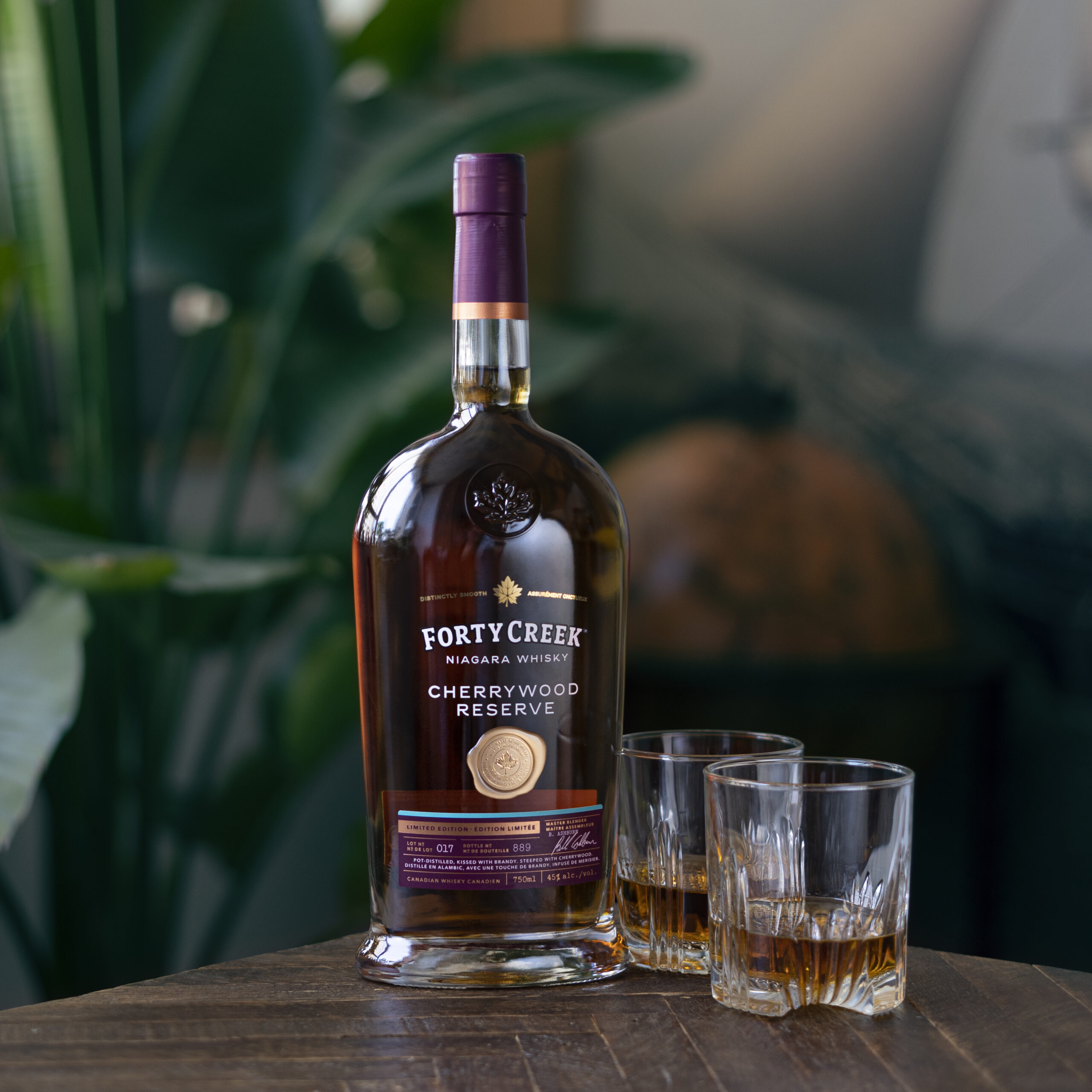 Canada is one of the most heavily forested countries on Earth. With the highest total number of trees behind only Russia, it is home to diverse forest ecosystems appreciated both for their natural beauty and their usefulness in various industries. Ontario's Niagara region, a fruit belt famous for its orchards, is also home to a large wine and spirits industry. Yet, rarely are the woods of these trees used in wine and spirits production, with both industries using almost entirely oak for aging and, consequentially, flavouring purposes.
The latest of Forty Creek's yearly limited edition whiskies, Cherrywood Reserve is one of the few Canadian spirits to take advantage of woods other than oak, paying homage to the stone fruit trees that dot the distillery's Niagara home. Pot distilled, aged for five years, kissed with brandy, and steeped with kiln-dried cherry wood staves, this new whisky brings a level of complexity that is sometimes hard to find in whisky. And according to Forty Creek master blender Bill Ashburn, it is made for every type of whisky drinker. "Cherrywood Reserve is for the collectors, the whisky enthusiasts, and those just starting to explore the world of whisky," he says.
Regardless of their type, drinkers can expect a whisky loaded with chocolate, maraschino cherries, and unsurprisingly, a bit of a cognac quality. On the palate, bright underripe cherries evoke Niagara's orchards in full fruit, and a lively spice aspect seems to come from the cherrywood staves, counterbalancing the candied aspects of the whisky. All in all, Forty Creek's Cherrywood Reserve displays a promising future for non-oak whisky flavouring—something that, given the sheer number of trees here, Canadian whisky drinkers can expect more of in the future.
Forty Creek Cherrywood Reserve is now available in select provinces across Canada and online at fortycreekwhisky.com.