Bar Cart: Damilano Barolo Lecinquevigne 2017
A wine for tonight and 10 years from now.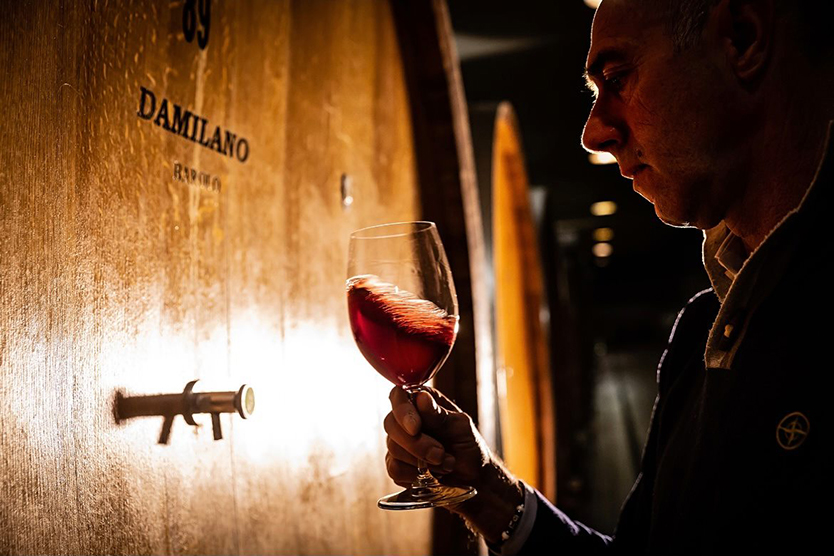 Lay knowledge suggests that 98 per cent of wine is ready for immediate consumption. The other 2 per cent should be cellared to fully mature. However, few wine nerds have the time, space, and money to spend on aging fine wines, so many of the world's best bottles aren't available to the everyday drinker. Some wines, like barolos from Italy's Piedmont region, are notoriously long-lived, to the point that aging is often considered mandatory rather than a luxury. But there are some rare wines, like Damilano's Barolo Lecinquevigne from the 2017 vintage, that are ideal for both immediate consumption and aging, and they're well worth seeking out.
Producing wine in Barolo since the 1800s, Damilano has had plenty of time to seek out prime sites to plant nebbiolo, the high-acid and -tannin grape barolo is made from. Using grapes from five of these vineyards, Lecinquevigne is Damilano's attempt to succinctly encapsulate the essence of Barolo. Each site—from all of which Damilano produces single-vineyard cuvées—contributes to the approachable whole that is Lecinquevigne.
Barolos are famous for the gorgeous "bricking"—loss of colour leading to an orange-hue—that occurs with age, and the 2017 Lecinquevigne is mature beyond its years on that front. However, the orange glow is exceeded in beauty by the wine's taste. A pleasant combination of eucalyptus, aloe, and tobacco, flavours that would be tertiary on less gracefully made wines of this age, lead on the palate. Ample fruit, primary sharp red cherry and strawberry notes, rounds out the palate, suggesting that there are plenty of years ahead for this particular bottle. But how it'll compare to its already admirable presentation, no one can know. Guess you'll have to buy a few bottles and see how things shake out.